This amazing vegan lemon cream sauce is the perfect topping to spiralized zucchini noodles. Simple to make, healthy and packed with plant-based protein!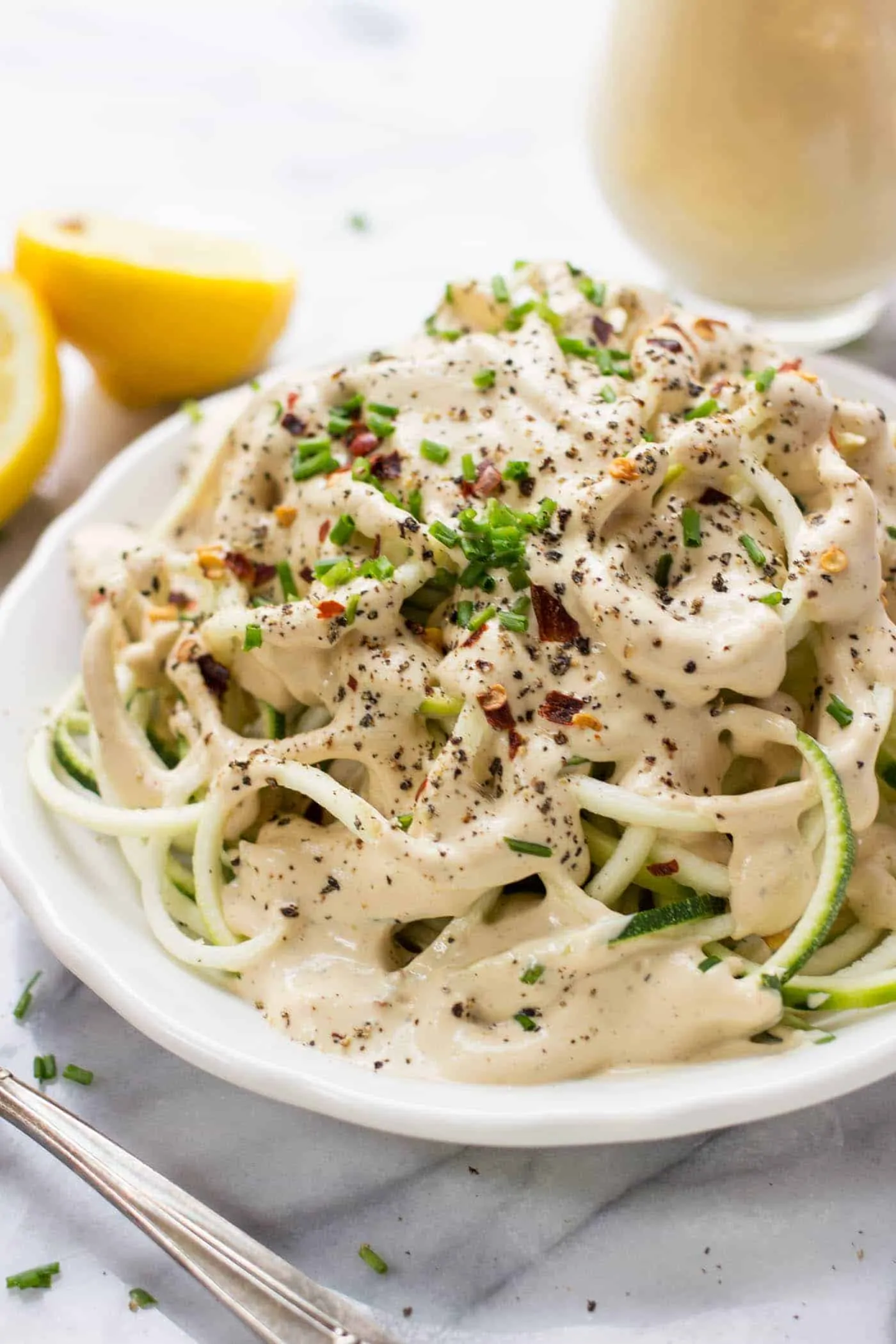 I'm so glad we're on the same page with zucchini noodles. You guys have been loving all the spiralized recipes I've been posting and seeing that we're still in the height of zucchini season I figured, let's keep rollin' with this trend.
We've gone the traditional route with classic Pesto Zucchini Noodles as well as Avocado Pesto Zucchini Noodles, but as much as I adore my pesto, I think we need to shake things up. So today we're going with a decadent cheese sauce that just happens to be vegan!
It's taken me a long time to get a "cheese" sauce that I was truly happy with, so I'm super excited to be sharing this with you today. And surprisingly, this vegan lemon cream sauce doesn't use very many ingredients and it's a cinch to whip up.
The base is soaked cashews which, when blended with liquid, turn into this incredible, thick, fluffy, luxurious cream texture. It's almost hard to believe that you don't need the actual cream.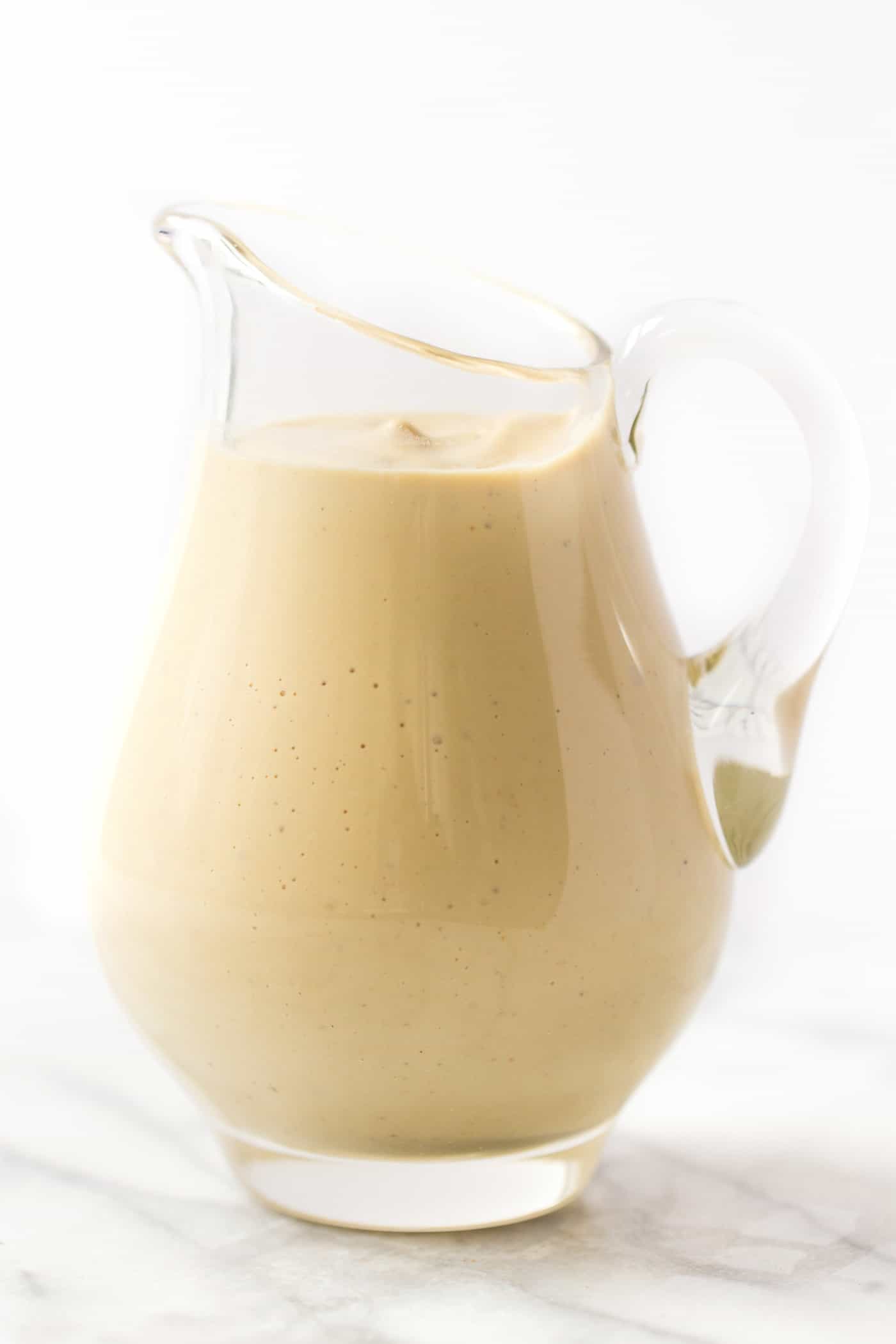 With that as our base, we can start to have some fun with the flavor.
The cheesiness in this vegan cream sauce is from nutritional yeast. I won't go into all the details about nutritional yeast because I talked about that in my Everyday Vegan Pesto post, so if you're interested in learning more about the nutritional benefits, where you can find it and what it actually is, check out that post 🙂
Just know that for this recipe, the nutritional yeast is making this sauce taste like a cheese sauce without adding in real cheese!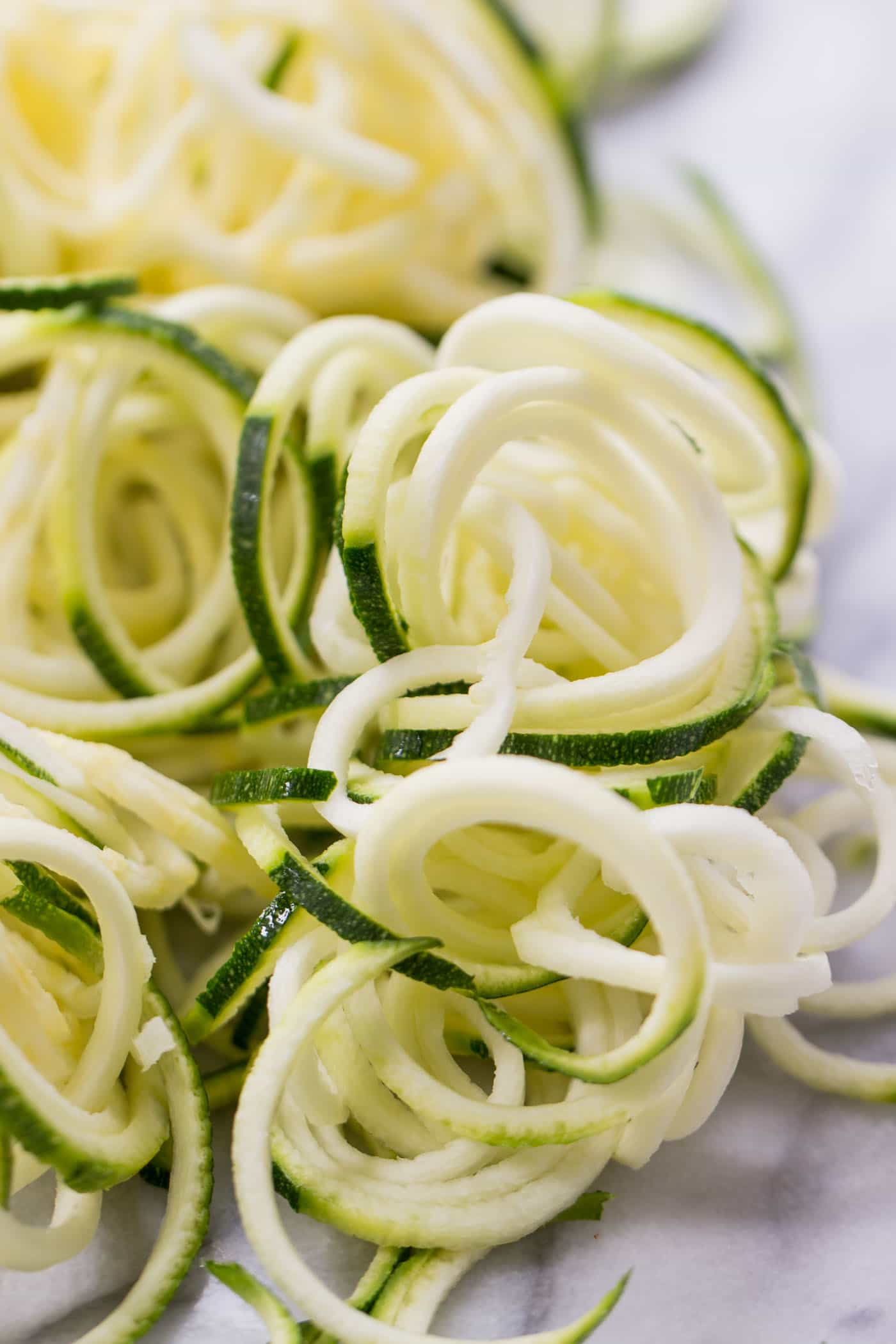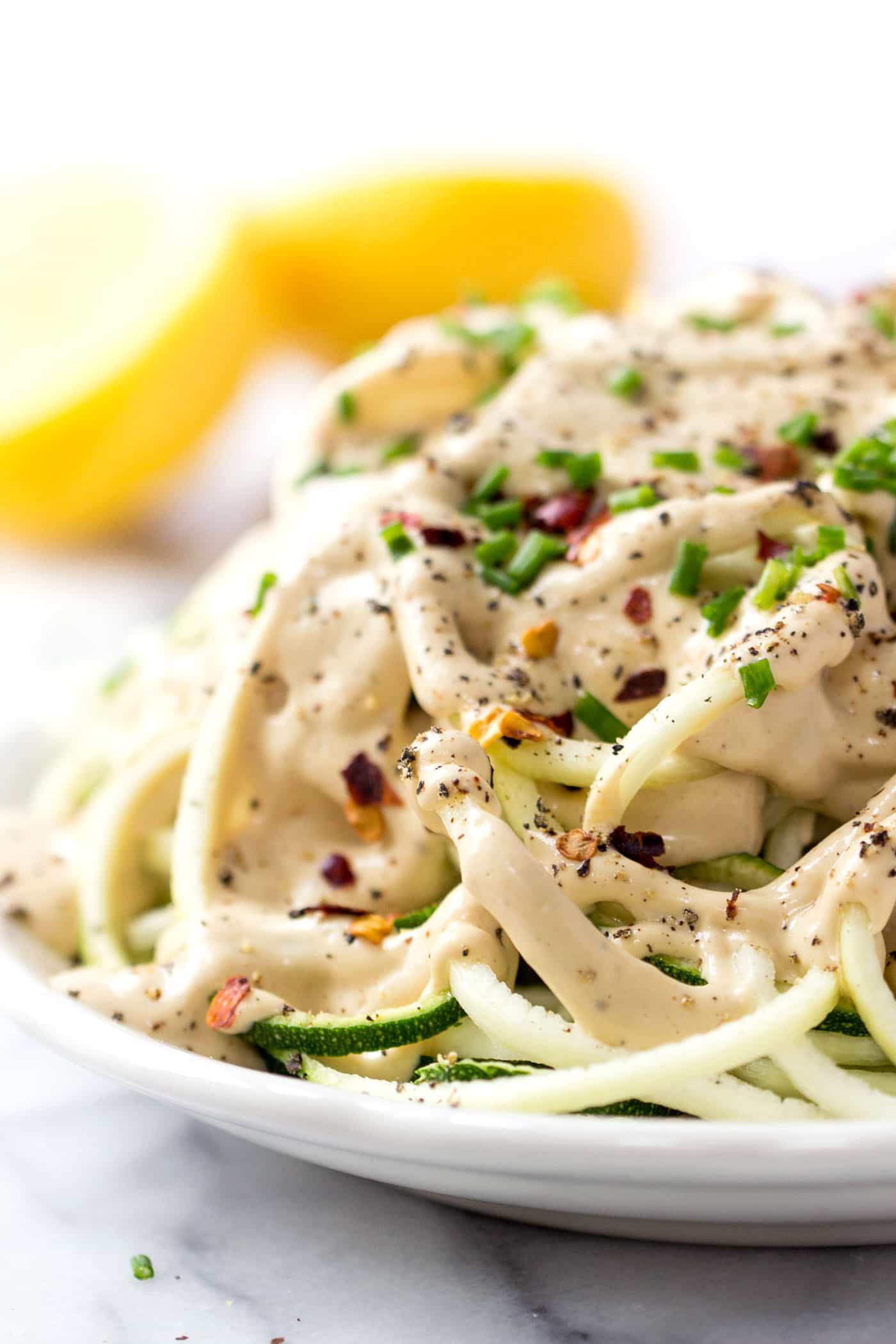 Of course, since this is a vegan lemon cream sauce, we've got to have lemon. We're doing a whole 3 tablespoons of lemon juice, with the option to adding in some zest if you want it even more lemony. And because the lemon flavor is so key to this recipe, I definitely recommend that you use fresh squeezed and not the kind you buy in the bottle. The taste will just not be as authentic.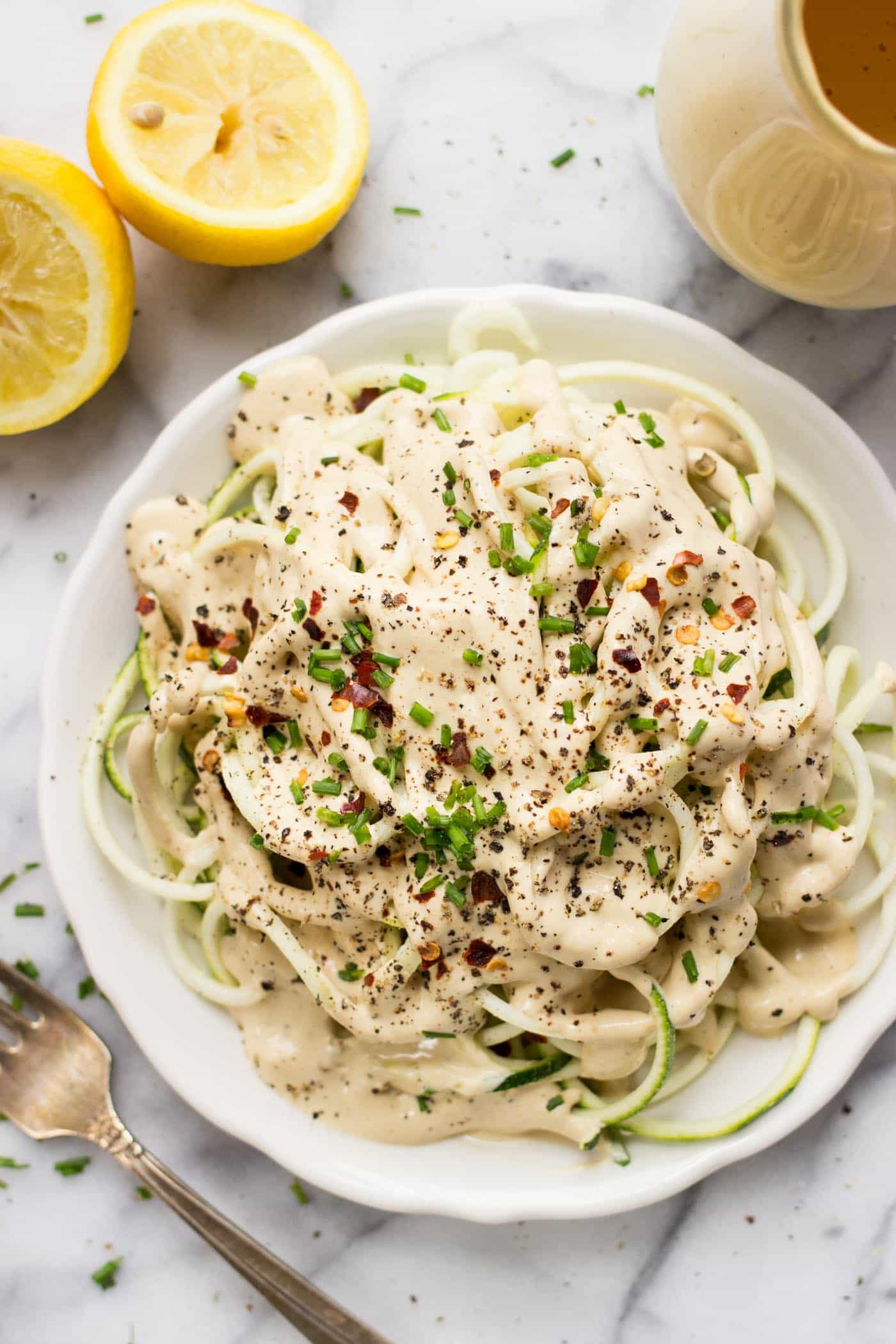 The only strange-ish ingredient that we have in this sauce is miso paste.
You've probably seen me use miso paste before (I especially like to add it to dressings), and you guys often ask how you can replace it since it isn't something most people stock in their fridge. But in this recipe, I think it's a fairly critical ingredient because it adds an umami flavor that is hard to replicate.
But if you're still on the fence about miso, here are a few things to consider:
it lasts practically forever in the fridge, so even if you just use it occasionally, it likely won't go to waste
if soy is an allergen for you, there are chickpea versions which taste equally as good
it's fermented so it has good bacteria for your gut
it's a great source of vitamins + minerals like iron, calcium, potassium, B vitamins, as well as plant-based protein
a little goes a long way, so you only need to buy a little tub which will be more cost-effective if you're new to using it in your cooking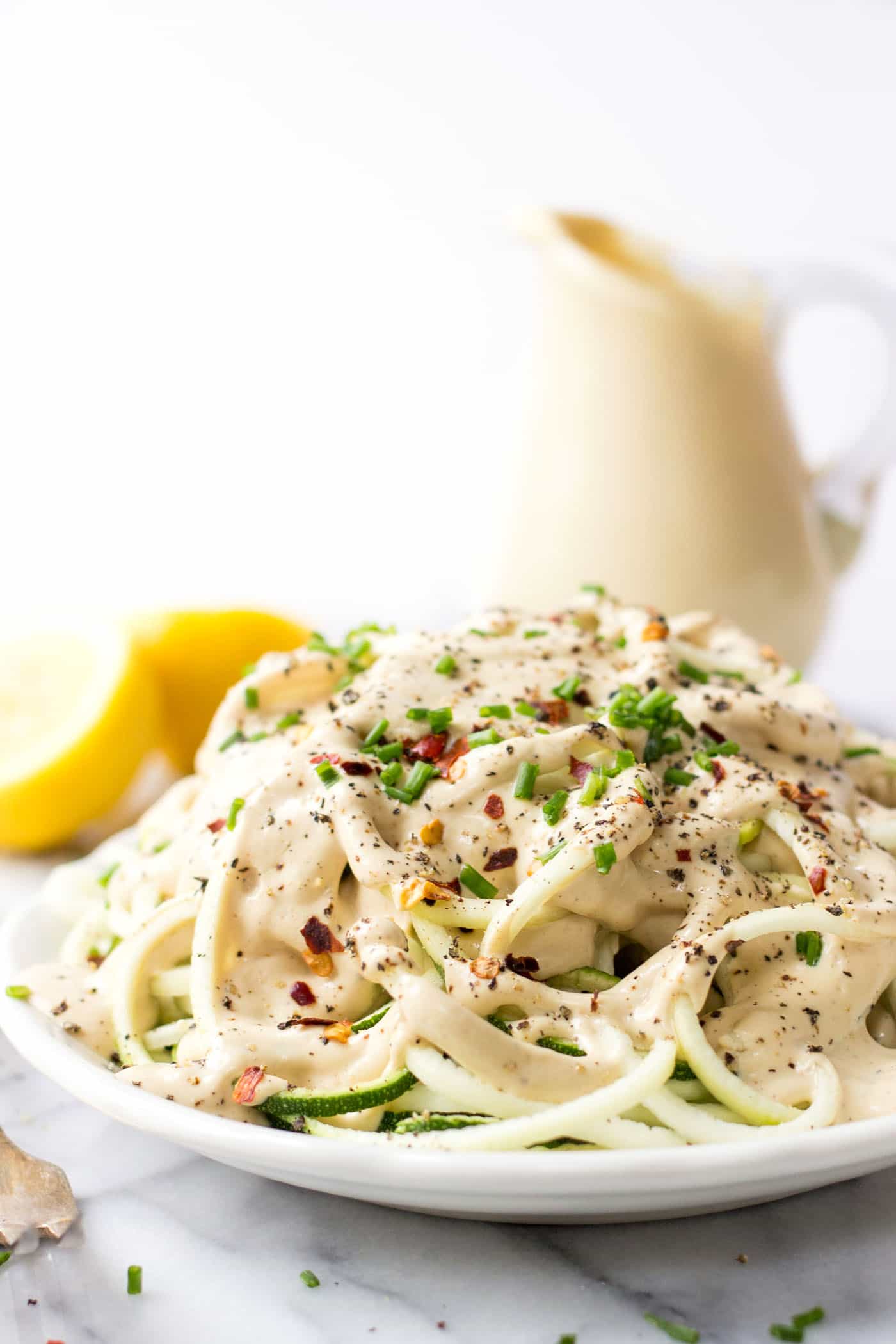 To round out the rest of the flavor, we're adding in some tahini for a little nuttiness, fresh garlic, smoked paprika, nutmeg, salt, and pepper. And then you just blend everything up with some water and you're done!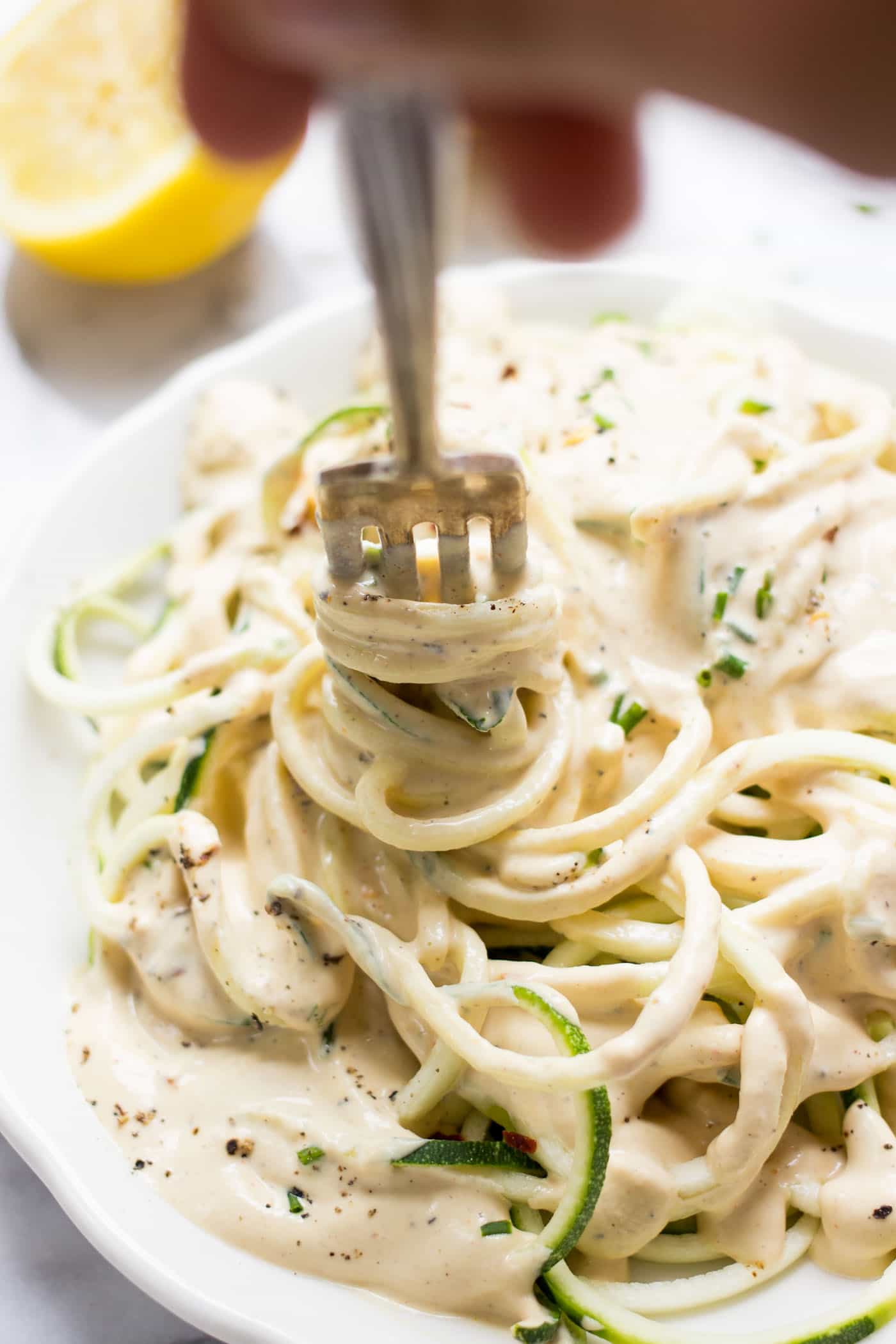 You guys know I love eating my zucchini noodles raw, mostly for the crunch, so I chose to serve this sauce over freshly spiralized zucchini noodles. But this sauce actually goes with everything.
I used it in a pasta primavera last week, have put it over sweet potato noodles and even sauteed some zucchini noodles with the cream sauce. Every time I eat it, it blows me away. It's that good. It's a sauce I know I'll keep coming back to over and over again, and once you taste it, I think you'll see why. A versatile cream sauce that's healthy, not full of junk and tastes really damn delicious.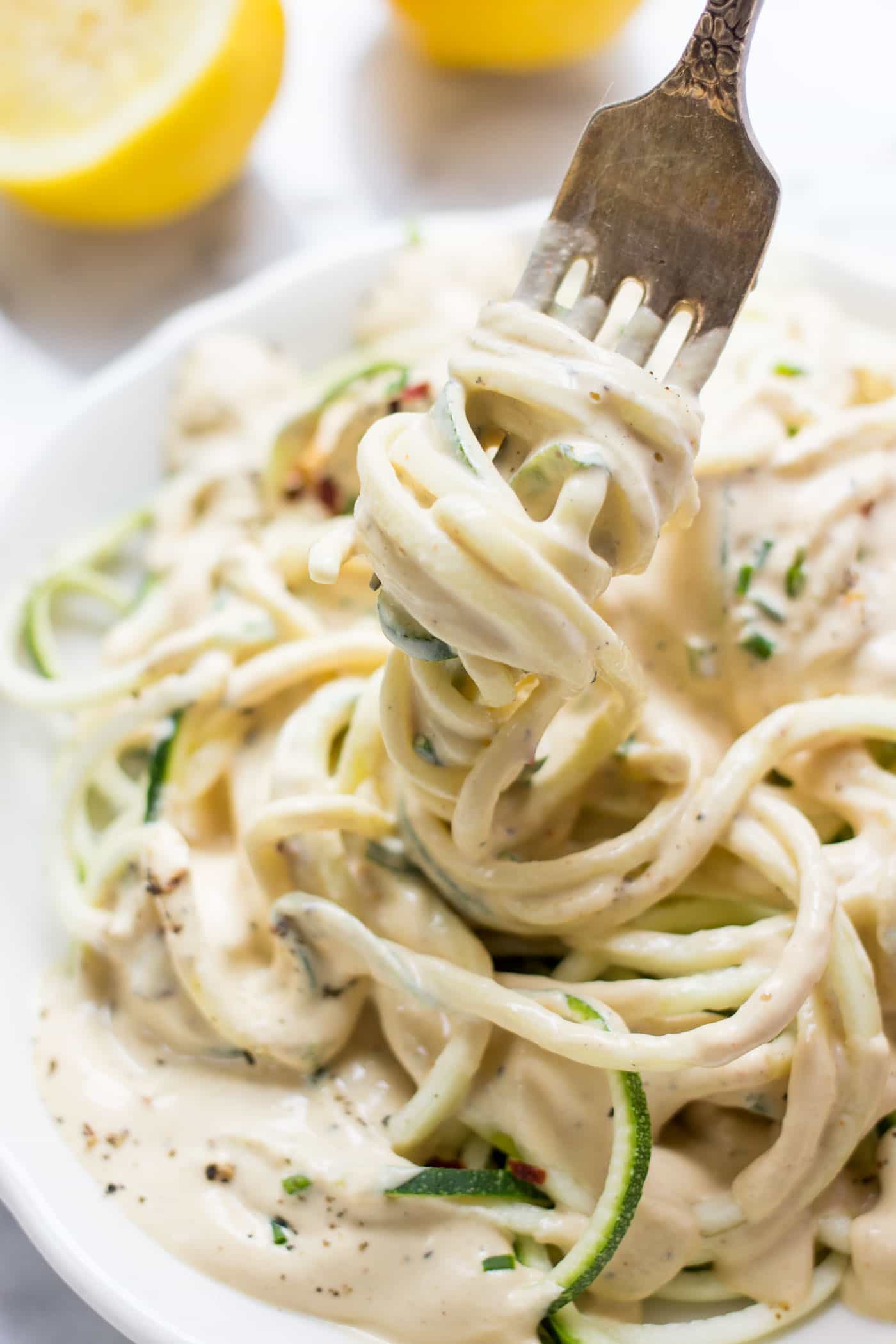 Your turn…
What is your favorite type of pasta sauce? I'm thinking I'll share a few more zucchini noodle recipes before the end of summer, so let me know some of your faves in the comments below!
xo Alyssa
More Healthy Zucchini Noodle Recipes:
Zucchini Noodles with Vegan Lemon Cream Sauce
You guys know I love eating my zucchini noodles raw, mostly for the crunch, so I chose to serve this sauce over freshly spiralized zucchini noodles. But this sauce actually goes with everything.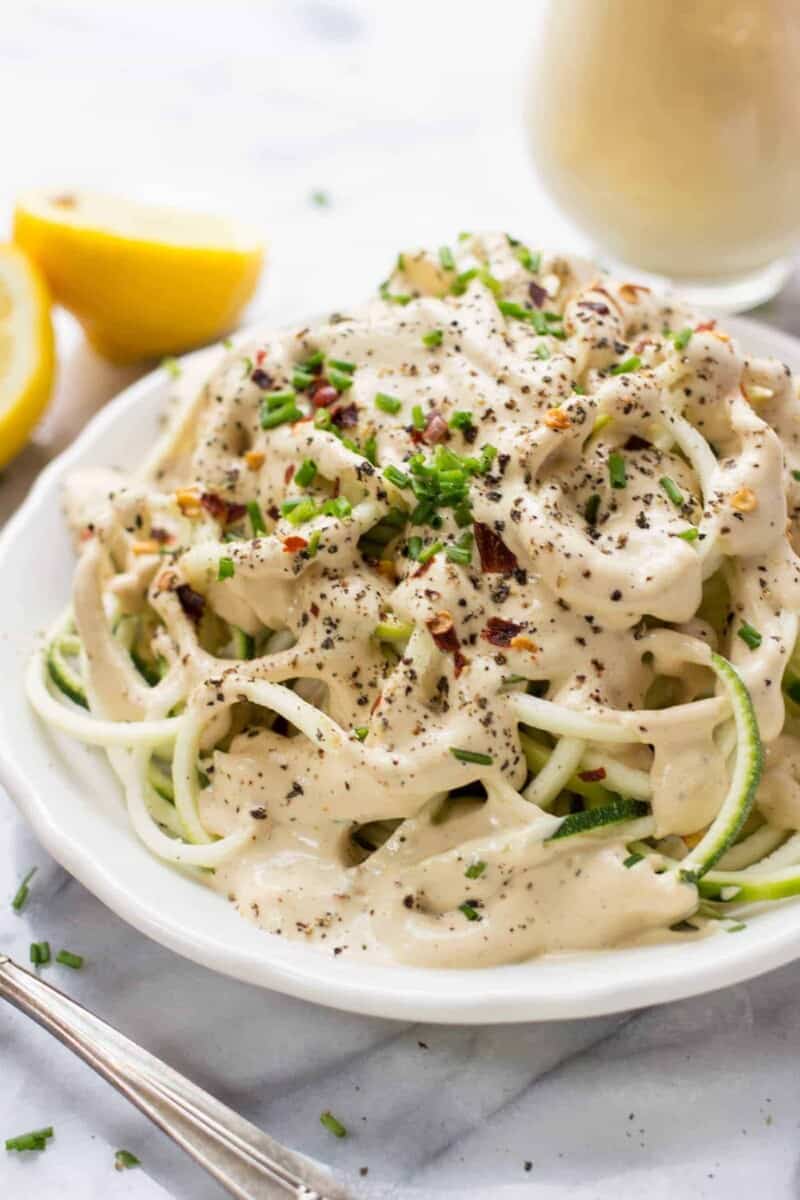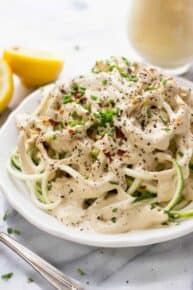 Instructions
Drain and rinse the cashews, then add them to a blender along with the remaining ingredients, starting with just 1/3 cup of water.

Blend on high until smooth and creamy, adding more water 1 tablespoon at a time until the sauce is pourable.

Spiralize the zucchini and add them to a large bowl. Pour sauce over noodles and toss to combine.

Serve immediately with fresh cracked pepper, chili flakes and chopped herbs if desired.
Notes
If you have a high powered blender, you can get away with soaking the cashews in hot water for 30 - 45 minutes.
Nutrition
Calories:
144
kcal
|
Carbohydrates:
13
g
|
Protein:
7
g
|
Fat:
8
g
|
Saturated Fat:
1
g
|
Sodium:
215
mg
|
Potassium:
575
mg
|
Fiber:
3
g
|
Sugar:
5
g
|
Vitamin A:
355
IU
|
Vitamin C:
31.1
mg
|
Calcium:
32
mg
|
Iron:
1.9
mg
Filed Under: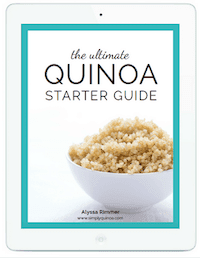 New to cooking quinoa? Grab your FREE Quinoa Starter Guide!
Become part of the Simply Quinoa community and receive weekly emails with exclusive content that I only share in email, as well as my in-depth guide to starting your quinoa journey.
Want more clean eating recipes?
Follow my board on Pinterest!