Combining two classic flavors, these peanut butter quinoa bars are healthy + delicious. Topped with a dreamy chocolate sauce, they made the perfect dessert!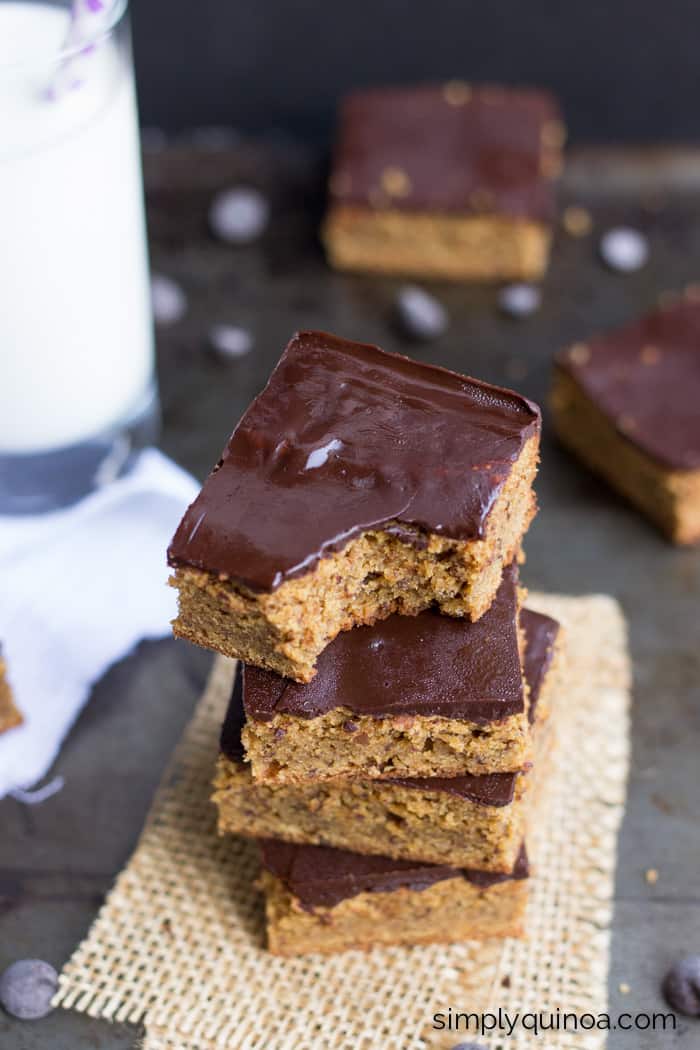 You guys…this might just be the most epic quinoa dessert yet.
I'm not kidding. These peanut butter quinoa bars are the real deal. They're packed with peanut butter flavor, sweetened naturally with coconut sugar, have no eggs or dairy or oil, AND they use quinoa flour which is packed with minerals and protein. So basically what I'm saying is…we all need to make them asap!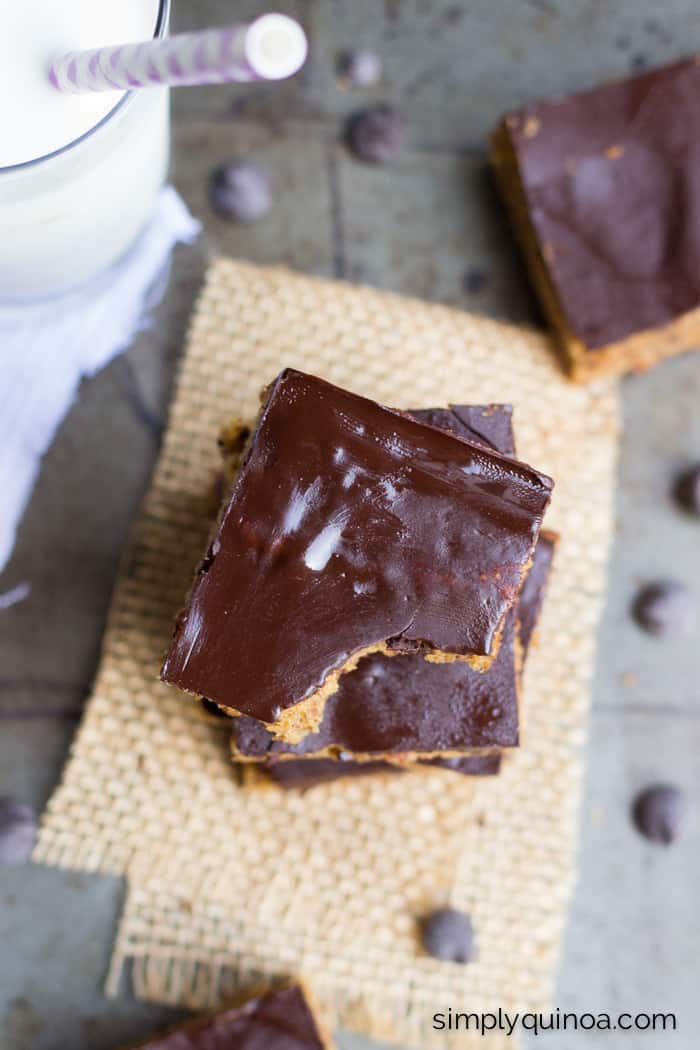 Peanut butter has made has a major resurgence in my life recently. So much so that I'm going through a jar of it almost every week. It's kind of crazy. (but in a totally delicious way)
I think it has to do with the fact that I started making peanut butter from scratch. I always used to buy natural, organic peanut butter from the store and while it was super delicious, it's also pretty pricey! I mean you can certainly get the organic kind from Whole Foods for less, but there are additives and fillers that I just don't want.
Peanut butter should be made from peanuts. Plain and simple.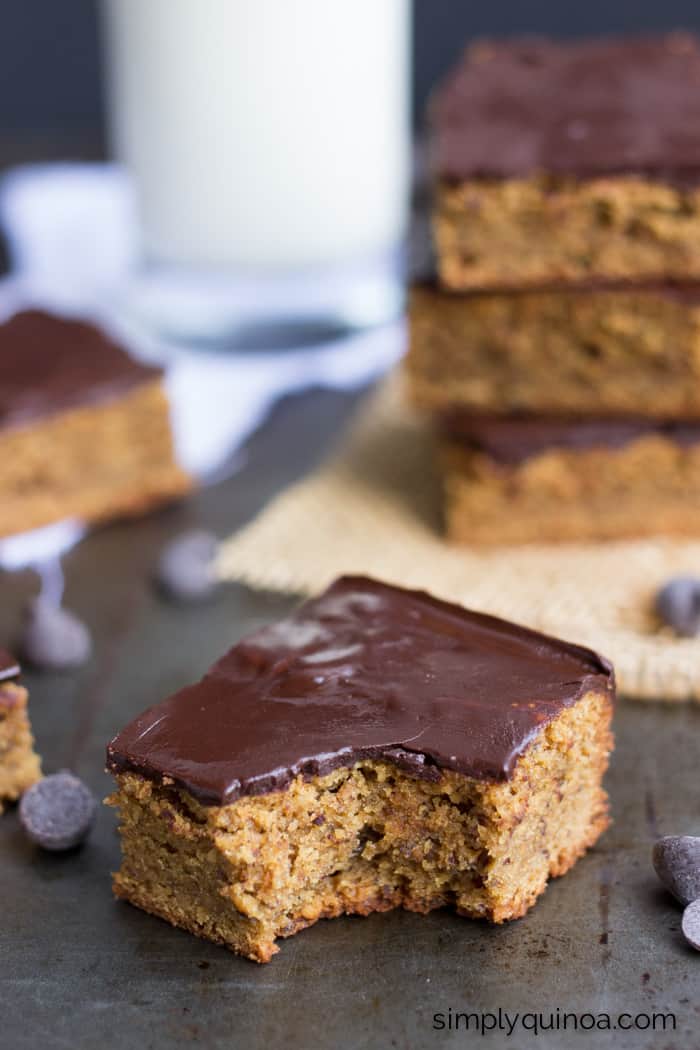 Thing is…while nut butters only take one machine to make, they're a little bit of a pain. First, they take a food processor which not everyone has. Second, you need to grind them for like 10 – 15 minutes, which I feel like runs the risk of burning out the motor on you machine.
Well my friends, I found the solution! (and I just figured this out yesterday, so it's super exciting)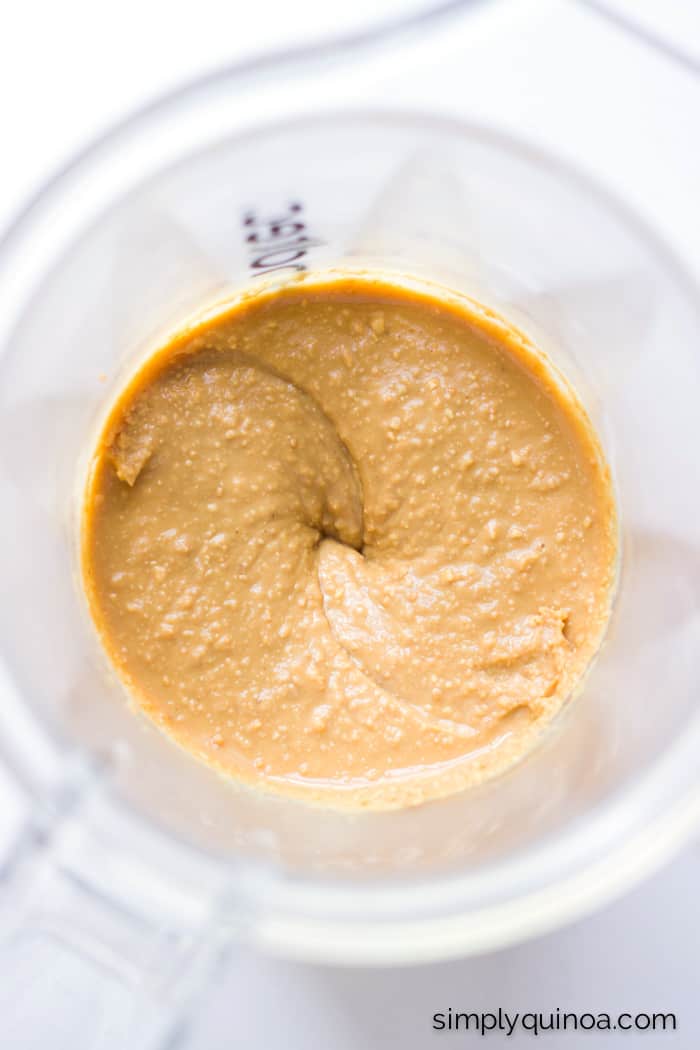 It's the Twister Jar from BlendTec. This little contraption snaps onto the base of your blender and makes nut butter in under two minutes. I kid you not. Creamy, dreamy and delicious nut butter. It's incredible!
You can use any kind of nut, but if you're making peanut butter, make sure to get organic roasted. I know that peanut butter gets a bad rap because of the potential for the fungus aflatoxin (which is considered to be carcinogenic) to be present, but the good news is that our agricultural practices have gotten much better and buying organic, roasted peanuts exponentially reduces the risk for toxicity.
So anywho, don't fear the peanuts. Just make sure that you're buying high-quality nuts and if they're raw, roast 'em!
And also if you have a BlendTec and want to make nut butter at home, check out the Twister Jar. Life-changing.
But let's get back to the bars.
I started with a tried and true recipe – my Almond Butter Quinoa Blondies – and made a few switches to make them lower in fat and sugar. Since these babies use a full 3/4 cup of peanut butter, instead of adding the extra coconut oil that my blondies have, I opted for unsweetened applesauce. The applesauce adds a faint hint of sweetness while also reducing the fat content of the bars. And because of that touch of sweet, I was able to remove 1/4 cup of sugar from the original recipe.
Less sugar? Less fat? Less flavor? Absolutely not.
With all of those tweaks, these bars came out every bit as delicious. They're moist, tender and packed with peanut buttery goodness. Of course, since it's hard to imagine a peanut butter dessert without chocolate, I topped these bars with a delicious chocolate sauce made from coconut oil, cacao powder and a hint of maple syrup.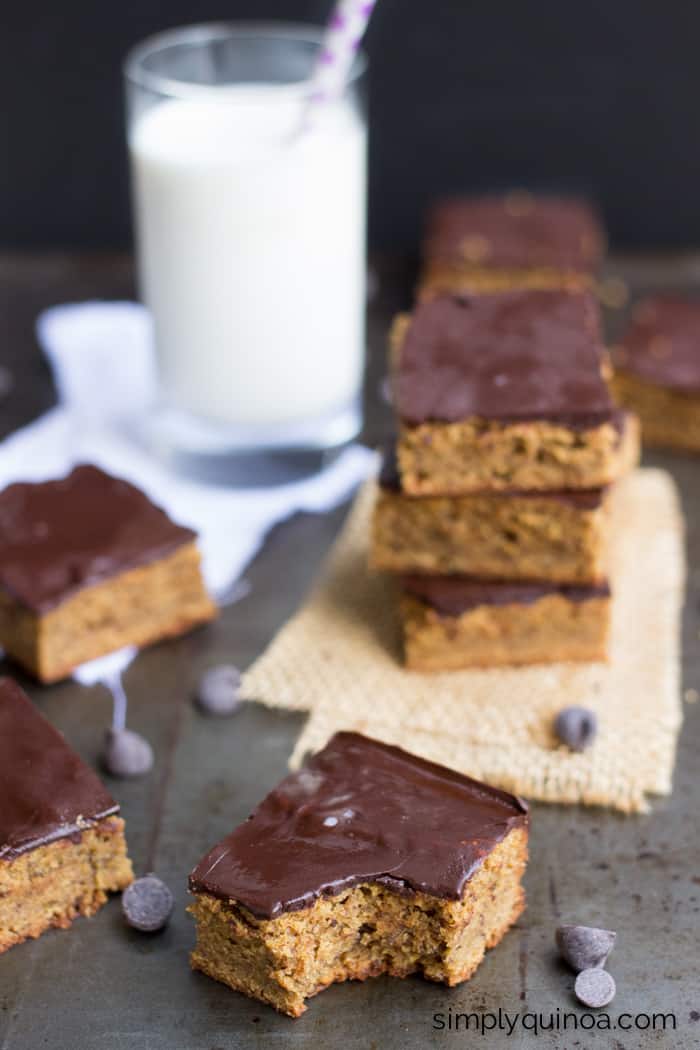 The sauce is totally optional and does require that you keep these bars in the fridge.
But since I know you're also a fan of the chocolate-PB combo, I wanted to give you the option just in case you wanted to make these bars a bit more indulgent. Either way, you can't go wrong. I'm already looking forward to dessert tonight.
xo Alyssa
(p.s. I was not compensated by BlendTec for this post. It's purely me, sharing a product I love and use on a daily basis.)

If you make this recipe, make sure to snap a pic and share it on Instagram using #SIMPLYQUINOA – I want to see your own quinoa creations!
Share this recipe!
More Delicious Quinoa Dessert Bars To Try!
Vegan Peanut Butter Quinoa Bars
These healthy peanut butter bars are the ultimate vegan treat! They're light and fluffy like brownies, but with a rich peanut butter flavor. Topped with a thin chocolate layer for added sweetness!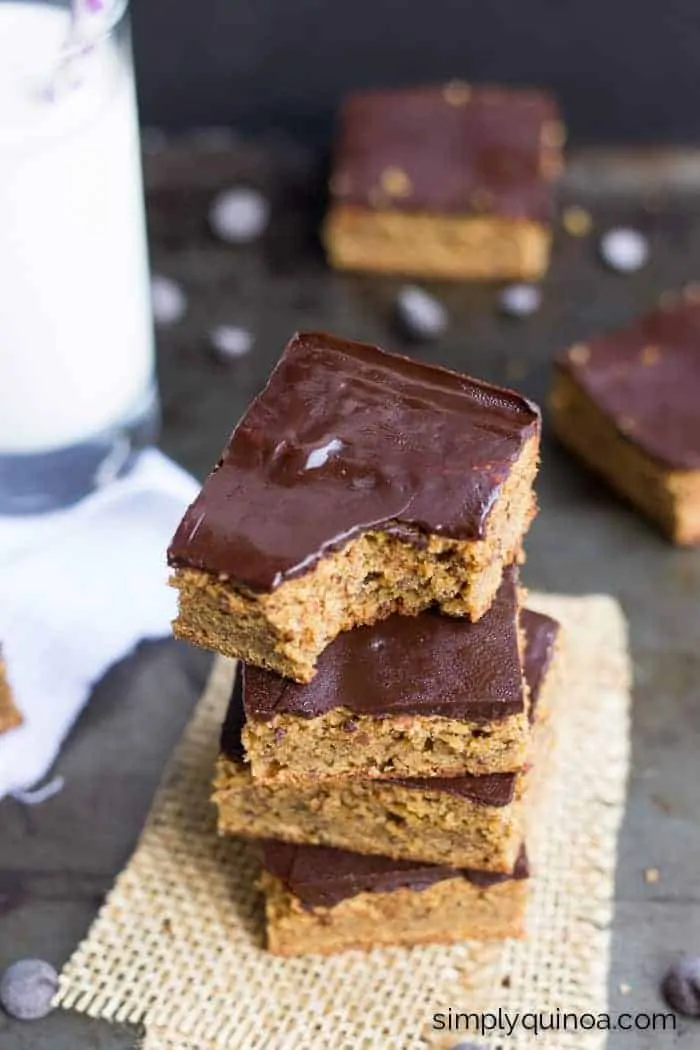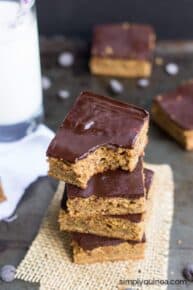 Ingredients
chocoalte sauce (optional):
Instructions
Preheat oven to 350 degrees F. Line an 8 x 8 baking pan with parchment and set aside.

Beat together applesauce and almond butter until creamy. Add sugar, vanilla, and flax eggs, and beat until combined.

Add to quinoa flour, baking soda and salt wet, mixing until incorporated.

Transfer batter to the prepared baking pan. Press it into the corners of the pan using wet hands or a pastry roller. Bake on the center rack for 20 - 24 minutes.

If you're using the chocolate sauce, quickly whisk the ingredients together and set aside until bars are done baking.

Let the bars cool in pan completely before topping with chocolate sauce (if using). Transfer to the fridge and chill for at least 30 minutes. Slice into bars and enjoy!

With chocolate sauce, store the bars in the fridge. If not topping with chocolate, bars can be left at room temperature.
Nutrition
Calories:
146
kcal
|
Carbohydrates:
11
g
|
Protein:
4
g
|
Fat:
10
g
|
Saturated Fat:
4
g
|
Sodium:
119
mg
|
Potassium:
111
mg
|
Fiber:
1
g
|
Sugar:
5
g
|
Calcium:
12
mg
|
Iron:
0.6
mg
Filed Under: