These healthy zucchini pancakes are made with a blend of whole grain, gluten-free flours, and are free from dairy and eggs. They're healthy and delicious!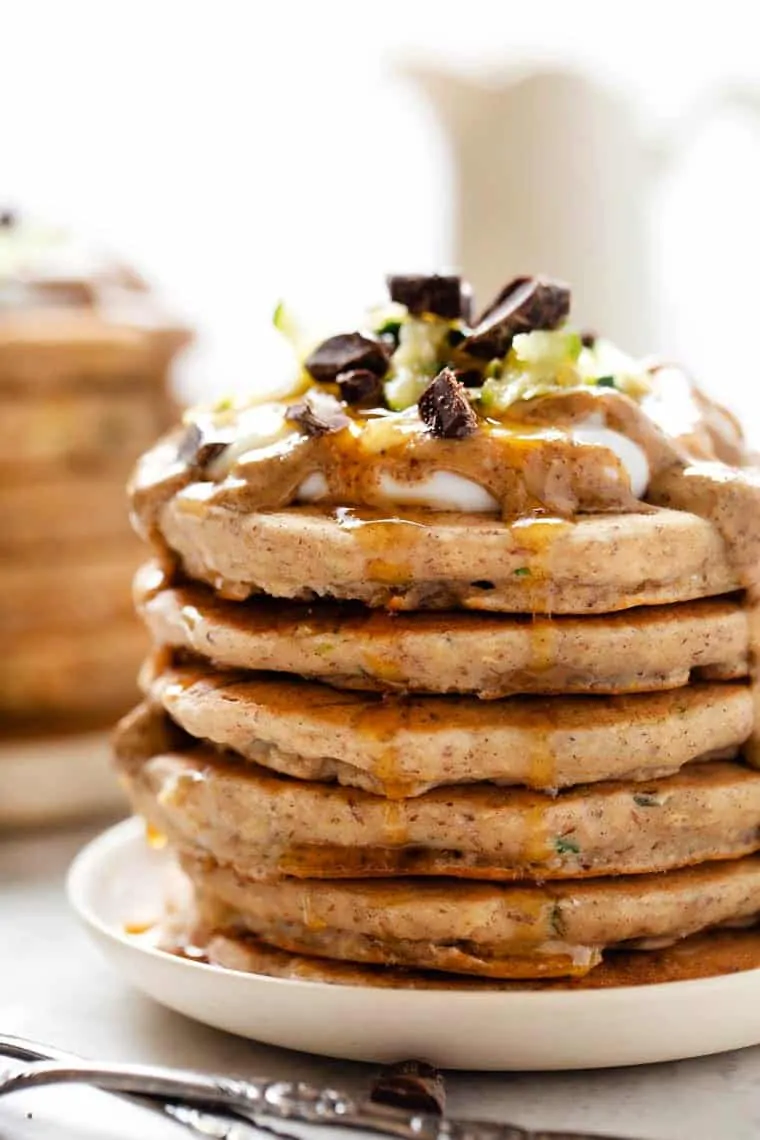 If I close my eyes and envision my perfect morning, this is what it would look like:
Wake up around 9am (which is late for me!), pour myself a big glass of lemon water, take Trevi for a walk in the sunshine, do an hour of hot yoga, then come home make myself a giant matcha and eat a huge stack of pancakes.
Sounds pretty amazing, don't ya think?
And while this certainly isn't my routine most mornings, I do sometimes get to indulge. Specifically on the pancakes. My current flavor of choice being these amazing healthy zucchini pancakes made with my all time favorite: quinoa flour!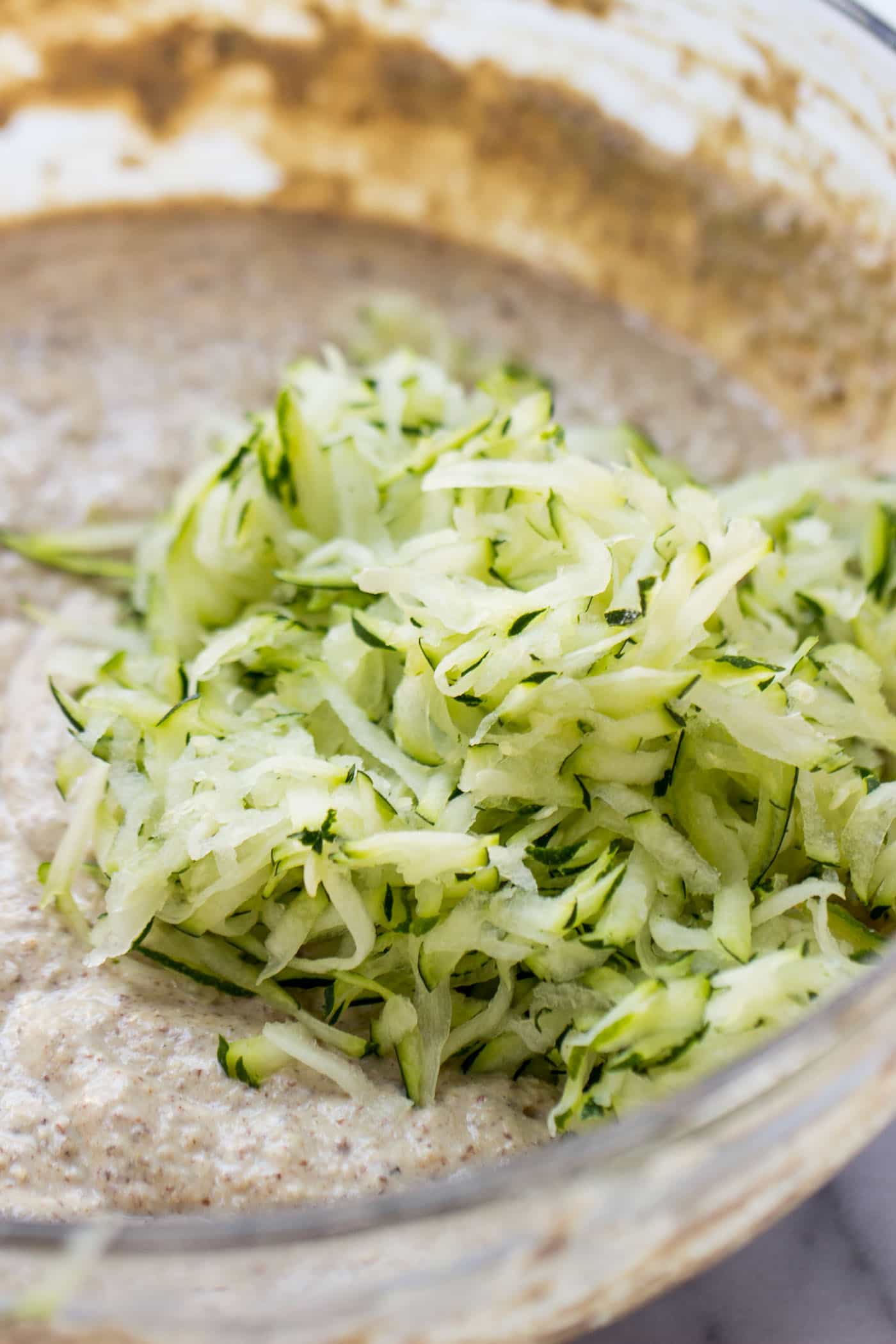 How to Make Zucchini Pancakes
Light and fluffy, this whole grain stack of goodness is packed full of tender zucchini, spiced with just a hint of cinnamon and vanilla and topped with all the best toppings. They taste eerily similar to zucchini bread, and yet in someway feel more satisfying.
Zucchini bread definitely has its own time and place, but when it comes to breakfast, especially a weekend breakfast, I'd much rather cozy up to a big stack of pancakes drizzled in warm maple syrup and topped with chocolate chips. I mean you get it…pancakes are just the best!
And pancakes are also super easy to make! You just stir your wet ingredients together, pour them into your dry, fold in your zucchini and bam. Breakfast is ready in about 15 minutes!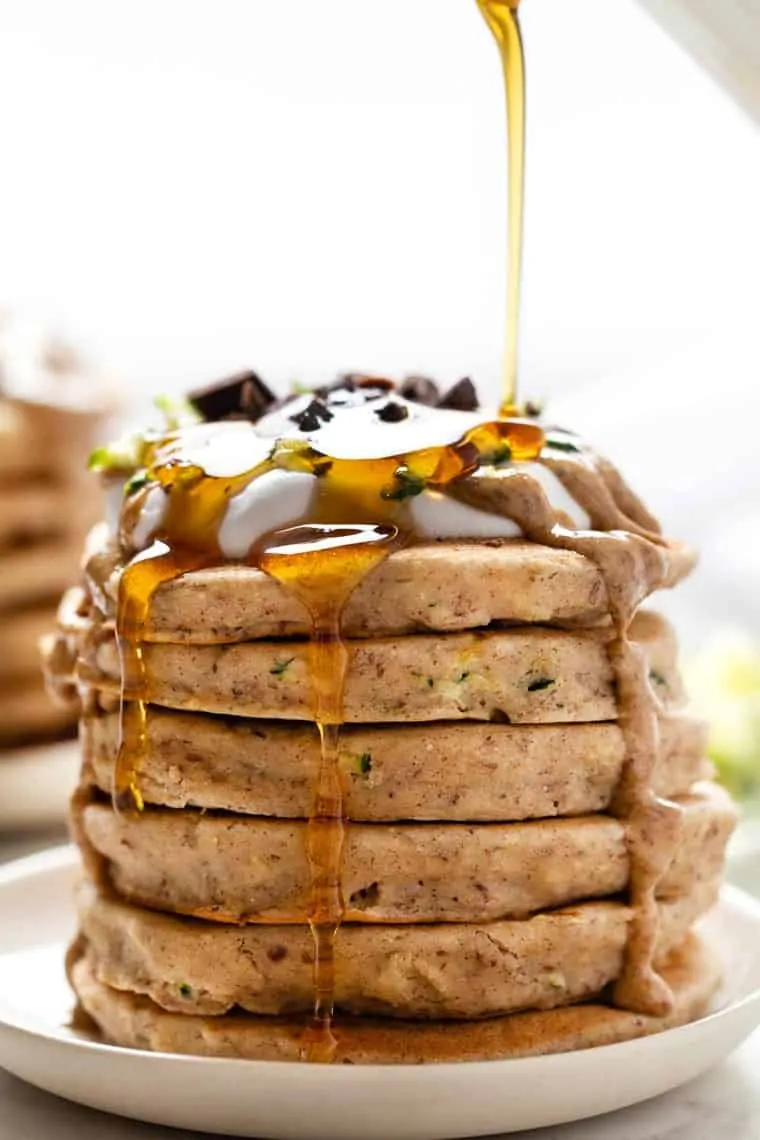 The Ultimate Vegan & Gluten-Free Pancake Recipe
Like many of the pancakes on my site, the base is just my basic quinoa pancake recipe which is then slightly adapted with the addition of the spices and zucchini. As though of you who have tried these pancakes before, they are incredibly fluffy and you would never know they are gluten-free (or vegan for that matter!).
This version is perfect for this time of year because as we're making our way into summer, zucchini is going to be everywhere. And if you have your own garden at home, I'm guessing you'll have an abundance in no time. These zucchini pancakes are the perfect way to use some of that abundance up!
And guess what? You can freeze them too!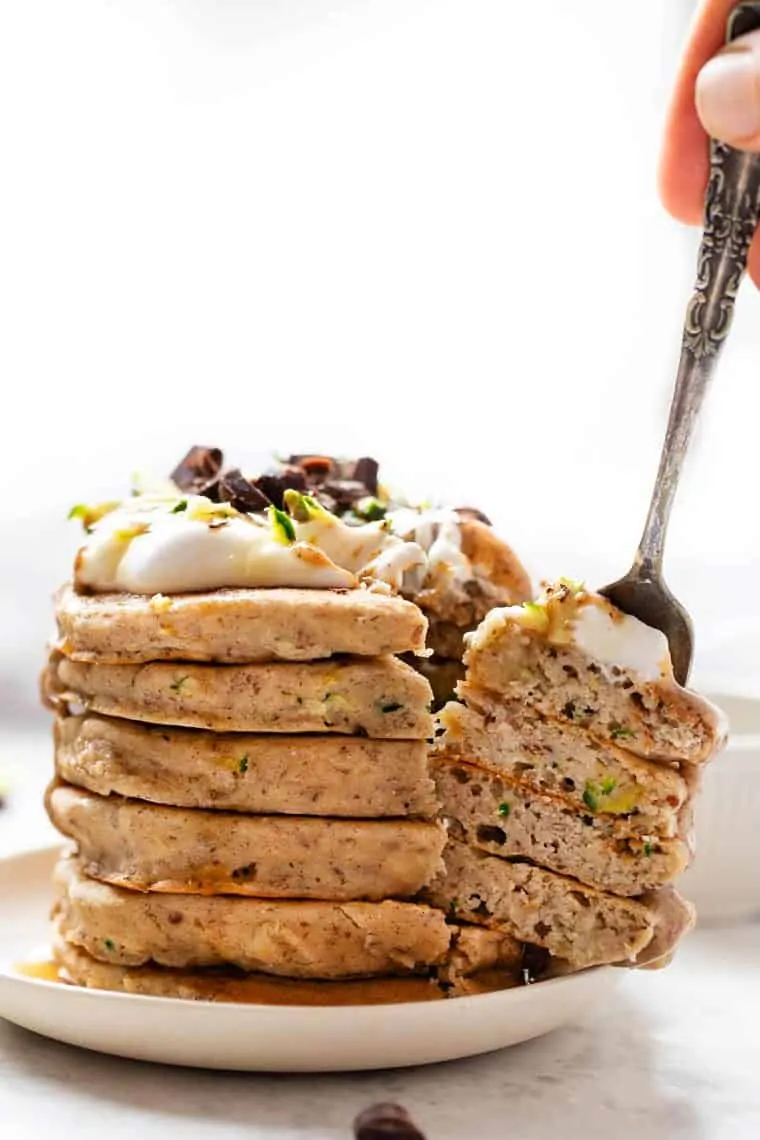 Can You Freeze Zucchini Pancakes?
The short answer is YES! You can totally freeze zucchini pancakes. And really any pancake for that matter. I love enjoying pancakes as a pre-workout or afternoon snack, so my freezer is always full of all sorts of creations.
Right now you'll find blueberry, banana, and these healthy zucchini pancakes in there.
All you do to heat them up is pop them in the toaster oven. Just like you would a frozen waffle from the grocery store, just heat them up and top them however you like! They're honestly amazing if you have kiddos at home too!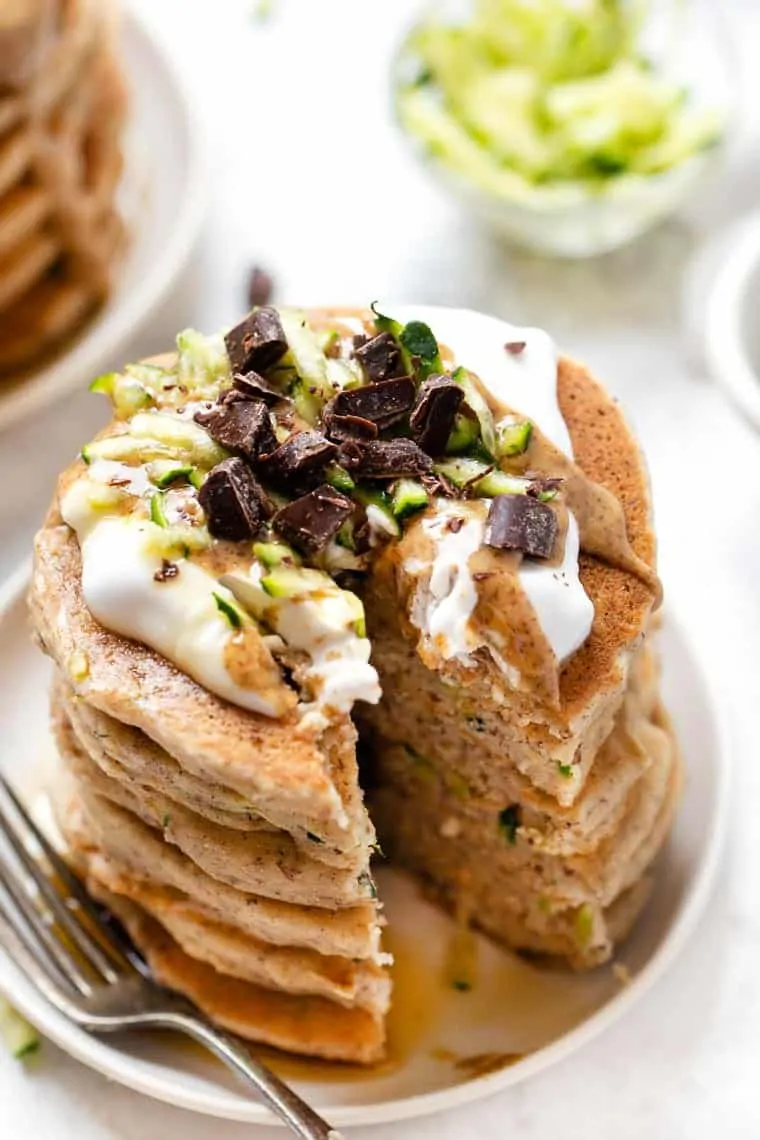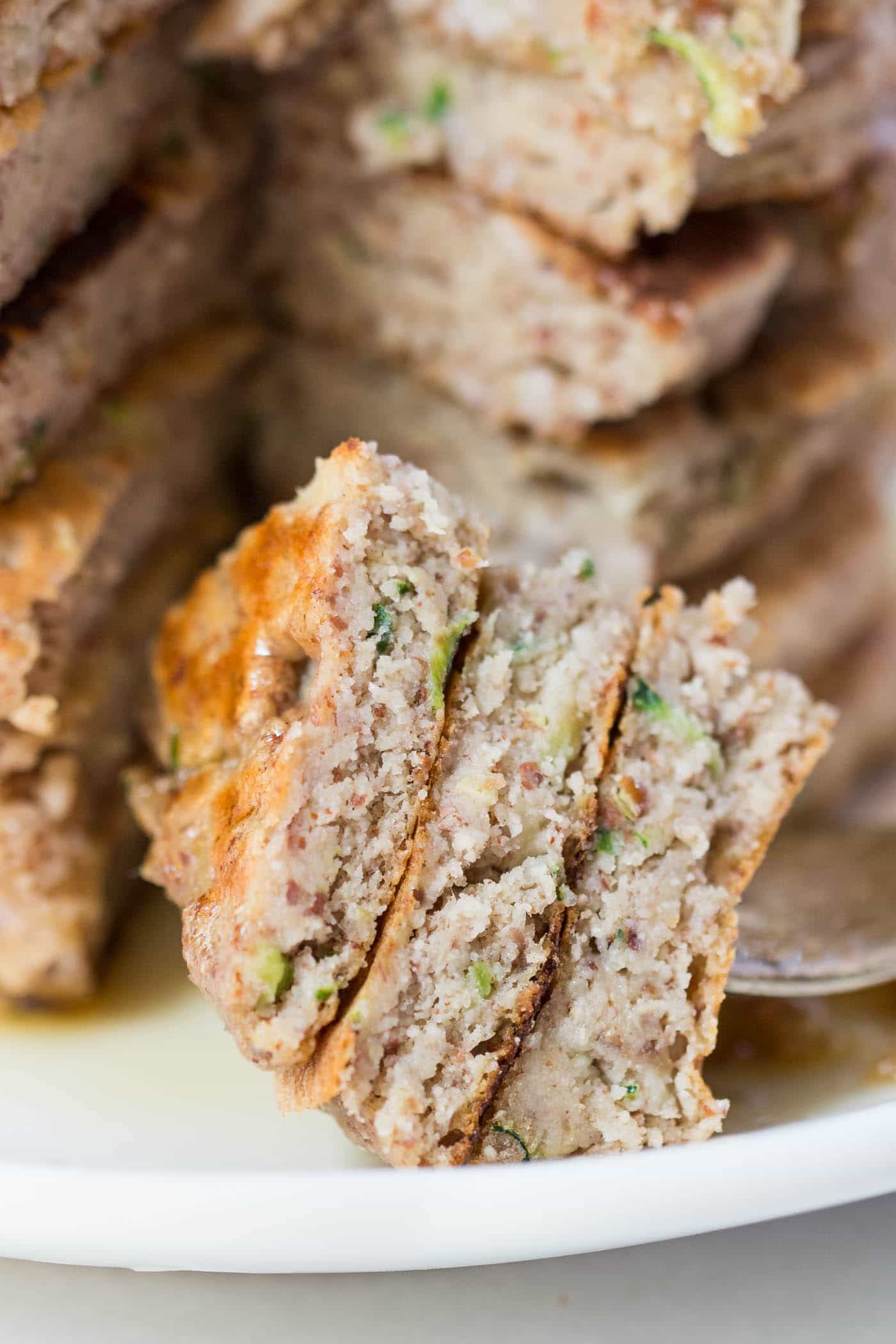 Toppings Ideas for Healthy Zucchini Pancakes
For toppings, feel free to get creative! I chose to top mine with a dollop of coconut yogurt, some chocolate chips, some sort of fruit (or more shredded zucchini), and of course, pure Vermont maple syrup. But you really could do whatever you want. Heck, you could even toss chocolate chips into the pancakes. Now we're talkin'!
One of the things I've been absolutely loving on top of pancakes recently is almond butter. I put it on my Quinoa Flour Pancakes from a few weeks ago and WOWZA. So good! I do a drizzle on top and it not only adds some healthy fats and protein, but it tastes amazing. If you haven't tried it yet, definitely give it a shot!
Whichever way you choose to top these pancakes, they're going to make for one tasty breakfast. And since they're made with whole grain, high-protein flours, these pancakes are also good for you!
More Healthy Pancake Recipes: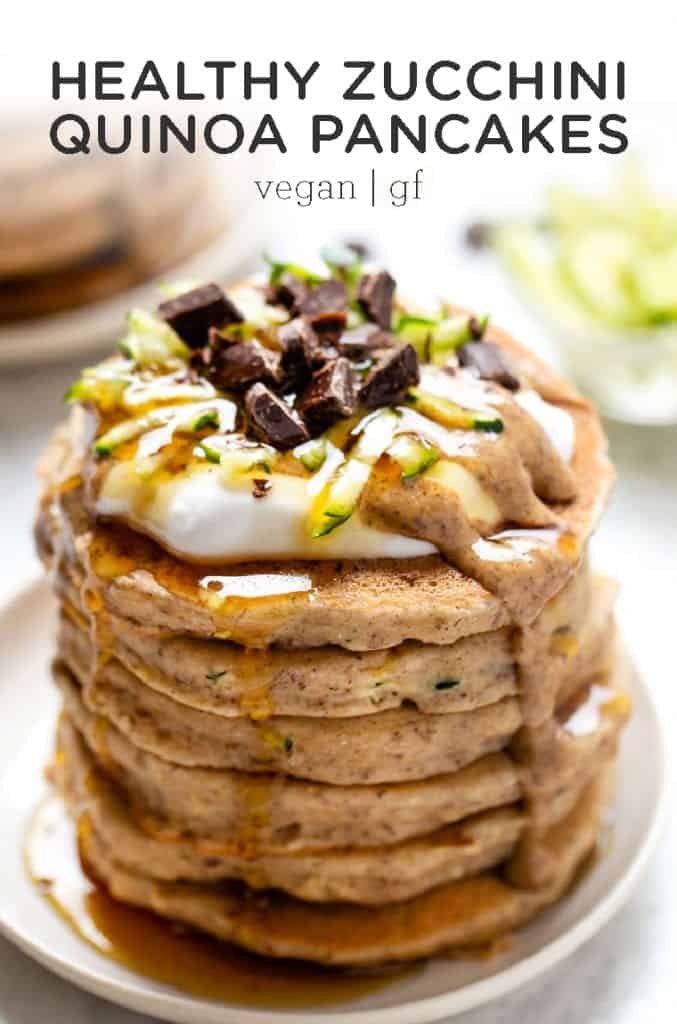 Vegan Quinoa Zucchini Pancakes
These fluffy Healthy Zucchini Quinoa Pancakes are the best gluten-free and vegan pancakes you'll ever taste! They're healthy, made with quinoa flour, almond flour and don't use any eggs! Just top with some fresh fruit and maple syrup.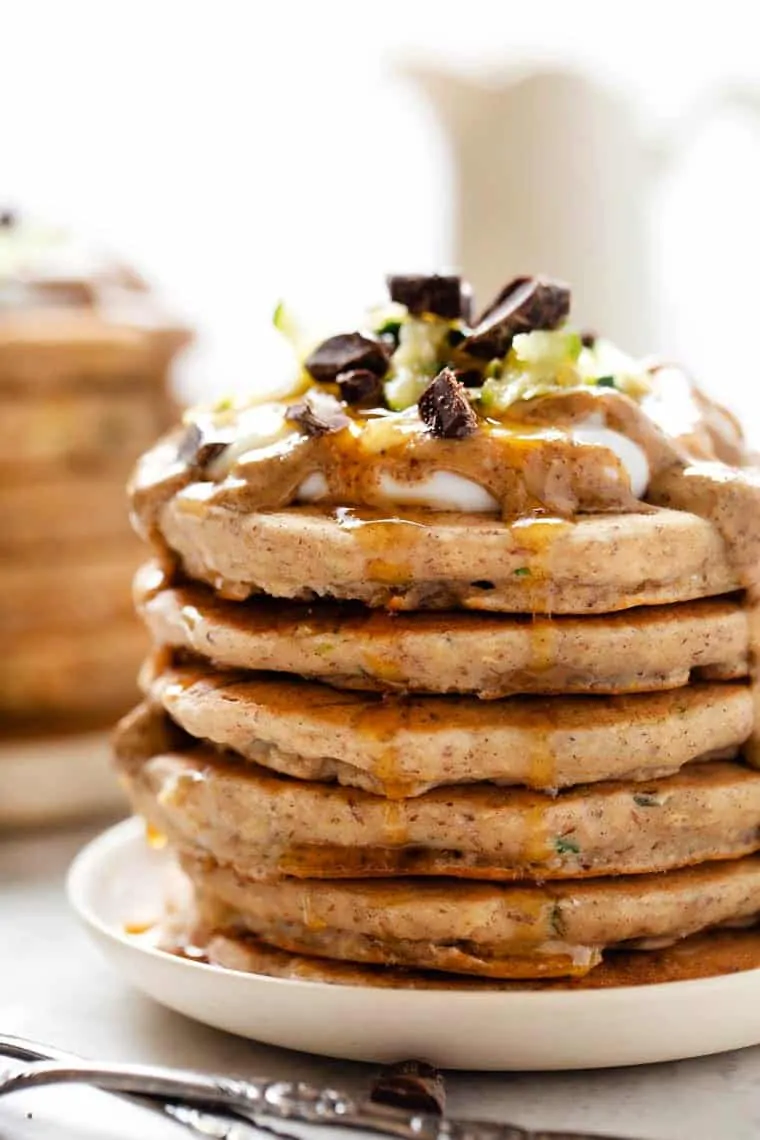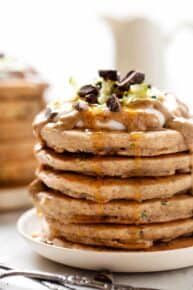 Instructions
Preheat a griddle over medium heat.

Whisk together the flax and water and set aside to gel.

In a large mixing bowl, whisk together the flours, baking powder and salt.

Beat together the flax eggs, milk, oil and syrup then pour into the dry and mix until a smooth batter forms.

Grate the zucchini on a box grater and the place the shredded zucchini in a clean dish towel. Squeeze it into a ball and press all the moisture from the zucchini. Fold it into the batter.

Lightly grease your griddle with nonstick cooking spray or coconut oil. Ladle ¼ cup of batter onto the griddle and repeat until you have filled your pan. Cook the pancakes until small bubbles begin to form around the edges, about 2 - 3 minutes. Flip and cook for another 1 - 2 minutes longer until the other sides are golden brown. Repeat until no batter remains.

Serve warm with vegan yogurt, chocolate chips, fresh berries and pure maple syrup.
Nutrition
Calories:
145
kcal
|
Carbohydrates:
13
g
|
Protein:
3
g
|
Fat:
8
g
|
Saturated Fat:
4
g
|
Sodium:
164
mg
|
Potassium:
133
mg
|
Fiber:
2
g
|
Sugar:
1
g
|
Vitamin A:
25
IU
|
Vitamin C:
2.2
mg
|
Calcium:
100
mg
|
Iron:
1
mg
Filed Under: