30-Minute Vegan Red Curry Noodle Bowls
These healthy vegan red curry noodle bowls are flavorful, saucy and super easy to make! Served with vegetables, crispy tofu, and gluten-free noodles too!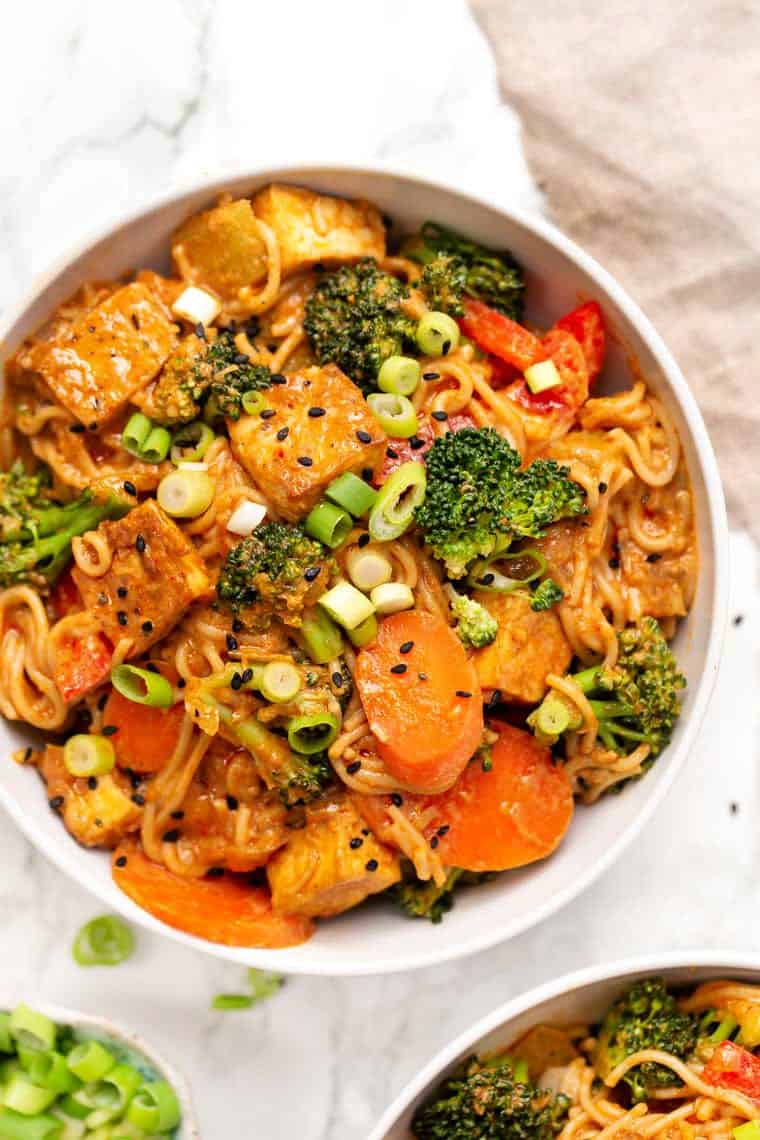 There's something so amazing about noodles, isn't there? They're one of the most beloved foods in the world and are used in so many different cuisines.
While I traditionally enjoy my noodles with an Italian spin, today we're giving you an Asian-inspired dish that is bursting with flavor, is easy to make and is hands down one of the most delicious recipes on this site!
These vegan red curry noodle bowls are ready in just 30 minutes and are served with a delectable creamy coconut sauce, with vegetables and crispy pieces of tofu. It's one of those meals that can be made for a quick weeknight dinner or enjoyed as a fancier date night in option. We've done both and we're happy eating this no matter what the occasion!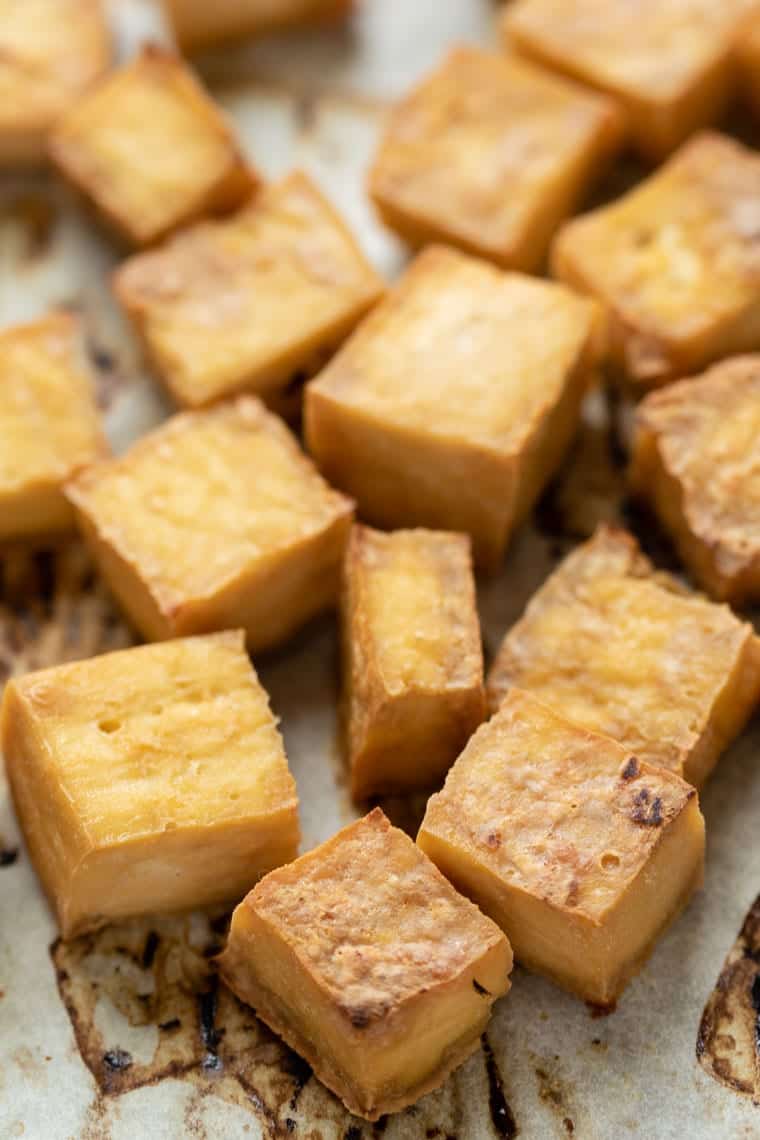 How to Make Crispy Tofu
The first component of this recipe is our tofu. Whenever I order tofu curry from Thai restaurants in our area it's always crispy and adds a really nice texture to the dish. But in those cases, the tofu is deep fried which we're not really about around here.
Sure fried tofu is delicious, but a) it's a pain to make and b) you can make it equally as tasty without all that oil. That's right, we can make crispy tofu in the oven!
To make crispy tofu in the oven, all you'll need is a block of extra firm (or super firm) tofu, a baking sheet, some parchment paper, and an oven. Simply cut the block into cubes, place the cubes on a parchment-lined baking sheet and bake the tofu for about 30 minutes at 425ºF until it's crispy! You'll want to flip it halfway through for even cooking, but the end result is spectacular!
The tofu is crispy on the outside, soft on the inside and is the perfect addition to these red curry noodles!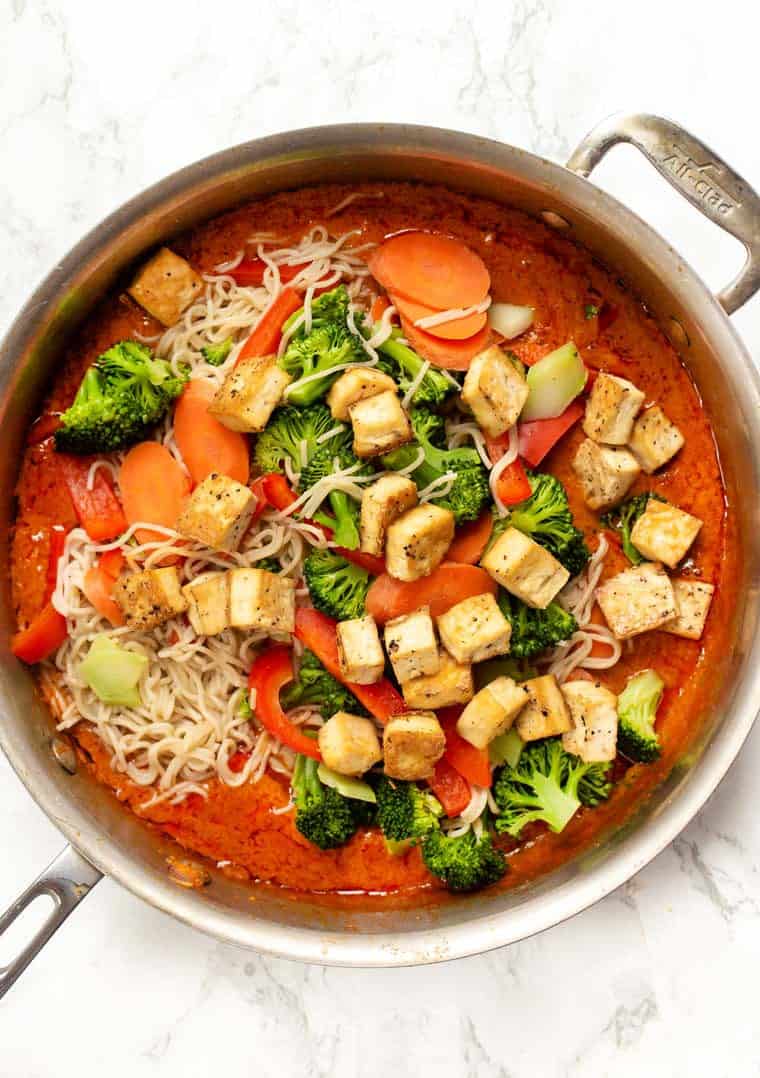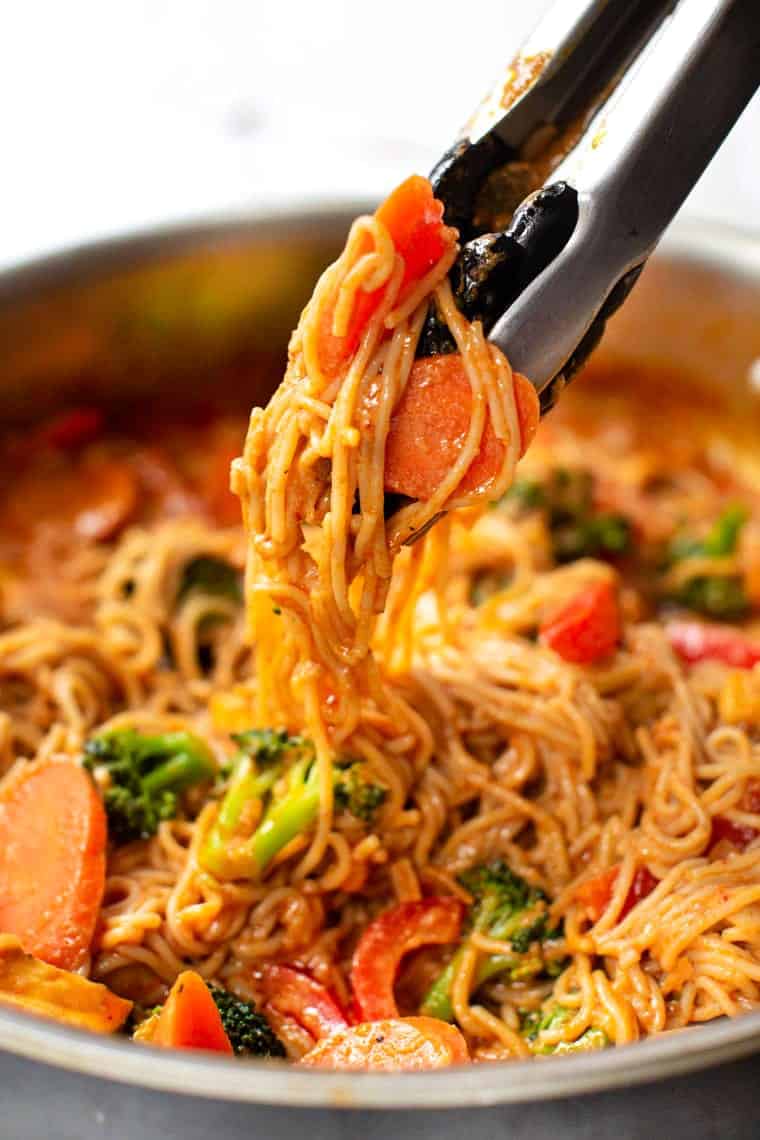 The Secret to Vegan Red Curry
The type of curry we're referring to today is Thai red curry. If you actually make Thai red curry from scratch, it can be a little tricky.
The base of red curry is coconut milk, but it's the spices and the "paste" that give it flavor. The paste requires traditional Thai ingredients like fresh galangal, lemongrass, and kaffir lime which definitely aren't a staple you'll find at the grocery store. While you could certainly explore your local Asian food market, I'm all about buying it.
The brand I like is Thai Kitchen – the ingredients are 100% pure, it's got great flavor, it's gluten-free and vegan, and it's sold almost everywhere. I keep it in my pantry at all times because it allows me to make vegan red curry in an instant with just a few simple ingredients!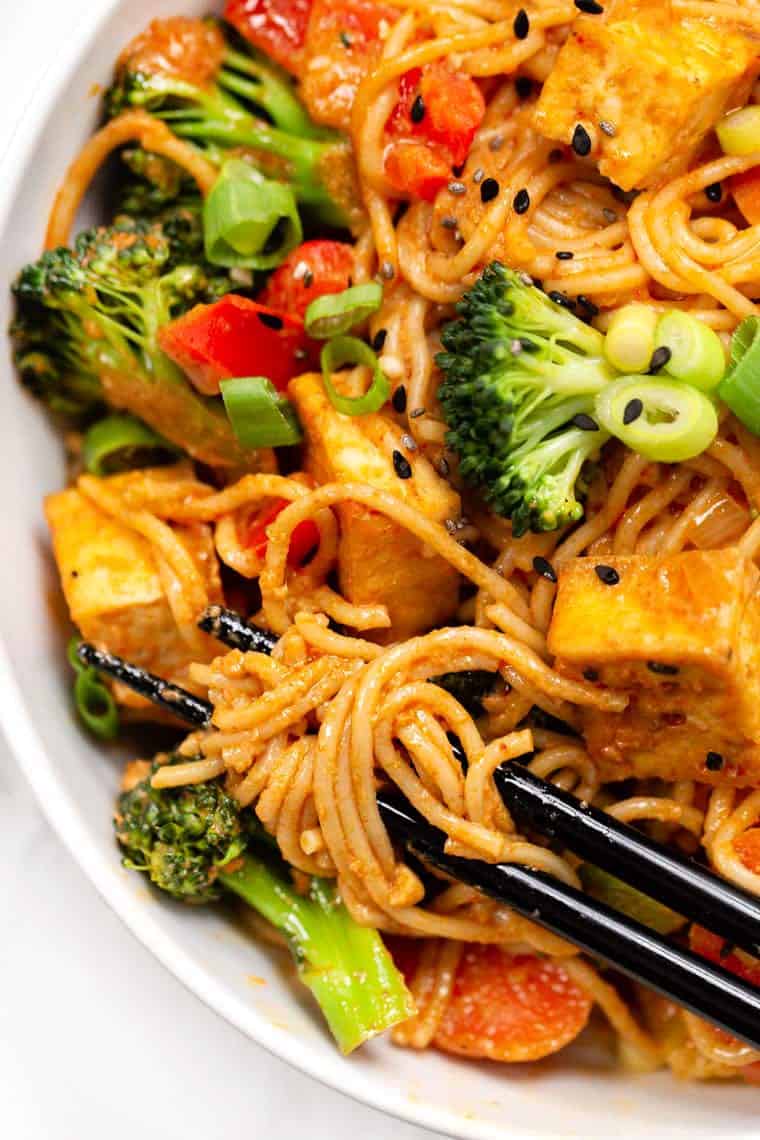 The Ultimate Red Curry Noodles
These red curry noodles aren't like a traditional curry. Rather than it being a brothy soup-like texture that you serve over rice, these noodles are saucy. The coconut milk-based sauce is on the thicker side, but it ends up making the dish easier to eat and just delicious!
When  you look at the instructions it might seem like there's a lot going on, but it's actually just three simple components that, if you do them in order, won't take you long at all:
Crispy tofu: Get this in the oven first, then move onto the other steps.
Vegan red curry sauce: Next, get this going and let it simmer while you make component three.
Noodles and veggies: Cook the noodles according to the package and add the veggies into the same pan when they have 2 – 3 minutes left in their cooking.
And if you follow that order, your dinner will be ready in just about 30 minutes! Simple and absolutely scrumptious!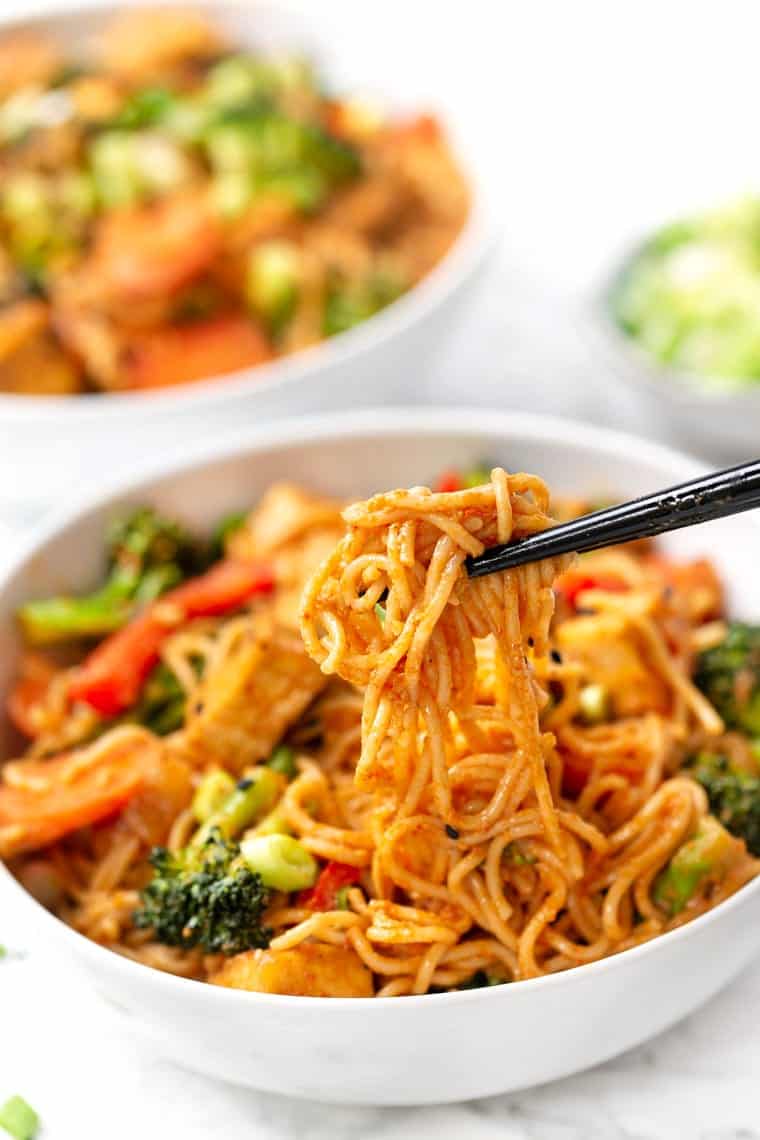 Now before I let you run off and make this fabulous dish, I do just want to chat about meal prepping this dish. I think you definitely could make it ahead, but the noodles will most likely get very mushy when you reheat.
So what I would suggest is if you are going to meal prep this recipe is keeping the sauce, veggies, and tofu together and either cooking the noodles right before you're going to eat it or serve it over rice instead ????These curry noodle bowls are legit and you're going to absolutely LOVE them!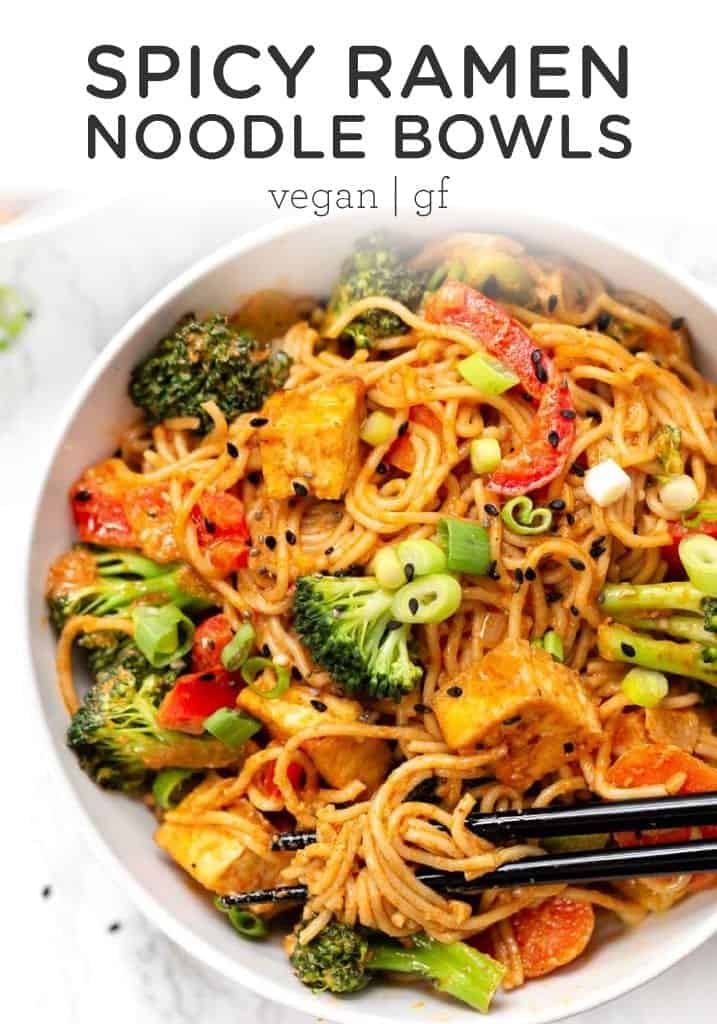 More Vegan Curry Recipes You'll Love!
Vegan Red Curry Noodle Bowls
These healthy vegan red curry noodle bowls are flavorful, saucy and easy to make! Served with vegetables, crispy tofu, and gluten-free noodles too!
Servings 4 servings
Calories 706kcal
Ingredients
for the tofu:
for the add-ins:
2 cups broccoli florets (+ stems, optional)
1 cup sliced carrots
1 cup sliced red pepper
1 bunch scallions
Instructions
Prepare the tofu: Preheat the oven to 425ºF and spray a pan with cooking spray. Cut into cubes and add to the pan. Spray with another layer of cooking spray, sprinkle with salt & pepper and bake for 30 minutes, flipping halfway through.

Prepare the sauce: While the tofu is cooking, heat the oil in a large skillet and add the shallot, garlic, and ginger. Saute for 2 minutes until the garlic is fragrant. Add the red curry paste, coconut milk, and tamari, and bring to a boil. Turn down the simmer and simmer until ready to serve.

Prepare the noodles: Bring a pot of water to boil. Cook the noodles according to the package instructions. Add your vegetables when there are three minutes in the cooking. Strain everything and add it into the sauce along with the tofu.

Make your bowls: Toss the noodles, vegetables, and tofu together until combined, then divide between four bowls. Sprinkle with scallions and sprinkle with sesame seeds.
Nutrition
Calories: 706kcal | Carbohydrates: 78g | Protein: 17g | Fat: 36g | Saturated Fat: 30g | Sodium: 617mg | Potassium: 814mg | Fiber: 9g | Sugar: 8g | Vitamin A: 9275IU | Vitamin C: 96.5mg | Calcium: 121mg | Iron: 6.1mg
share what you make
Tag #simplyquinoa on Instagram with your creations! We love sharing what you make with the community. We can't wait to see!

follow on instagram