Vegan Red Pepper & Spinach Quesadillas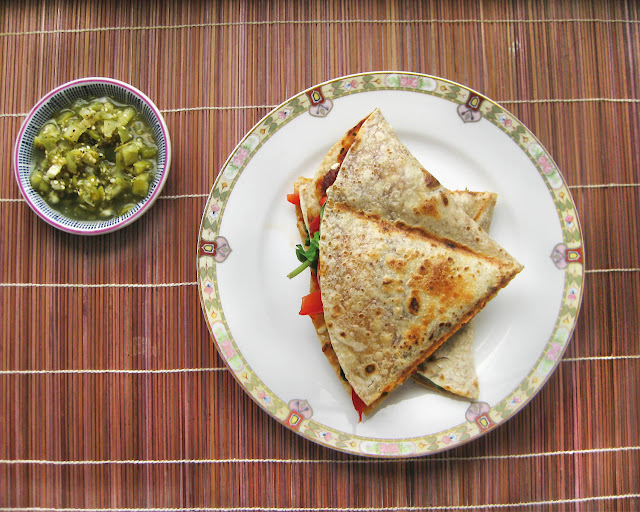 A scrumptious lunch – healthy, vegan & gluten-free
What a week. Was is it one of those weeks for you too? I feel like I've been moving a million miles an hour since Monday. Each day crazier than the next, each evening flying by just as fast. And now, it's the weekend. Thank goodness.
I'm sitting in my parent's kitchen, in my usual spot at the island, with my computer and my juice. Such a familiar and comfortable place. My Dad is sitting next to me (Mom is out of town sadly), and our fabulous little pup, Halley, is sleeping at my feet.
Pure bliss.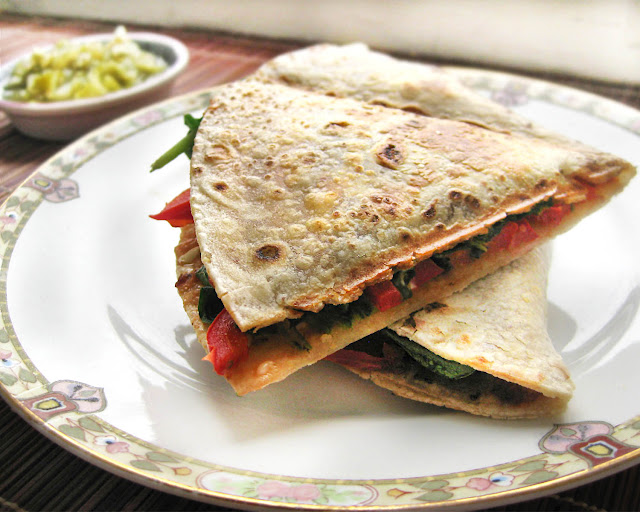 Coming home is like walking into a bubble of relaxation. The feeling is instant. My body goes calm. Work flies out of my mind. Life in Burlington is put on hold. It's like time takes a quick pause, resuming when we get back in the car and drive back north to our apartment.
This weekend is meant to recharge my batteries. Take a moment to breathe. Press reset on the internal clock. Sleep in. Spend some time cooking, baking, eating and drinking wine. Enjoy time with my Dad. Walk with my puppy outside.
Sounds pretty good, doesn't it?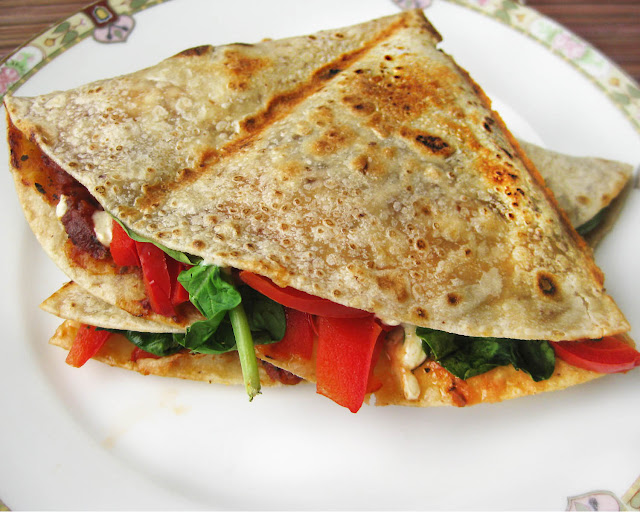 Now that you know my plans for the weekend, let me come back down to earth. Today, it's all about lunch – I've been focused on breakfast recently (not that there's anything wrong with that, breakfast is simply the best…), but it's time to switch gears.
If you're anything like me, you know what it means to be in a lunch rut. A lunch rut you may ask? You know, that rut when you bring the same old salad or boring leftovers to work? Don't get me wrong, salads and leftover are both amazing, but when you realize that you've had the same bowl of green in front of you for the past four days, something's got to change. Time to give yourself a little nudge.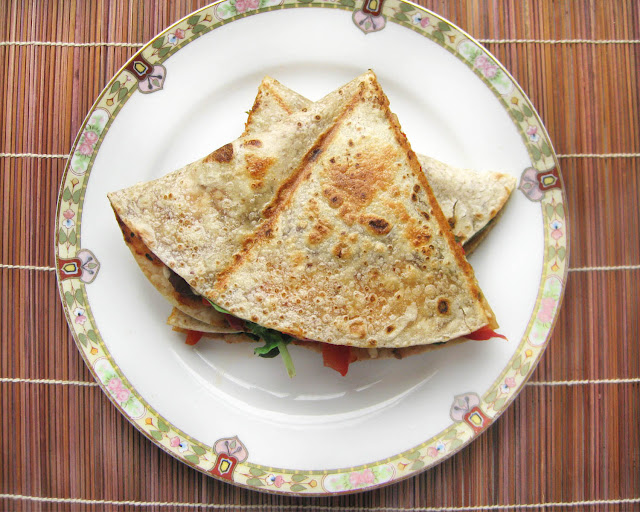 I'm not the biggest quesadilla person. I never really understood the appeal, even when I was eating gluten and dairy. I mean really, who wants to take a bite of a soggy flour tortilla, oozing with melted greasy cheese? Not me!
Quesadillas are one of Mr. Henderson's favorite foods (sometimes I think he has a Mexican heritage in his blood, with his insane, unconditional love for the cuisine). Growing up in Denver, surrounded by amazing Mexican and Puerto Rican foods (it is the birthplace of Chipotle Mexican Grill), he was spoiled.
Then he came East. To Vermont. A place full of awesome food, but lacking in authentic Mexican flare.
Our solution to this East Coast problem? A quesadilla maker.
A fabulous little machine that whips up delicious quesadillas in minutes. I'm hooked. My lunches (and dinners) has been opened to a whole new world of possibilities.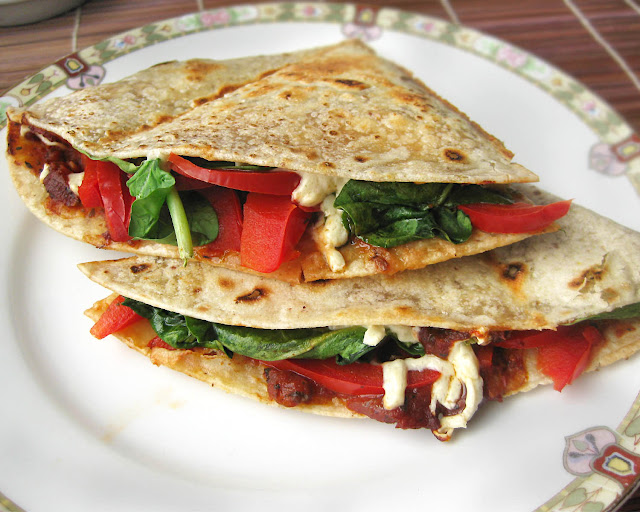 Gluten-Free & Vegan Red Pepper Spinach Quesadillas
Quesadillas are versatile and oh so very easy. If you don't have time to prepare a salad or just need something on the fly, you can turn to this recipe. Loaded with flavor and healthy vegetables, it's fairly low calorie, but still satisfying and delicious.
Vegan Red Pepper & Spinach Quesadillas
serves 2
The combination of the crispy peppers, soft spinach, melty vegan cheese, sweet tomato sauce and charred tortillas is heavenly. We gobbled these babies up in minutes.
ingredients:
2 gluten-free tortillas (I use brown rice)
2 cups spinach, chopped
1 red bell pepper, thinly sliced
4 tablespoons thick / chunky tomato sauce
1/4 cup vegan cheese 
Preheat your quesadillas maker or pan over medium heat. Place the tortillas on a plate and zap them in the microwave for 30 seconds.
Spread 2 tablespoons of tomato sauce on each tortilla. To assemble one quesadillas, spread half of the red peppers on half of the tortilla, top with one cup of spinach and sprinkle with half of the cheese. Carefully fold the tortilla over (so you have a half circle) and place it in the quesadilla maker.
Close the lid and let it grill for 3 – 5 minutes, or until the tortilla is crispy and the cheese is nice and melted.
Repeat with the other tortilla. Cut in half or in mini triangles and enjoy warm or with a touch of fresh salsa.
You'll be happy to know that Mexican has made it's way to VT (in our household at least!).
share what you make
Tag #simplyquinoa on Instagram with your creations! We love sharing what you make with the community. We can't wait to see!

follow on instagram