Relish in the ultimate crispy spring rolls with the healthy quinoa twist. Vegetable quinoa spring rolls are a protein-packed vegetarian meal!
I know it's been a while since I posted a new recipe, but there have been some very exciting things happening around here.
For one, I'm working on a new ebook! The book will be jam-packed with delightful quinoa recipes (75 brand, spankin' new, never-before-been-seen ones!) and I know you'll just love it. I'm pumped. The book will be out in the next few weeks, and subscribers will get the first sneak peek (plus a little discount). Pre-sales will be happening the week before launch, so sign up now and make sure to get your hands on your copy before everyone else 🙂
Second, this happened…
And my life has been changed forever. You don't think that having a puppy will turn your life upside down, but it kind of does! I have to watch her constantly, take her out all the time, always teaching her good habits. I did my homework before picking her up, read a couple of puppy books, and still the moment she came into our home, I felt a little lost.
We're getting into the swing of things, but she definitely is taking up a big part of my attention!
So, cooking and blogging has been kind of on the back burner. But I'm getting back into the swing of things and you can expect to have more quinoa recipes coming your way soon.
For now, I hope you enjoy these Vegetable Quinoa Spring Roles. And don't forget to sign up to get the pre-sale discount on my upcoming ebook!
Vegetable Quinoa Spring Rolls
Packed with vegetable goodness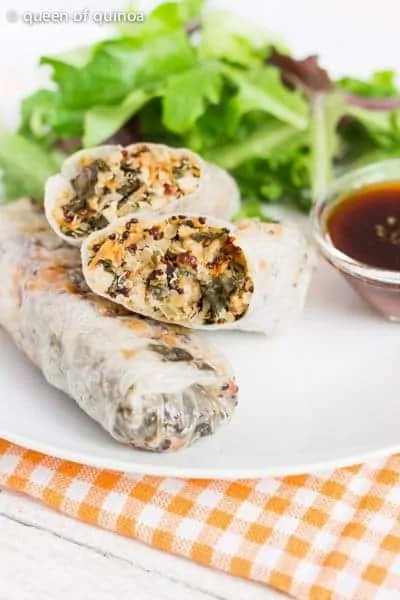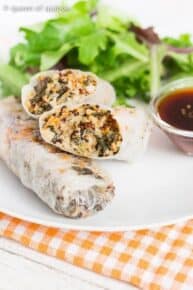 Instructions
Preheat the oven to 400 degrees F.

Combine the quinoa, carrots, kale, soy sauce, fish sauce and spices in a large mixing bowl. Set aside.

Assemble one spring role at a time, by first placing a rice paper in warm water. Let it soften only slightly and transfer it to a flat surface. Spoon about 2 - 3 tablespoons of filling onto one side of the rice paper. Fold in the sides then roll it up like a burrito. Place it on a greased baking sheet and continue until no filling remains.

Once you have assembled all of the spring rolls, brush them each with a little bit of olive oil and bake them for 20 - 25 minutes, flipping half way through.

Serve with the soy sauce-wasabi dipping sauce (simple soy sauce and wasabi paste mixed together) if desired.
Nutrition
Calories:
91
kcal
|
Carbohydrates:
15
g
|
Protein:
3
g
|
Fat:
2
g
|
Cholesterol:
1
mg
|
Sodium:
202
mg
|
Potassium:
149
mg
|
Fiber:
1
g
|
Vitamin A:
3375
IU
|
Vitamin C:
16.8
mg
|
Calcium:
34
mg
|
Iron:
1.1
mg
Filed Under: