Whenever someone asks me why quinoa, one answer always jumps to the front of my mind. Versatility.
To me, quinoa is one of those ingredients that goes with everything. From savory appetizers to sweet desserts, I've tried it all, and although not all of my dishes are successful, playing around with quinoa has made gluten-free cooking so much more fun.
Lately on Queen of Quinoa, my recipes have overwhelmingly gone in the sweet direction. I have a major sweet tooth, so I've been trying to create healthy treats that I can eat guilt free.
But like everything in life, there needs to be balance. It's important to remember that with all sweet things there must be savory dishes to counteract those indulgences, even as healthy as they may be.
So today I'm sharing a salad. A big old bowl of green, tossed with lemon juice, quinoa and goat cheese. This warm arugula salad is simple yet elegant meal that's healthy and packed with nutrients. To get this scrumptious recipe, just hop on over to the Good Life Eats blog!! You won't want to miss it.
---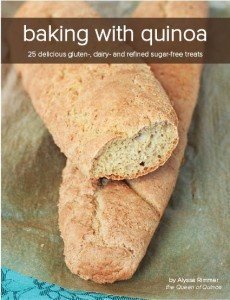 Available Now!! Baking with Quinoa
Featuring 25 mouthwatering recipes – all free from gluten, dairy & refined sugar – Baking with Quinoa will show you just how easy it is to make healthy & nutritious baked goods.