Weekly workout schedule idea now that gyms and group fitness classes are canceled. This workout schedule is easy to follow and everything is done at home!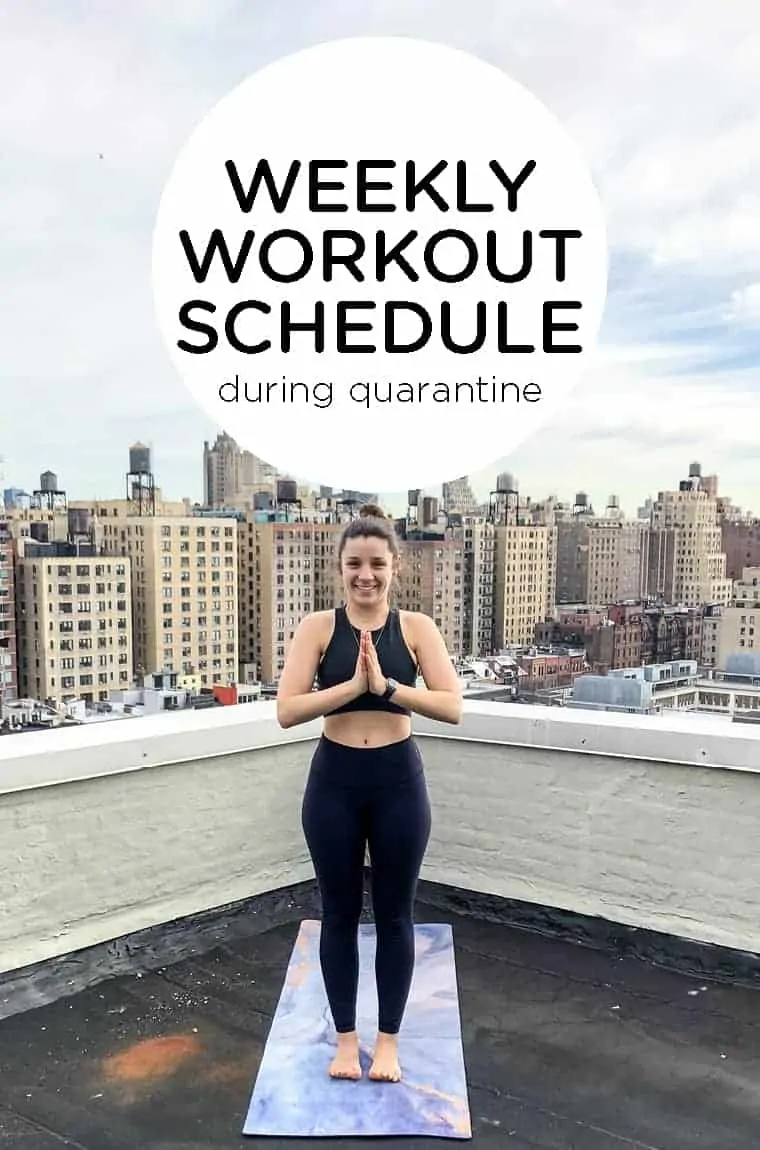 Gyms are closed. Group fitness classes are canceled. Social distancing practices are in place. So how the heck do you work out?!
The simple answer: you gotta find a routine at home.
I've been working out at home for years, but have now found a new normal during quarantine. I've found a weekly workout routine that I love. Like really love! And has actually helped me get more fit than I've ever been before.
In this post, I'm not only going to share my weekly workout schedule with you, but I'm also going to share some of the best places to find at-home workouts, equipment you can use for small spaces and more! I hope you find it helpful as you're navigating this crazy world of quarantine life.
Where to Find At-Home Workouts
Luckily there are SO many options for at-home workouts! Especially now that we're all on lockdown. I have some personal favorite workout options, but I'll give you as many ideas as I can:
YouTube: you can find pretty much everything on YouTube these days including full-length great workouts!
Fitness Blender: I've used their workouts for years and occasionally sprinkle them into my routine. Their workouts are free and they also have paid plans as well!
p.volve: LOVE this for toning! It's what I did while I traveled and I think it's what has really helped tone me up. They're not super strenuous workouts, but I think they're really effective.
Peloton app: even if you don't have a bike or treadmill, they've got GREAT workouts! They're pretty intense, so I use them more for HIIT and strength training. Matt really likes them too!
Tone It Up: I have their app and I like it – don't loooove it. I think their workouts are a little easy and not long enough for me, but they now also have programs you can follow which I think is great.
Instagram: so many studios are now doing live workouts that you can join and follow along! I haven't personally done any, but I think it's a great way to go. Just check out your local studio to see if they're offering anything online.
Best Workout Equipment for Small Spaces
I live in a smallish apartment, so I've got to make sure that the equipment I do have doesn't take up much room. I actually have a post that details my favorite workout equipment for small spaces, but I'd say at minimum, you should have:
resistance bands
light hand weights
gliders
yoga mat
Those are probably my "ride or die" pieces of equipment and they can fit pretty much anywhere!
What Has Changed in my Workout Routine
So to preface, this is my current routine and it will likely change once studios open back up, but I have to say I LOVE IT. I feel so so good right now. Like actually better than I've probably ever felt.
I think part of that has to do with me changing things up, but I think it also has to do with… running.
Yep, I've picked up running and wow. I not only feel amazing, but it has changed my body. I'm more toned, I'm stronger, and I can tell that I'm in better shape than I ever have been before.
If you're interested in picking up running, let me know and I can do a post with beginner tips!
How I Plan My Weekly Workout Schedule
So before we dive into my specific workouts, I want to give you an overview of how I plan my week out. I currently exercise every single day in some way shape or form. Each day isn't an intense workout, but I try to move my body daily. It helps with my mental health as much as my physical health.
So here's what I do weekly:
Cardio: 4x
Toning/strength: 6x
HIIT: 1x
Recovery: 1x
Walking: daily
My Weekly Workout Schedule (During Quarantine)
Now I want to share the specific workouts I did this past week. This isn't an exact science and I try to change it up weekly, but the general schedule is the same.
Monday: run + toning
Tuesday: HIIT + toning
Wednesday: running + toning
Thursday: strength + toning
Friday: kickboxing + toning
Saturday: run + toning
Sunday: deep stretching/elongating
So that's my general weekly workout schedule! It changes from day to day with the specific work out that I do, and some days may swap depending on the weather, but that's a general rule of thumb for me.
To give you a concrete example of what a week of workouts looks like, I actually put together a video for you!
VIDEO: My Weekly Workout Schedule
Here's what the last two week's schedules were like:
Monday: run + p.volve
Tuesday: p.volve x2
Wednesday: run + p.volve
Thursday: HIIT + kettlebells
Friday: kickboxing + p.volve
Saturday: run + p.volve
Sunday: long walk + deep stretch
This week had a lot of p.volve, but the week before was this:
Monday: run + p.volve
Tuesday: HIIT + tone it up
Wednesday: run + p.volve
Thursday: fitness blender
Friday: kickboxing + p.volve
Saturday: run + p.volve
Sunday: long walk + deep stretch
What does Your Schedule Look like Now?
I hope you found this post helpful! I'd love to hear what your current routine is looking like. Do you have a weekly workout schedule that has worked during quarantine? Let us know in the comments!