Ever wondered what it's like to eat vegan and gluten-free in NYC? Check out my latest "What I Eat In a Day" video to see how easy it really is!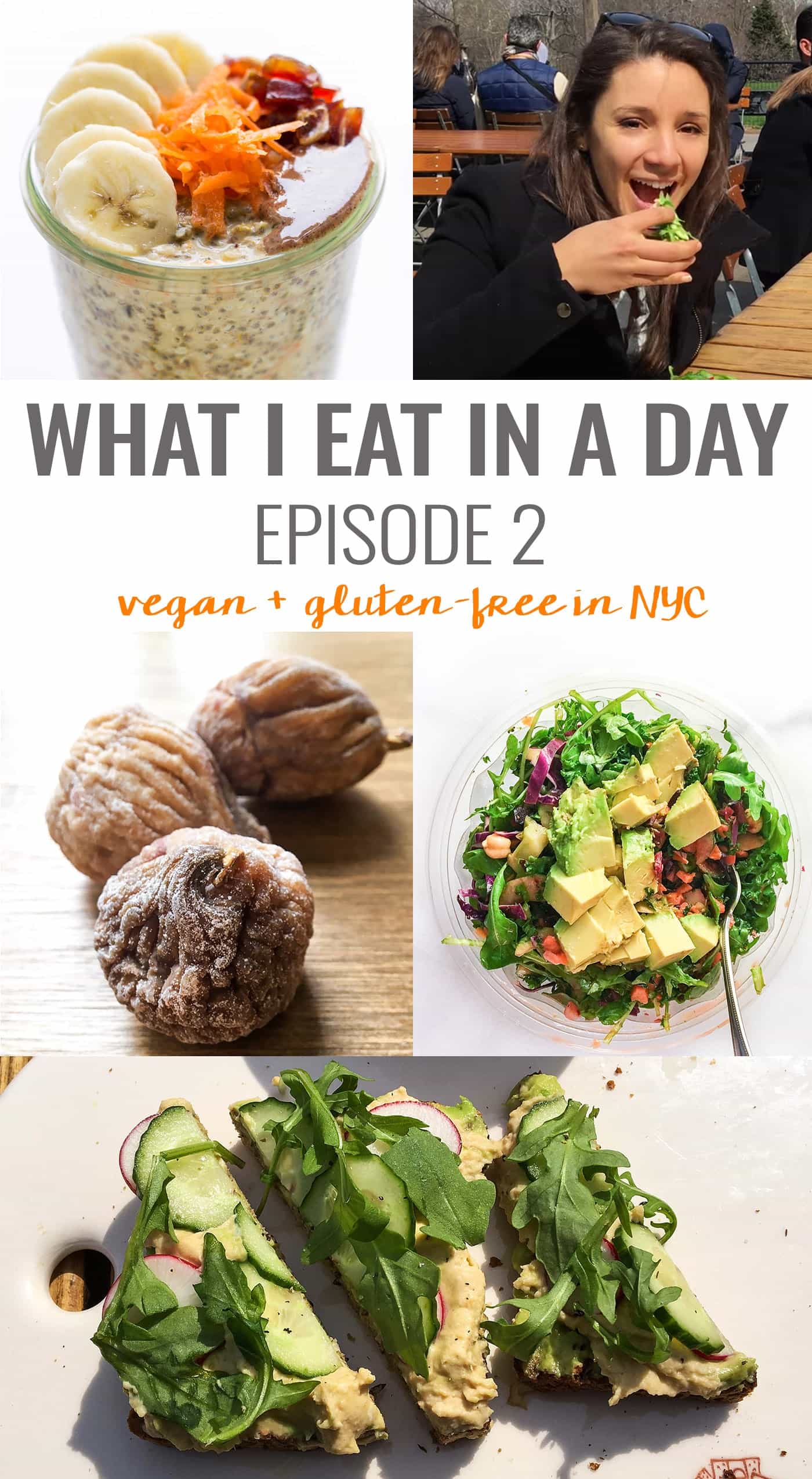 I've got a brand new video for you today and it's all about what I eat in a day! You guys really liked the last one, so I thought we would make this a more regular occurrence. Not sure how often I'll film them, but they're fun to put together and my hope is that it helps you see how easy it is to eat gluten-free and plant-based
(plus you get a behind the scenes look at my day-to-day which is fun…puppy appearances included!)
What I Eat In A Day: Episode 2
My last what I ate video was more of a typical day than yesterday. I changed up my breakfast routine, which doesn't happen often, to include the Carrot Cake Chia Pudding from yesterday. Along with the chia pudding, I had a homemade matcha latte and a green juice. Overall this breakfast was really delicious and also surprisingly filling. I still wasn't hungry 3 hours later (which rarely happens!).
I had a lunch date in Central Park with my friend Michelle from Fitvista at Le Pain Quotidien which is kind of like a seasonal, French-inspired cafe with a lovely menu full of vegan + gluten-free options. It's one of my fave lunch places! We had an awesome meeting; Michelle is a certified personal trainer and we're partnering up for a really exciting project that combines healthy eating + fitness in a condensed, easy-to-follow plan. If you're interested in learning more about the program – and if you want to know if it's right for you – please send me an email (alyssa@simplyquinoa.com) and I'll give you all the info!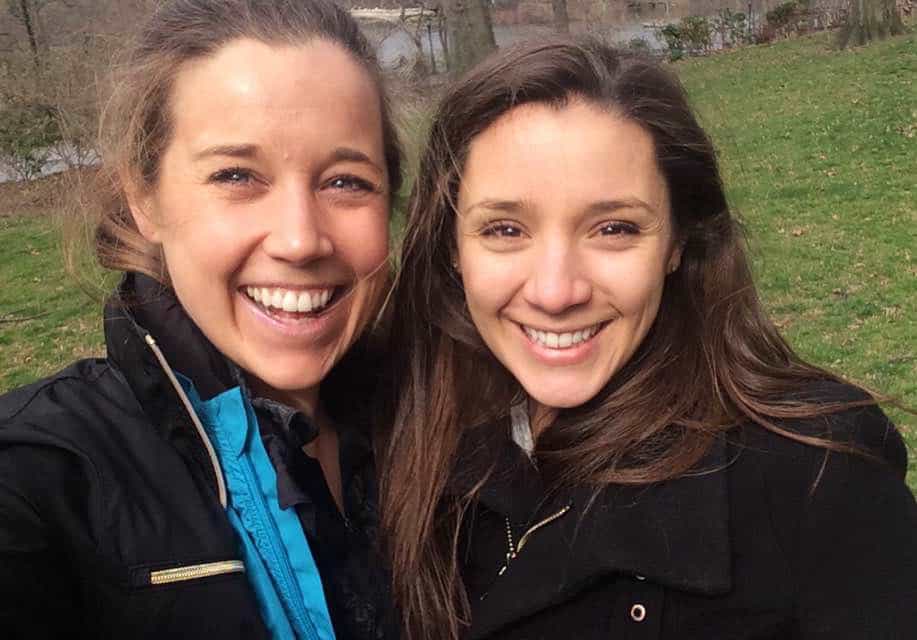 My lunch was a simple tartine on with their homemade gluten-free bread (which is heavenly) topped with hummus, avocado, radishes, cucumber, and arugula. Pretty much my ultimate lunch!
I usually make dinner at home, but as you'll see in the video that wasn't really possible, so I ended up grabbing a to-go salad from my favorite place, Sweetgreen. It's SO good, with really high-quality, locally sourced ingredients. We probably get these salads at least once a week. I ordered a custom one (which I've found is cheaper) with arugula, kale, sweet potatoes, chickpeas, cabbage, carrots, beets, and their chili-carrot vinaigrette. The whole thing was only $9!
I love having avocado on my salads, but most of the time it's considered a "premium" ingredient, so I'll just add some when I get home. For this one, I had half an avocado that was going bad, so I topped the salad with that and called it a day.
Overall it was a really great day eating wise. I was a little stressed with the renovations, so it was nice not to have to worry about cooking anything. Definitely one of the benefits of living in NYC. But also shows you how many great (and really healthy) options there are when you eat out. I've found that it's all about tweaking menu items to make it work for you – like how I substituted the turkey with hummus on the tartine. Don't be afraid to ask for what you want – most places are very accommodating!
Okay, just to recap, here's a rundown of my meals:
Pre-Breakfast – Filtered Water
Breakfast – Matcha Latte, Green Juice + Carrot Cake Chia Pudding (with almond butter + bee pollen)
Snack – Yogi Tea + Strawberries
Lunch – Hummus + Avocado Tartine with radishes, cucumber + arugula (on gluten-free bread)
Snack – Dried Turkish Figs
Dinner – Giant Green Salad from Sweetgreen
And now for the video!
Products I mentioned in the video: SOMA Water Filter (LOVE this!!), Organic Matcha Powder, Ashwagandha Root Powder, Monk Fruit Extract, Vegan MCT Oil 
Interested in more videos?
Come check out the Simply Quinoa YouTube channel! I have some really great recipe videos and tutorials to watch and if you don't want to miss new videos like this one, just click subscribe in the upper right-hand corner!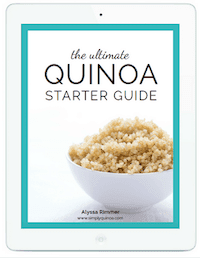 New to cooking quinoa? Grab your FREE Quinoa Starter Guide!
Become part of the Simply Quinoa community and receive weekly emails with exclusive content that I only share in email, as well as my in-depth guide to starting your quinoa journey.