This is the ultimate Summer Produce Guide, covering what's in season and how to cook with all of summer's best fruits and vegetables.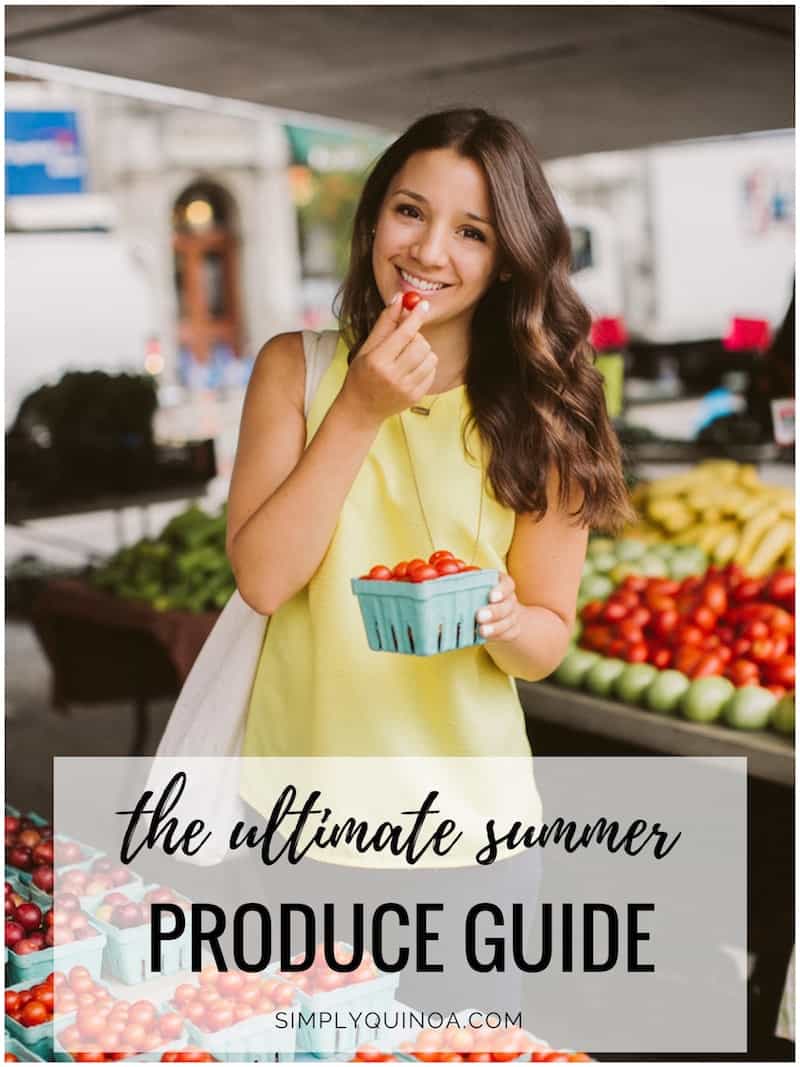 One of my absolute favorite things about summer is the produce! I live in the Northeast so our summers are quick, so I always strive to take full advantage of the fruits and vegetables on display at local farmer's markets.
Eating seasonally is one of the best ways to maximize nutrition and flavor while reducing resources to preserve and transport crops. So I wanted to put together the ultimate summer produce guide to help us all eat a little better this summer.
Note that seasons change around the country. Most of the seasonality listed below is specific to where I live in the Northeast.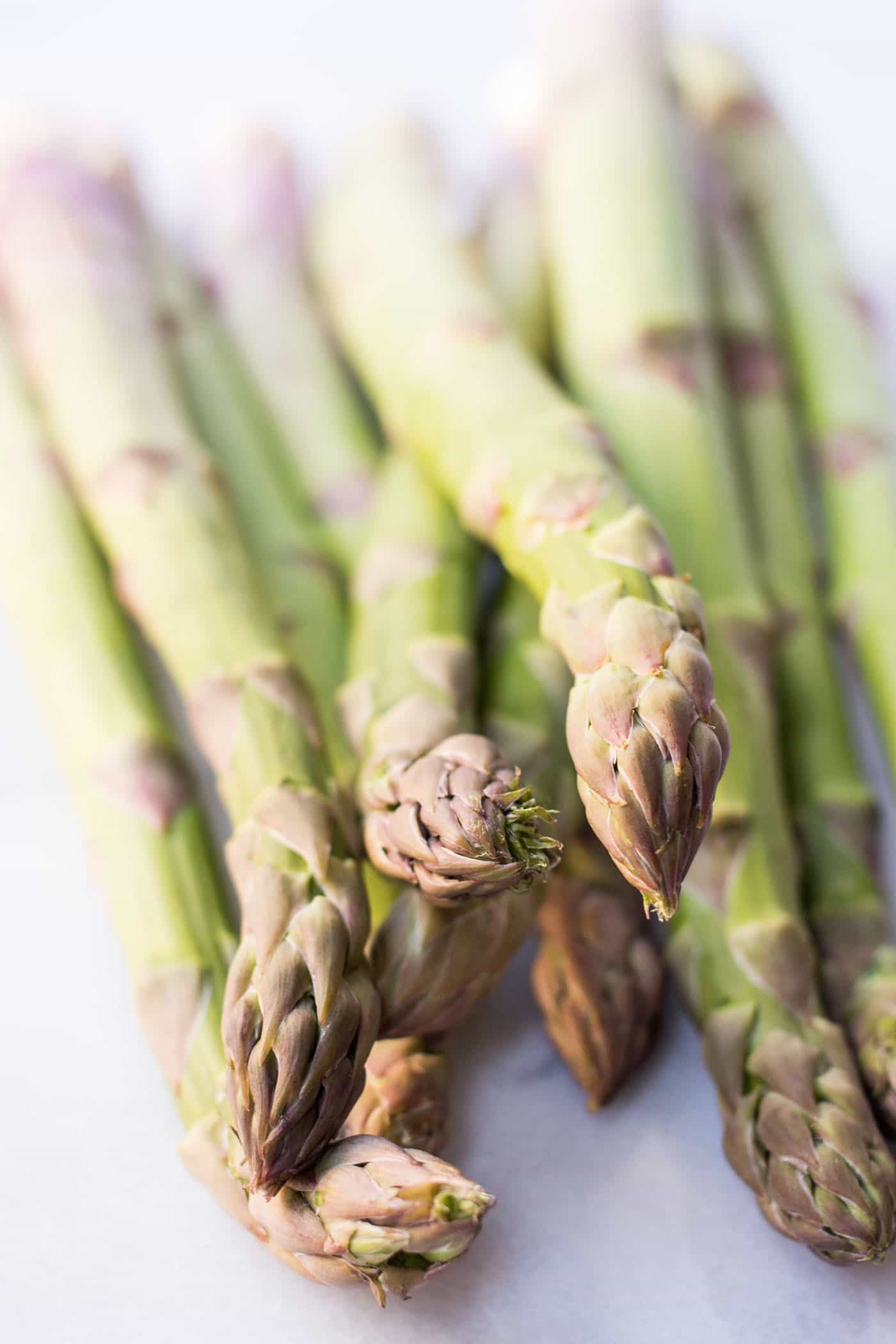 1. Asparagus
Asparagus grows from March until June. It's kind of on the edge of summer produce, but one of my favorites. Nutritionally speaking, asparagus is high in iron, potassium, manganese and selenium. It's also high in fiber and is a great source of vitamin K.  Asparagus serves as a natural diuretic, which means it helps the body produce more urine to flush out toxins, excess salt and other fluids.
Best Asparagus recipes to try: Wild Rice & Asparagus Salad  //  Spring Vegetable Quinoa Minestrone  //  Spring Pesto Quinoa Bowls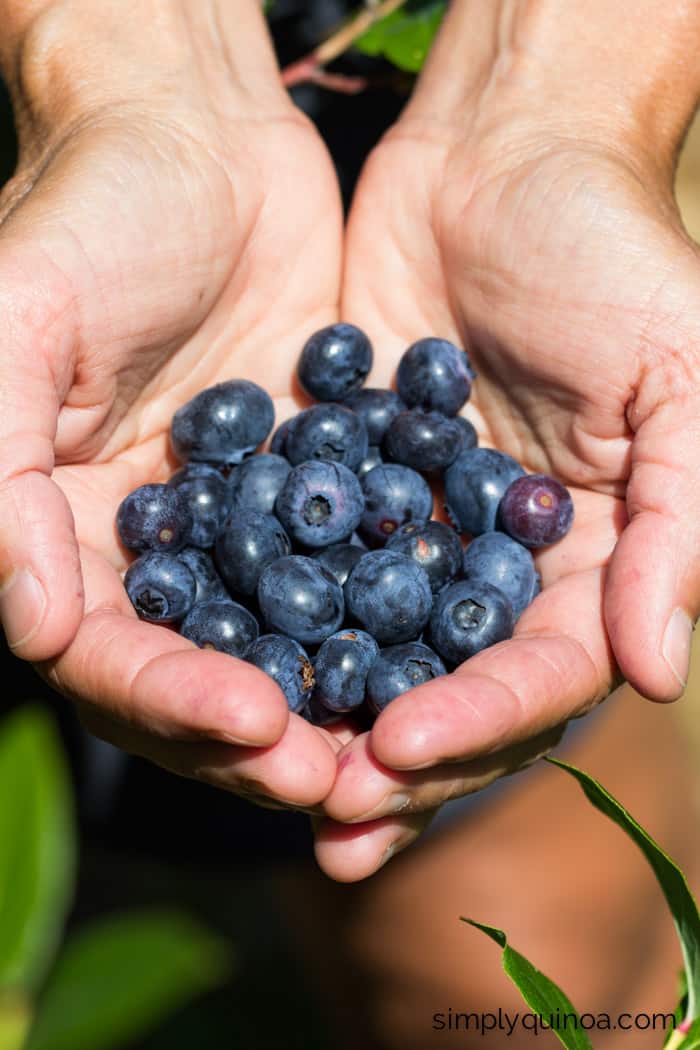 2. Blueberries
Blueberries are in season for most of the summer! You'll start to see them pop up in June and they'll go all the way through September. Blueberries are a true nutritional superfood. They're high in antioxidants. They're also detoxifying, low in sugar, high in fiber and full of vitamins and minerals. Blueberries are especially high in vitamin C, K and manganese.
Best blueberry recipes to try: Blueberry Quinoa Salad with Lemon-Basil Vinaigrette // Blueberry Power Salad  //  Fluffy Vegan Blueberry Quinoa Pancakes  //  Blueberry Quinoa Breakfast Bars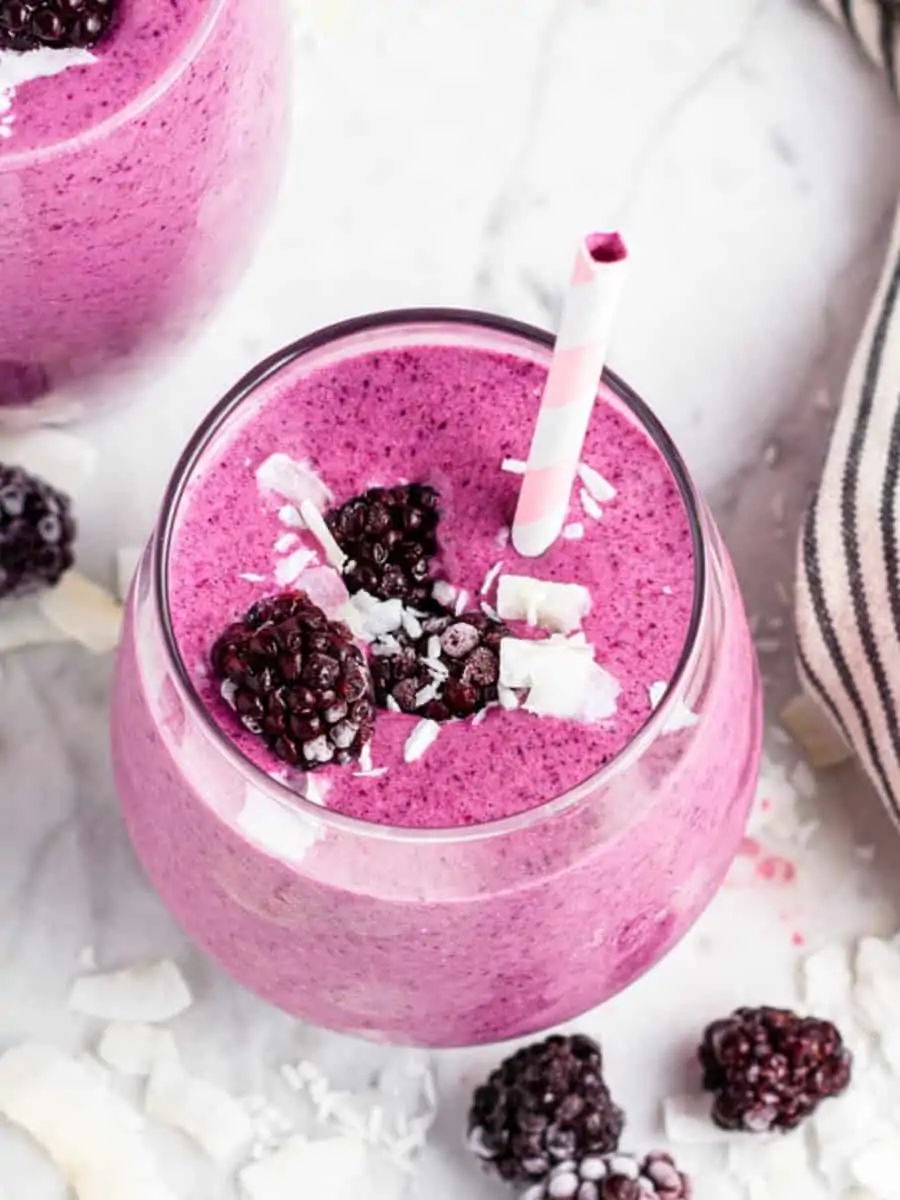 3. Blackberries
Blackberries come into season towards the end of summer, from August to October. They're my favorite berry and I'm lucky that my parents have wild blackberries growing all around their house. Picking them is such a special treat! Like blueberries, these berries are low in sugar, high in fiber and also very high in antioxidants. Blackberries are also anti-inflammatory and can help support a healthy immune system!
Best blackberry recipes to try: Healthy Blackberry Smoothie Recipe // Triple Berry Quinoa Salad //  Blackberry Lime Quinoa Muffins

4. Cherries
These sweet little fruits are in season from May to June, which is why I always make sure to stock up! Cherries are fiber-rich, high in vitamin C and are also low on the glycemic index. They've also been shown to support weight loss, decreased inflammation, increased heart health and can even be used to treat gout!
Best cherry recipes to try: Healthy Cherry Crumble// Easy Cherry Pie Energy Balls // No Churn Cherry Ice Cream  //  Chocolate Cherry Pie Smoothie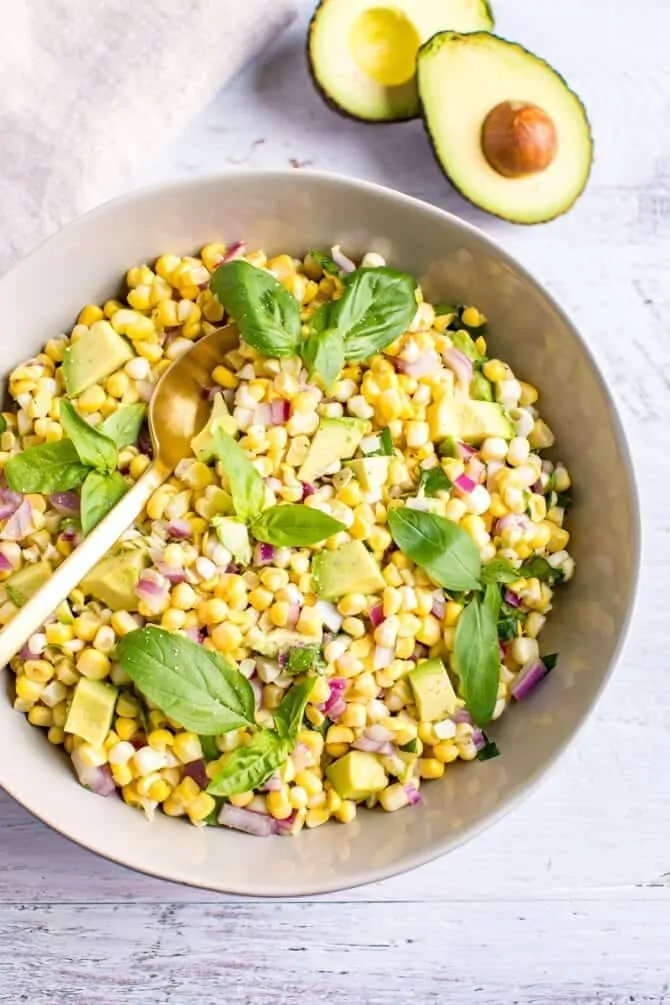 5. Corn
One of the best parts of summer is corn on the cob. Sometimes, though, the absolute sweetest corn isn't ready until late August. The growing season is May – September. If you're buying organic, non-GMO corn from your local farmer, it's amazing! Corn is high in B vitamins and fiber. It's also  a complex carbohydrate, so it digests more slowly and it's naturally gluten-free (which is awesome)!
Best corn ecipes to try: Grilled Corn and Avocado Salsa // Grilled Corn & Quinoa Salad  //  Tex-Mex Quinoa Burgers  //  Grilled Corn & Avocado Salsa
6. Cucumber
Cucumbers are grown May to August and are pretty much the epitome of summer. Not only are they an incredibly hydrating food, so they prevent dehydration (very important in the summer) and constipation. Cucumbers are also detoxifying and help cleanse the liver.  They're high in nutrients and low in calories. Plus, they're awesome for glowing skin! I love adding cucumbers to my smoothies in the morning because it's an easy way to sneak in more veggies & nutrition without compromising taste!
Best cucumber recipes to try: Cucumber Pear Smoothie // Cucumber Avocado Quinoa Salad  //  Cucumber Noodle Greek Salad  //  Mediterranean Pasta Salad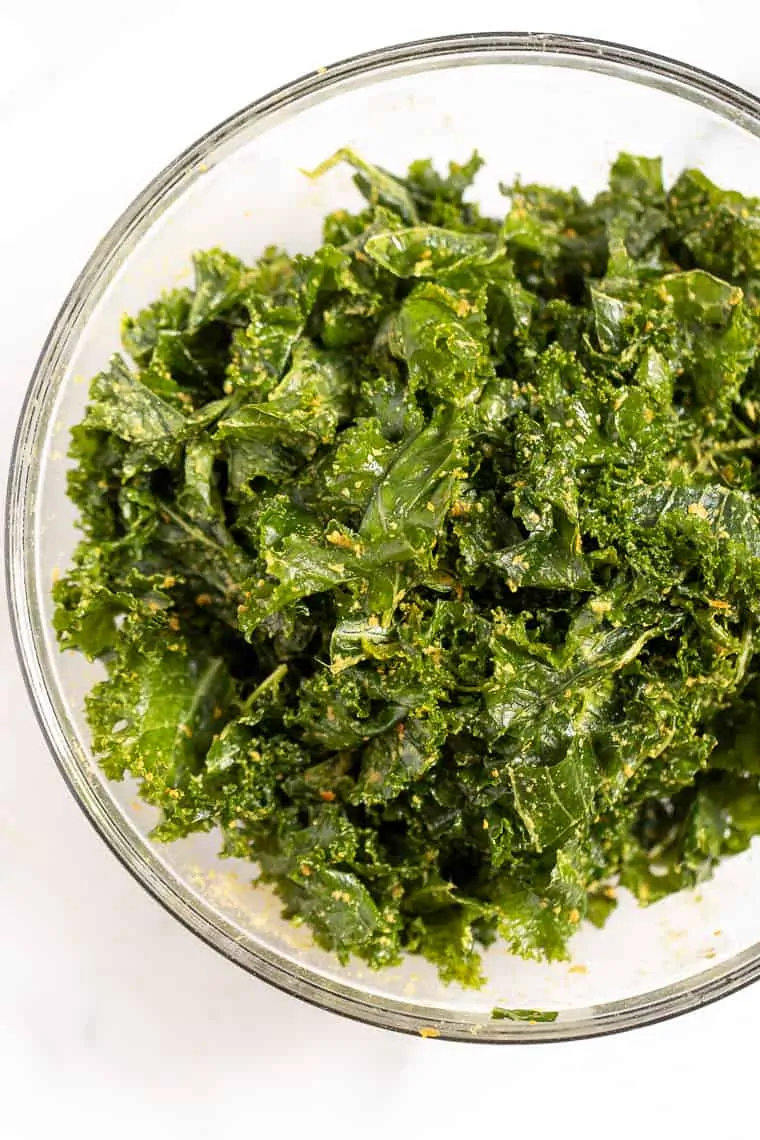 7. Greens (kale, spinach, arugula, bok choy)
Pretty much all of the dark leafy greens are in season in summer, including kale, spinach, arugula, lettuce, cabbage, bok choy and more.  Not only are they detoxifying, but they're high in antioxidants, packed with vitamins and minerals, and they help fight inflammation. From salads to green smoothies, there's no end to what you can do with greens!
Summer recipes to try: Kale Caesar Salad with Crispy Chickpea Croutons // Tropical Kale & Quinoa Power Salad  //  Slimming Smoothie Recipes  // Thai Peanut Chopped Spinach Salad
8. Green Beans & Snap Peas
Green beans have a bit longer of a season that snap peas, but I'm putting them together because you can often swap them in an out in recipes. Find green beans from May to September.  Snap peas are harvested between April and August. Both make amazing raw snacks dipped in hummus, but they're also nutrient-dense. They're high in fiber, high in antioxidants, with a bit of protein and vitamins C and K!
Recipes to try: 5-Ingredient Sauteed Garlic Green Beans // Green Bean & Almond Quinoa Salad  //  Pesto White Bean Dip //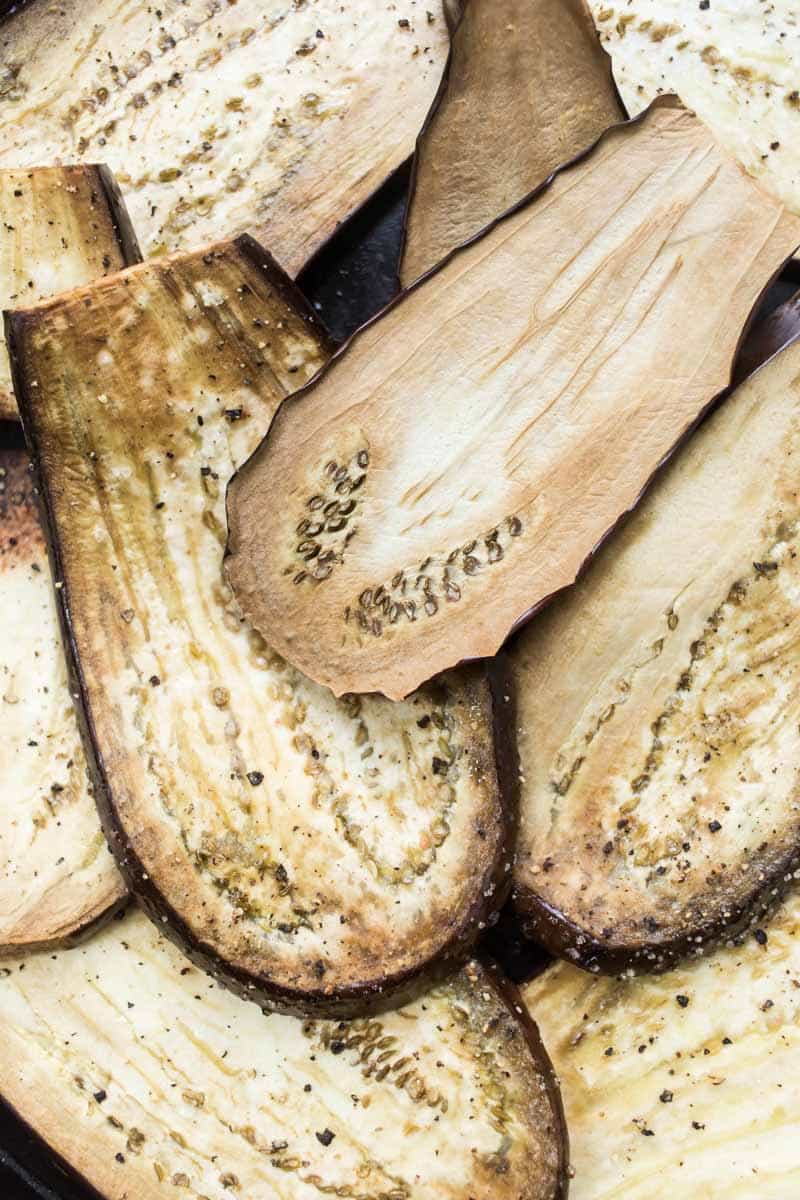 9. Eggplant
Eggplant is a late-summer vegetable, and it's one you can almost always find year-round, but it has so much more flavor when you buy it in season. Nutritionally speaking, eggplant has a ton of vitamins and minerals, including manganese, B vitamins, folate and vitamin K. But what makes eggplant unique is a specific type of antioxidant called nasunin. Nasunin fights free radical damage in the body (that's what antioxidants do), but it also helps fight inflammation and is an iron "chelator" meaning it helps iron become more absorbable by your body. Plus, eggplants are high in fiber and very low in calories, so they make an amazing addition to summer meals!
Eggplant recipes to try: Mediterranean Quinoa Stuffed Eggplant  //  Vegan Eggplant Rollatini  //  Baked Eggplant Crisps // Gluten-Free &Vegan Eggplant Lasagna
10. Melons
One of the classic summer staples is fresh melon! Watermelon, cantaloupe and honeydew are available from May to August/September. Melons have a host of nutritional benefits. They are super hydrating, high in fiber and low in calories. They're also high in vitamin C, which supports a healthy immune system and they're also anti-inflammatory and detoxifying!
Summer melon recipes to try: Healthy Watermelon Margaritas // Watermelon Lime Sprtizers  //  Watermelon Basil Smoothie  //  Minty Melon Smoothie

11. Radishes
Radishes have a growing season from May to July. Not do radishes help detoxify the body, but they're also an alkaline-forming food, which helps to balance the body's pH. Since radishes are high in fiber, they're a great addition to salads. The crunchy summer produce makes fresh salads them a bit more substantial and filling. Plus they add a boost of vitamin C, folate and also potassium!
Radish recipes to try: Farmer's Market Quinoa Salad  //  Quick Pickled Radishes 
12. Raspberries
Here's another summer berry that I can't get enough of! Raspberries have two growing seasons. Look for them from June to October. What's great about raspberries, similar to all our other berries on this list, is their high antioxidant and fiber content. Despite tasting sweet, these summer berries are also low in sugar and calories. Raspberries also have a very refreshing flavor, with a light sweetness and mild tang. They're an excellent summer snack or dessert (and also amazing in smoothies)!
Raspberry recipes to try: Lemon Raspberry Quinoa Breakfast Bars  //  Chocolate Raspberry Chia Parfaits  //  Healthy Raspberry Quinoa Brownies  //  Skinny Raspberry Chocolate Chip Muffins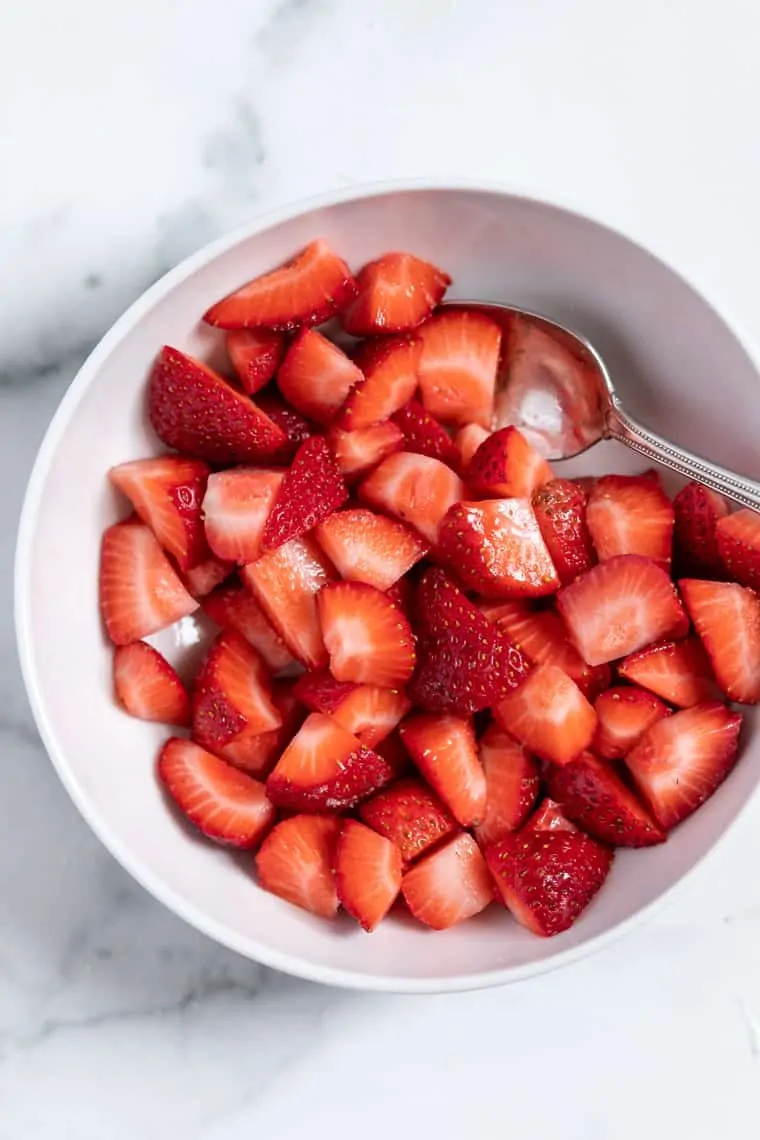 13. Strawberries
Our last berry on the list is strawberries! There's almost nothing better than a freshly picked strawberry. It's amazing how mush sweeter and juicier they taste from the ones you find in the store. Sadly, strawberries have a fairly short growing season, usually from around June to August (peak being late June to early July). Strawberries have the same properties as our other berries, but what's unique about them is they're especially great for your skin!
Best summer strawberry recipes to try: Strawberry Banana Oatmeal Muffins  //  Strawberry Spinach Salad  //  Strawberry & Coconut Overnight Quinoa //Strawberry Oatmeal Bars
14. Stone Fruits
Stone fruits include peaches, plums and nectarines, all of which are incredible summer delights! Peaches and plums grow from June to September, and nectarines are best May to July. All three are high in fiber, reduce inflammation, are good for candida, and support eye health as well!
Recipes to try: Peachy Banana Oatmeal Bread  //  Stone Fruit Crumble  //  Peach Pie Breakfast Parfaits // Gluten-Free & Vegan Apricot Oatmeal Bars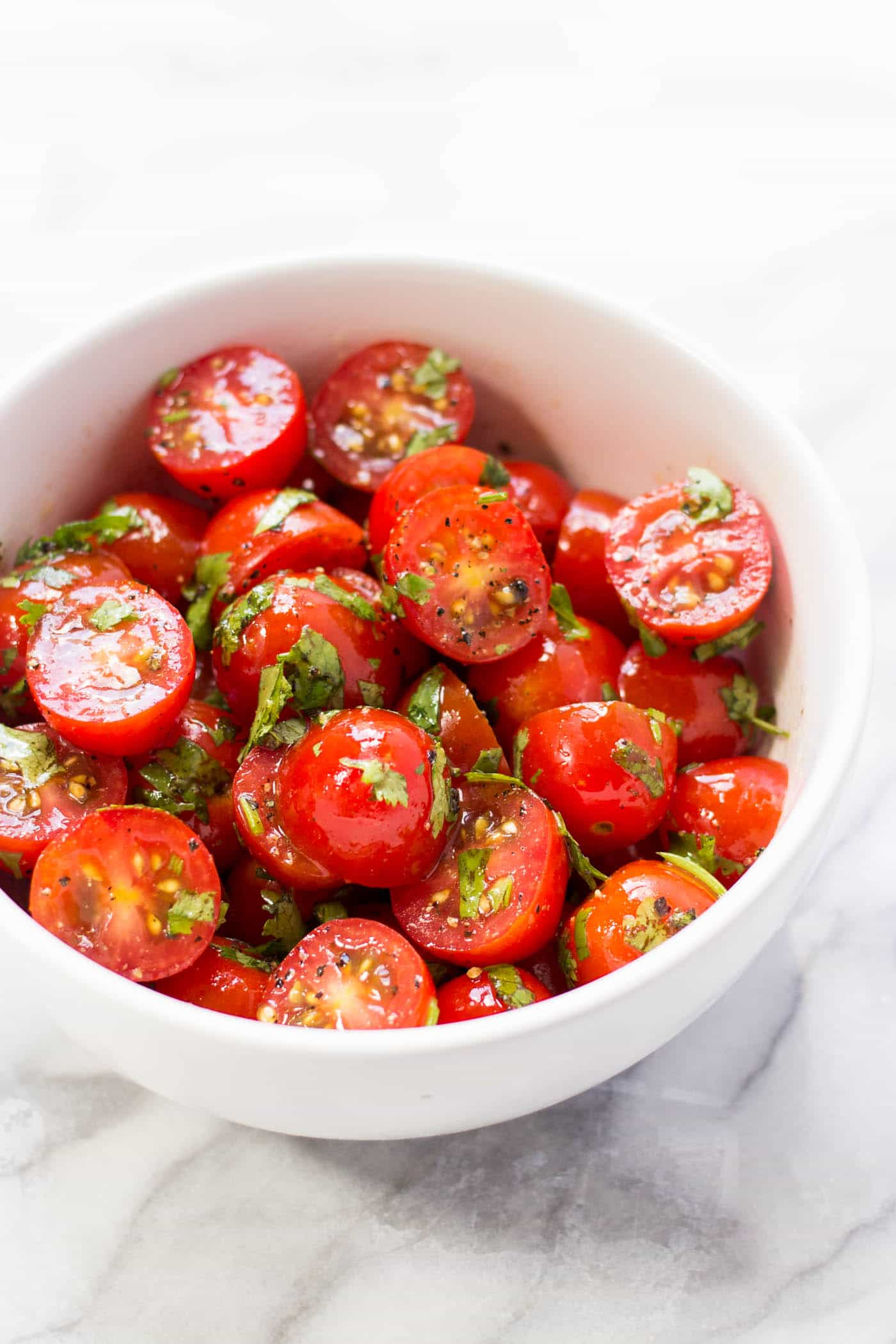 15. Tomatoes
Tomatoes are an essential element of summer produce. They're harvested between May and August. Tomatoes are super hydrating, have anti-aging properties and can help fight cancer. Lycopene, which is found in tomatoes, has been shown in some studies to reduce tumor growth, and can help protect against lung, stomach, colon, oral, breast AND cervical cancers!
Summer tomato recipes to try: Creamy Italian Quinoa Soup  //  BBQ Chickpea Quinoa Pizza  //  One Pot Mediterranean Quinoa // Vegan Roasted Cherry Tomato Pasta Sauce
16. Zucchini & Summer Squash
Finally, ZUCCHINI! I have a big-time love affair with zucchini, especially since discovering spiralizing a few years ago, and it has become a staple in my diet. I love turning it into pasta, but when frozen, it's also amazing in smoothies, and it grills Nutrition-wisen wise, zucchini is super low on the glycemic index, it's low in calories, fat, starches and sugar, and is high in water so it's really hydrating. It's a great source of vitamins C, B6 and riboflavin, and as I mentioned, it has a TON of uses! Here are some my favorites ❤️
Zucchini recipes to try: Avocado Alfredo Zucchini Noodles  //  Summer Tomato & Zucchini Quinoa Pizza  //  Summer Squash & Zucchini Quinoa Salad  //  Pad Thai Zucchini Noodles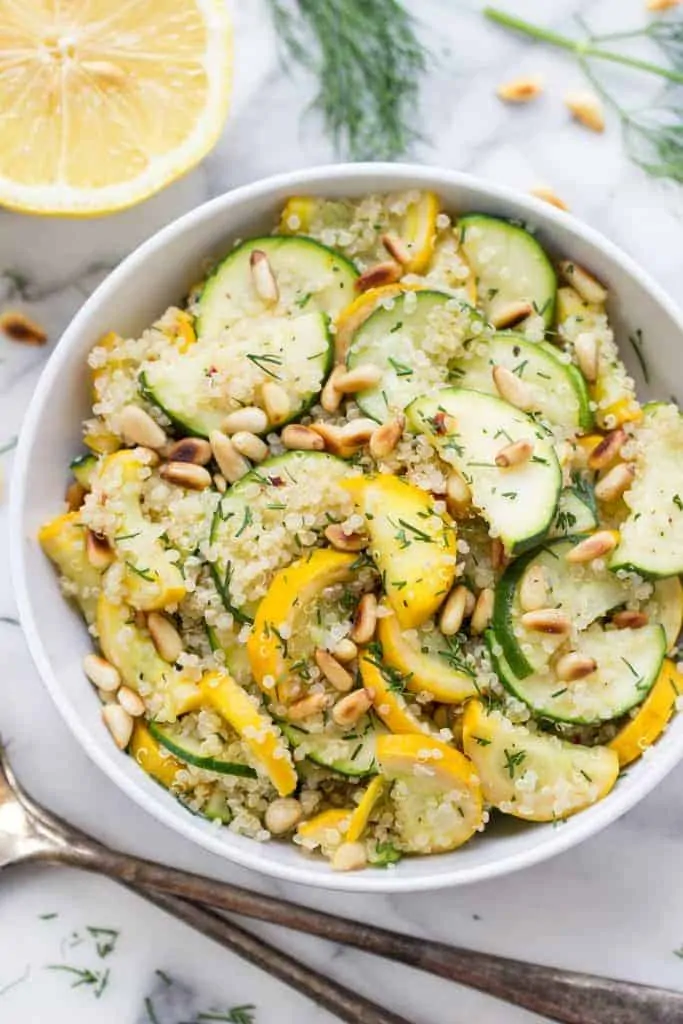 Others: kohlrabi, rutabaga, rhubarb, root veggies, etc.
Of course, there is more summer produce that you'll also see at the farmer's market, but these are my favorite items to cook with. I definitely recommend that you experiment! This is a time of year when "strange" or unfamiliar produce is at it's cheapest, so grab something you'd never tried before and have a go!
Enjoy and make the most of the wonderful time of year for summer produce!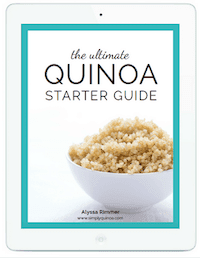 New to cooking quinoa? Grab your FREE Quinoa Starter Guide!
Become part of the Simply Quinoa community and receive weekly emails with exclusive content that I only share in email, as well as my in-depth guide to starting your quinoa journey.