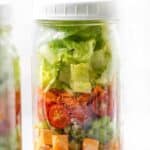 Print
Buffalo Tofu Mason Jar Salad
These healthy Tofu Mason Jar Salads are the ultimate vegan meal prep recipe. Made with buffalo tofu, a creamy dressing, greens, and so many more goodies!
Start by tossing the tofu and buffalo sauce together in a small bowl. Set aside.

In a separate small bowl, whisk together the salad ingredients. Stir together and add a splash or two of water if needed to thin it out. Divide the dressing between the two mason jars.

Assemble the salad in layers. Start with the tofu on the bottom, followed by the celery, carrot, tomato, and top with the romaine. Seal the lid and store in the fridge until ready to eat.

When ready to serve, simply pour the contents of the jar into a bowl and enjoy!