These healthy zucchini breakfast bars are the ultimate morning treat! Made with oats, quinoa, banana, and zucchini, they're healthy, vegan & gluten-free!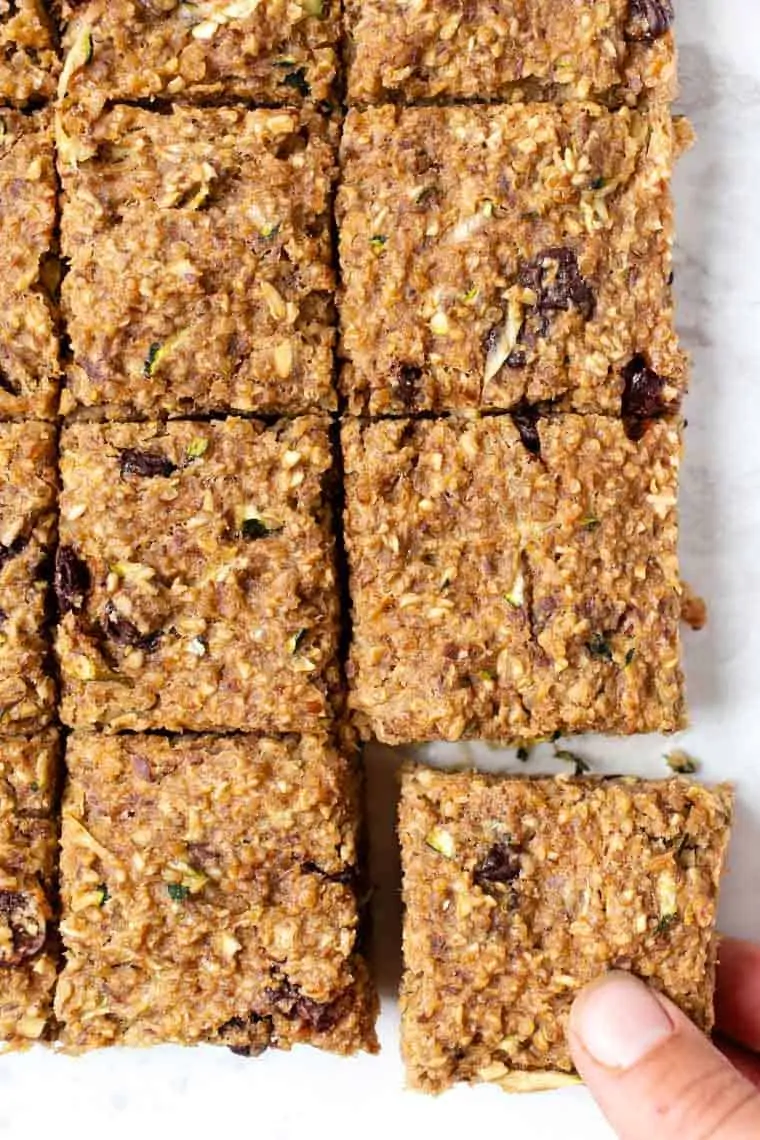 When you're dreaming of chocolate for breakfast but you want something healthier, these zucchini breakfast bars are it. They're made with a blend of oats and quinoa which means they're high fiber and filling, but we've also snuck fruit and veggies inside.
Oh, and chocolate. You can never go wrong with chocolate in the morning!
They're like this little bite of chocolate chip zucchini bread but in bar form. And they're also a little bit healthier and definitely easier (and faster) to make. They're the perfect way to use up some zucchini, sneak some veggies into your kiddos meal, or enjoy some chocolate chips for breakfast without batting an eye!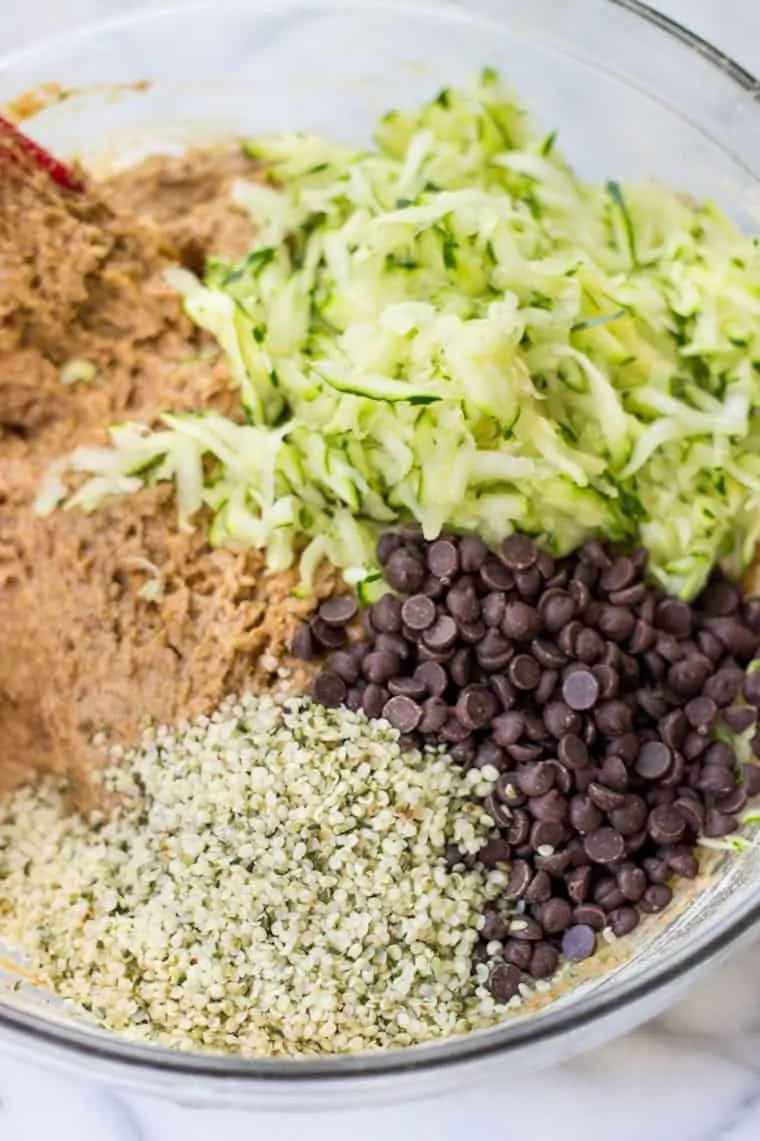 How to Eat More Protein for Breakfast
Whether you follow a plant-based diet or not, getting protein into breakfast can be somewhat of a challenge. Protein is a super important macronutrient and is the building block of our body. It also helps us feel satisfied and full, which means protein in the morning is key.
There are many ways to eat more protein for breakfast, including adding things like protein powders or protein supplements into your meals. However, if you're not a fan of that, here are some of my favorite high protein breakfast foods:
EGGS
What's great about eggs is that they can be made a bunch of different ways and enjoyed in both sweet and savory recipes. One egg has about 6g of protein. We actually aren't using eggs in these zucchini breakfast bars because I wanted to make them vegan, but you totally could. Simply swap the flax eggs with regular eggs and you'll increase the protein amount!
QUINOA
You know I love quinoa for all things, but it's honestly an amazing breakfast food. It's versatile – so you can enjoy it plain like a bowl of cereal or you can bake with it – and it's healthy. It's high in fiber and one serving of quinoa has about 10g of plant-based protein!
HEMP SEEDS
A secret weapon in the vegan world, adding hemp seeds to your breakfast is a really easy way to increase the protein count without sacrificing flavor or texture. Add them to your smoothie, sprinkle them on top of your toast, or stir them into your baked goods like we're doing here!
NUTS
Whether it's sliced almonds on top of your smoothie bowl or peanut butter on your toast, nuts are an awesome way to add healthy fats and protein to your breakfast. The protein amount ranges per nut, but typically they're interchangeable. We're using cashew butter in these zucchini breakfast bars which has an awesome flavor!
And if you want even more ideas, check out our guide that includes 10 amazing sources of plant-based protein!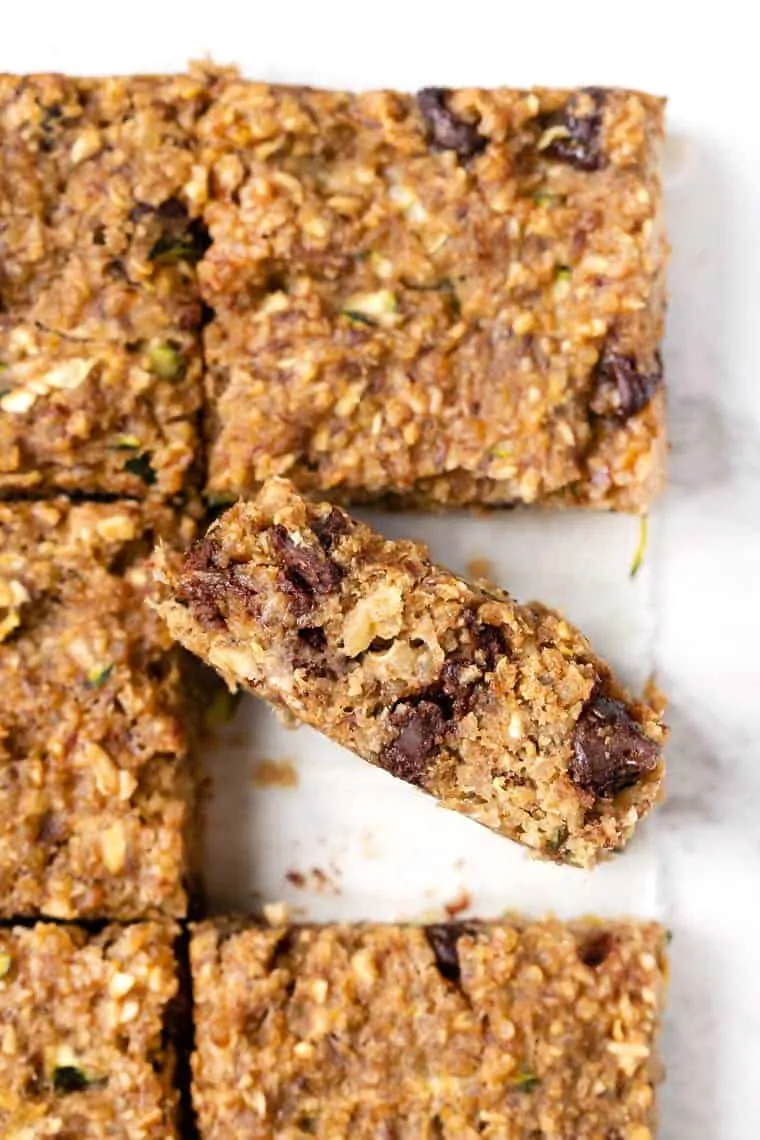 How to Bake With Quinoa
The star of the show today, aside from the zucchini and chocolate chips, is quinoa. Quinoa is not only an awesome breakfast food, but it's also really great for baking!
There are a few different ways to bake with quinoa:
cooked quinoa
quinoa flour
quinoa flakes
The flakes can be used like oats. Quinoa flour can be used a bunch of ways, so check out our guide to quinoa flour. And cooked quinoa? It's great for recipes like this! It's got a light and fluffy texture. It absorbs all sorts of different flavors. And it's healthy.
So basically, it's a win all around!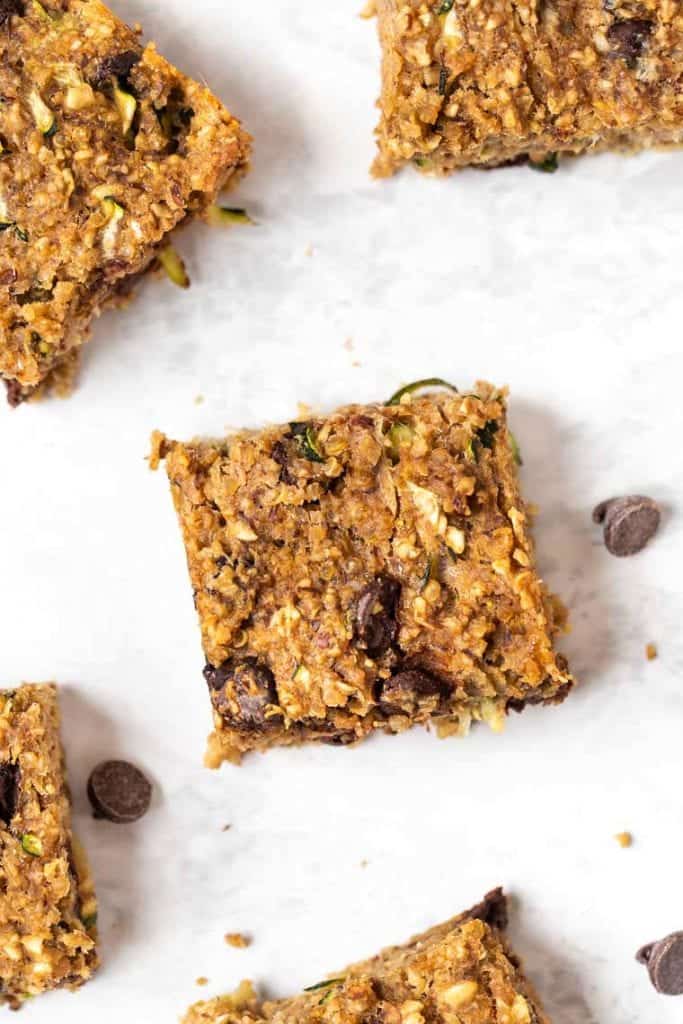 Vegan & Gluten-Free Zucchini Breakfast Bars
For our zucchini breakfast bars, we're riffing off my famous Blueberry Quinoa Breakfast Bars and swapping some of the flavors for zucchini and chocolate chips.
We've got the base of cooked quinoa, then we're combining that with some oat flour (even more fiber!), as well as a little coconut sugar for sweetness. Then for our wet ingredients, we're using flax eggs (click here to learn how to make a flax egg), banana and cashew butter. Basically, these bars are like a version of baked oatmeal, with a healthier set of ingredients.
Here's why you need to make these bars: they're easy, meal prep friendly, double as a pre- or post-workout snack, are gluten-free and vegan, AND they've got fruit, vegetables, and chocolate. I mean really, how can you go wrong!?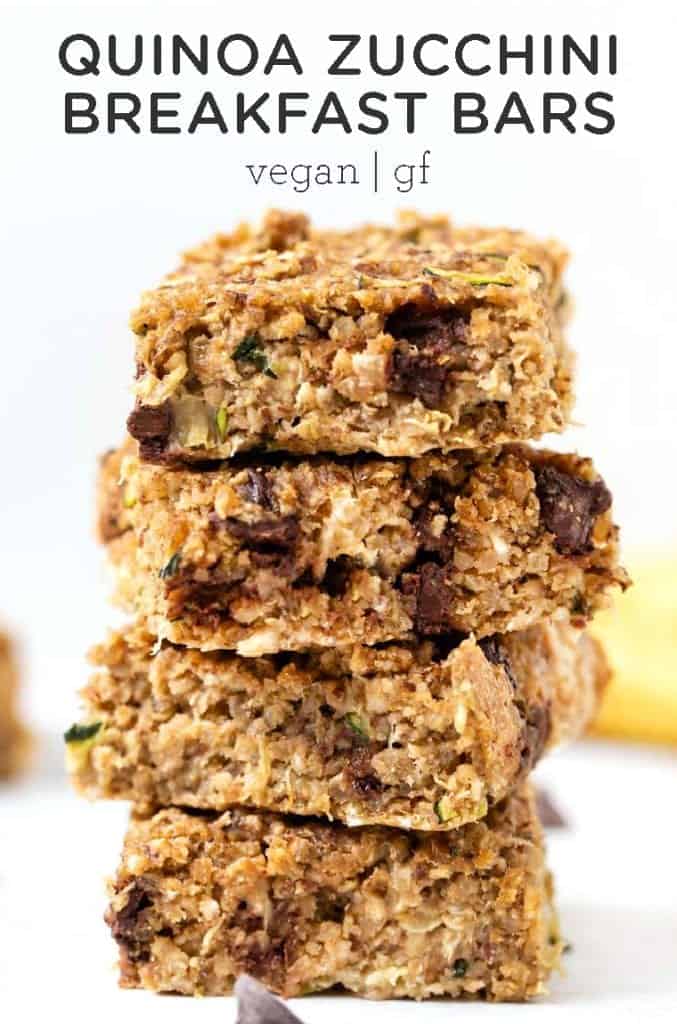 More Healthy Breakfast Bar Recipes
Zucchini Breakfast Bars with Quinoa
These healthy zucchini breakfast bars are the ultimate morning treat! Made with oats, quinoa, banana and zucchini, they're healthy, vegan & gluten-free!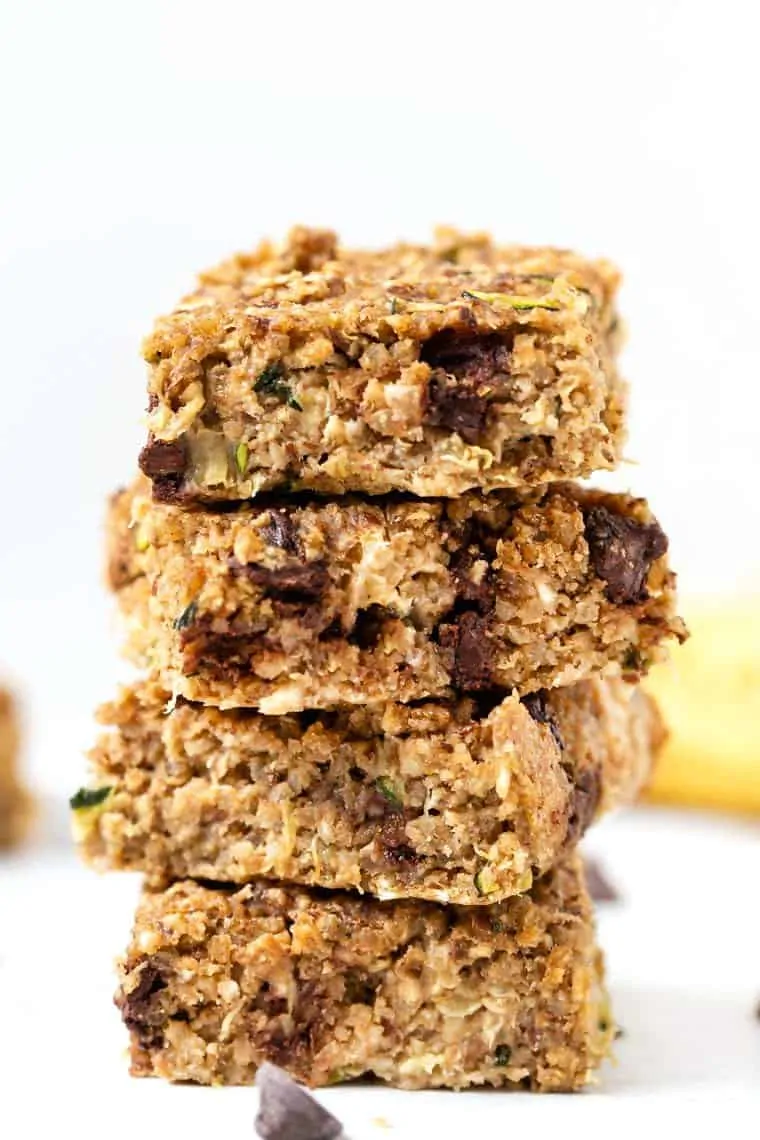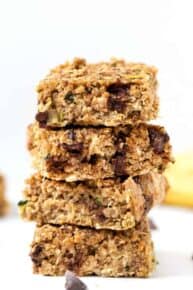 Instructions
Preheat the oven to 350 degrees F. Line an 8"x8" baking sheet with parchment paper and grease the sides with cooking spray.

In a large mixing bowl, whisk together the oats, quinoa, sugar, baking powder, spices and salt.

Add the flax eggs, banana, and nut butter. Mix everything together until fully incorporated. The batter should be moist, but not runny. Fold in the zucchini, chocolate chips, and hemp seeds.

Pour the batter into the prepared pan and smooth with a spatula.

Bake on the center rack for 15 - 20 minutes until the bars are golden brown and firm to the touch.

Remove and let cool completely in the pan, then remove and slice into squares (or rectangles). Store in an airtight container for 4 - 5 days.
Nutrition
Serving:
1
bar
|
Calories:
137
kcal
|
Carbohydrates:
17
g
|
Protein:
4
g
|
Fat:
6
g
|
Saturated Fat:
2
g
|
Cholesterol:
1
mg
|
Sodium:
88
mg
|
Potassium:
173
mg
|
Fiber:
2
g
|
Sugar:
4
g
|
Vitamin A:
32
IU
|
Vitamin C:
2
mg
|
Calcium:
41
mg
|
Iron:
1
mg
Filed Under: