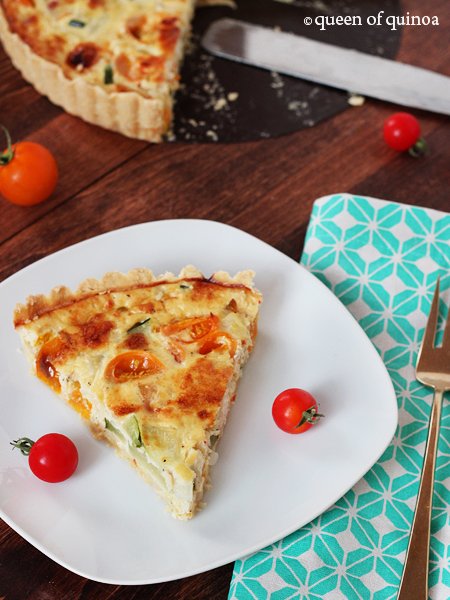 I'm going to tell you something that I'm not very proud of. I'm scared of gluten-free pie crust.
The thought of it is daunting. How can I possibly compete with it's gluteny counterpart? Gluten-free pie crust has been a fear of mine for quite some time, one that I pushed out of my mind as soon as it cropped up. I just hit the 'ignore' button in my brain and made it go away. But tonight I mustered up the courage and actually tried it.
A gluten-free, vegan pie crust.
My very own Gluten-Free Olive Oil Pie Crust.
And you know what? It worked! On my first try, too!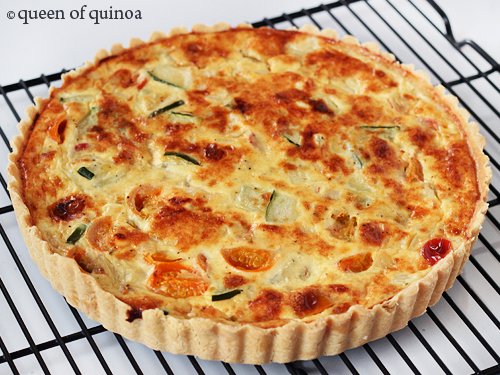 Trust me, I did my homework first. I scoured the internet for the perfect recipe. Looking for one that was not only gluten-free but also vegan, and I just couldn't find the one.
Without the butter, I was lost.
But instead of succumbing to my fears, I decided to face them head on. I mean it doesn't have to be perfect the first time around, right? What's the worst that could happen? It wouldn't turn out and I'd try again.
Mistakes make us better.
The crust that I came up with is perfect for this cheesy vegetable tart. It isn't your traditional pie crust, that you roll out, fold over itself. That flakes with every bite. It wouldn't work for apple pie. It wouldn't work for a lattice top.
But it's just right for this recipe.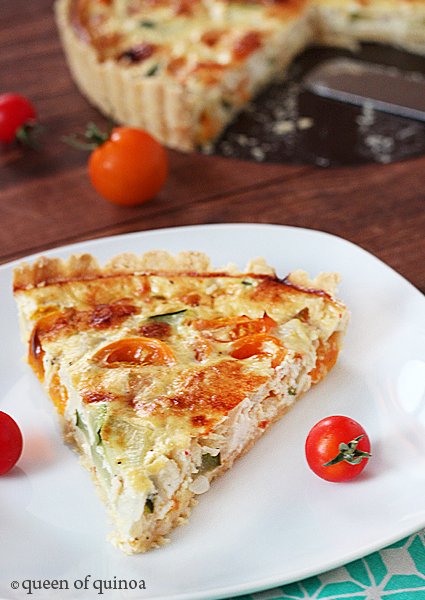 A fresh and summery vegetable tart, filled with creamy chevre and tangy gouda. Whether you choose to use my zucchini, tomato combination, or a mixture of your favorite veggies, this tart will not disappoint. Have it for a healthy weekend brunch or an easy week night meal. Either way I'm sure you'll be smiling.
Zucchini & Goat Cheese Tart
Have it for a healthy weekend brunch or an easy week night meal. Either way I'm sure you'll be smiling.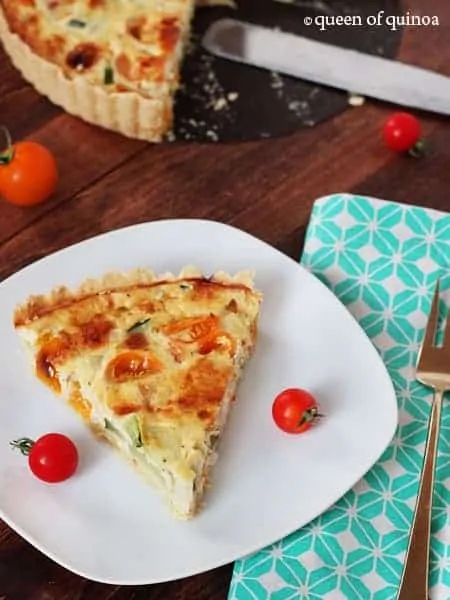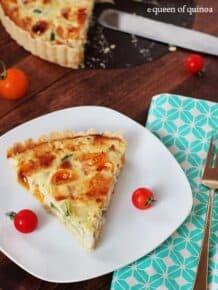 Ingredients
43

g

tapioca starch

68

g

millet flour

1

teaspoon

guar gum

1/2

teaspoon

fine sea salt

1/3

cup

olive oil

3

tablespoons

ice cold water

1/2

cup

white onions

diced

1

cup

zucchini

thinly sliced and chopped

1

cup

cherry tomatoes

quartered

2

large eggs

3/4

cup

almond milk

or milk of choice

1/4

cup

shredded goat's milk gouda

or shredded cheese of choice

4

oz

goat cheese

chevre

Salt & pepper to taste
Instructions
Preheat the oven to 375 degrees F.

To prepare the crust, add all the dry ingredients to a food processor and pulse 10 times to combine.

Slowly add the olive oil and pulse to combine, another 10 - 15 pulses.

Add the water 1 tablespoon at a time, pulsing between each addition.

Transfer the dough to a parchment linked work surface and "knead" it into a ball, patting it down to flatten it slightly.

Place another sheet of parchment over the dough and roll it out.

As carefully as you can transfer the dough to a 9" tart pan. The dough will most likely fall apart here, but that's okay. Simply press the dough into the pan with your fingers until it lines it entirely. Transfer the crust to the fridge while you prepare the filling.

Add the onions and zucchini to a pan over medium heat and saute until soft, 3 - 4 minutes.

While the vegetables are cooking, beat the eggs, almond milk and cheese together in a large mixing bowl.

Add the vegetables and cherry tomatoes to the egg mixture, season with salt and pepper, and mix to combine.

Remove the crust from the fridge and carefully pour the filling into the pan.

Bake in the center of a warm over for 45 - 55 minutes, until the center has set and no longer giggles when you give it a little shake.

Remove the tart from the oven, transfer to a cooling rack and cool for 10 - 15 minutes.

Slice into wedges, and serve warm with a touch of hot sauce for flare.

Enjoy!
Notes
crust: gluten-free | dairy-free | vegan | soy-free | egg-free | nut-free filling: gluten-free | soy-free | nut-free
Nutrition
Calories:
324
kcal
|
Carbohydrates:
27
g
|
Protein:
9
g
|
Fat:
20
g
|
Saturated Fat:
6
g
|
Cholesterol:
68
mg
|
Sodium:
409
mg
|
Potassium:
207
mg
|
Fiber:
2
g
|
Sugar:
2
g
|
Vitamin A:
485
IU
|
Vitamin C:
10.3
mg
|
Calcium:
115
mg
|
Iron:
1.7
mg
Filed Under: