Need help getting it all done? We're sharing our best time management tips for entrepreneurs and busy moms to help you be more productive and effective!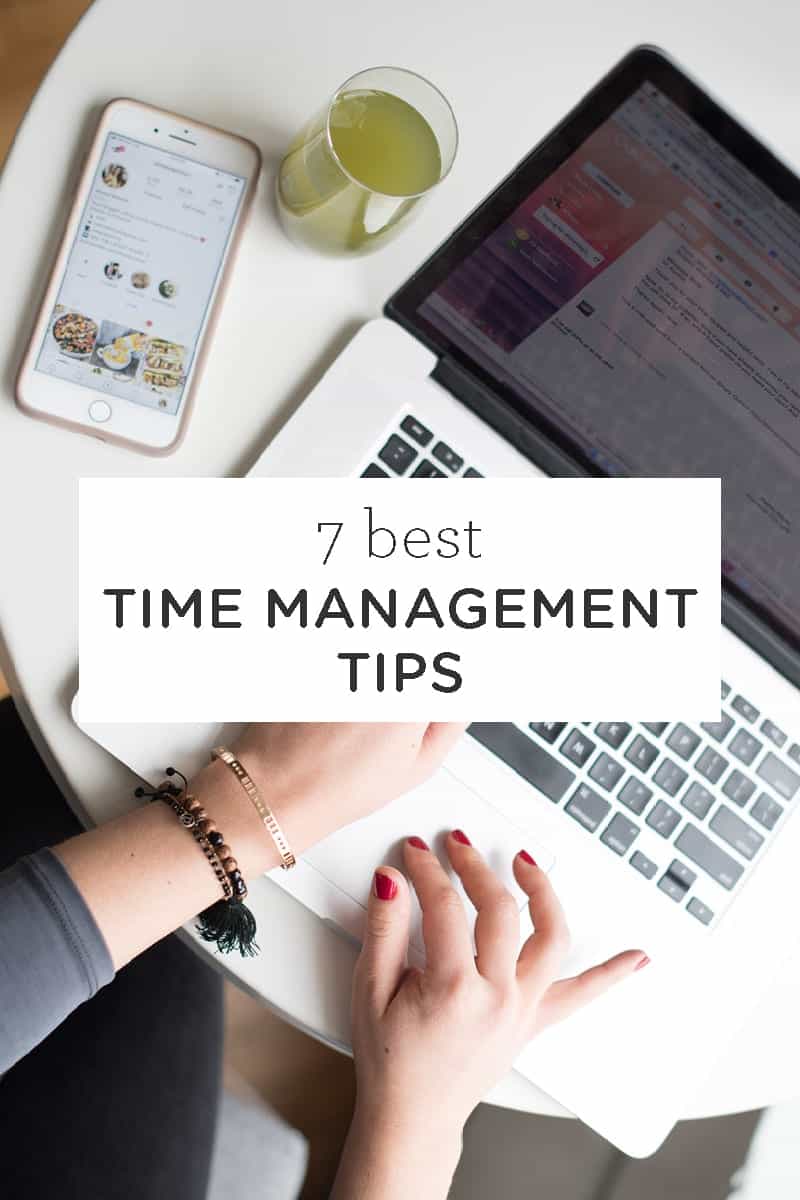 I thought we would do something a little different today! I'm going to take you behind the scenes of how I manage my time for SQ and share some of my best time management tips with you!
I know now all of you are entrepreneurs, but these time management tips are applicable for everyone. From the college student to the woman with a full-time job to even the stay-at-home mom. Balancing your time and including some of these time management practices can help you be more effective, more productive and way happier in the long run.
So first, let's talk about how I "schedule" my days. I'll be honest and tell you that there really aren't any days that are the same, but I try to have 1 – 2 days in the kitchen for recipe testing, filming and shooting photos, 1 – 2 days of editing and writing and 1 – 2 days managing the admin and business side of things. For today's post, I'll walk you through a typical recipe day so you can see how I do it.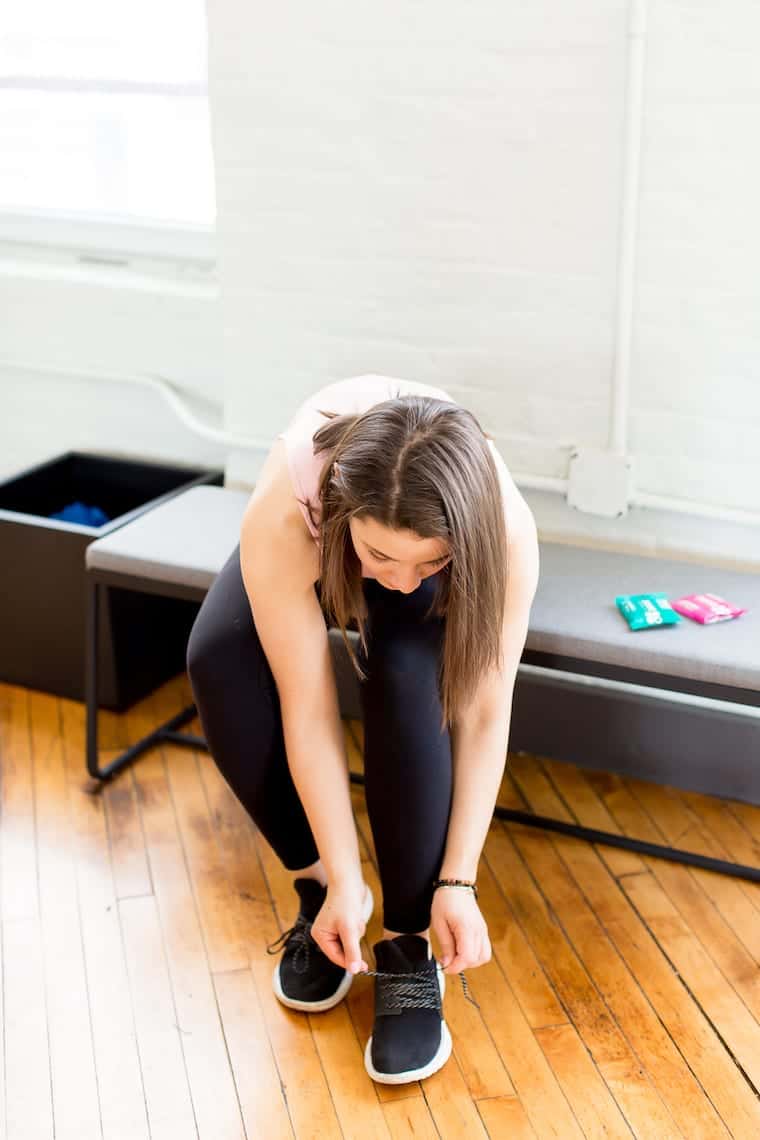 6:00 am – wake up + walk
I wake up at 6 every morning. It's definitely early, but there's a lot I like to do before the workday gets started. If you haven't checked out my morning routine yet, watch that video to get a full breakdown of my morning, but essentially this is how it goes:
wake up + drink water + bathroom time
Walk with Trevi (the fresh air first thing is amazing)
6:45 am – workout
Before I sit down at my desk I like to get a workout in. Sometimes it's an at-home workout, other times it's a hot yoga class and other times its SoulCycle. I just really like getting my heart pumping and adrenaline moving before I start my day. I find it helps me creatively, it helps me stay more energized and I'm way more productive.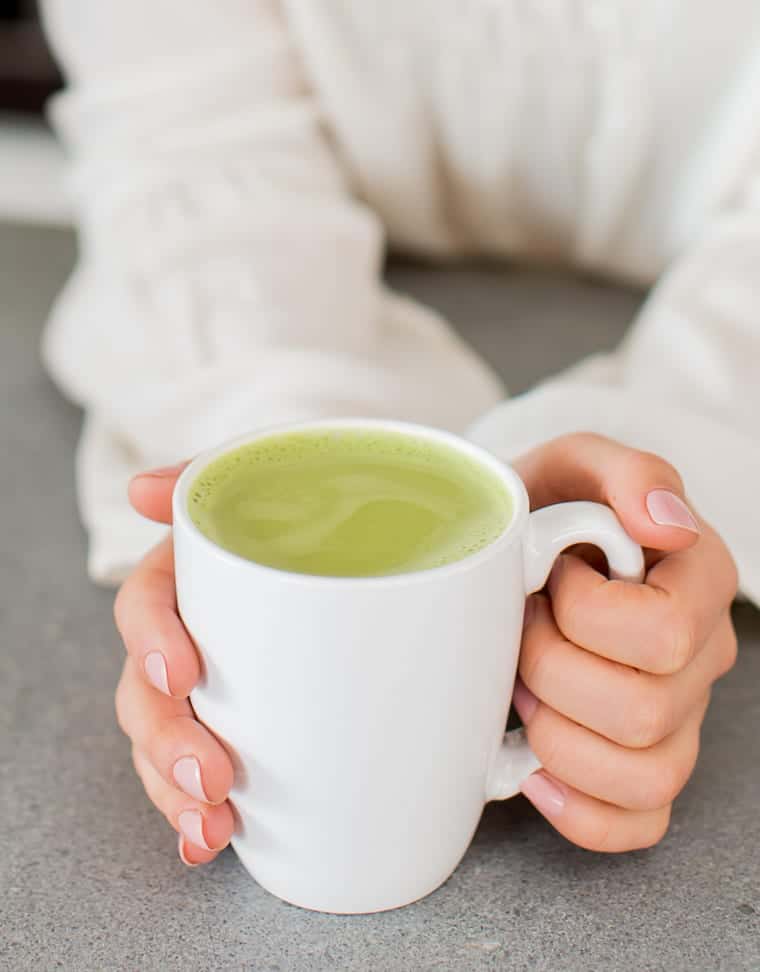 8:00 am – get to work
After I've made my matcha, it's time to get to work. On recipe days, I typically spend the first hour or so of the day on admin stuff because I have to wait for the light to be right for filming. Since I film videos for all my recipes and use natural light exclusively, I'm kind of at the will of the sun. My apartment doesn't usually have good enough lighting until around 10am, so I'll just try to get as much out of the way in the morning as I can.
9:30 am – breakfast
I've found recently that my system does a little better if I don't have my matcha and my breakfast at the same time. I'm not entirely sure why, but I like drinking my matcha when I first sit down and making my breakfast about an hour or two later. It helps my digestion ease into the day and doesn't make me super full all at once.
10 am – cooking + filming
Usually, my goal for a food day is to get 3 – 4 recipes done at once. I'll set up my space and start shooting. I like to listen to podcasts while I shoot because I feel like I'm more easily able to multitask when I'm not writing. I'll likely get one recipe done before noon which is when I take my first break. I try to complete the entire recipe – so filming and photos – before taking my break so I don't have to pick things back up when I'm done.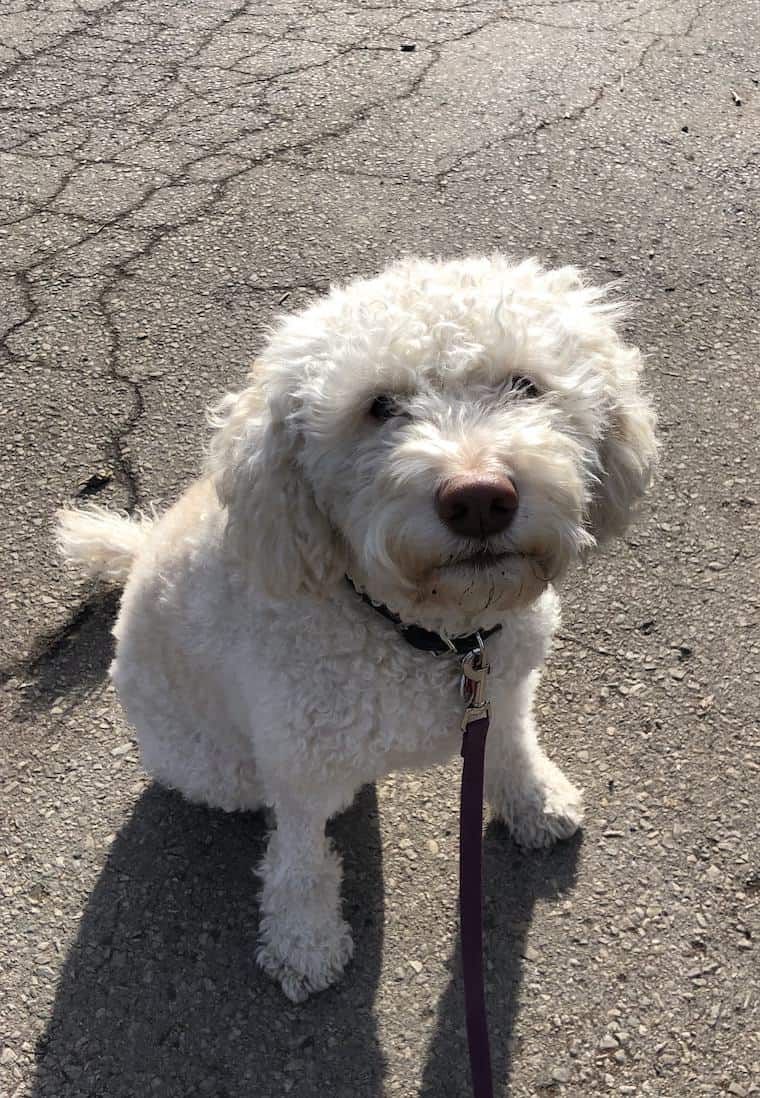 12:30 pm – walk + lunch
The benefit of having a dog is that she forces me to go outside a few times a day. She forces me to break up my day with some activity. We usually go for a 15-minute walk, then I come home, make some lunch. Either I'll have the recipe I made earlier, enjoy some leftovers or just make some avocado or hummus toast. Lunch is the simplest meal for me.
1:00 pm – more recipes!
The next few hours are again spent between my kitchen and my "photography studio" (aka my desk). My aim is to get 2 – 3 more recipes done in the next few hours. And just like with the first recipe shoot, I try to get each one completely done before moving to the next.
4:30 pm – another walk
Trevi gets her final big walk of the day at 4:30. This is my walk where I totally unplug from work for a little bit. I don't usually bring my phone, I never listen to music or podcasts and I always walk in the park. It's a great time for me to think, to plan and to just be. It's super relaxing and is something I look forward to every day.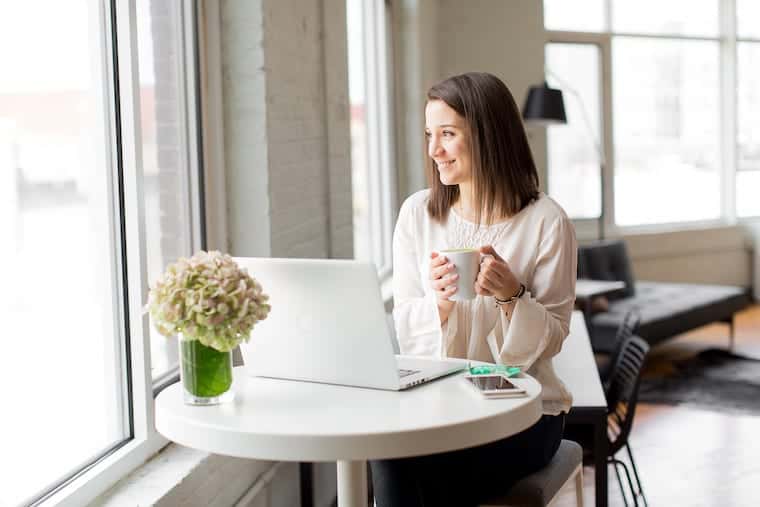 5:00 pm – back on the computer
At this point in the day, I've usually lost the light and can't shoot anymore. So I put away all my photography equipment, fill the sink with my dishes and get back on my computer. I'll spend some time answering emails, checking in with my team, doing any sort of admin type stuff and type of my recipes. I don't create the full blog post, but I'll put the recipe in a draft post in the back end so everything is written down.
6:30 pm – dinner
Matt usually comes home around 6:45, so I try to be in the kitchen at 6:30 to clean up my mess. When we lived in Burlington, he used to work from home and I would go to the office and there was nothing worse than coming home to a super messy house. I want him to come home from work and feel calm and relaxed, not add more stress on top of his already stressful job.
So…I do all my dishes and start getting dinner ready. I'm usually in the process of cooking (or reheating) dinner when he walks in the door, so he'll come in and help me, we'll chat about our days, etc. It's nice to spend a little time in the kitchen together before we head to the couch to chill.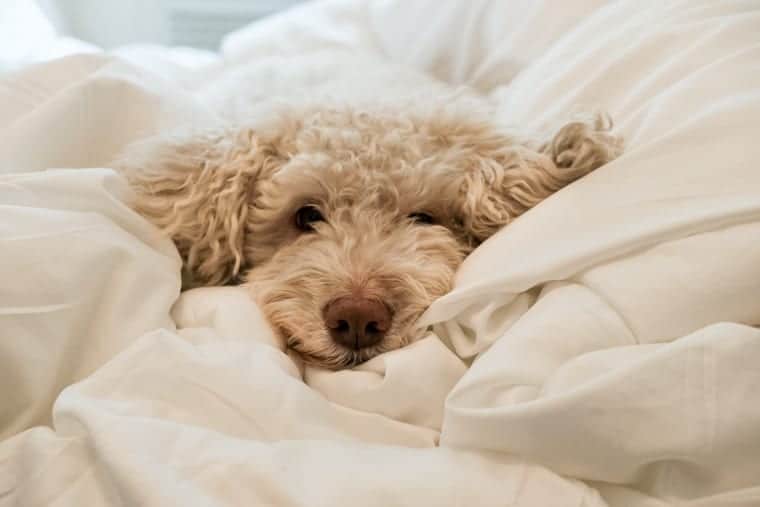 7:30 pm – chill time
We don't have a dining room table in our apartment (no space!), so we eat in front of the TV. I know it's not the best habit, but it's the reality we have right now. We usually start dinner by chatting, but eventually end with the TV on and our favorite show. We spend the next few hours just relaxing and watching TV – sometimes I'll do a face mask and we'll definitely sneak in some Trevi snuggles – before we head to bed.
9:30 pm – nightly routine + bedtime
I try to have screens off around 9:30 each night. We'll clean up the kitchen, Matt will take Trevi out to go to the bathroom again and I'll wash my face and brush my teeth. I'm usually in bed at 9:45 and I'll spend like 10 – 15 minutes reading and then it's lights out at 10pm!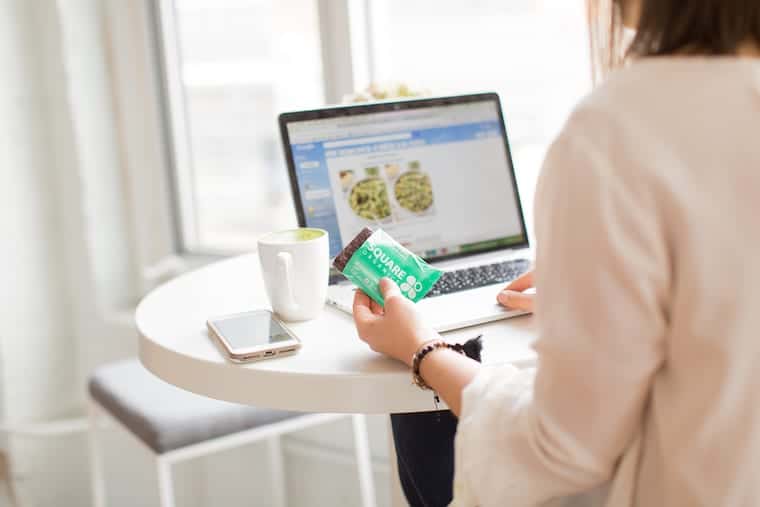 My Best Time Management Tips
Now that you've gotten a sense of my day, I wanted to share some tips I have for managing my time. My schedule probably doesn't really relate to yours, but these are the things I've picked up along the way from running my business and balancing a million different tasks (which I bet you can relate to!).
1. Do ONE Thing At a Time.
My #1 tip for all time management is to do just one task at a time. Some of us think we are great multitaskers, and even pride ourselves on juggling all the things, but studies have shown time and time again, our brains can't physically think about two things at once. So when you have a task you're working on – whether it's answering email or folding laundry – to just that one thing before moving onto the next task.
2. Prioritize.
Before your day starts, make a list of your top 3 priorities for the day. You can have a smaller list of subtasks running as well, but those three things are the three BIG things you're going to get done for the day. As an example of my day above, my three BIG things would be three recipes. Some days that's writing three posts, other days it's more admin focused.
3. Batch Work.
The concept of batch working is to basically group like tasks with like tasks. So if you're someone who is balancing something creative with something more analytically driven, do all your creative work together and then your analytical work together, making sure to take a break in between. When you keep your mindset on similar tasks, you're able to focus more and ultimately get more done.
4. Take Breaks.
It's super important that you give yourself some breaks during the day. If you're just head down all the time, you're going to get burned out. Break your day up with a little movement (like a midday walk) and try to get some fresh air. It will revive your brain, help you get more energy and again help you be more effective.
5. Time Block.
I've found that writing out a schedule for myself each day really helps me stay on task. I do my schedule on the half hour and I find the days I write it down, those are the days I'm much more likely to get to everything. I'm definitely a list person and knowing that I'm trying to get a certain amount done by a certain time helps keep me going. During that my time blocked time, that's the ONLY task I'm working on. Here's a post from my friend Ali that talks more about time blocking!
6. Put Your Phone Away.
I don't know about you, but my phone is a huge distraction. If I have it on my desk, any time I take a little step away, I reach for my phone. And when I reach for my phone, I either check my email or check Instagram. Which then leads to mindless scrolling which is getting me off track.
7. Close Your Browsers/Programs.
If you're doing work on your computer, ONLY keep the browser or program open that you need for that specific task. Having a bunch of tabs open or having your email number piling up, encourages you to flip back and forth. Again, just like #1, the goal is for us to remove distractions and stay as focused as we can on our one task.
What do you think?
If you have any more questions about time management or want to learn more about how I've built and grown my business, let me know in the comments! I'll be happy to answer them directly or create another whole post about it 🙂