These are the 35 BEST quinoa bowls to fill up on hearty, healthy whole grains and vegetables for breakfast, lunch or dinner. Including gluten-free, vegetarian and vegan options.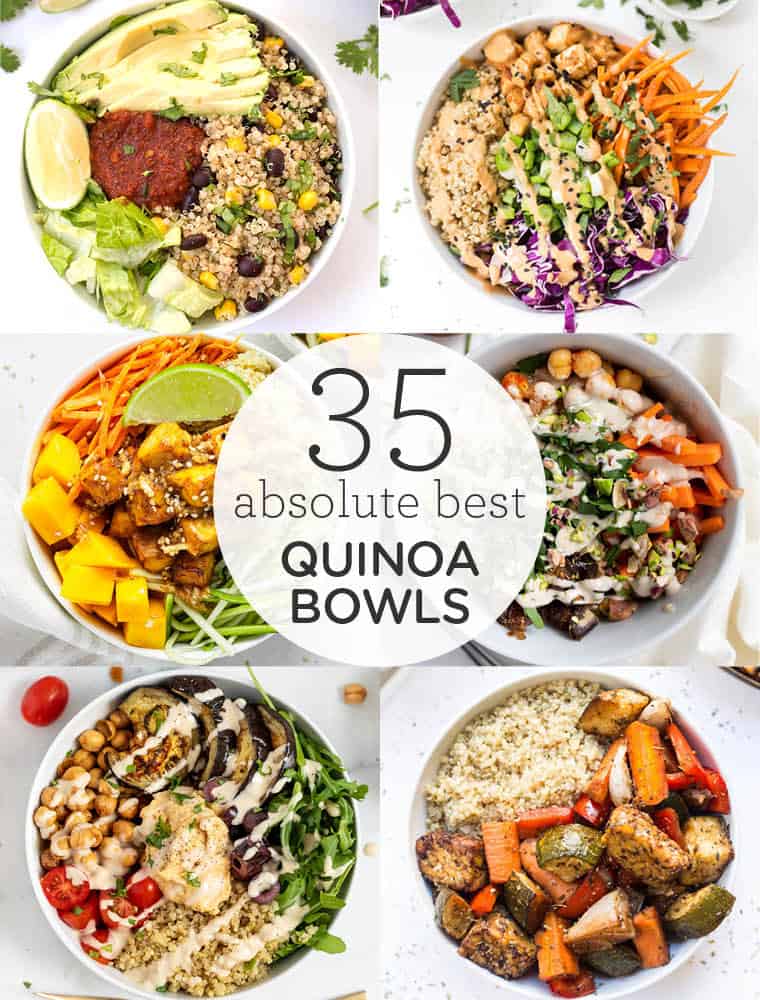 It shouldn't come as a surprise that a quinoa bowl piled high with veggies, protein, and flavorful sauces are one of my go-to lunches.
They also make excellent dinners.
As long as you have some cooked quinoa on hand (see here for my foolproof way to cook perfect quinoa), you can toss together a delicious and healthy meal in minutes.
I've rounded up the best quinoa bowl recipes to inspire you to eat more grains in the most delicious ways possible. Enjoy!
How to Make Quinoa Bowls
But before we can dive into our best quinoa bowls, let's first chat about how to make a quinoa bowl. For me, a perfect quinoa bowl takes just a few simple components:
Cooked quinoa
Vegetables/Fruit
Protein
Sauce
And from there, you can create any quinoa bowl you want! If you want to see how we use a "quinoa bowl formula" of sorts, our post about Healthy Quinoa Bowls shows you how to use cooked quinoa and make 6 different quinoa bowls recipes!
The 35 Best Quinoa Bowls
Super-Flavorful Plant-Based Bowls
Quinoa Bowls with Extra Protein
Veggie-Packed Quinoa Bowls
Quinoa Topped with Beans and Legumes
Quinoa For Breakfast
And lastly, we couldn't close out this post with our best quinoa bowls without including some breakfast options!
share what you make
Tag #simplyquinoa on Instagram with your creations! We love sharing what you make with the community. We can't wait to see!

follow on instagram