You know those recipes that you forget about, that you've shoved in the back of your recipe box (or it's deep on one of your Pinterest boards), and then you rediscover it and it's like the best meal of your life?
That happened to us when we made this cassoulet recipe we made last week.
It's a meal that my mom has made for us a handful of times, and each time I ask her for the recipe. Turns out, it's in some random cookbook she's had for 20 years, and I  can't find it online anywhere.
So last time I was home, actually the very day I was leaving, my mom asked me to make the dish for them. It cooks for a while on the stove and my parents were at work, so being the awesome daughter that I am, I made them dinner before I left even though I wasn't going to be able to enjoy it. Talk about brownie points! (Hey Mom, my Christmas list is getting longer and longer as I type….)
Of course, she called me after dinner that night, raving about the cassoulet recipe. When I quickly realized I forgot to snap a pic of the recipe again.
If you're not familiar with cassoulet, it's a traditional French stew made with meat (usually pork sausage) and white beans. Basically, it's a slow-cooked casserole made with rich, hearty ingredients, making it the perfect cold-weather meal.
Since I didn't have this particular cassoulet recipe on hand, I decided to make it by memory and see how close I could get. Well, let's just say, my Italian roots definitely came on a little strong. Rather than the traditional French flavors, this cassoulet turned into a more rustic Italian dish that was just divine over a bed of warm rainbow quinoa.
Oh, and next time I'm home visiting my parents, I'll make sure to actually get my mom's cassoulet recipe and see how close they actually are.
Chicken & Sausage Cassoulet with Rainbow Quinoa
Rather than the traditional French flavors, this cassoulet turned into a more rustic Italian dish that was just divine over a bed of warm rainbow quinoa.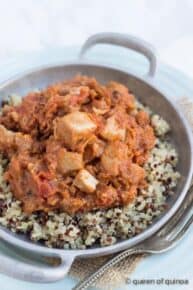 Ingredients
1

lb

pork sausage

casing removed

1

lb

boneless chicken breasts

1

large red onion

chopped

2

garlic cloves

minced

1 1/2

cups

white wine

1

cup

water

Italian spices to taste

rosemary, thyme, oregano, parsley, & basil

Oil for cooking

Salt & pepper to taste
Instructions
Heat some oil in large dutch oven over medium high heat. While the oil is heating, cut the chicken into 1" cubes. Brown the chicken in a dutch oven until all sides are seared, about 3 - 5 minutes. Transfer chicken pieces to a separate plate.

Add sausage to the dutch oven, breaking it up with a wooden spoon as it cooks. Cook until browned, 3 minutes.

Add onions, cooking until they've started to soften, about 5 minutes. Add garlic and cook until fragrant, another 1 - 2 minutes.

Transfer chicken back to the dutch oven, followed by the wine and spices. Bring to a boil, turn down to simmer until the liquid has reduced by half. Add the tomatoes and water, bring back to a boil then cover and reduce to simmer. Simmer for as long as possible (it's best around 6 hours), but at least 2 hours. Add more water as needed.

Serve over rainbow quinoa (1/2 cup cooked per person is good) and enjoy!
Notes
Although I haven't tried it, I think this recipe would work in a slow cooker. Once the wine has reduced, transfer everything to a slow-cooker, and turn on high for 6 hours.
Nutrition
Calories:
506
kcal
|
Carbohydrates:
19
g
|
Protein:
44
g
|
Fat:
44
g
|
Saturated Fat:
13
g
|
Cholesterol:
154
mg
|
Sodium:
715
mg
|
Potassium:
1216
mg
|
Fiber:
4
g
|
Sugar:
10
g
|
Vitamin A:
605
IU
|
Vitamin C:
21.5
mg
|
Calcium:
107
mg
|
Iron:
5
mg
Filed Under: