Today, we're bringing a little bit of summer to January.
I love, love, love grilling, but for the past 6+ years, I've bounced around from apartment to apartment and never had the chance to own my very own outdoor barbecue grill. But I refused to give up this method of cooking, so I bough an electric griddle. At first it was great and we used it a ton, but as time went on I felt like my food started tasting strange, kind of fake. It didn't get the char or the smoky flavor that makes grilled food so tasty.
When we moved to NYC, we were downsizing, so it was the perfect time to ditch the electric griddle and invest in a cast iron grill pan. And I have to just say, I'm in love! (I have a Le Creuset and it's amazing!) We literally use it all the time – you get those gorgeous grill marks, a crusty char and you can do it all from the comfort of your own kitchen (no snow boots necessary).
As we were browsing the meat counter at Whole Foods last week, pondering the menu for the week ahead, I spied the pork chops. I hadn't had pork chops in years (seriously, years!), but suddenly the craving for a dinner of grilled meat and potatoes completely took me over.
It's such a classic combination, that so many Americans enjoy, but I wanted to change it up a little bit. I didn't want just a boring old grilled piece of pork next to a creamy lump of mashed potatoes. Oh no, if we're having fancy grilled pork chops (at least fancy for us), we're fancying up the side also.
And it had to be healthy of course.
So we opted to serve our pork with a warm red quinoa salad tossed with roasted sweet potatoes and sauteed kale.
Are you a red quinoa fan? Most people think that red and white quinoa are interchangeable, but I really do think of them as two separate ingredients.
Each type of quinoa has the same nutritional properties, but they really are different when it comes to texture. I love using red quinoa in savory applications like salads and soup because I find that with it's crunchier texture, it stands out and doesn't get lost in the other ingredients. White quinoa on the other hand, is softer and lends itself really well to savory and sweet applications, and I often include it in my baked goods. I think it blends in better and is just milder.
If you haven't tried red quinoa yet, this is a great recipe for you to test it out on. It's a savory red quinoa salad with tender sweet potato chunks and leafy green kale, all tossed with some chili powder and smoked paprika. With each bite you get the softness from the potato, the earthy flavor of the kale and then a little crunch from the red quinoa – it's magical.
Wondering where to get red quinoa? Here's where I buy mine!
Grilled Pork Chops with Sweet Potato, Kale & Red Quinoa Salad
I didn't want just a boring old grilled piece of pork next to a creamy lump of mashed potatoes. Oh no, if we're having fancy Grilled Pork Chops (at least fancy for us), we're fancying up the side also. And it had to be healthy, of course.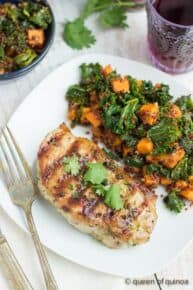 Ingredients
for the pork:
4

pork chops

1/4

cup

olive oil

1/4

cup

chopped cilantro

2

garlic cloves

minced

Fresh cracked black pepper



Instructions
Prepare the marinade by combining the oil, cilantro, garlic, salt and pepper. Place pork chops in a bowl or plastic bag, pour marinade over and return to fridge for 30 minutes.

While pork chops are marinating, preheat the oven to 400 degrees F. Peel and chop sweet potatoes into 1/2" cubes. Toss in a little olive oil and season with salt and pepper. Place on a baking sheet and roast until tender, 20 - 30 minutes. When done, remove and let cool while you prepare the rest of the meal.

Preheat a grill (or grill pan) over medium heat. When hot, place pork chops down and grill for 5 - 7 minutes. Flip and grill for another 5 - 7 minutes, or until the center is only slightly pink. Remove and let rest for 5 minutes.

While the pork is cooking, heat some olive oil in a pan over medium-high heat. Add kale and cook until starting to wilt, 2 - 3 minutes. Add sweet potatoes and quinoa, toss until warmed and combined. Season with chili powder, paprika and a pinch more salt and pepper.

Serve pork and salad immediately.
Nutrition
Calories:
461
kcal
|
Carbohydrates:
23
g
|
Protein:
33
g
|
Fat:
27
g
|
Saturated Fat:
5
g
|
Cholesterol:
89
mg
|
Sodium:
248
mg
|
Potassium:
820
mg
|
Fiber:
3
g
|
Sugar:
2
g
|
Vitamin A:
6625
IU
|
Vitamin C:
21.6
mg
|
Calcium:
59
mg
|
Iron:
2.4
mg