This healthy Mexican quinoa recipe uses only 5 ingredients and comes together in under 20 minutes. It's quick, easy and super delicious!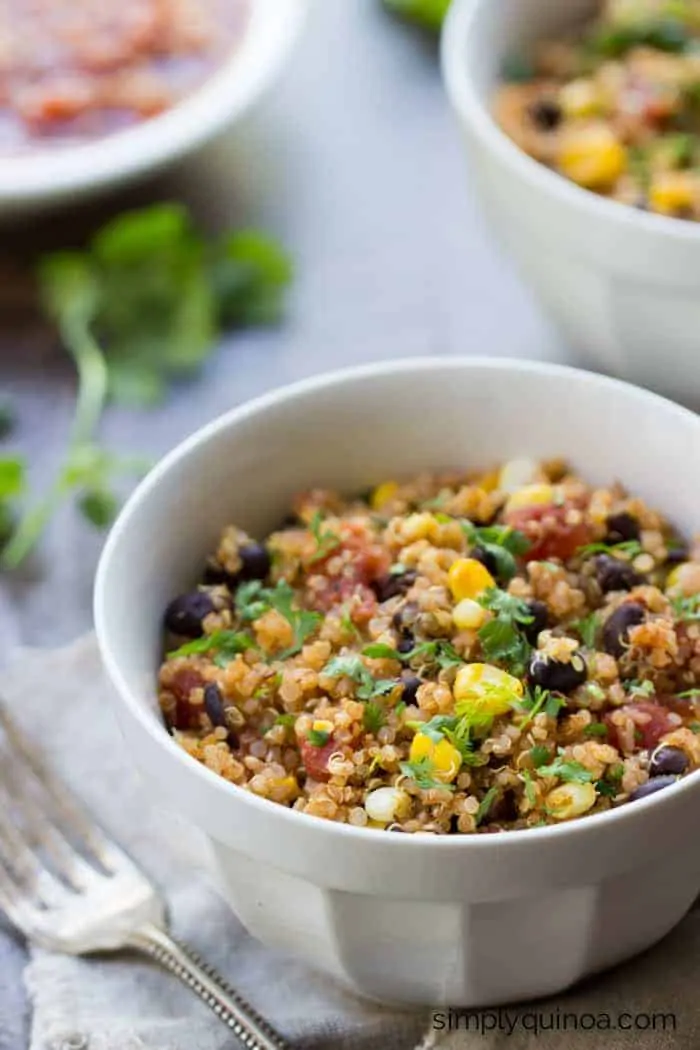 Okay, hi. I just have to dive right in today and talk about this Mexican quinoa.
5 ingredients + 15 minutes = best dinner ever.
This dish reminds me of the Mexican-style rice you can find at some restaurants. You know the type, it's flavorful, with a reddish hue, a little crunchy and full of flavor? That's the one. This quinoa is similar but way better.
Now granted, I'm probably a bit biased (quinoa > rice all day every day.), but I've managed to pack in a ton of flavor using just five, super basic ingredients. Plus, there are more goodies in here – think corn + black beans – making this dish a bit more robust and filling.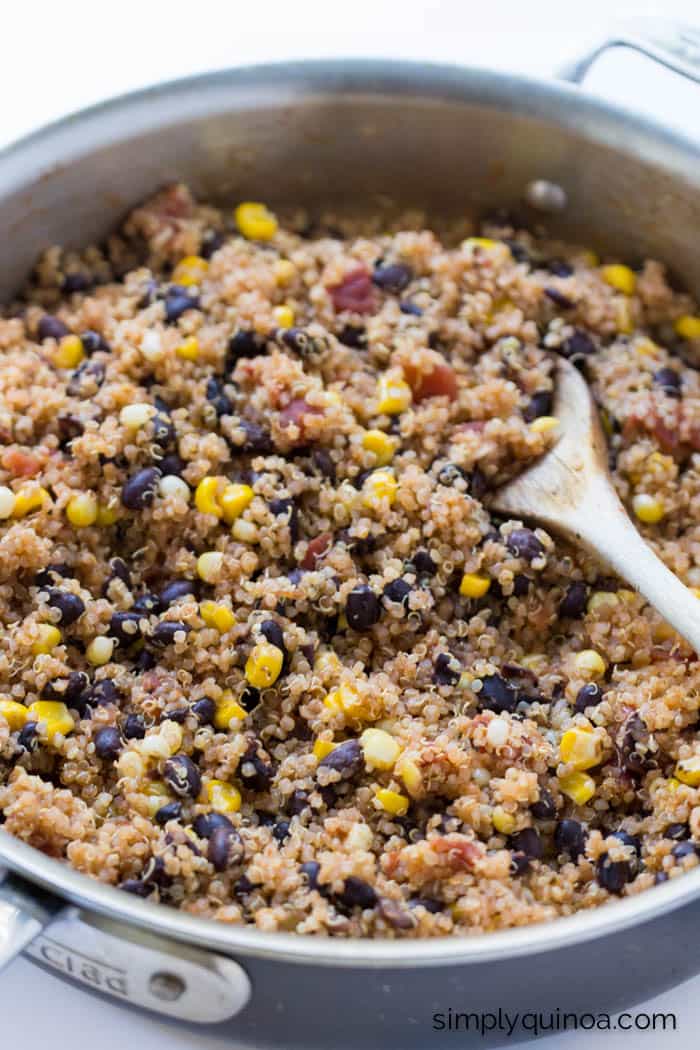 As I started researching this post, I wanted to find out how they made Mexican rice. As it turns out, it starts with a boatload of oil. Basically, you fry the rice in the pan, then add the stock, tomato sauce, and spices, and let rice cook away. The end result? A big pot of fluffy red rice.
Sounds good, huh?
Here's the thing…when you try it with quinoa it totally doesn't work. I mean epic failure. I followed a recipe I found online and ended up with a huge pot of mushy quinoa. It was like pig slop. Not good.
So word to the wise: don't try to make Mexican quinoa the traditional rice way.
Normally, a few failures like that (did I mention I tried it 3 times) would have me abandon all hopes and move on. Not this time though. I was determined to make simple Mexican quinoa that was NOT a glob of mush.
Turns out, it's not that hard. Should have trusted my instincts and followed the same principle I used for my quinoa fried rice to begin with. Lesson learned.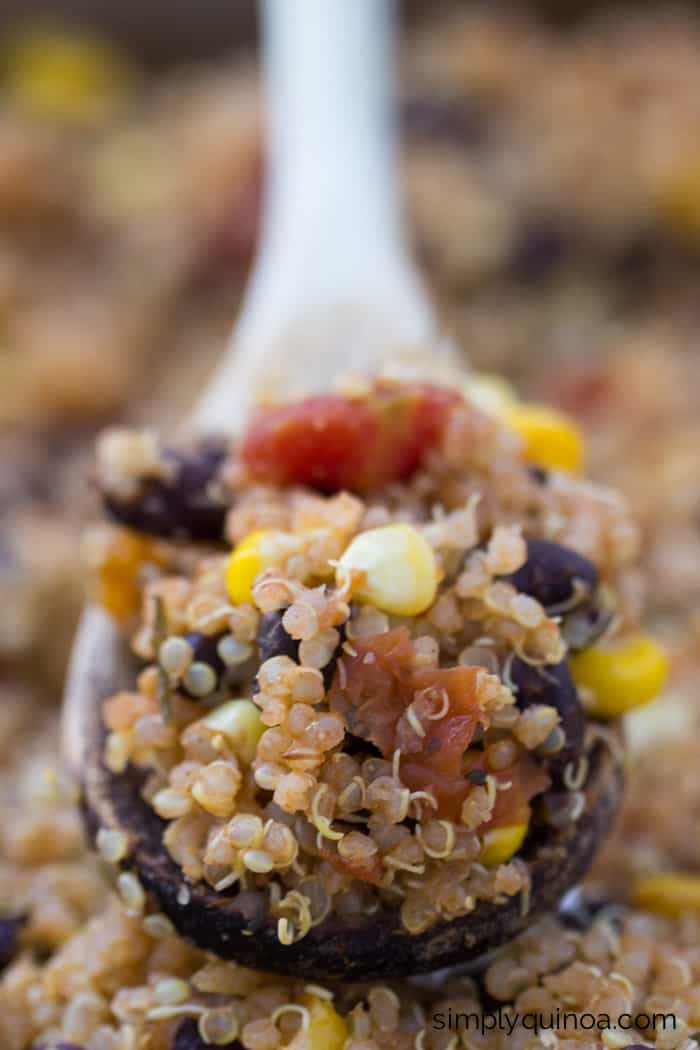 So here's the deal with this dish. You really only need 5 ingredients.
White Quinoa (I used Ancient Harvest because it's my fave!)
Corn
Salsa
Black Beans
Cumin
From there you essentially just mix it all together in a pan and call it a day. How-ev-er there is one trick I have to avoid the mush: start with cold quinoa.
You already know that I like to cook big batches of quinoa and save them in the fridge for my recipes, and this type of recipe is the perfect example. Starting with quinoa that has cooled completely will help it from getting super sticky when you cook it in a pan. (and trust me…I've discovered this the hard way)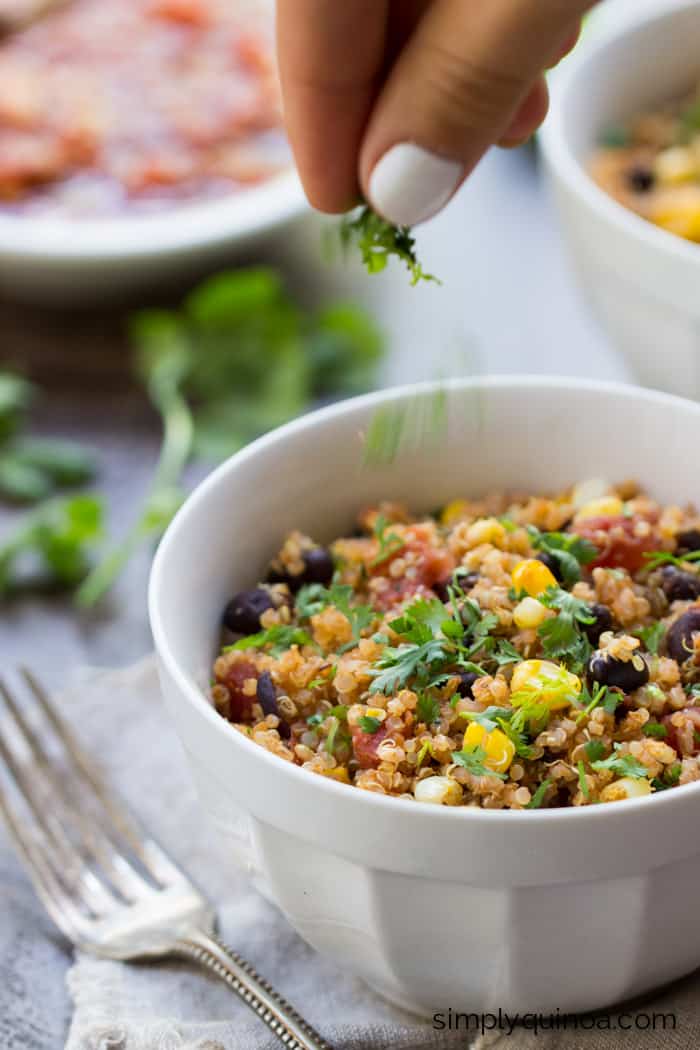 This recipe couldn't be more straightforward. You just add your corn and black beans to the pan, cooking them until the corn is tender. Then add your quinoa and cumin. And finally, stir in your salsa and you're done! I garnished mine with some cilantro because I'm obsessed, but feel free to skip that part.
Most importantly tho…dinner with 5 ingredients in under 15 minutes. Major win!

PS: if you make this recipe (or any others!) make sure to snap a pic and share it on Instagram using hashtag #SIMPLYQUINOA – I want to see your creations!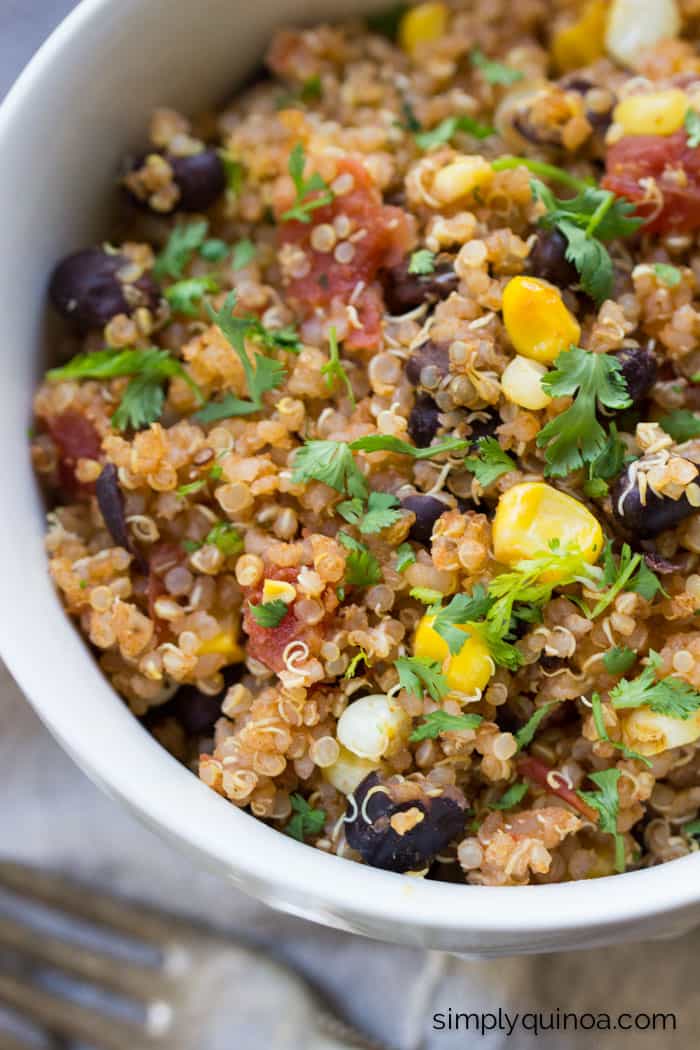 More Healthy Quinoa Mexican Recipes To Try:
5-ingredient Mexican Quinoa
This dish reminds me of the Mexican-style rice you can find at some restaurants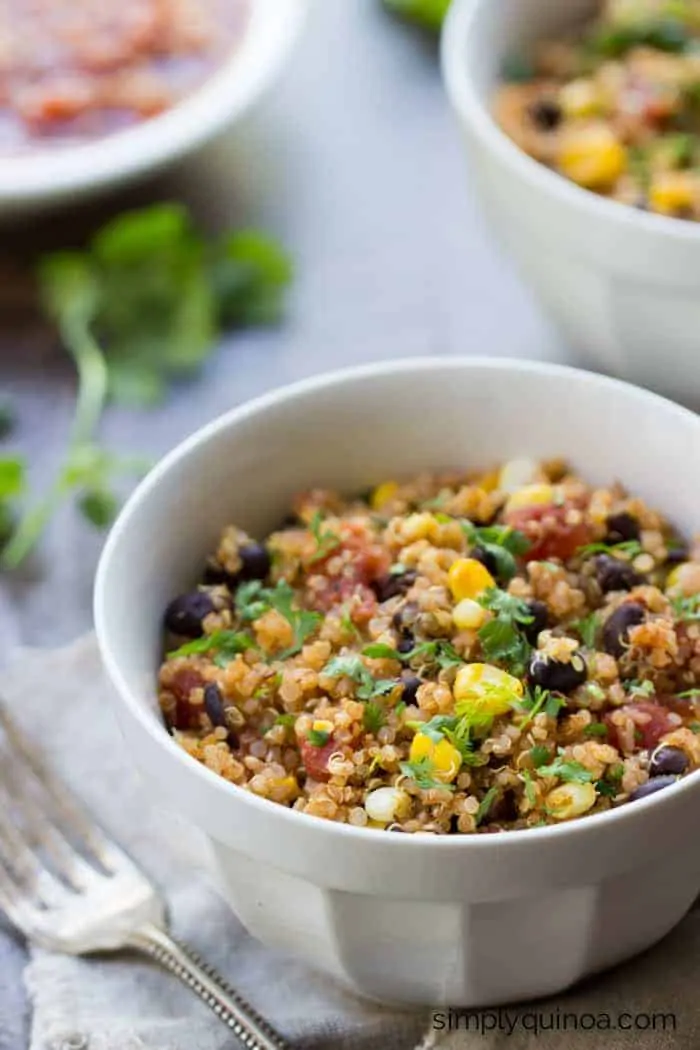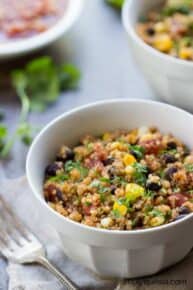 Instructions
Preheat a large skillet over medium heat. Add corn and black beans and cook until corn is tender, about 3 minutes.

Add quinoa and cumin and stir to combine. Cook until quinoa is hot and begins to get a little crunchy, stirring constantly, about 3 minutes.

Stir in salsa and cook until everything is combined and quinoa begins to dry out a little more, about 2 minutes.

Remove from heat and let cool for 5 - 10 minutes, then fluff with a fork and serve.

Garnish with cilantro is optional.
Nutrition
Calories:
295
kcal
|
Carbohydrates:
53
g
|
Protein:
14
g
|
Fat:
3
g
|
Sodium:
882
mg
|
Potassium:
842
mg
|
Fiber:
13
g
|
Sugar:
3
g
|
Vitamin A:
810
IU
|
Vitamin C:
7.7
mg
|
Calcium:
122
mg
|
Iron:
5.9
mg
Filed Under: