Before we talk about any sort of recipe, we must first take a moment and reflect. Monday our country was rocked. The horrific events that took place in Boston have my heart aching, my eyes full of tears and my body is filled with sadness. My thoughts and prayers are with everyone in Boston and everyone who has friends and loved ones that have been affected by these attacks.
There is no explanation. No reasoning. Nothing that can make this better. All we can do is come together and hug our loved ones even tighter. My heart goes out to all of you and knows that I'm holding you close in my thoughts.
Everyone has a story to tell when it comes to pancakes. Whether it's a memory from your childhood, watching your mother flip those fluffy cakes on the griddle every weekend, or sitting at a booth in your favorite neighborhood diner where the coffee flows like water and the pancakes are the size of your plate. Whatever your pancake story is, I'm sure it's special.
Because pancakes are just one of those foods. The special kind of food. A food that instantly brings a smile to your face, and takes you to another world with each bite you take.
These healthy applesauce oatmeal pancakes were a huge hit in our house. The texture is not quite as sturdy as your traditional gluten-filled pancake, and you have to be careful when you flip them, but boy were they tasty. And because they were packed with nutrients and protein, I was left feeling full on just two. A successful Saturday morning breakfast in my book!
Healthy Applesauce Oatmeal Pancakes
These Healthy Applesauce Oatmeal Pancakes are the perfect way to start your day. Light, fluffy, gluten-free and delicious topped with some fresh fruit and pure maple syrup.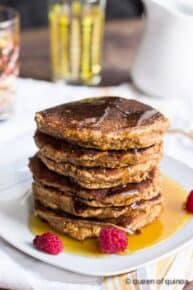 Instructions
Blend 1 cup of the oats in a food processor or high-speed blender until they resemble a flour. Transfer to a large mixing bowl and add the rest of the dry ingredients.

In a separate mixing bowl, beat together the wet ingredients until full incorporated. Add the wet ingredients to the dry and beat until smooth. Let sit for 5 - 10 minutes to let the oats soften a little.

Heat a griddle pan over medium-low and grease with your desired ingredient (I used coconut oil which was lovely). Ladle the batter on the pan, whatever size you would like. Cook until small bubbles start to form about 3 - 5 minutes, or until browned. The bottom of the pancakes should be fully cooked and sturdy enough to slide the spatula under them. If it's not and the pancake starts to break, continue to cook.

Flip (carefully!) the pancakes over and cook for another 2 - 3 minutes until brown. Serve immediately with your choice of toppings.
Nutrition
Calories:
104
kcal
|
Carbohydrates:
11
g
|
Protein:
5
g
|
Fat:
5
g
|
Saturated Fat:
1
g
|
Polyunsaturated Fat:
1
g
|
Monounsaturated Fat:
1
g
|
Trans Fat:
0.003
g
|
Cholesterol:
32
mg
|
Sodium:
190
mg
|
Potassium:
110
mg
|
Fiber:
2
g
|
Sugar:
2
g
|
Vitamin A:
43
IU
|
Vitamin C:
0.3
mg
|
Calcium:
77
mg
|
Iron:
1
mg
Filed Under: