This adrenal cocktail recipe balances your minerals with fresh lemon and orange juice, coconut water, and magnesium powder. Feel your best with this healthy drink.
Supporting your adrenal system might not always be top of mind. However, this system is essential for hormone regulation, healthy metabolic functioning, blood pressure, and your response to stress. One of the best ways to ensure that your adrenals are in tip-top shape is to regularly consume minerals in the right ratios.
This adrenal cocktail recipe does just that. I've used the formula for adrenal support to design a healthy and delicious cocktail you'll want to have every day.
The original source of this recipe was Susan Blackard, NP, ND, PhD at the Rejuvenation Health Center in Springfield, MO.
What Makes this Cocktail Good for Adrenals?
In order for this drink to support healthy adrenal functioning, it has to include a combination of sodium, potassium, magnesium & whole food vitamin C.
The general formula for adrenal support is to include at least:
375mg of Potassium
400 – 600mg of Sodium
200mg Magnesium
60mg of Wholefood Vitamin C
Ingredients
Here's what you need to make a cocktail that supports your adrenal system:
Coconut water. Choose unsweetened, pure coconut water as the base of your cocktail. It's super hydrating, thanks to electrolytes.
Lemon and orange juice. Here's where your whole food vitamin C comes into the picture.
Magnesium powder. Look for magnesium chelate if you can. I like this magnesium powder.
Sea salt. For the proper amount of sodium.
Water. You can also top your drink with your favorite sparkling water for some fizziness.
When Should I Have an Adrenal Drink?
You can drink this refreshing and healthy mocktail every day.
It's bright and refreshing, which makes it a great thing to start your day with. I recommend making the drink fresh just before you drink it.
I personally like to drink these between meals – typically in the afternoon.
More Healthy Drink Recipes
If you make this Adrenal Cocktail recipe, be sure to let me know what you think with a comment below!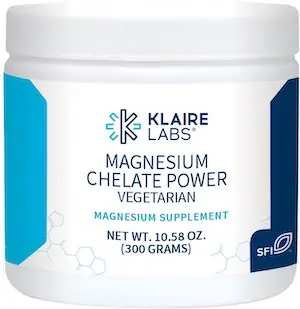 Magnesium Powder
I love this magnesium powder! It doesn't have any flavor, mixes very well and completely dissolves.
Adrenal Cocktail Recipe
This is the healthiest adrenal-supporting cocktail made with coconut water, lemon and orange juice, plus magnesium for the right balance of minerals.
Instructions
Mix all the ingredients together in a glass. Serve immediately with ice as desired.
Nutrition
Serving:
1
drink
|
Calories:
87
kcal
|
Carbohydrates:
20
g
|
Protein:
2
g
|
Fat:
1
g
|
Saturated Fat:
1
g
|
Polyunsaturated Fat:
1
g
|
Monounsaturated Fat:
1
g
|
Sodium:
835
mg
|
Potassium:
787
mg
|
Fiber:
3
g
|
Sugar:
13
g
|
Vitamin A:
128
IU
|
Vitamin C:
60
mg
|
Calcium:
68
mg
|
Iron:
1
mg
Filed Under: