These incredible Moroccan Lentils + Quinoa are made in just one pot and are a high-protein, absolutely delicious, plant-based meal your whole family will love!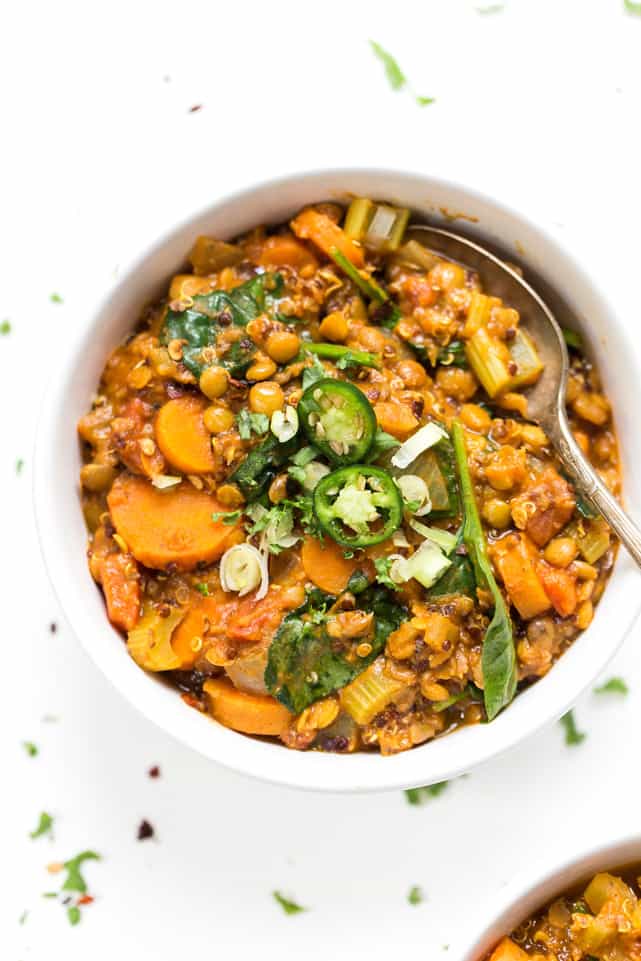 Are you ready to be wrapped in a warm food hug?
Because that's exactly what this bowl is. It's cozy, comforting, hearty, satisfying and makes you feel safe. One of those meals that makes you want to snuggle up on the couch under a huge blanket with a glass of red wine and a puppy beside you.
Yep, that's pretty much my perfect night.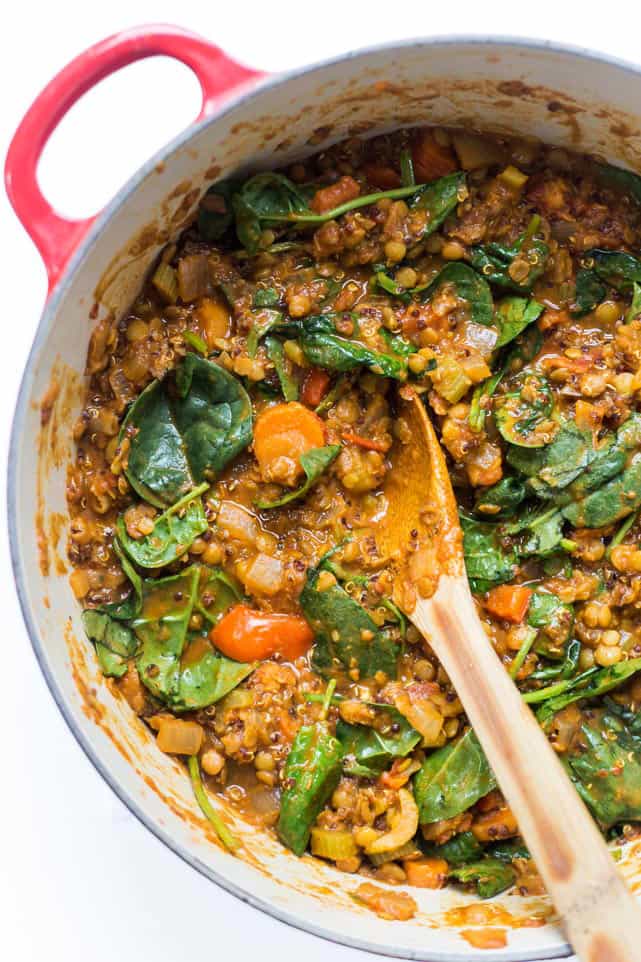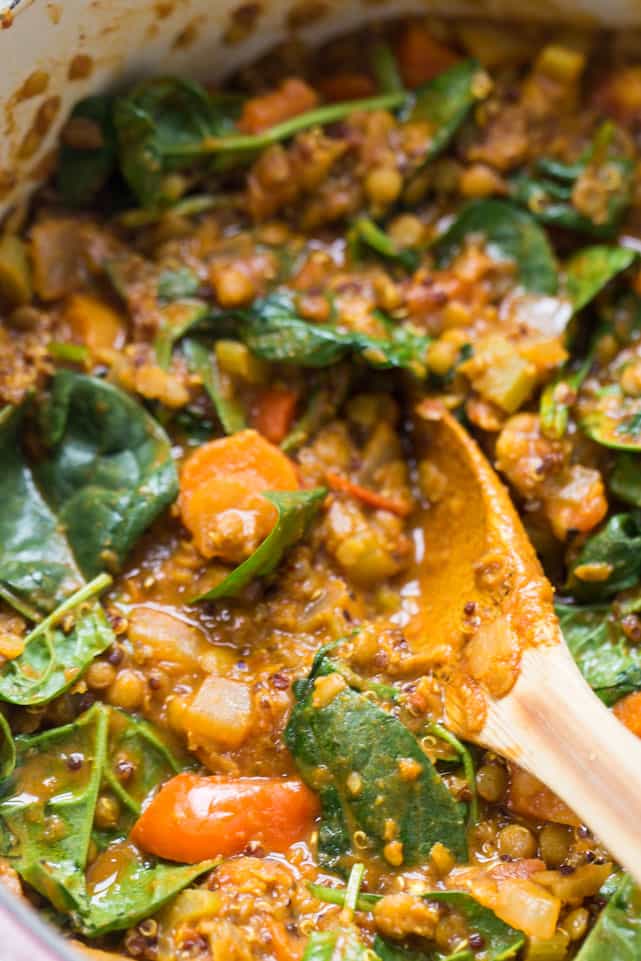 As the title suggests, this recipe for Moroccan lentils and quinoa is made in just one pot. I love using my dutch oven for this type of meal, but really any large soup pot will work.
It starts with a quick saute of some veggies, then we layer in some diced tomatoes, two types of lentils, quinoa and LOTS of spices to amp up the flavor. Even though I've never been to Morocco (it's on my list!), I imagine their food is incredibly flavorful and vibrant, just like this recipe.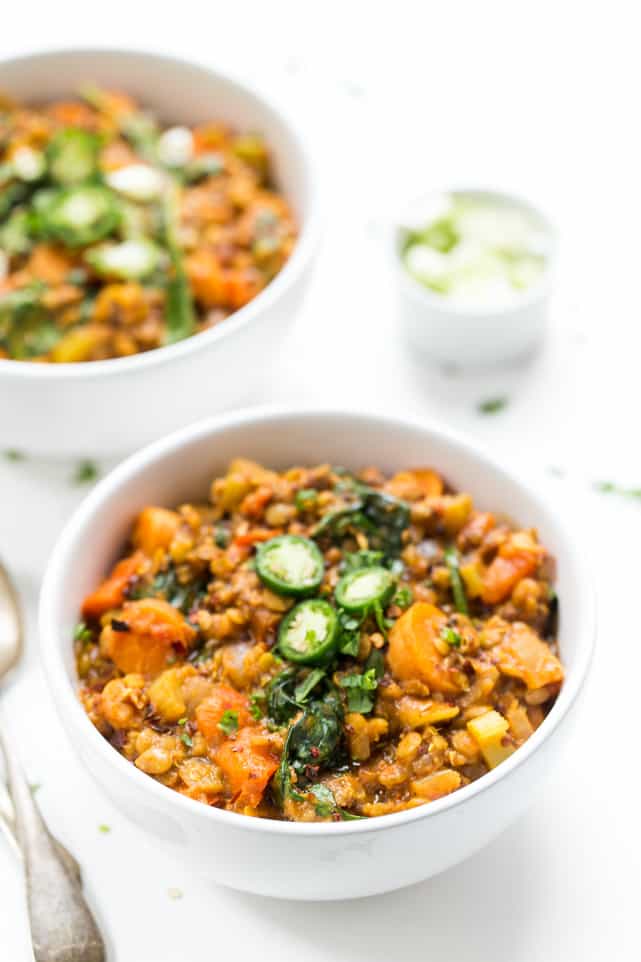 So once you've got everything in the pot, it's time to just let it simmer. Simmer simmer simmer. This helps to develop the flavor and makes it all nice and thick. (<– I'm a big fan of thick soups and stews)
But really what's great about this recipe is that it's packed with plant-based protein!
I'm always trying to find ways to add more protein-rich meals into my diet and these Moroccan lentils do it. Lentils have 19g of protein per serving and quinoa as 10g, so together we're talking about a super delicious, high-protein meal that is going to nourish your mind, body and soul.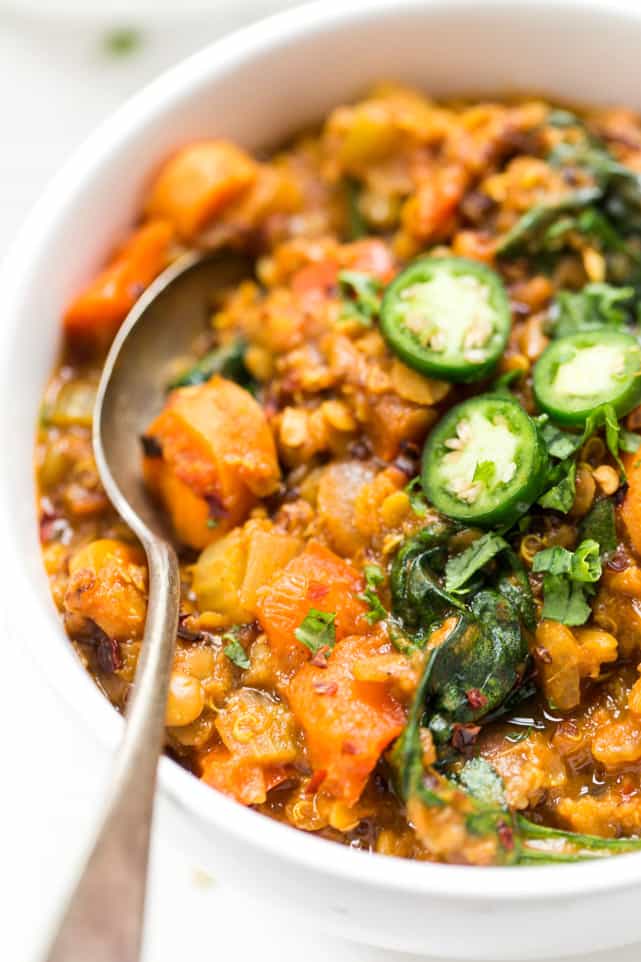 Plus, you guys have been asking for more lentil recipes, so…here you go! ????
If you want to learn more about why I seriously heart lentils, check out my original One Pot Lentils + Quinoa recipe. I dive into why lentils are so healthy and the top 10 reasons why I think everyone should add them into their diet!
But now…let's eat!
Go on and scoop yourself a generous helping of this flavor-packed meal and make sure to save those leftovers for your lunches!
If you end up trying this awesome quinoa chili recipe, I'd absolutely LOVE to see a pic❤️ you can share something with me on Instagram by tagging @simplyquinoa or using #simplyquinoa!
More Healthy and Easy One-Pot Dinners:
One Pot Moroccan Lentils & Quinoa
These incredible Moroccan Lentils + Quinoa are made in just one pot and are a high-protein, absolutely delicious, plant-based meal your whole family will love!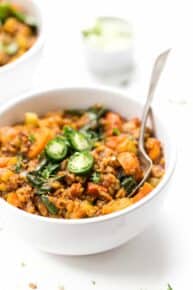 Instructions
Heat the oil over medium heat in a large Dutch oven or cast iron pot. Add onion, carrots, celery, pepppers and garlic, and cook until everything has started to soften, about 3 – 4 minutes.

Season with ginger and spices and stir around until the whole mixture becomes fragrant, about 1 minute.

Pour in the tomatoes, lentils, quinoa, and broth, and bring the mixture to a boil. Cover and reduce to simmer for 25 - 30 minutes.

Remove pot from the heat, uncover and add spinach and coconut milk, stirring gently to combine. Taste (carefully!) and season with salt and pepper.

Serve with a drizzle of olive oil, fresh herbs and sliced hot peppers.
Nutrition
Calories:
292
kcal
|
Carbohydrates:
41
g
|
Protein:
13
g
|
Fat:
10
g
|
Saturated Fat:
7
g
|
Sodium:
568
mg
|
Fiber:
9
g
|
Sugar:
6
g
Filed Under: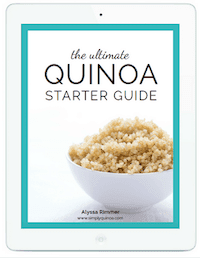 New to cooking quinoa? Grab your FREE Quinoa Starter Guide!
Become part of the Simply Quinoa community and receive weekly emails with exclusive content that I only share in email, as well as my in-depth guide to starting your quinoa journey.