One Pot Vegetable Chickpea Curry
An easy chickpea curry made in one pot! This delicious vegetable curry is packed with vegetables, is super flavorful, is easy to make and freezes well too!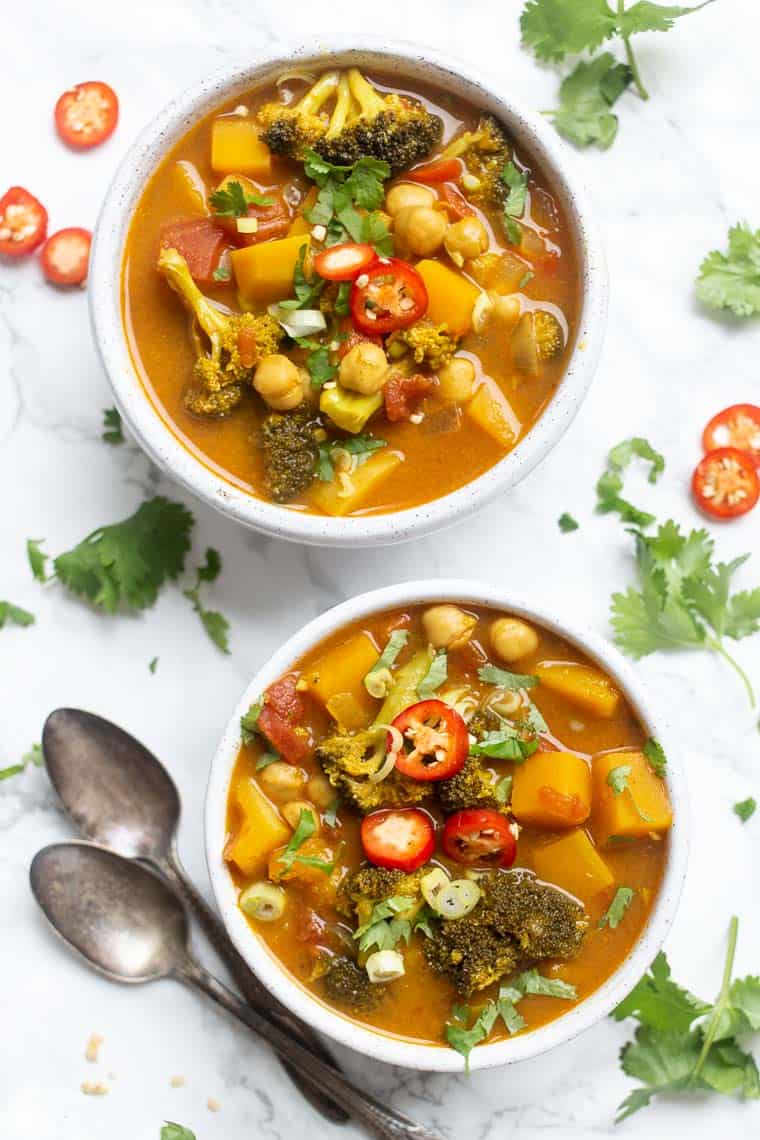 Curry is probably one of my top 5 meals. A good curry, especially a coconut milk-based curry, that's loaded with veggies is like my ideal meal. They're cozy, they're comforting and they're also pretty darn easy to make!
Ever since making my Coconut Quinoa Curry a few years ago, I've been wanting to give you another option that doesn't use a slow cooker. So that's what we've got today, my friends. We're making a chickpea curry that uses just one pot, is super duper flavorful, and is infused with all sorts of delicious spices.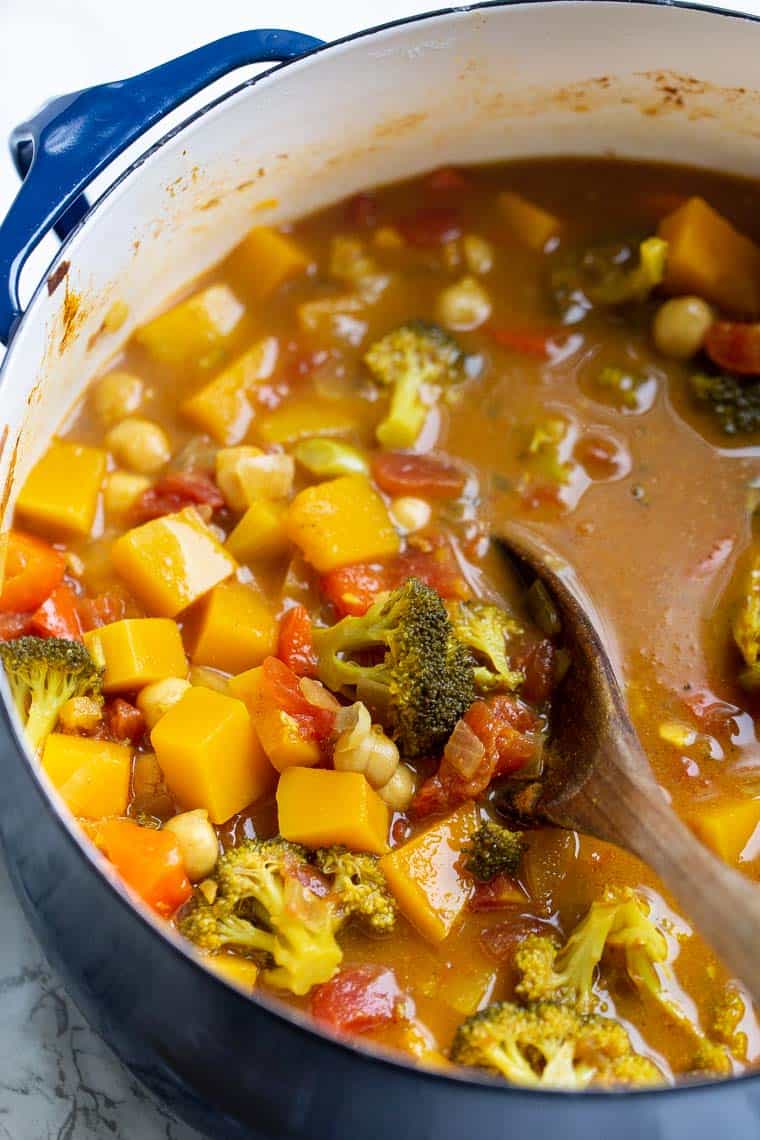 Types of Curry Around the World
One of the most frequent questions I get about my other curry recipe is the spices. People don't see curry powder on the ingredient list and wonder if it's really a "curry." So… I wanted to clear things up!
There are quite a few different types of curries around the world – in fact, most Asian, African, Middle Eastern and Indian cuisines have their own form of curry – but not all regions in the world actually use curry powder. Curry powder is most often found in either Indian curries, Middle Eastern curries or African curries.
Asian curries swing more in the ginger, lemongrass, lime and chili direction. They're almost always use coconut milk as the base and have a bit of a brighter, more refreshing flavor to them. That's what my other coconut curry was – and Asian-inspired curry.

The Easiest Veggie & Chickpea Curry
This curry, on the other hand, leans more in the direction of Indian and Middle Eastern flavors.
We're using a blend of warming spices here – like curry powder, turmeric, cumin, coriander, and cinnamon – and the way we really make those flavors shine is by "toasting" them slightly before adding our broth. When you heat spices ahead of adding a broth, it helps to release even more of their flavors and can really help elevate the taste of your recipe.
For the veggies, you can pretty much just throw in whatever you have on hand. I like to do some sort of starch vegetable (in this case butternut squash), a cruciferous veggie, some sort of pepper, sometimes an eggplant and always a plant-based protein. I'm all about chickpeas in my curries in case you haven't noticed ????
So not only is this chickpea curry fiber and protein-packed, but it also ends up being incredibly warming and nourishing, which I think is just perfect for this time of year! Hope you enjoy it!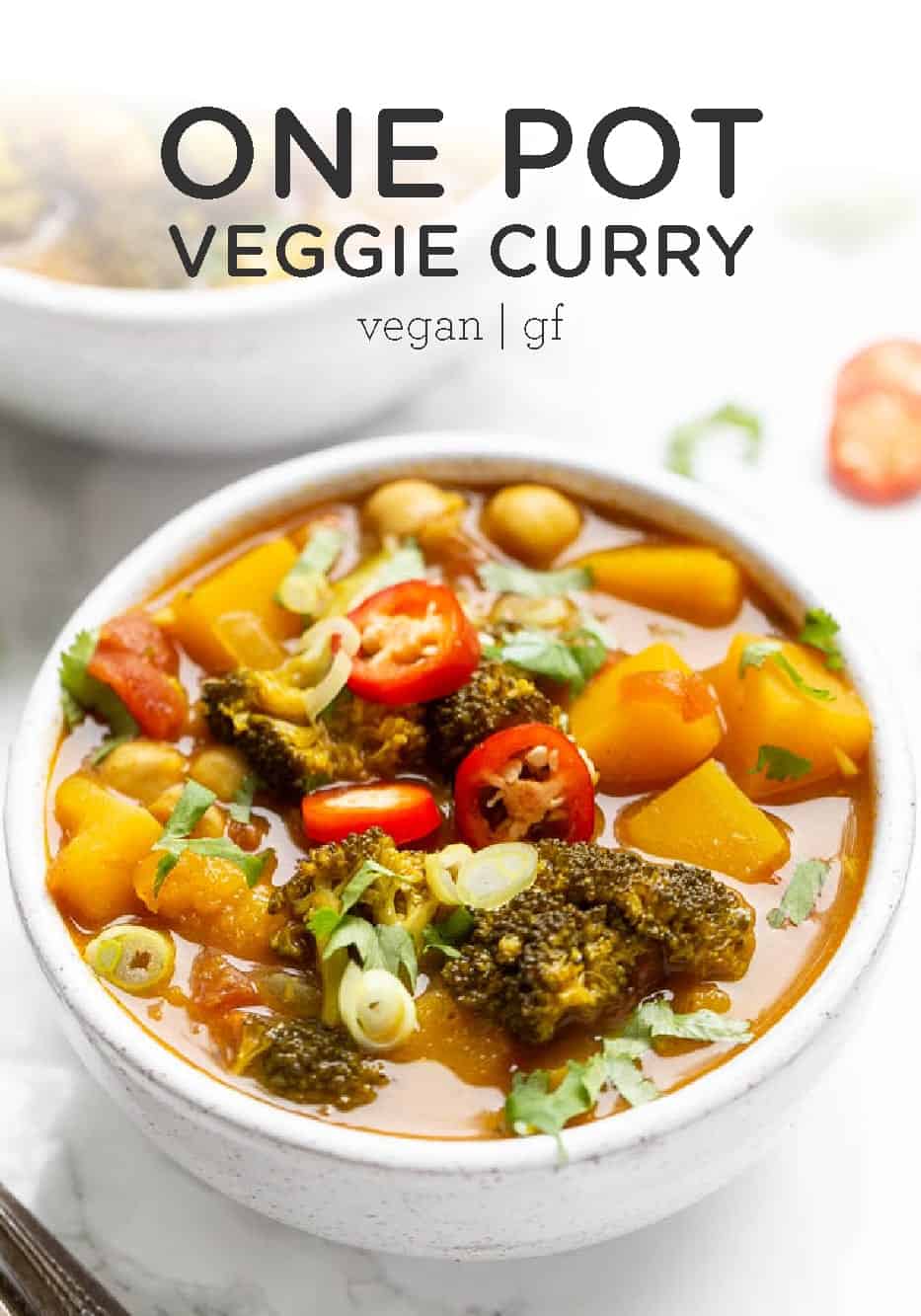 More Easy Vegan Curry Recipes
One Pot Vegetable Chickpea Curry
This delicious chickpea curry is made in just one pot and is packed with vegetables. Easy to make, freezes well and is packed with flavor.
Servings 6
Calories 196kcal
Instructions
Heat the oil in a large saucepan or dutch oven. Add the onion and garlic and saute until fragrant, about 3 minutes. Add the squash, broccoli, pepper, and chickpeas, and saute for another 2 minutes.

Pour in the tomatoes, coconut milk, broth, and spices and season with salt and pepper. Bring the mixture to a boil. Once boiling, turn down to a simmer and cover, cooking until squash is tender about 30 minutes.

When ready to serve, stir in kale (if using) and transfer into bowls. Serve with coconut lime quinoa and garnish with cilantro.
Nutrition
Calories: 196kcal | Carbohydrates: 29g | Protein: 6g | Fat: 6g | Saturated Fat: 4g | Sodium: 844mg | Potassium: 669mg | Fiber: 6g | Sugar: 6g | Vitamin A: 8890IU | Vitamin C: 92.2mg | Calcium: 116mg | Iron: 2.8mg
share what you make
Tag #simplyquinoa on Instagram with your creations! We love sharing what you make with the community. We can't wait to see!

follow on instagram