Check out this amazing list of resources for plant-based living! Everything from documentaries, blogs, cookbooks, educational programs and so much more!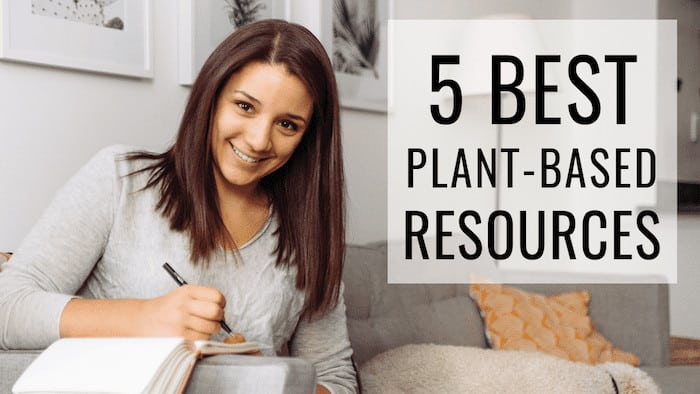 A while back I was asked by a followed on YouTube what my favorite resources were for plant-based living and how I've educated myself over the years around the different topics. As I'm sure some of you are considering either incorporating more plant-based foods into your diet, or are perhaps planning to make the switch completely, I thought it would be fun to share what resources I found to be most helpful as I was making the switch.
A little back story first: I've been living mostly plant-based (around 90%) for about 4 years. The transition was a slow one for me, but there were a few things that acted as the catalysts for this change. Honestly, looking back I think most of it had to do with a few different food documentaries and also realizing how much better I felt when I was eating less meat.
For some of you meat might be easy to let go of, but where you struggle could be dairy (I see you cheese lovers!). For me, that wasn't an issue because dairy didn't work with my system, but one thing that really stuck with me as I was thinking about eating dairy was this quote:
"The purpose of cow's milk is to turn a 65-pound calf into a 700-pound cow as rapidly as possible. Cow's milk IS baby calf growth fluid." – Dr. Micahel Klaper
We are not baby cows and our intentions aren't to rapidly gain weight and muscle. We are also the only species on the planet that consumes another animal's milk. To me, that is enough to put me off dairy completely. It just kind of grosses me out to think that we are going against what nature intended for our bodies.
BUT…
That little rant isn't the reason for today's post 🙂 so let's get to it!
My Top Resources for Plant-Based Living
I'm going to list my resources in order of how I discovered them and how they helped me, but definitely pick and choose based on what sound the most interesting to you. I naturally gravitated to documentaries, then to recipes, then decided to take my education even further and become a Certified Holistic Nutritionist. From there, I felt like I know how the knowledge to help build out group coaching programs to help people (just like YOU!) to incorporate more plant-based foods into their diet.
1. Documentaries
I'm blabbing on about these, but they really were what helped me first start to make the switch. The #1 resource that I found was a website called FMTV.com.
It was created by the team at Food Matters and it has thousands of different documentaries all about healthy living. I've shared some of my favorites before, but this website just keeps getting better and better.
They're constantly adding new movies to their collection and now also offer programs you and masterclasses. You can learn everything from meditation + yoga to cooking, cleansing, detoxing, juicing and so on. I can't say enough good things!
FMTV is now also just $10/month which is an amazing deal. You can get access to their ENTIRE library (all movies, programs, courses, etc.) for just $10. Highly, highly recommend if you want to learn more about healthy living!
2. Blogs
My next step on my journey was to start reading other blogs and exploring recipes. I started trying new recipes, getting more comfortable with cooking plant-based and it really helped me see that giving up meat and dairy didn't mean sacrificing delicious food.
Some of my favorite plant-based blogs include:
3. Books
Once I felt like I had tapped out many of the free recipes I found from blogs, I decided to start investing in some cookbooks. Many of the books were from the same ladies I mentioned above, but I loved that I was able to get recipes that were brand new and exclusive.
Another book that I really enjoyed reading was Crazy Sexy Diet. This was more educational and not so much focused on recipes and it was really interesting. I really like leaning the why behind things, so reading Kris's book helped me start to understand the true benefits of eating plant-based (and juicing!).
4. Holistic Nutritionist Certification
The next step on my plant-based journey, nd I can't say this is something everyone will want to do, was to become a Certified Holistic Nutritionist.
I decided I wanted to take my education even further and really dive into how food affects the body, why different types of diets are better, and just give myself an overall better understanding of the human body. The certification program I chose was from AFPA and I chose it because it was 1) reasonably priced and 2) had the option for graduates to become board certified once they completed the course.
Overall, I really liked the program. I wasn't aware that it was going to be focused entirely on plant-based diets, but I really did enjoy learning about why (and how) the way I was eating was benefiting my body.
If you're not interested in taking the whole certification program, which I totally understand, here are some of the books that we read:
5. Creating My Own Programs
The final step of my journey is where I am now, creating my own plant-based living programs and resources!
Using all information I've learned over the years, combined with my own living and cooking experiences, I have created two signature programs that I am SO proud of! Both programs are online-based, led by me, with hundreds of students who are succeeding and reaching their goals!
Powered by Plants
My first program, Powered by Plants, is designed for people who are interested in making the transition to a plant-based diet or who want to try and clean up their already plant-based diet. We focus less on the actual recipes and what to eat, and instead talk about how to make this a lifestyle change that you can stick with and maintain for the long run. Powered by Plants is 6-weeks long, is led by me, and is full of tons of amazing resources!
If you're someone who likes to go at your own pace, get creative on your own in the kitchen, feel empowered to make your own meals and use me for general guidance, Powered by Plants is the perfect program for you!
Simply Nourished
My second program, Simply Nourished, is a meal plan and nutrition program designed to help kick-start weight loss, reset the body and clear the junk out of our system. It's a 3-week program that consists of meal plans, shopping lists, recipes and as well as a bunch of other helpful resources to help set you up for success!
This program is definitely geared towards those of you who want to lose weight and enjoying having an exact formula to follow. With set meal plans for each day, you'll know exactly what you're doing for the entire 21 days.
All the recipes in this program are gluten-free, dairy-free, refined sugar-free, plant-based and PACKED with fresh fruits and veggies!
Simply Nourished was just relaunched this year and I'm excited to see how many of our students are already seeing results!
If you're interested in learning more about either of the programs, you can click HERE or HERE. Again, both are focused on plant-based living and I know they'll help you feel amazing!
Want to watch this instead? Check it out!
Your turn…
What are some of your favorite resources? If you have a favorite blog that you follow, cookbook you love, book you've read, movie you've watched, or anything else that has helped you on your plant-based journey, please share below!
XO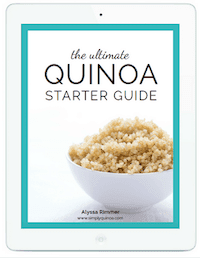 New to cooking quinoa? Grab your FREE Quinoa Starter Guide!
Become part of the Simply Quinoa community and receive weekly emails with exclusive content that I only share in email, as well as my in-depth guide to starting your quinoa journey.
share what you make
Tag #simplyquinoa on Instagram with your creations! We love sharing what you make with the community. We can't wait to see!

follow on instagram