This is truly the best ever quinoa pizza crust recipe! This crust is naturally vegan, gluten-free, and uses just 5 ingredients.
If you love pizza, you're going to LOVE this gluten-free pizza crust – it's crispy, thin, easy to make, and holds up to any of your favorite toppings!
I don't think I've ever met someone who doesn't love pizza. But as someone who's gluten-free, making your own pizza at home can be a little tricky. Gluten is essential to *traditional* stretchy, pliable pizza dough. So what do you do without gluten?
The BEST Quinoa Pizza Crust
You turn to quinoa. Quinoa can be used in so many different ways, and one of my favorite ways is pizza.
This quinoa pizza crust is:
gluten-free
5-ingredients
vegan
yeast-free
freezer-friendly
kid-approved
And it's crazy simple to make!
How to Make Quinoa Pizza
There are just a few simple steps to making this gluten-free pizza crust. First, we have to soak our quinoa. Soaking the quinoa will allow it to soften enough so that it's easy to blend and creates a smooth batter.
Next, we'll have to rinse the quinoa and add all our ingredients to our blender.
These are the ingredients you need for this recipe:
Quinoa: you'll want uncooked quinoa for this recipe – any variety will work, but white gives you the most "traditional" pizza color and taste.
Water: this is just used to help blend the quinoa. I've also used hummus to make it higher protein!
Baking powder: I add a little baking powder to add some air bubbles, but you can skip it if you want.
Sea salt: a touch of salt helps heighten all the flavors of the crust and pizza!
Olive Oil: and olive oil is used just to give the pizza a bit of fat (which I think helps the flavor). If you're oil-free, you can skip it!
Once you've got all your ingredients in the blender, blend it up until it's completely smooth. Then pour your patter onto your prepared pan and smooth it over with your spatula.
Bake the pizza crust for about 15 minutes, then flip it over and bake another 10 – 15 minutes.
Final step: top your pizza with your desired toppings, pop it back in the oven and let everything cook/melt. Slice it up and you're ready to eat!
Can I Freeze Quinoa Pizza Crust?
Yes, you can definitely freeze quinoa pizza. It's actually the most common question you'll see in the comments as lots of people like to make this ahead.
To freeze your pizza crust:
Just the crust: bake it through to step 5 (no toppings) and freeze it. When you're ready to cook it, simply add your toppings, pop it in the 425ºF oven and cook it for about 15 – 18 minutes.
Whole pizza: you can also bake your whole pizza and freeze it. To reheat it, simply pop it in the microwave or toaster oven until it's heated through and the cheese is melty again.
p.s. want to make multiple pizzas or one large one? This recipe can easily be doubled or more!
Topping Suggestions:
Need some inspo in the toppings department? Here are some of my favorite combinations:
Tomato sauce, cheese + fresh basil
Tomato sauce, sliced peppers, vegan sausage, cheese
Vegan pesto, cheese, spinach, artichokes
Tomato sauce, sliced red onions, sauteed mushrooms, finely chopped kale + cheese
But again, this quinoa pizza crust holds up to ALL your fave toppings. Trust me, I've piled these pizzas HIGH and they've still been sturdy and crispy. I can't wait to hear how you top your pizzas – let us know in the comments!
More Gluten-Free Quinoa Pizza Recipes:
The BEST Quinoa Pizza Crust
The best ever quinoa pizza crust is vegan, gluten-free, and just five ingredients for a crisp, savory crust for your favorite toppings.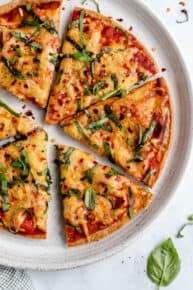 Ingredients
for the quinoa pizza crust:
Instructions
Start by soaking the quinoa. Cover the quinoa with at least 1" of water. Ideally, soak for 6 - 8 hours. If you're in a hurry, use very hot water and soak for at least 30 minutes.

Once you're ready to make the crust, preheat the oven to 425ºF. Line a baking pan with parchment paper (either rectangle or square). Spray the entire surface with cooking spray.

Thoroughly rinse the soaked quinoa, then add to a blender. Add the 1/4 cup of water, baking powder, salt, and olive oil. Blend on high until smooth and creamy. The batter should resemble a thick pancake batter.

Pour batter onto the prepared pan. Spread it out into an even layer, about 1/8" thick (again, either in a circular pan like 9" cake pan OR into a rectangle on a traditional cookie sheet).

Bake for 20 minutes, then remove the quinoa pizza crust, flip it directly onto the baking pan (flip and remove the parchment paper from the top side). Return the pizza to the oven baking for another 10 - 15 minutes until it's starting to brown and the edges are crispy.

Remove and top with sauce, cheese and any other toppings you'd like. Bake for another 12 - 15 minutes until cheese has melted.

Remove and let cool for a few minutes in the pan, transfer cutting board, and slice. Garnish with herbs, pepper flakes, grated cheese, etc., and serve immediately!
Nutrition
Serving:
0.5
of a pizza (no toppings)
|
Calories:
297
kcal
|
Carbohydrates:
41
g
|
Protein:
9
g
|
Fat:
11
g
|
Saturated Fat:
1
g
|
Sodium:
587
mg
|
Potassium:
460
mg
|
Fiber:
4
g
|
Vitamin A:
9
IU
|
Calcium:
75
mg
|
Iron:
3
mg
Filed Under: