These vegan Mediterranean Tostadas are the perfect quick lunch or dinner recipe! They only take 10 minutes to make and are packed with flavor.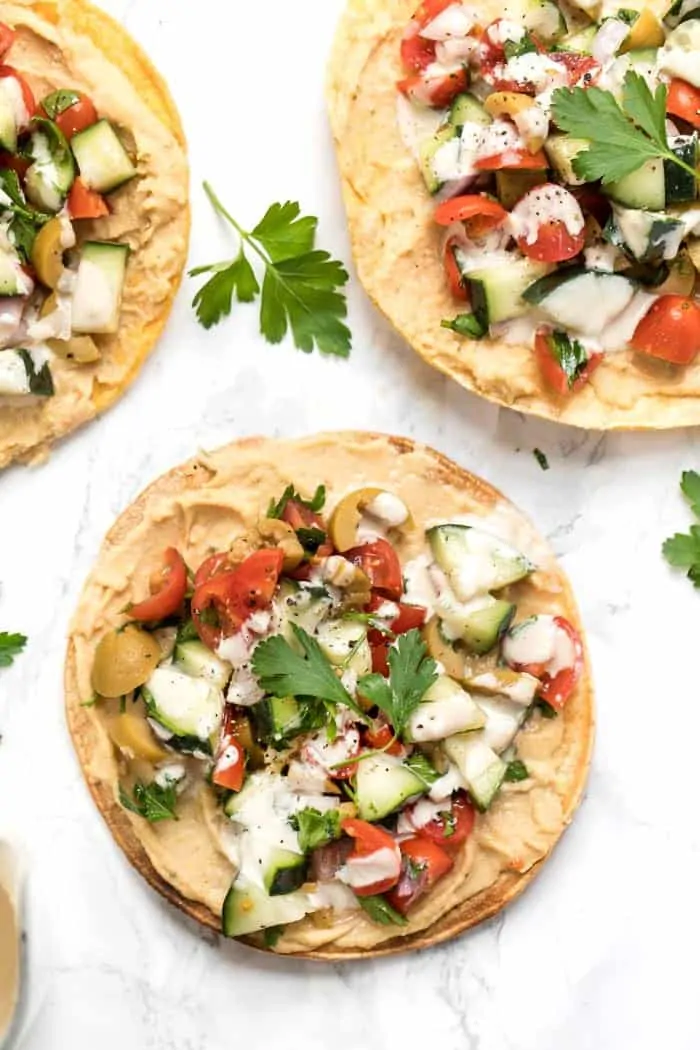 Okay, I just discovered the best lunch on the planet. TOSTADAS!
They're so simple to make, easy to jazz up with all sorts of toppings and make you feel like you're eating a mini thin crust pizza. But it gets better because tostadas are also a dish you can make for breakfast, lunch AND dinner!
If you've never heard of a tostada before, it's essentially an open face taco on top of a crispy tortilla.
Now obviously today we're not going with the Mexican theme (although I think I'll need to share my refried bean one next), BUT these Mediterranean Tostadas are incredible.
And they only take 10 minutes to make!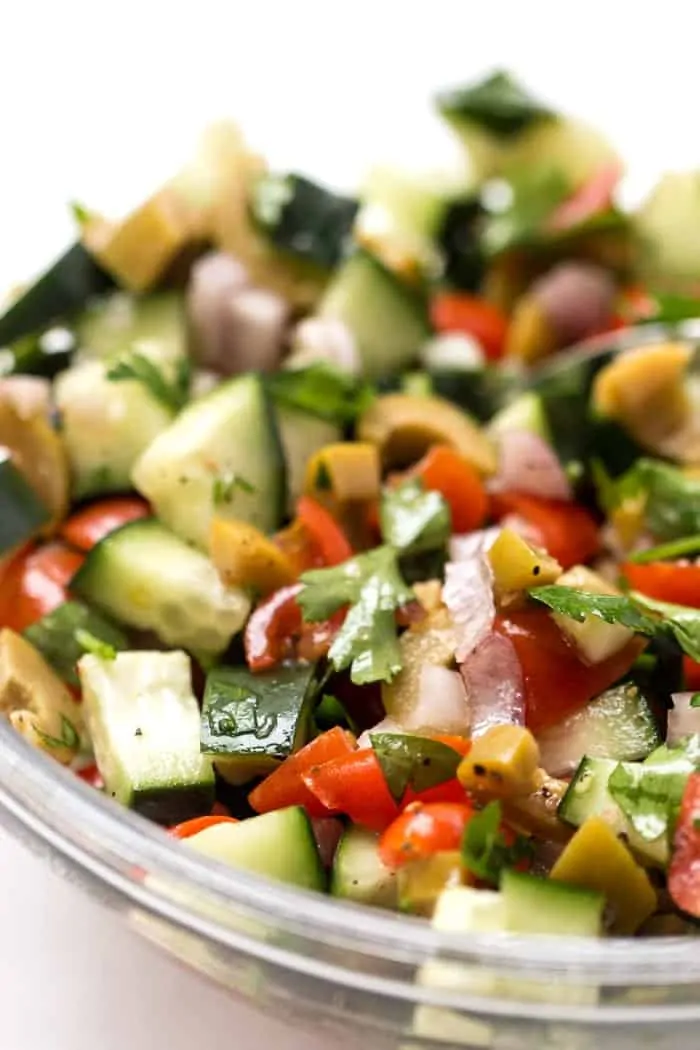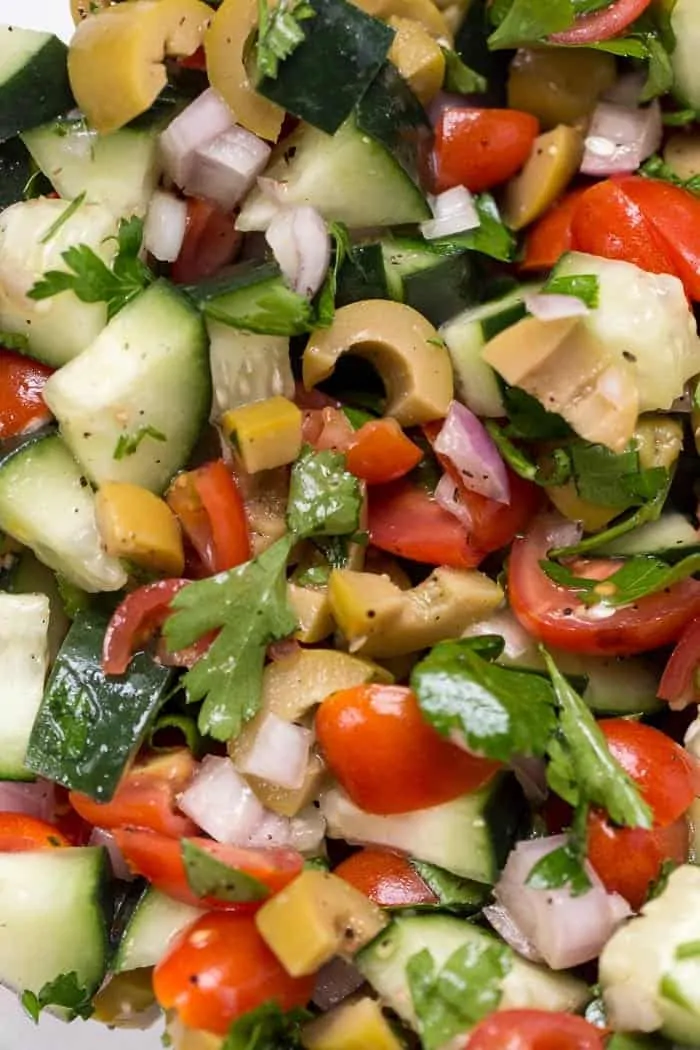 We start with our Mediterranean "salad" or "salsa" which is a simple blend of crispy cucumbers, juicy cherry tomatoes, briny olives, spicy shallots and some lovely parsley to round it out. Just right there we've got all sorts of textures and flavors popping in your mouth!
But to makes this salad really zing, we're tossing it with some olive oil, lemon juice, salt and pepper. The lemon brings out the brightness and the olive oil gives it a satisfying finish.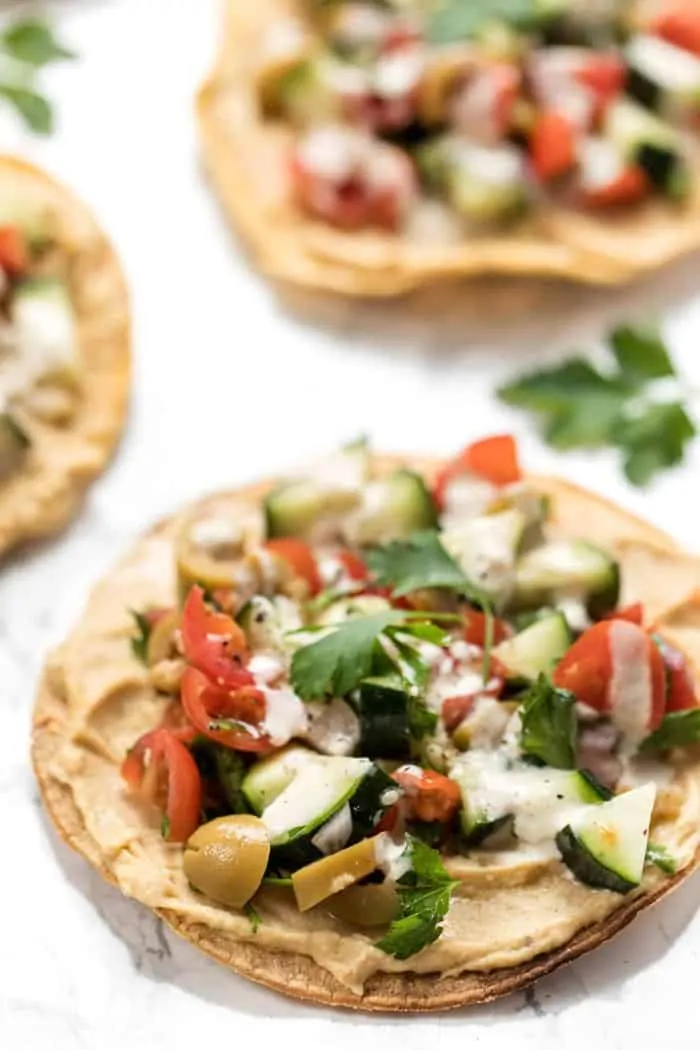 When it comes to assembly, which we all know is the most fun part, it's just four layers and DONE.
Layer 1: crispy tortilla shells. These can be made in a frying pan, in the oven or in a toaster oven.
Layer 2: hummus. Any flavor will do! This adds some plant-based protein, helps the toppings stick to the tortilla and gives it a nice creaminess to balance out the crunchy salad.
Layer 3: our salad. Crunchy, sweet, citrusy and so yum.
Layer 4: tahini. Because you know I can't make anything Mediterranean without a generous drizzle of tahini!
Of course, if you want to make these Mediterranean tostadas even more filling, I'd say throw some chickpeas, grilled chicken or even some tempeh/tofu into that salad and you'll be good to go!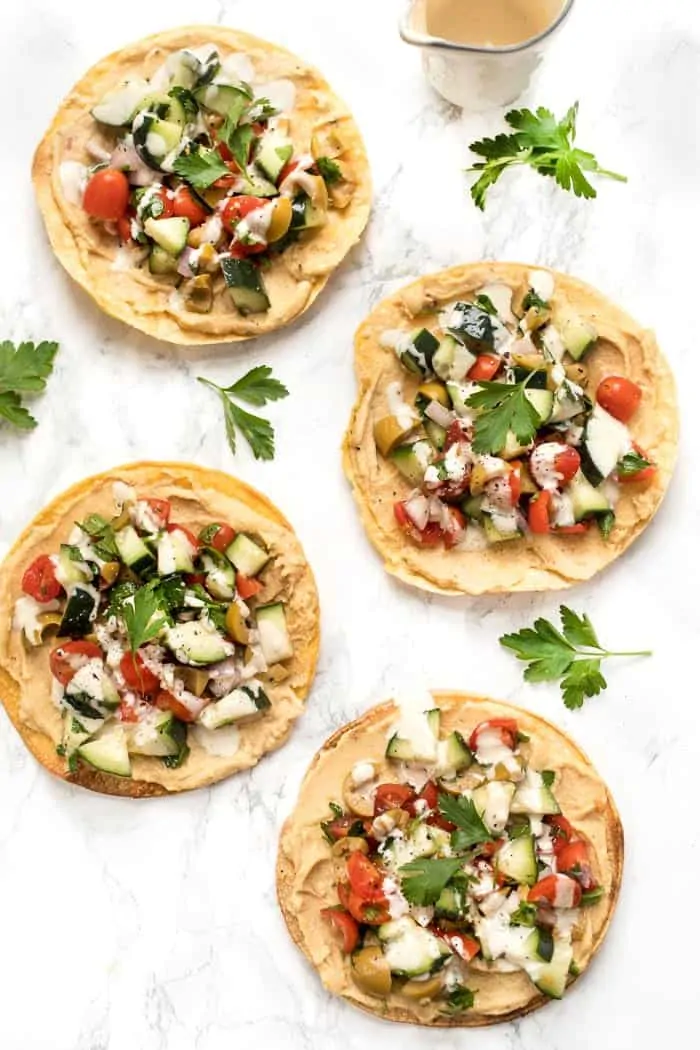 In terms of meal prep…
If you want to make these as a meal prep option for lunch (which I totally think you should), you'll want to make sure all the layers are separate until you're ready to serve.
I like to toast my tostadas in the morning (they'll stay crispy all day), keep my salad in a little jar like this and then either keep a tub of hummus at work or bring some in a little jar like this. Then just assemble and you're good to go!
And one final thing to note: if you're eating these at work, you might want to eat them with a knife and fork because they can teensy bit messy ????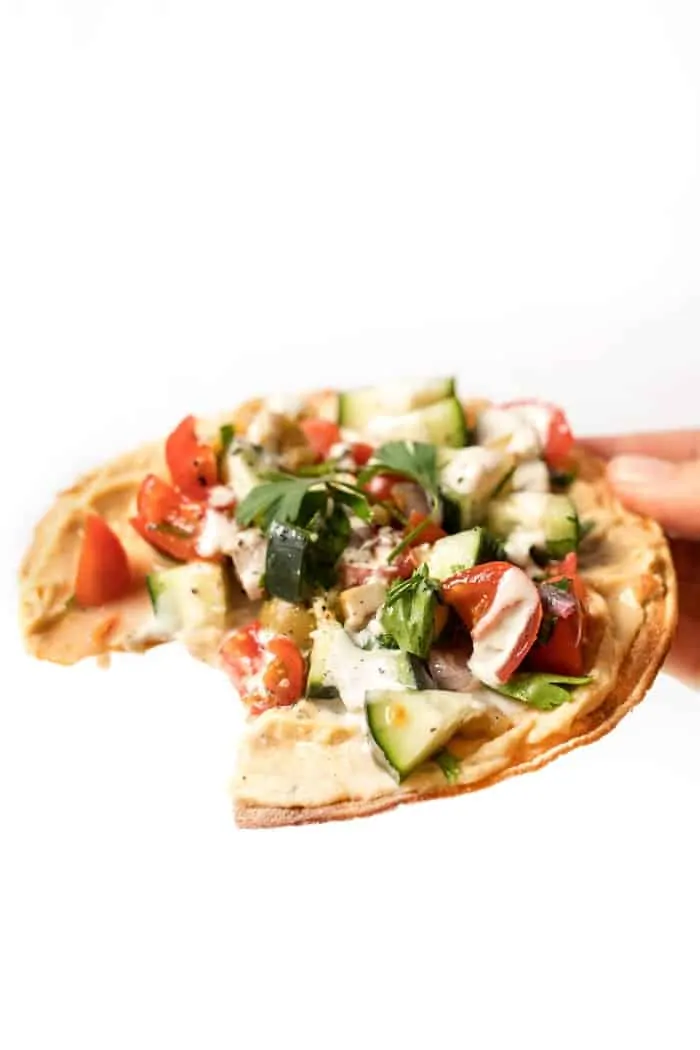 More Lunch Recipes To Try!
10-Minute Mediterranean Tostadas
These vegan Mediterranean Tostadas are the perfect quick lunch or dinner recipe! They only take 10 minutes to make and are packed with flavor.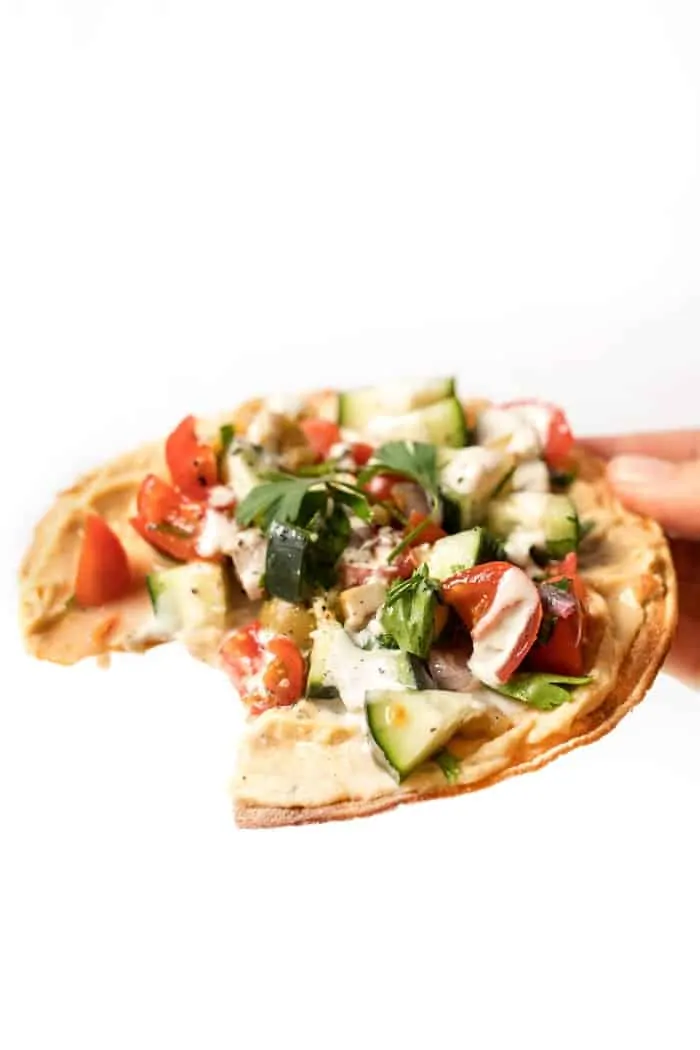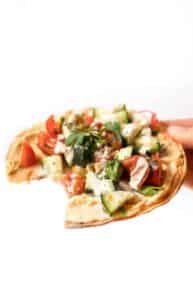 Ingredients
for the salad
1 1/2

cups

chopped cucumber

1

cup

chopped cherry tomatoes

1/2

cup

chopped green olives

1/4

cup

diced shallot

or red onion

1/4

cup

chopped parsley

1

tablespoon

olive oil

Juice of 1/2 a lemon

Salt & pepper to taste
for the tostadas
6 to

rtillas

I like corn

1/2

cup

hummus

Mediterranean salad
Instructions
Prepare the salad. Add the cucumbers, tomatoes, olives, shallots and parsley into a mixing bowl. In a separate bowl whisk together dressing ingredients and pour over the salad. Toss to combine.

Make the tostadas. Toast the corn tortillas until golden brown and crispy. Top with a layer of hummus (I use about 2 tablespoons) and about 1/4 cup of the salad. Drizzle with tahini and enjoy!
Notes
* you might have to add some water to the tahini to make it a pourable/dressing consistency
Nutrition
Calories:
137
kcal
|
Carbohydrates:
18
g
|
Protein:
4
g
|
Fat:
7
g
|
Saturated Fat:
1
g
|
Sodium:
293
mg
|
Fiber:
4
g
|
Sugar:
2
g
Filed Under: