This Smashed Vegan Chickpea Salad with Caesar Dressing is creamy, satisfying and full of plant-based protein for sandwiches, to top salads, or to eat all on its own.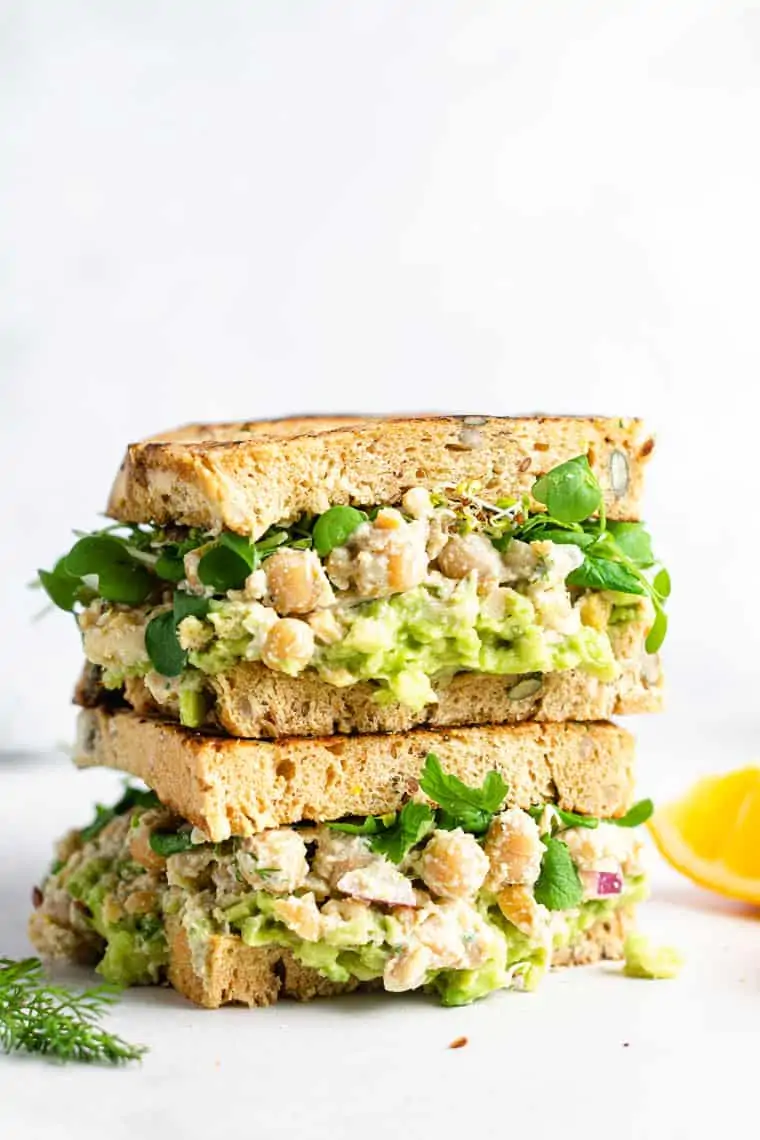 I first made this recipe years ago to offer an alternative to potato salad. This is the kind of creamy, cold and refreshing salad you can bring to a cookout, potluck or party any time of year. Yes, it happens to be vegan and gluten-free, but no one will miss the classic mayo-filled potato or pasta salad it's replacing!
And when you're just cooking for one, let me tell you, this high-protein salad is a must-have to stash in the fridge. I'll happily eat it by the spoonful, spread it on crackers, and use it on sandwiches.
Now, I've updated this post with new tips and photos to help you eat more Smashed Vegan Chickpea Salad with Caesar Dressing. Enjoy!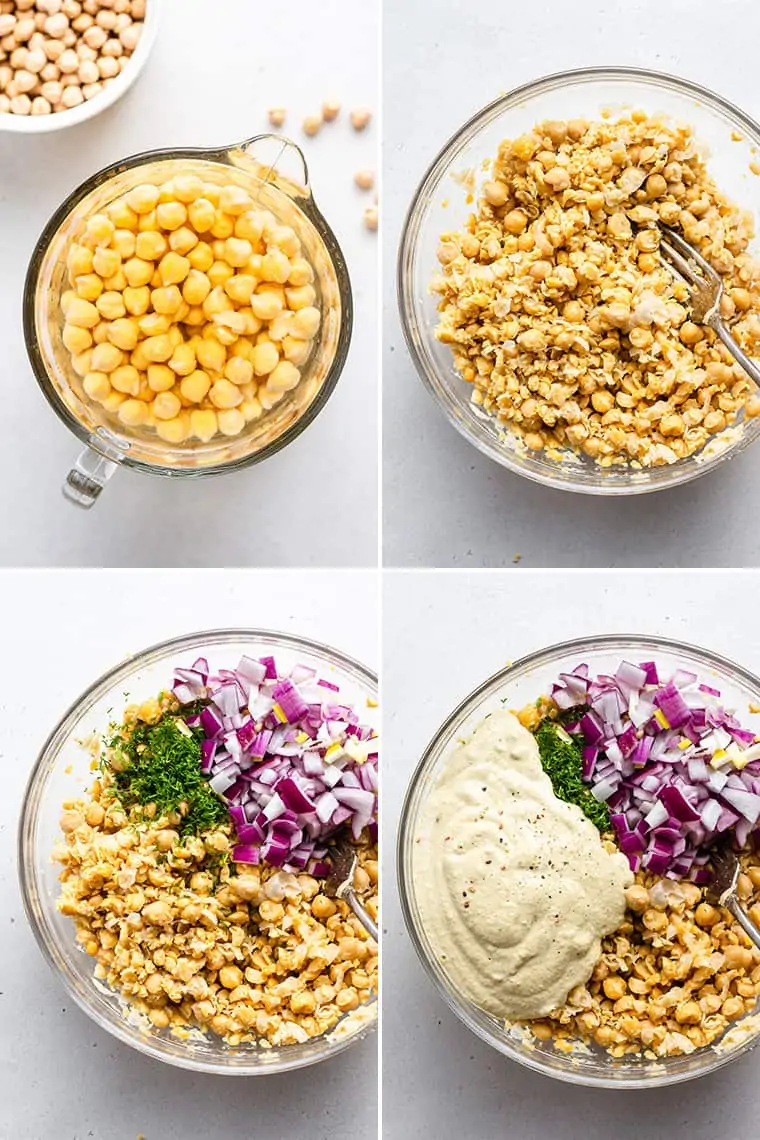 Making Vegan Caesar Dressing
This light plant-based version of Caesar dressing skips the added oils, fats, and sugars that you'll find in most store-bought (and even homemade) dressings.
And yet, it has all of the flavor and creamy texture you expect. This dressing is made with:
Cashews for the base of luscious, silky-smooth texture + protein
Fresh garlic because, why not?
Mustard for a bit of nuttiness and tang
White miso paste for umami
Vegan mayo for creaminiess
Briny capers for pops of saltiness without any anchovies
Lemon juice for brightness
Make-Ahead Dressing
And while you're blending all of that up, go ahead and make a double batch. You can store the dressing in an air-tight container in the fridge for up to four days.
Try it on: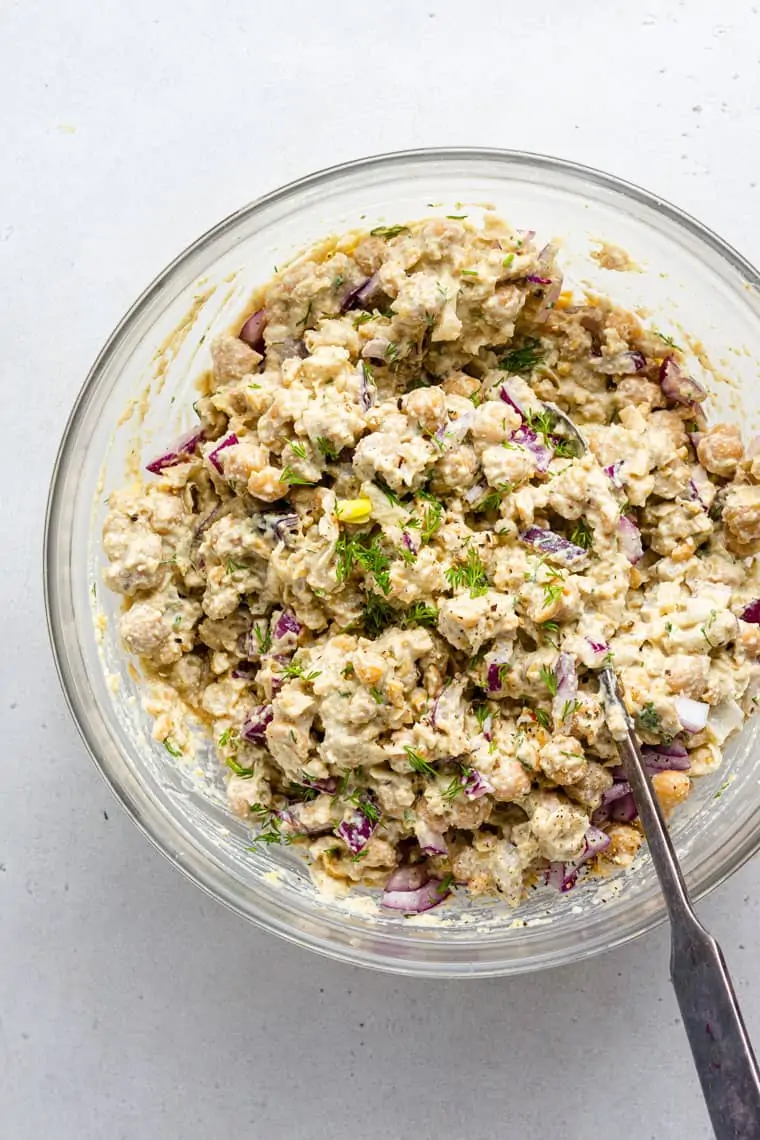 Serving Suggestions
I love sandwiches. Always have and always will. They're not only a great lunch option, but they're also perfect for dinner because you can throw them together in minutes, can balance them out nutritionally without much headache and they taste great.
Especially when you load your sandwiches or wraps up with veggies.
I think the perfect sandwich is basically just a salad between two slices of bread. I like to have greens, a blend of other veggies, some lean protein, and good fats on there. The carbs come from the bread, so it really does become a balanced meal!
If you're not as into sandwiches as I am, you can also add scoops of smashed vegan chickpea salad to a fresh green salad too.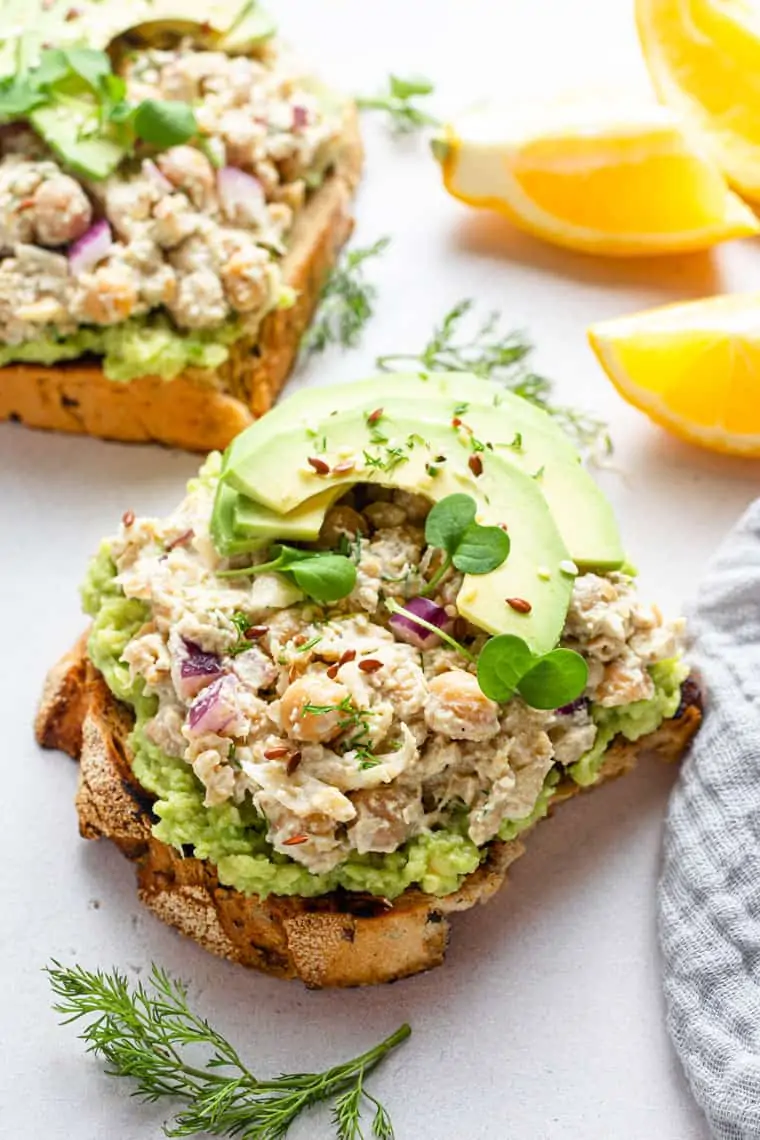 Share this recipe for Smashed Chickpea Caesar Salad!
Smashed Chickpea Caesar Salad
This healthier vegan smashed chickpea salad with Caesar dressing is creamy, savory, and full of plant-based protein.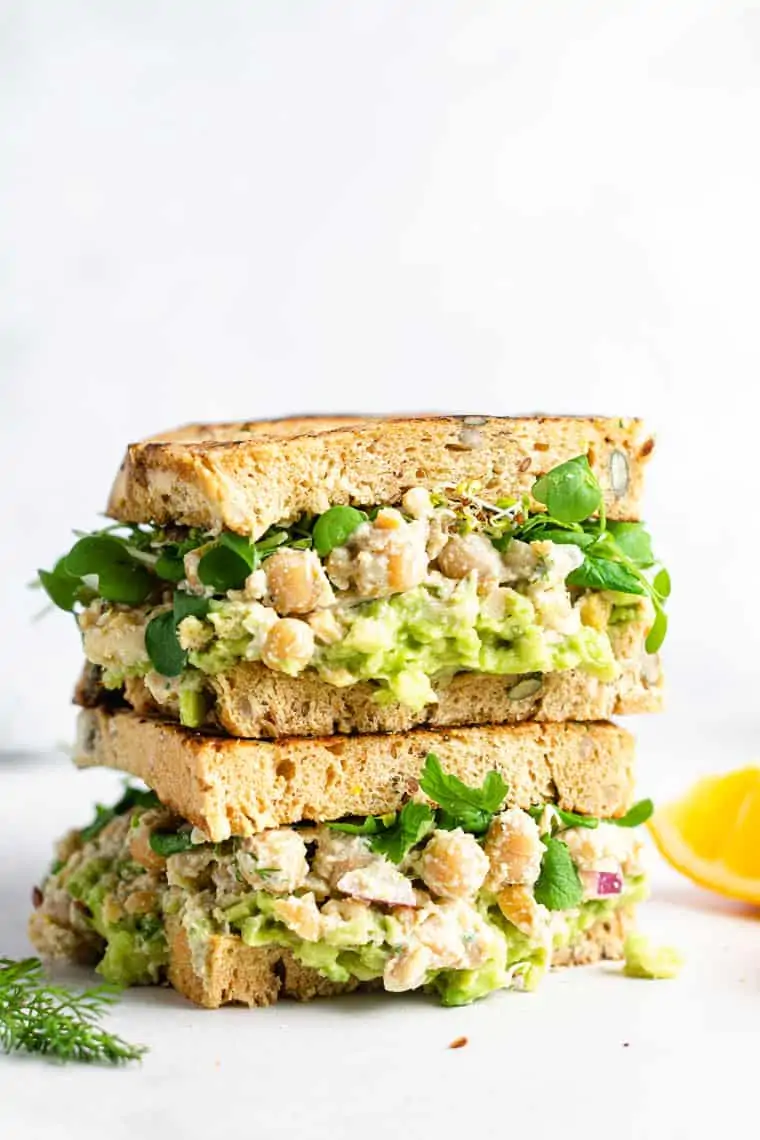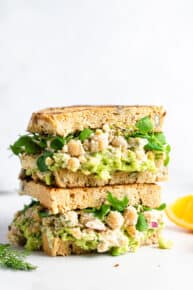 Ingredients
for the salad:
1

cup

Bob's Red Mill Garbanzo Beans/Chickpeas

soaked for at least 8 hours (with optional 1/2" piece of kombu)

3

cups

water

1/2

cup

red onion

finely chopped

1

tablespoon

freshly dill

finely chopped

1

batch of dressing

Toppings: sprouts

smashed avocado, tomatoes, lettuce, etc.



for the dressing
1/2

cup

raw cashews

1/4

cup

water

+ more if needed

1

teaspoon

miso

1

tablespoon

mustard

1

tablespoon

lemon juice

2

tablespoons

vegan mayo

2

tablespoons

capers

Salt & pepper to taste
Instructions
Add your soaked chickpeas into a large pot with water. Bring to a boil, turn down to simmer and let cook until beans are tender about 70 - 90 minutes. Once tender, strain and run under cold water for a few minutes until they're cool enough to touch.

Transfer the chickpeas to a large bowl and prepare the dressing.

Add all ingredients into a blender and blend on high until smooth and creamy. If the blender gets stuck, add 1 tablespoon of water at a time until the dressing is the desired consistency (that of a classic caesar dressing).

Smash the chickpeas with a fork or potato masher. Add onions and dill and fold in the dressing.

Serve on top of crackers, a salad or on some toasted gluten-free bread!
Nutrition
Calories:
230
kcal
|
Carbohydrates:
15
g
|
Protein:
5
g
|
Fat:
16
g
|
Saturated Fat:
2
g
|
Cholesterol:
2
mg
|
Sodium:
497
mg
|
Potassium:
255
mg
|
Fiber:
3
g
|
Sugar:
2
g
|
Vitamin A:
30
IU
|
Vitamin C:
4.2
mg
|
Calcium:
31
mg
|
Iron:
1.8
mg
Filed Under:

If you are following along with our Vegetarian Challenge, make sure to use the hashtag #SQchallenge to share your versions of the recipes!
This post was sponsored by the awesome folks over at Bob's Red Mill. Thanks for supporting the companies and brands that promote the healthy, sustainable lifestyle that I believe in and share on SQ!