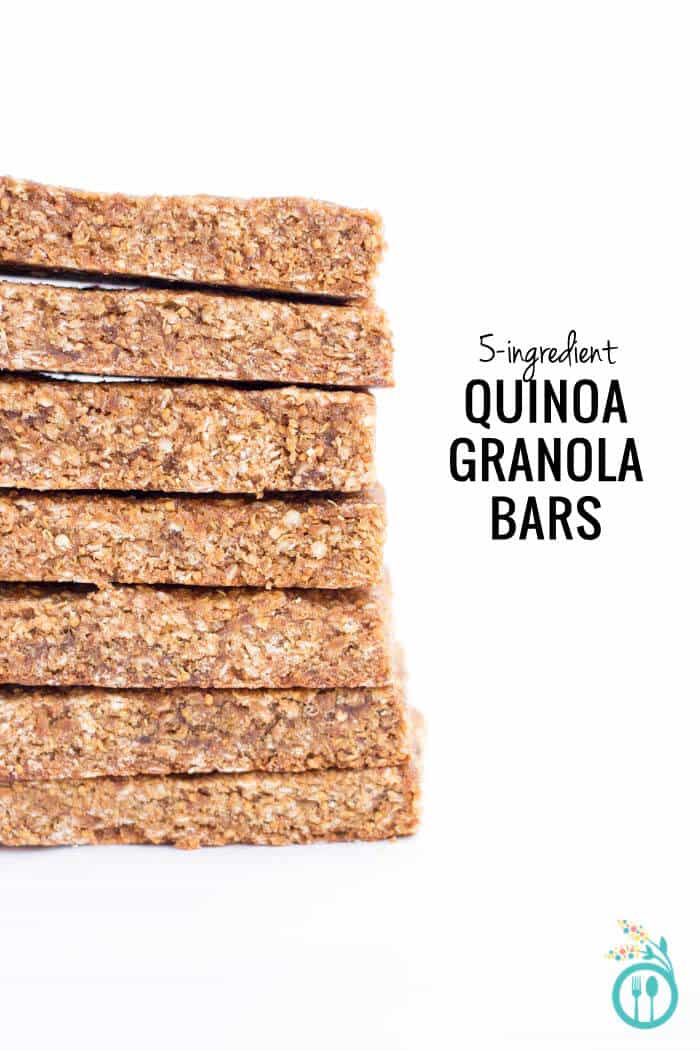 If you're ever in need of a travel-friendly, on-the-go, healthy, easy to make snack, these quinoa granola bars are it.
They come together in under 30 minutes, have only 5 ingredients, and are so much healthier than the sugar-heavy bars you buy at the grocery store. They're 100% natural and are full of healthy fats and fiber.
I mean I don't really travel all that much, but whether I'm going on a trip or even just out shopping for the afternoon in NYC, I always make sure to bring snacks. I'm totally one of those people that gets super hangry (hungry + angry), and when I don't have snacks I'm not too fun to be around.
Usually, I just stock up on a bunch of granola bars at the store and pack them for the road, but this time around, I wanted to save some money and see if I could create a quinoa-packed granola bar that I actually enjoyed (I've had my fair share of granola bar fails in the kitchen).
I went with my standby, peanut butter, butted added in some other ingredients that I haven't experimented with before. And instead of trying to make a no-bake version, which I find never hold up well when you're on the go, I baked these babies up and they were perfect.
You've probably noticed that many naturally-sweetened granola bar recipes that you find have a base of dates. While dates are awesome and I LOVE them, I wanted to change it up and try dried figs instead.
Let me just tell you quickly about my obsession with dried figs.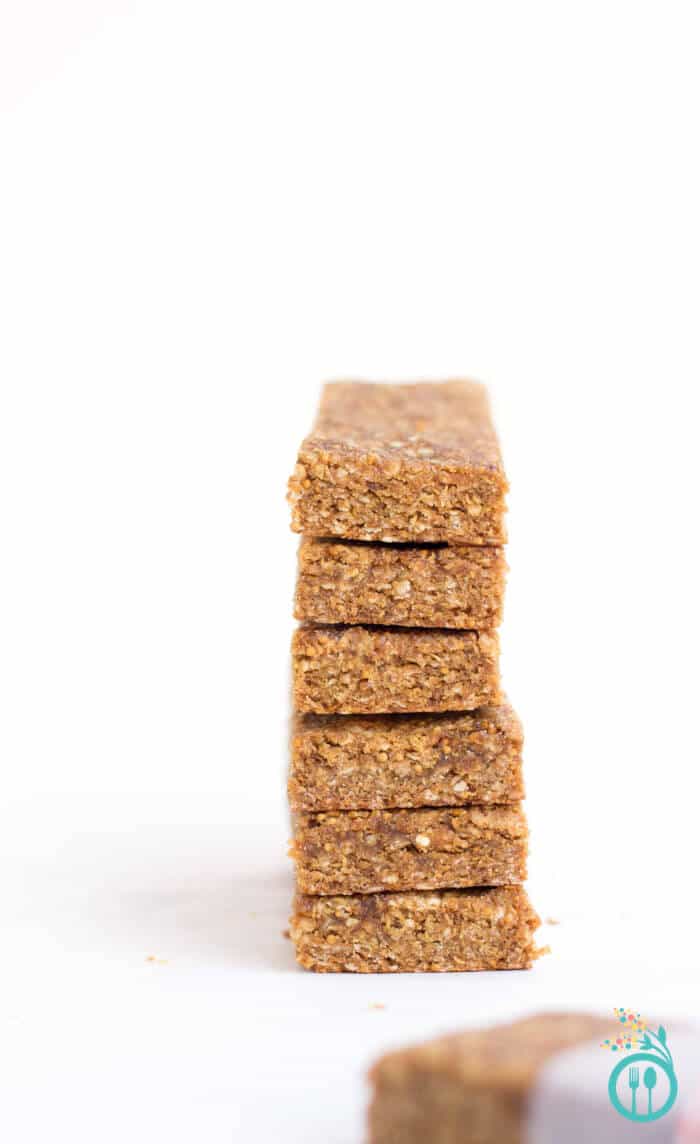 My lovely cousin (who just moved to NYC – yes!) introduced me to Turkish figs about a year ago. We were perusing the bulk section of Whole Foods together and she stopped at the dried fruit section. She proceeded to take this brown blob of a thing out of one of the bins, popped it in her mouth and smiled. Then she began to tell me about her love of dried figs. 
I was skeptic. Figs and me did not get along – I hated Fig Newtons when I was little and haven't thought about them in years. I thought she was crazy. But I am more open minded about food now and decided to give them a try. 
I picked the smallest one out I could find, hesitantly took a bite, and to my surprise I freaking loved it! It was soft, with a little crunch from the seeds. It was sweet, but not overly so, just enough to take care of a sugar craving. It was yummy. Really, really yummy.
And yes, now I'm full-on obsessed. I have figs with me all the time. In my purse, in my cupboard, I take them on trips, and always sneak some from the bulk bins when I'm grocery shopping.
Figs are incredible. And better yet, they're incredible for you!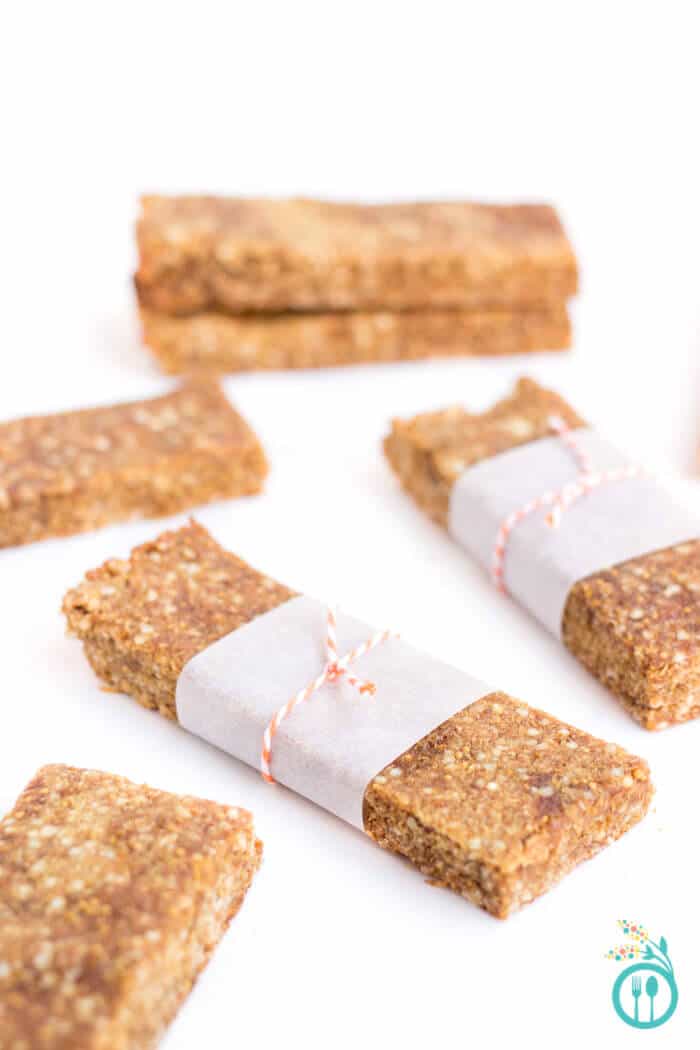 Not only are figs rich in fiber, which means they help to keep you fuller for longer (which is why I LOVE snacking on them), they are also high in potassium which has been show to lower blood pressure. But potassium is also an electrolyte which makes figs an excellent pre- or after-workout snack because they replenish those lost electrolytes you used during exercise.
Finally (are you loving this fig knowledge!?) figs are a natural laxative. Now before you go freak out and think that eating these granola bars will give you, well we don't need to go there…but you catch my drift, have no fear. Really figs just help get your system moving in a gentle, natural way.
Basically, they're an all-around fantastic food that everyone should be eating!
And when we pair them with peanut butter and quinoa flakes? Oh boy do we have a supercharged snack!
Which is why I've combined all these tasty ingredients into a powerful granola bar. These babies are crazy easy to make, yet pack a major punch in the nutrition department. They are great for on-the-go, pre- or post-workout or as an afternoon pick-me-up when you need a little boost to get you through the day.
Happy snacking!
xx Alyssa
5-Ingredient Quinoa Granola Bars
If you're ever in need of a travel-friendly, on-the-go, healthy, easy to make snack, these quinoa granola bars are it.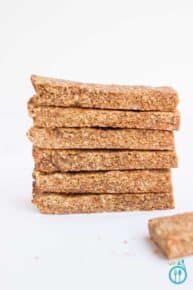 Instructions
Preheat the oven to 325 degrees F. Line a square baking dish (either 8 x 8 or 9 x 9) with parchment paper and set die.

Add figs to a food processor and process until they are broken down and resemble small crumbles. Add peanut butter and maple syrup (for for 4 tablespoons if you want them more on the sweet side) and process again until a dough begins to form into a large ball.

Add water, 1 tablespoon at a time until the dough loosens from the ball and spreads out inside the bowl.

Add quinoa flakes and pulse to combine.

Transfer dough into prepared baking dish and press down firmly with your hands. You want the dough to be as uniform as possible in terms of the thickness so they bake evenly.

Bake bars on center rack for 25 - 30 minutes until the edges begin to brown and they are no longer sticky.

Remove and let cool completely in the pan. Transfer to a cutting board, carefully (gently) slice them into bars and transfer to a wire rack until bars have firmed up.

Store bars in an airtight container in the fridge for ultimate freshness!
Nutrition
Calories:
156
kcal
|
Carbohydrates:
22
g
|
Protein:
4
g
|
Fat:
6
g
|
Saturated Fat:
1
g
|
Sodium:
51
mg
|
Potassium:
165
mg
|
Fiber:
2
g
|
Sugar:
10
g
|
Vitamin C:
0.2
mg
|
Calcium:
30
mg
|
Iron:
1
mg
Filed Under: