A superfood-packed protein bar, these No-Bake Peanut Butter Power Bars are also naturally gluten-free, perfect for on-the-go and with a secret ingredient!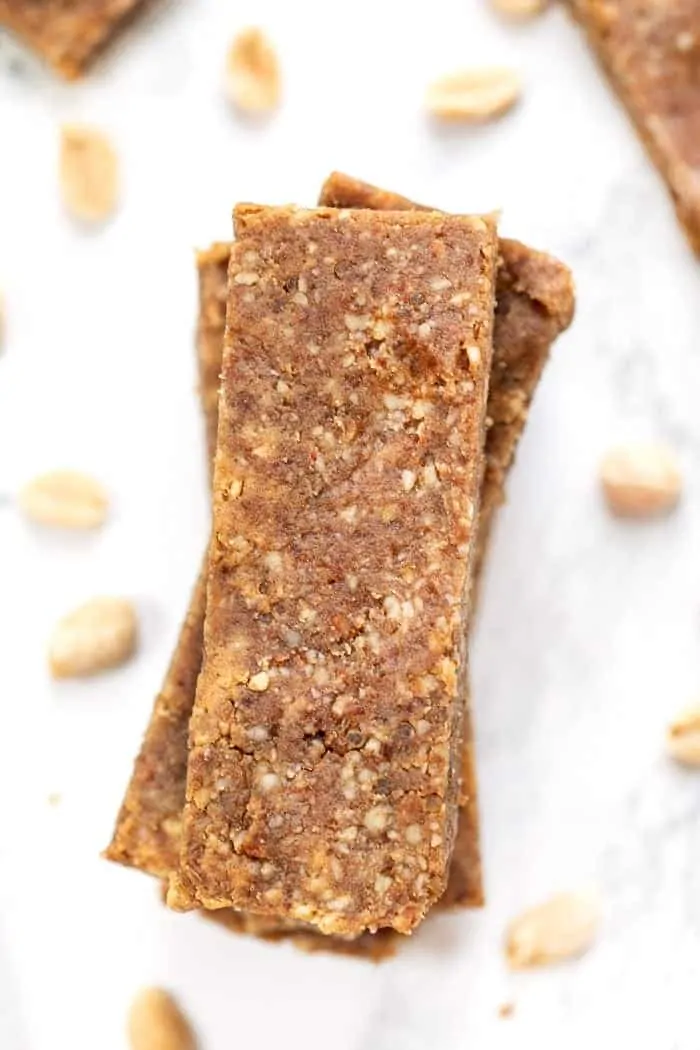 Are you noticing a trend? It's kind of been peanut butter everything around here. I, for one, am l-o-v-i-n-g this trend! I'm like seriously obsessed with peanut butter lately.
For me, peanut butter is the ultimate snack food. It's quick, easy (hello, spoon in jar) and is packed with protein and healthy fats. I almost always turn to peanut butter for my snack, whether slathered on a rice cake topped with sliced apple, or made into energy balls, nut butter always hits the spot. Or honestly, just a scoop on my way out the door is often how I fuel up pre-workout!
So today we're using this superstar ingredient in a no-bake power bar that is snack and dessert-worthy!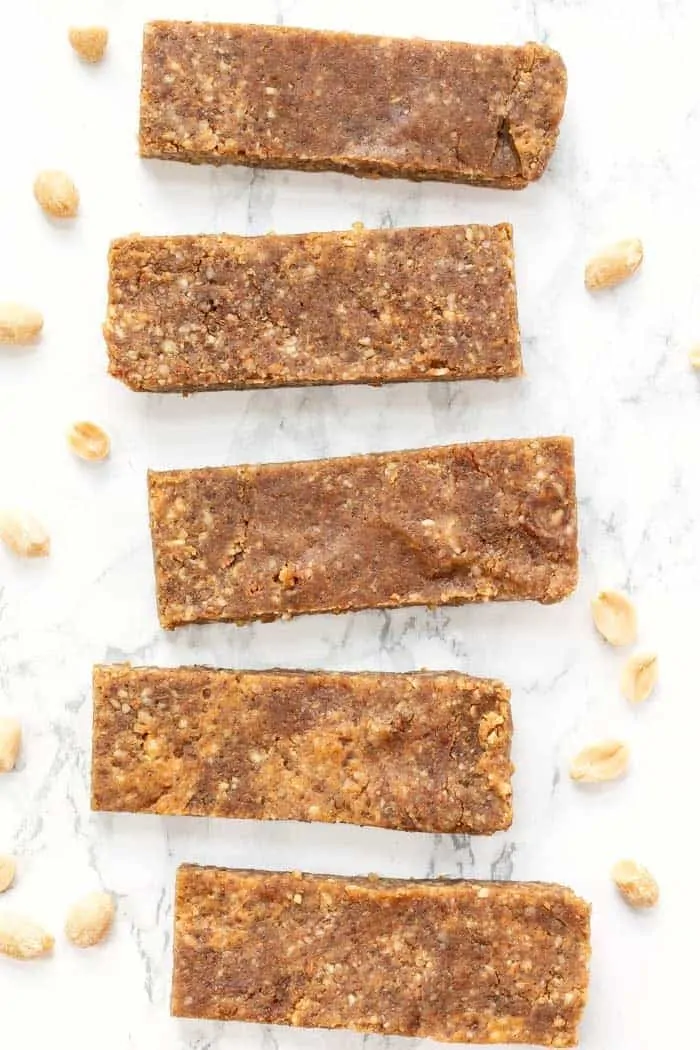 How to make Homemade Power Bars
I'm calling this recipe a power bar because it's my spin on the classic protein bar. I'll admit, I'm not a fan of power bars. I think they're kind of stuck in the 80s and haven't advanced with the rest of the industry.
But the concept of power bars is on point! They're portable, they're high in protein, they're great for refueling after a workout.
The only problem? Even though they have minimal ingredients, the first ingredient is cane sugar. There's 26g of sugar in one peanut butter power bar. 26!
We're obviously flipping this recipe inside out and reinventing it with SQ approved ingredients. Our base? Dates, nuts and seeds, some protein powder and quinoa.
And we're making it all in our food processor!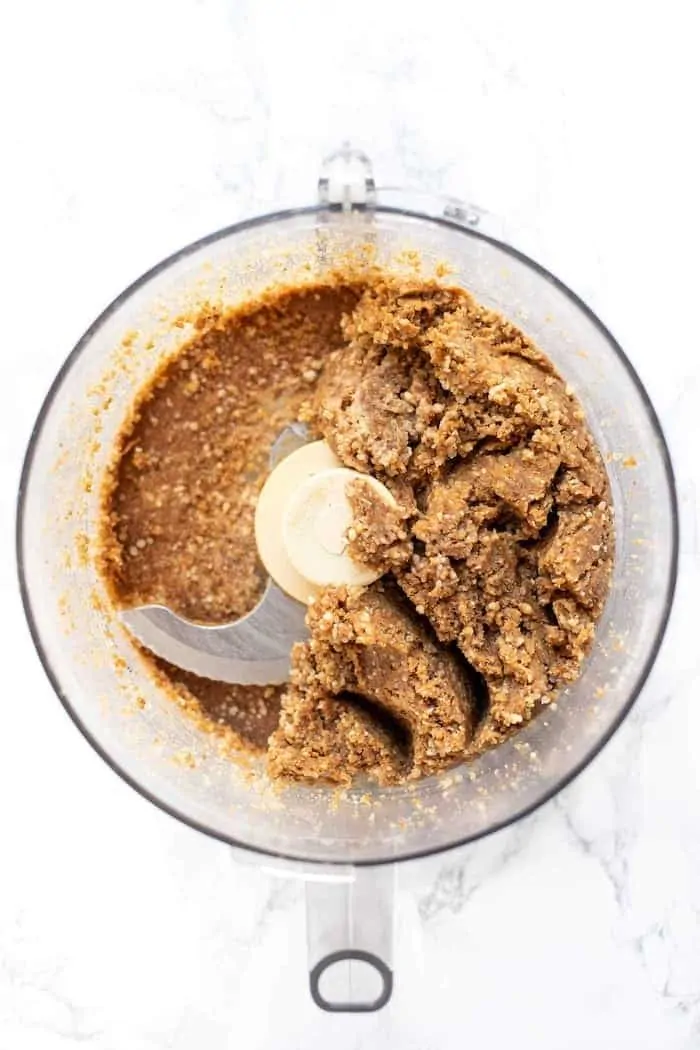 Our No-Bake Protein Butter Power Bars
There are so many things to love about this recipe, but I'll narrow it down to my top four faves. These bars are…
a) no-bake, meaning they're a cinch to throw together
b) loaded with nutrients and superfoods
c) cheaper than store-bought
d) amazingly delicious!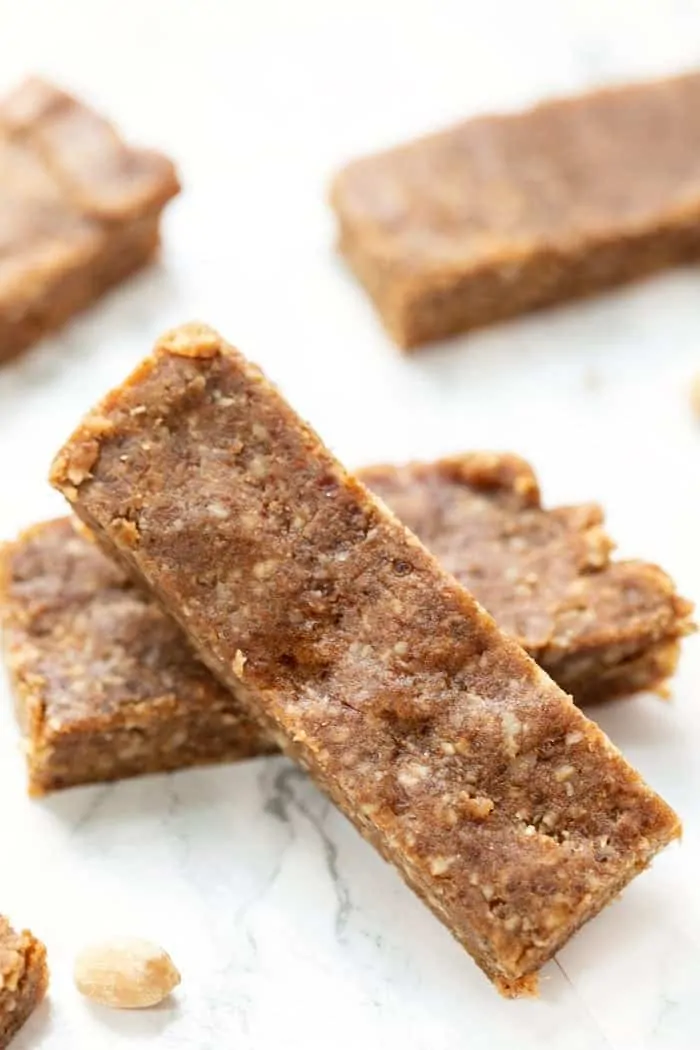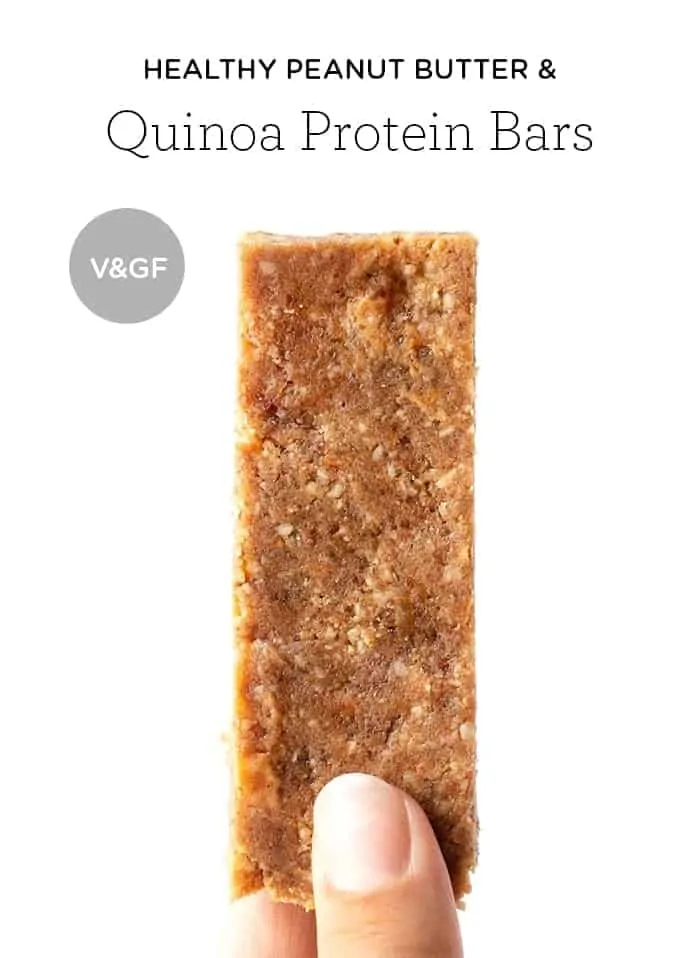 Healthy Homemade Protein Bars
You know those raw protein bars that cost nearly $2.00 a bar?
Well with this recipe, you can have a 12 bar stock of those healthy treats on-hand all the time. Plus, you'll be saving a bunch of money! What's better than that?
I combined many of my all-time favorite ingredients (minus the chocolate, we'll save that for next time) and whipped it into a healthy, superfood-packed energy bar that will give you the little boost you need to power through your morning or afternoon.
Enjoy!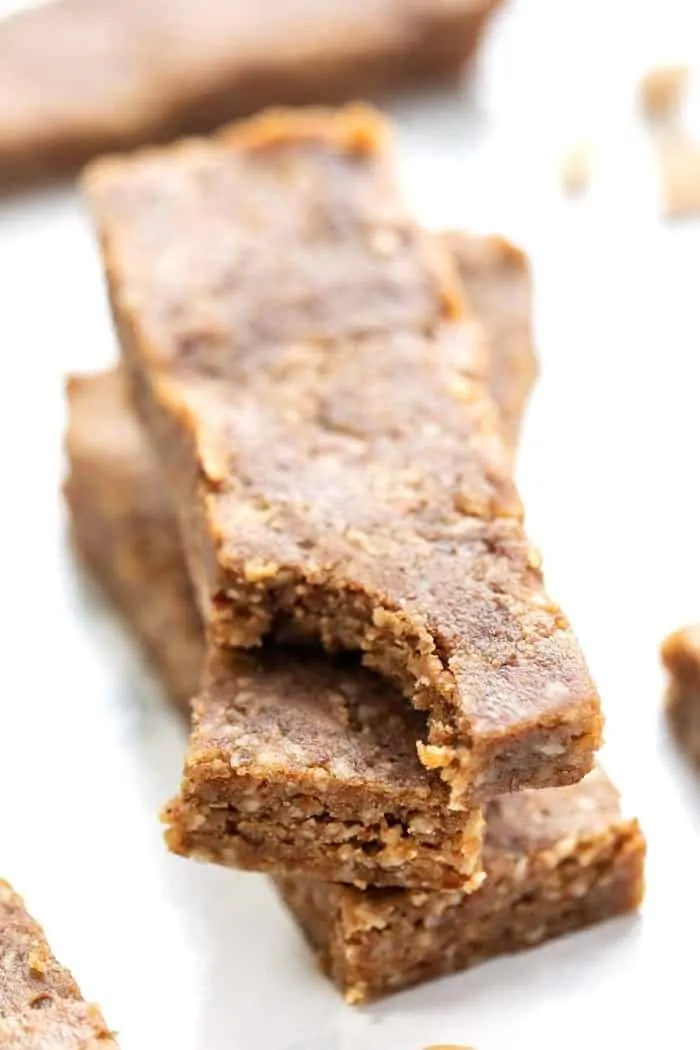 More Healthy Peanut Butter Recipes:
No-Bake Peanut Butter Power Bars
Well with this recipe, you can have a 12 bar stock of healthy treats on-hand all the time. Plus, you'll be saving a bunch of money! What's better than that?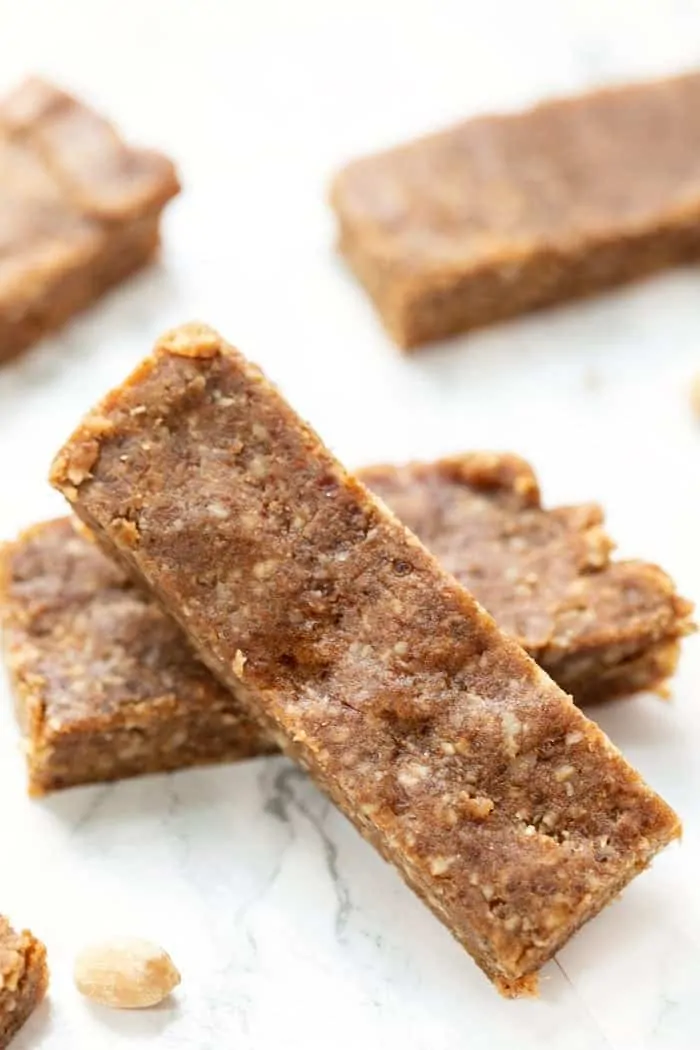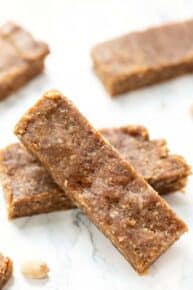 Instructions
Add the dates to the bowl of a food processor fit with the steel blade and process until chopped. Remove the lid and add the nuts, quinoa and seeds and process until a meal has formed. Next, add the protein powder and process a few times until combined. Once you have a sandy text, add the peanut butter and honey and process until a thick dough forms.

Transfer the dough to a parchment lined baking pan. I used a loaf pan for skinny, thick loaves, but you can also use a square baking dish for bars that thinner. Place the bars in the freezer until set, about 1 – 2 hours. Remove from the freezer and slice into bars. Store in freezer until you're ready to eat them.
Nutrition
Calories:
211
kcal
|
Carbohydrates:
26
g
|
Protein:
6
g
|
Fat:
10
g
|
Saturated Fat:
1
g
|
Cholesterol:
1
mg
|
Sodium:
62
mg
|
Potassium:
290
mg
|
Fiber:
3
g
|
Sugar:
17
g
|
Vitamin A:
25
IU
|
Vitamin C:
0.1
mg
|
Calcium:
53
mg
|
Iron:
1.2
mg
Filed Under: