Learn how to make an easy vegan snack board using 5 simple elements! Plus we're showing you three different flavor variations for you to try!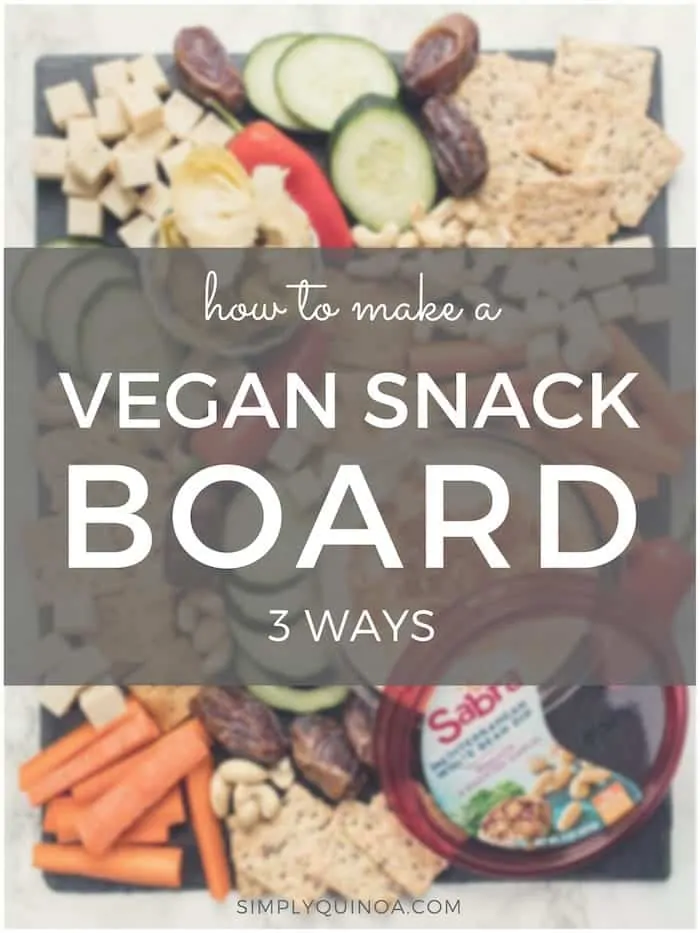 Whipping up a fabulous cheese board was never my forte. My mom on the other hand? She kills it.
She's an amazing hostess, always has the dreamiest spreads laid out, but what I love most is that she keeps things simple. She knows that people don't have crazy high expectations when they're coming over; they just want something yummy to nibble on as they sip their wine and chat.
While I'm not a master hostess yet, I have started to dabble with making my own vegan snack boards. They're surprisingly easy to put together and as I've played around with different combinations, I realize there are a few key elements that every vegan snack board needs.
In today's post, I'm going to walk you through those different elements and give you three delicious snack board combinations to try at your next part!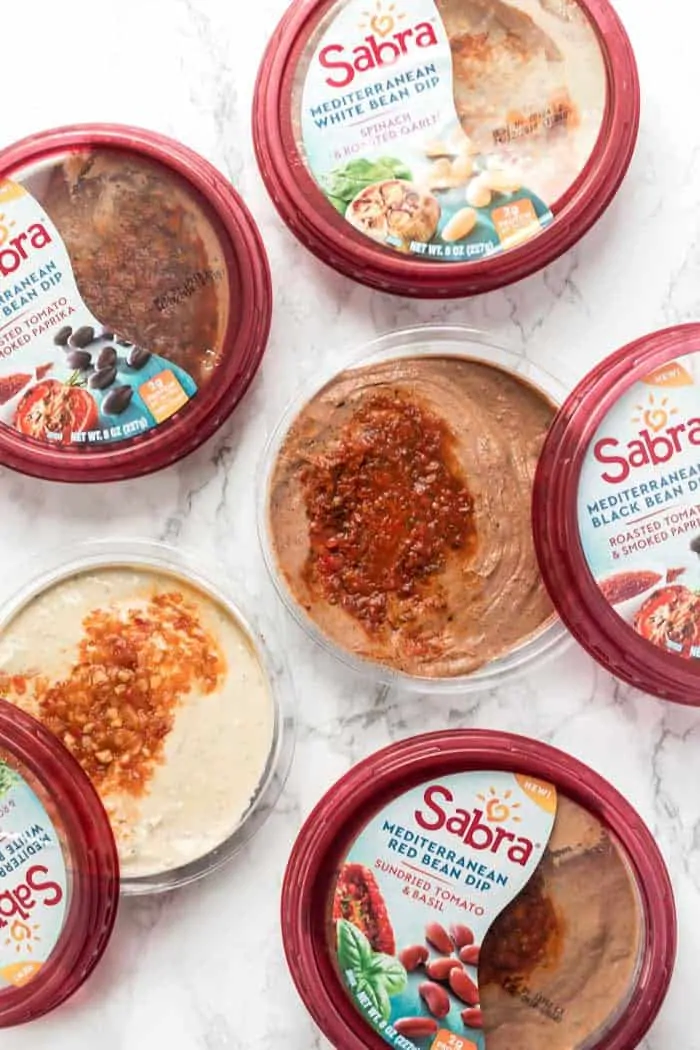 element #1: the dips
The dips are the core of the board. They're the glue that holds it all together.
When I'm making a board, I choose my dip as my centerpiece and then build the rest of the elements around that flavor profile. I typically reach for store-bought hummus and bean dips as my base because they're a great way to amp up the flavor (there are so many flavor varieties out there now!), but they're also high in protein and great for my plant-based and omnivore friends.
Store-bought dips also make putting together your own vegan snack board easy, time-effective, and affordable.
For our boards today, we're actually steering away from my standard hummus selection and using a brand new product Sabra. Their Mediterranean Bean Dips are made with wholesome beans (white, red and black!), are blended with vegetables to make them nutrient-rich and they're flavored with incredible spices from the Mediterranean. Plus, there's 2g of protein per serving!
I'll leave you with this: with a solid dip in the center, you can really have some fun with the other elements!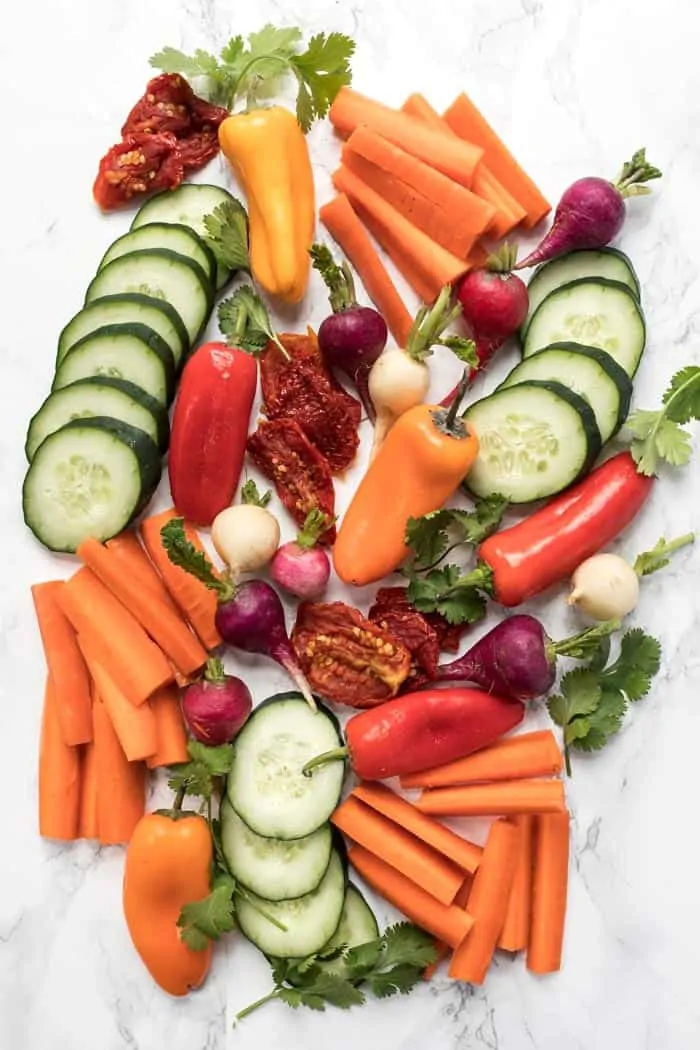 element #2: veggies
One thing I find most parties lack is fresh vegetables. But rather than just serving a boring crudite platter with some dip in the center, use your vegetables to add some variety and color to your snack board.
I like to mix up colors and textures when I'm choosing my veggies. By adding a rainbow of vegetables, you also making the snack board look more appealing which will help people forget that they're actually munching on healthy things like carrots and bean dips!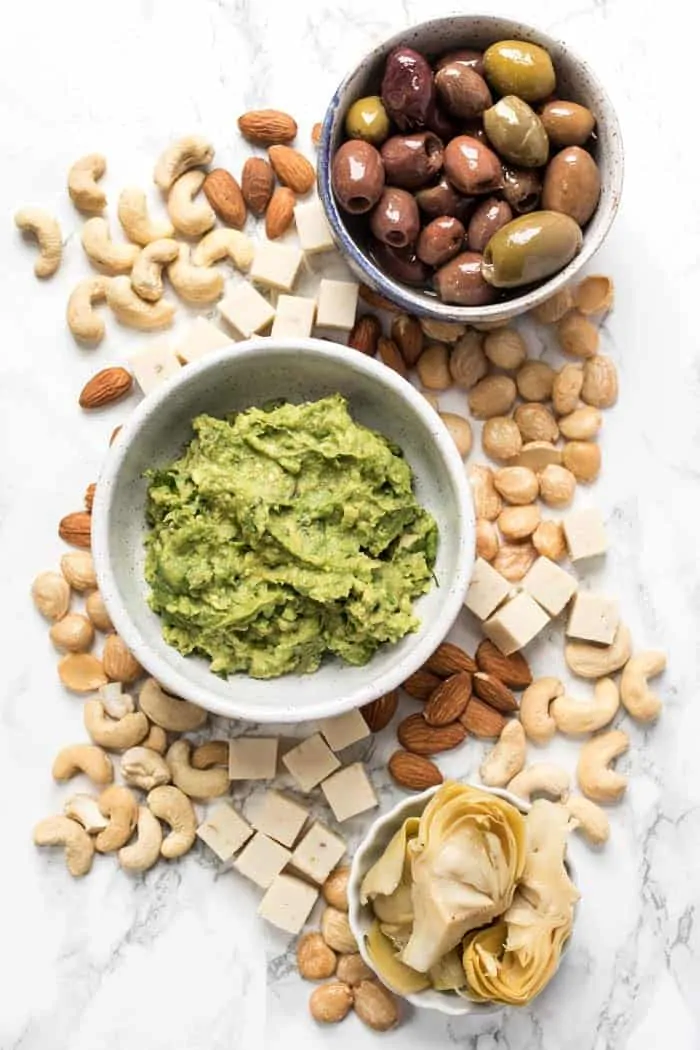 element #3: healthy fats
Adding in a healthy fat is a great way to help your guests curb their snacking. Fat helps us feel more satiated and satisfied as we're snacking, so by adding a few health nibbles on the plate that are also high in fat, your guests won't spend the entire time mindlessly munching and then not being hungry for dinner.
For my healthy fat options, I like to keep it simple. Nuts, olives, nut cheeses, oil marinated things (like artichokes) and the occasional bowl of guac.
You also don't need a lot of these elements. Keep them small and let people just have little bites, so again they don't fill up too quickly.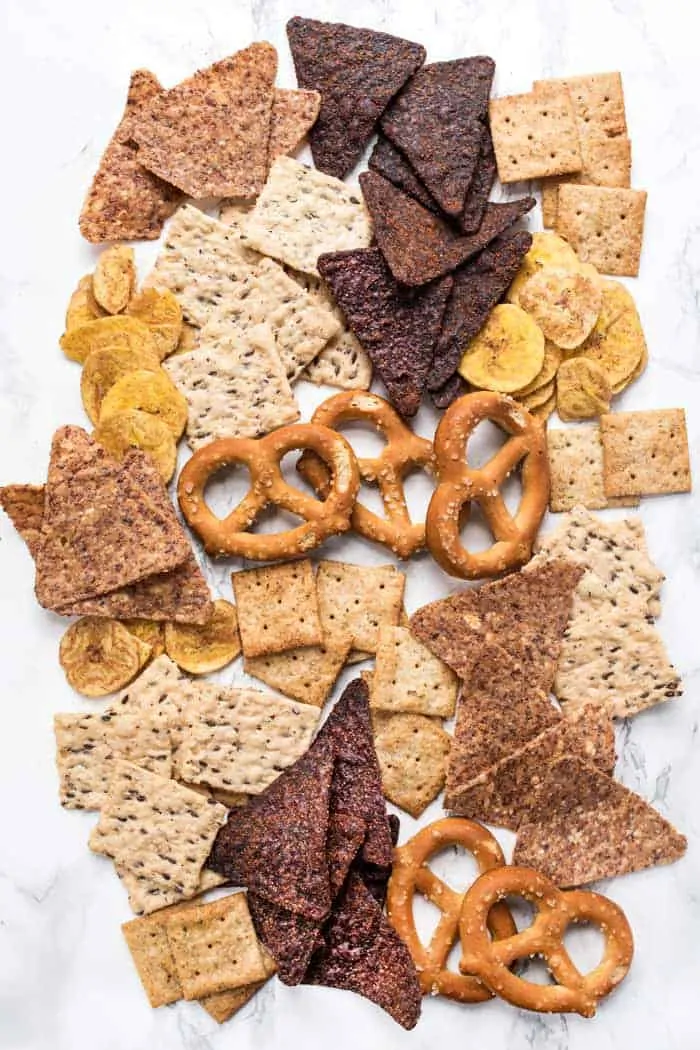 element #4: dippers
One of the most fun parts for me are the "dippers". These come in the form of salty snacks like chips, crackers and pretzels. I choose my dipper based on the flavor combo I'm going for. You'll see in our 3 different vegan snack board variations that I picked a bunch of different options, and essentially that's all you want to do.
Give your guests the option of choosing veggies or something a little less healthy. I don't know about you, but I love having the option to fill my plate with a few chips and some veggies!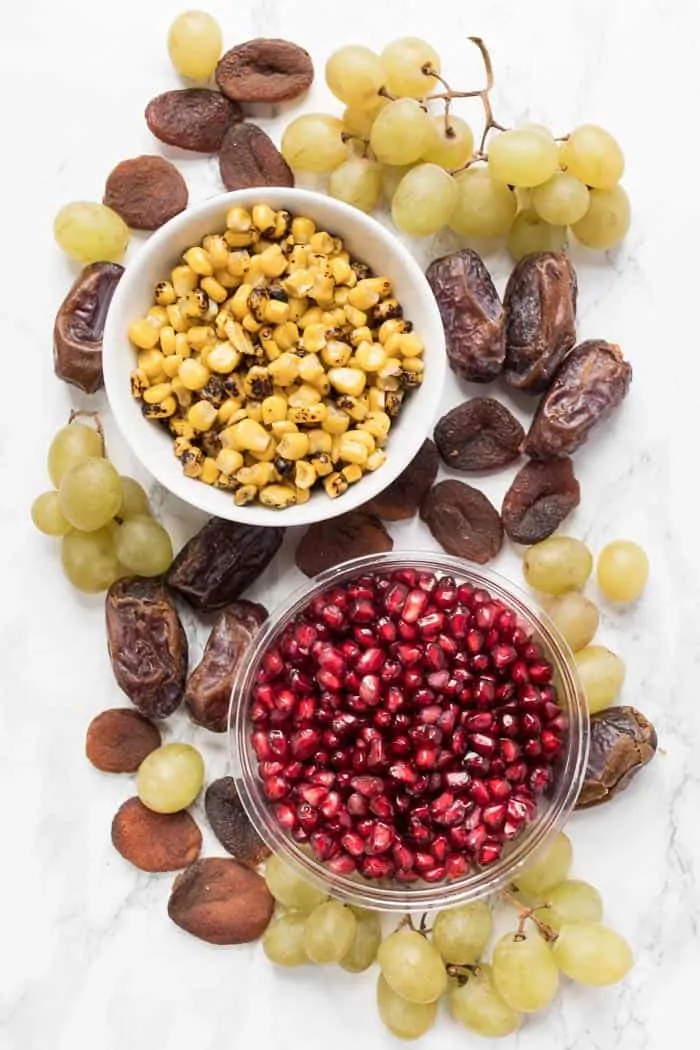 element #5: something sweet
And to round out our vegan snack board, add something a little sweet! While this element is totally optional, it's a great way to balance out the flavors on your board. Sometimes having a cracker with a dip, cheese and some pomegranate, makes for the perfect bite.
Sweet can come in a variety of things, but I typically do dried or fresh fruit (sometimes a combo of the two). If I don't have fruit on hand, or don't feel like it will work with the board I'm putting together, I'll usually just make sure that I have a sweeter vegetable on the plate, or a little pot of honey (which can be an awesome drizzle). Something like peppers or corn are great options!
putting together your vegan snack board
Once you've got all the elements in place, it's time to put your board to work. You can check out my 10-minute vegan snack board for my method of putting the different elements together, but as long as you have all five (or 4 of the 5), you should be good.
I like to start with the dips since they're the center of the board, then run down the list, until all the spaces on the board are filled up. It's only really simple! Don't stress too much about how it looks, or where everything is placed, because once it's all full it will pretty much always look good.
Ready to see some finished snack boards? Here are three delicious vegan snack board ideas that are all based around the flavors of new Sabra Mediterranean Bean Dips!
1. latin fusion snack board
---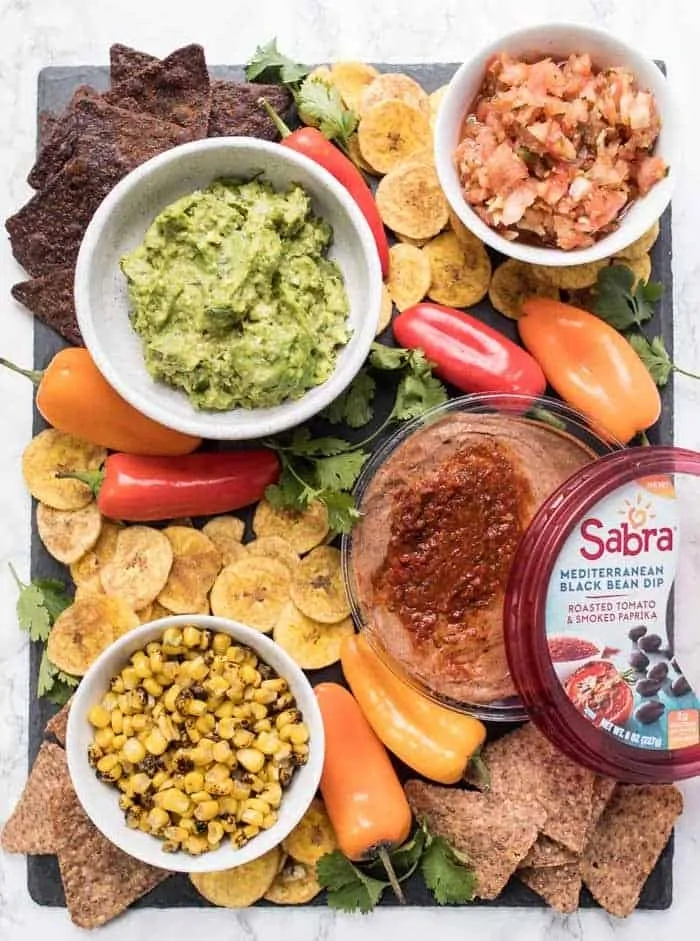 Seeing that one of the bean dips use black beans as the base, I just knew I had to give you a snack board that was Latin-inspired. Although the dip itself doesn't have those traditional Latin spices, the black beans do carry that flavor and the elements we add to it are the perfect complement to the dip!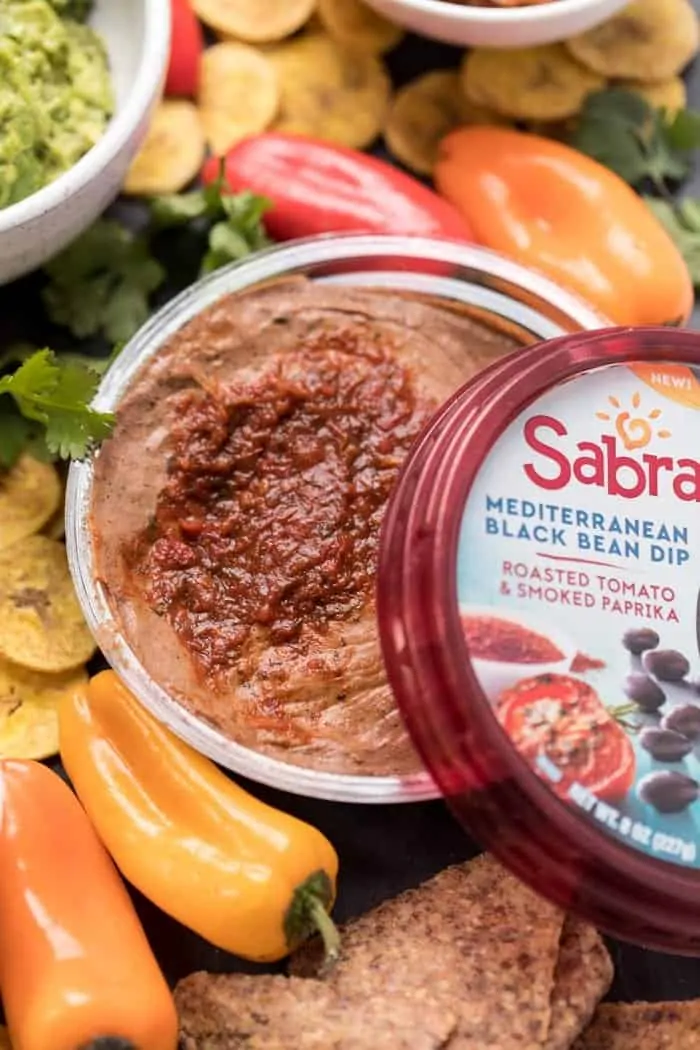 our latin fusion vegan snack board elements are:
dips: 1 tub of Sabra Black Bean Dip & pico de gallo
veggies: sweet peppers
healthy fat: guacamole (used this recipe minus mango)
dippers: tortilla & plantain chips (I used these, these & these)
something sweet: roasted corn
2. middle eastern snack board
---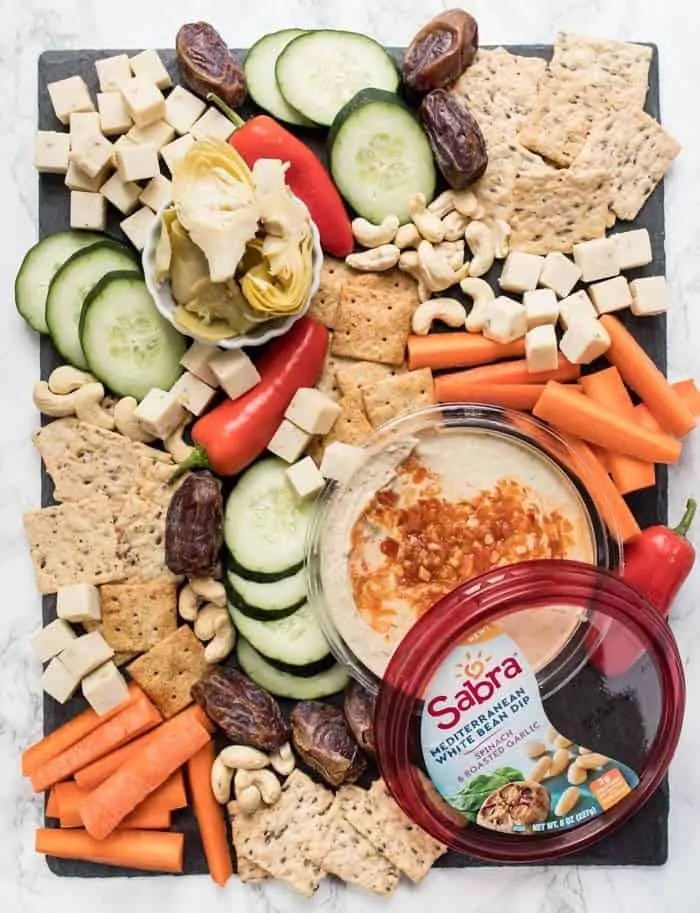 The second dip I wanted to showcase was Sabra's white bean dip! I found this was the most versatile dip because there isn't really a strong pull towards any type of cuisine. It balances garlic and spinach which pair well with pretty much everything. But since Sabra is a hummus company at heart, I decided to go the "middle eastern" route (and I put that in quotes because that's a very loose term to call the direction we went here ????).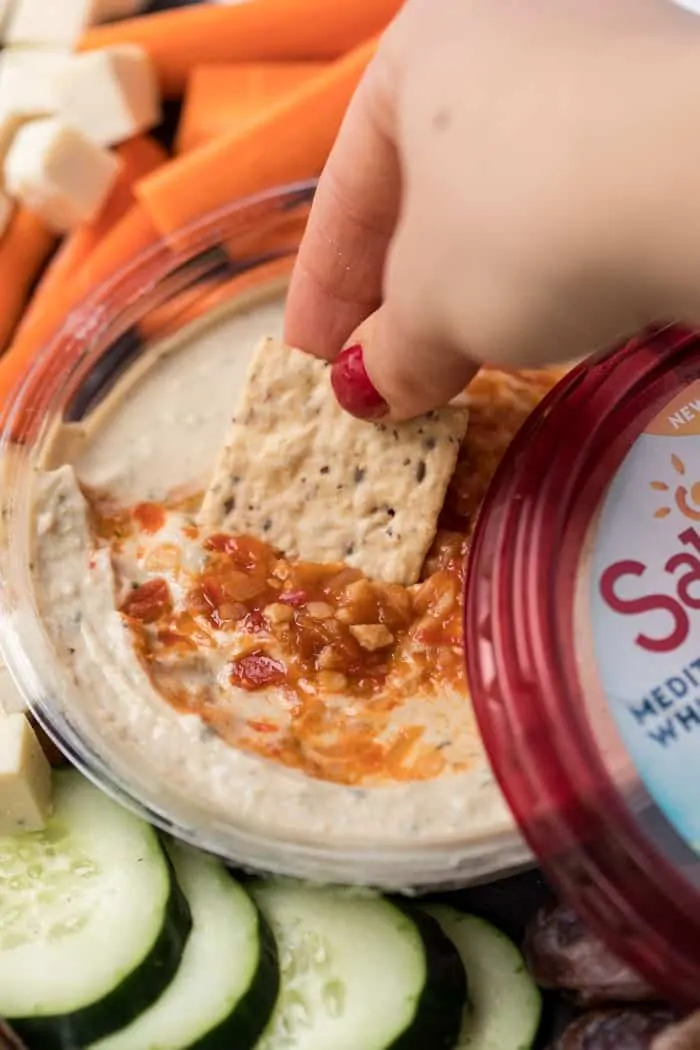 our middle eastern vegan snack board elements are:
dips: 1 tub of Sabra White Bean Dip
veggies: sweet peppers, carrots, cucumbers & artichokes
healthy fat: cashews and vegan cheese
dippers: crackers (I used these & these)
something sweet: Medjool dates
3. greek snack board
---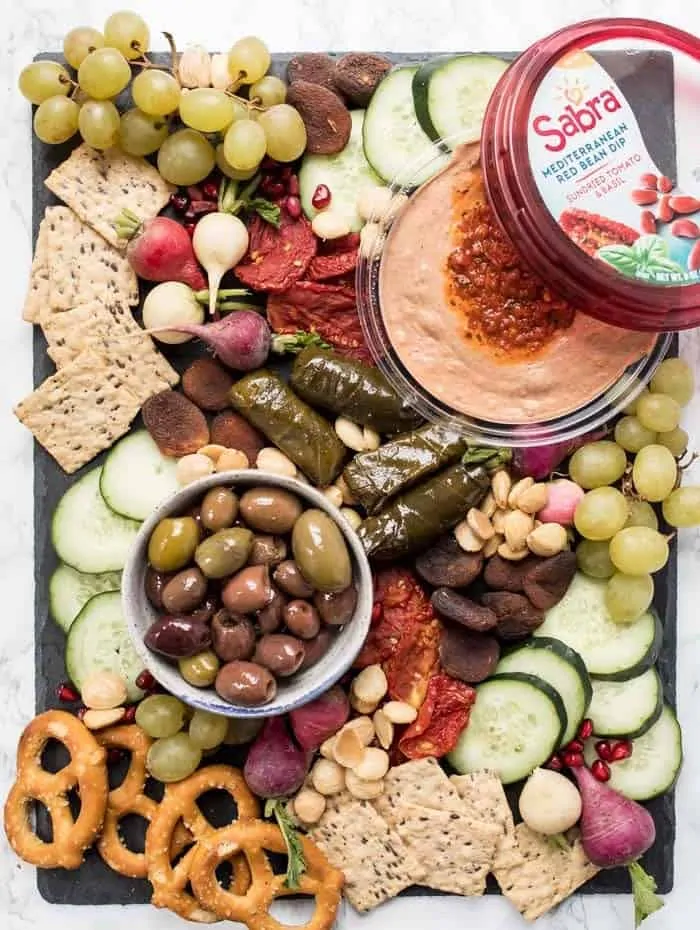 The final bean dip from Sabra is their red bean dip which is flavored with sundried tomatoes and basil! Where did that take us? To Greece! That classic flavor combination tends to be more Italian in nature, but I decided to take it in a slightly different direction. Pairing all these flavors together was really fun and I even added something a little extra at the end!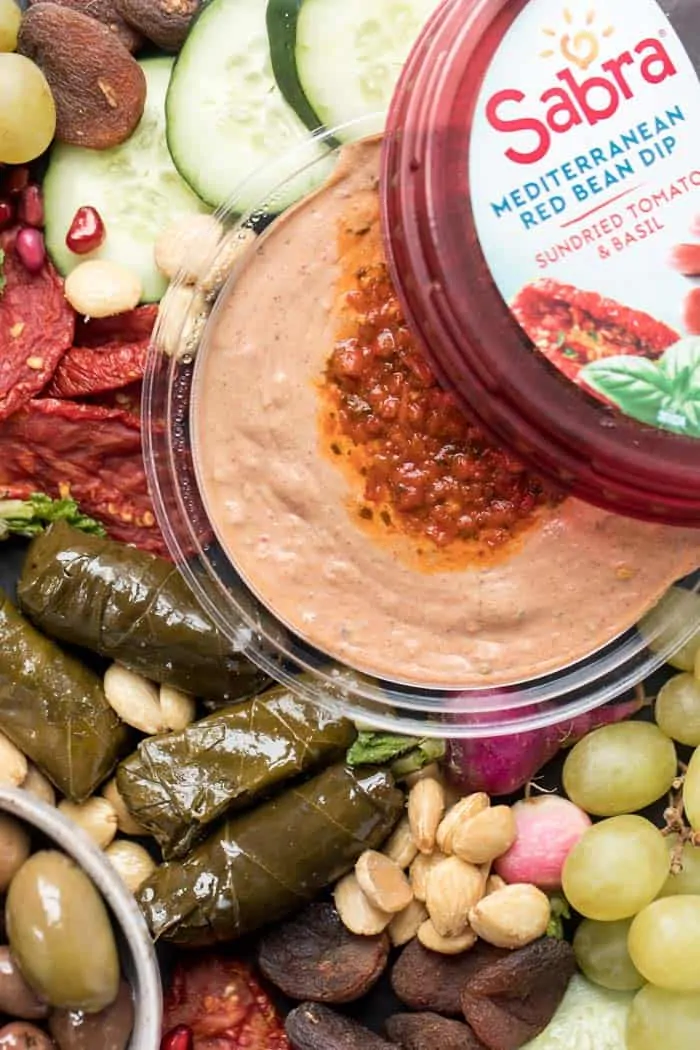 our middle eastern vegan snack board elements are:
dips: 1 tub of Sabra Red Bean Dip
veggies: radishes, cucumbers, sundried tomatoes
healthy fat: Marcona almonds, olives
dippers: crackers & pretzels (I used these & these)
something sweet: dried apricots (unsulphured) & pomegranate seeds
I also added some stuffed grape leaves on this board which didn't really have an "element" to fall into. You can find these at lots of grocery stores and they're simply grape leaves that have been stuffed with cooked rice. And they're delicious dipped in that red bean dip!
and that's it!
Now I'd love to hear from you: have you ever created your own vegan snack board? If so, what elements do you LOVE to mix together? Share with me below in the comments!
xo
A
This recipe is brought to you in partnership with Sabra. As always, all opinions are my own. I only share companies I love and trust, so thank you for continuing to support Simply Quinoa!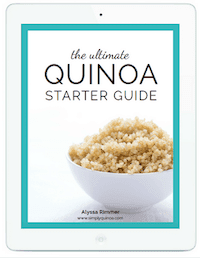 New to cooking quinoa? Grab your FREE Quinoa Starter Guide!
Become part of the Simply Quinoa community and receive weekly emails with exclusive content that I only share in email, as well as my in-depth guide to starting your quinoa journey.