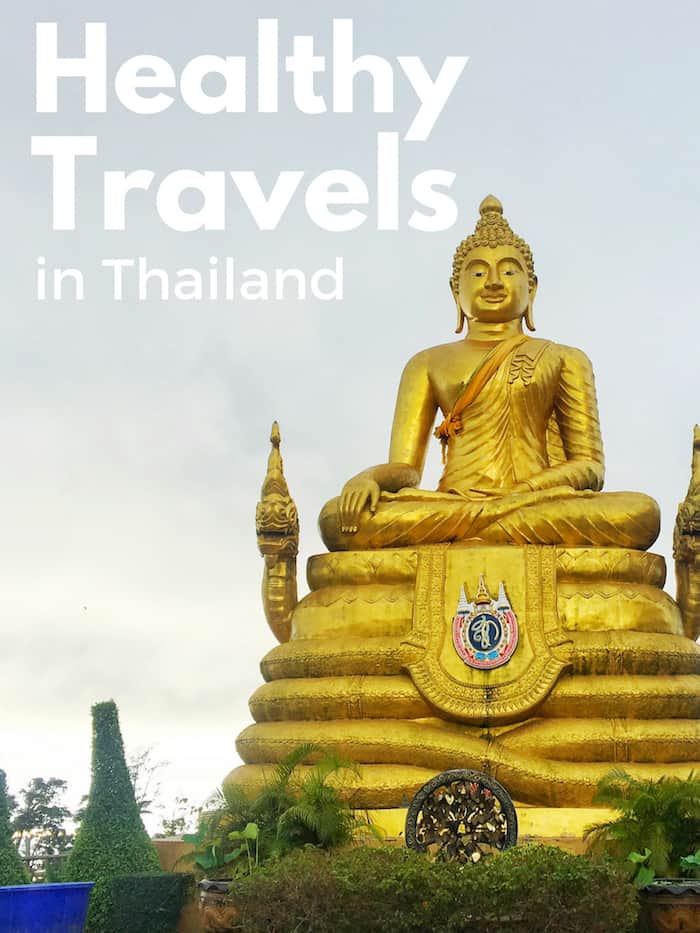 If you follow me on Instagram or Snapchat, then you know that two weeks ago I was in Thailand. Thailand has always been on my travel bucket list, but I often found an excuse to go other places (mainly because of the cost of airfare), so when I saw a great deal on flights, I booked it. Totally on a whim, and totally by myself.
Yep, I traveled halfway across the world ALONE.
For some of you, that might not seem like that big of a deal, but for me it was huuuuge. I had never been anywhere by myself, let alone a country across the globe, where I didn't speak the language at all and knew nothing about the culture. Honestly, it terrified me, but I was kind of in a self-crisis and realized that I needed to do something that was just for me.
For much of my life, I have relied on other people; whether that was friends, family, boyfriends, even doggies. I had never, in my entire 28 years, spent a significant time by myself. Thinking, reflecting, journaling and being. That's what this trip was about for me. I was struggling emotionally, feeling burned out with work and generally unenthused with life, and I needed to reconnect. To reconnect not only to myself emotionally, but physically and spiritually.
Honestly, I had high hopes for the trip. I wanted to come back a changed woman. And much to my surprise, it actually happened. Now I want to take you through my Thailand journey, share some of the places I visited, the meals that I ate and talk about the experience in general.  So let's dive in.
Day 1: Phuket >> Koh Phi Phi
I landed in Thailand at 1 am, jet-lagged, exhausted and in much need of a shower. I had to catch a 9am ferry to the Phi Phi islands, so I grabbed a room near the airport (and cute little hotel that was only a 5-minute walk from the terminal), got in a few zzz's and rinsed off the icky 24 hours of travel. I got picked up by taxi at 6 hours later, drove through the main Phuket town and arrived at the ferry terminal with about 30 minutes to spare. First order of business? A smoothie made with dragon fruit, pineapple and banana. That cost $2.
Once I arrived in Koh Phi Phi, I dropped my bag at my hotel, took a quick dip in the pool, then headed out to find some food.
I landed at a place that was recommended for their curry, ordered the red curry with extra veggies, and settled into my first-ever solo restaurant meal. The curry was amazing (and it only cost $4), and admittedly, I had a book to keep me company. I people watched a bit, felt a tiny bit awkward surrounded by couples and groups of friends, but overall it wasn't as bad as I thought it would be.
I was still pretty jet-lagged, so it was an early night for me. I walked around town after my late lunch, signed up for a cooking class for the next day and then snuggled into my room and finished my book.
Day 2: Koh Phi Phi
My second day was kind of lonely. I woke up without a real plan, aside from my cooking class, so I decided to head up to the viewpoint which has a great 360º view of the island. The climb was steep, but the views were so worth it.
It felt like the perfect place to meditate, so I opened up my favorite meditation app, turned on a 15-minute guided meditation and just sat there. The meditation talked about letting whatever emotions you were feeling come to the surface, and I actually found myself crying! I still don't really know why, or where those tears were coming from, but after I opened my eyes and looked out over the turquoise blue water and jagged mountains, I began to feel more connected.
The cooking class was so much fun! I was the only person who signed up, but it was actually pretty great to have the one-on-one environment. I learned how to cook four different dishes: pad thai (that's what I'm holding in the pic above!), tofu & coconut soup, green curry and papaya salad. The green curry was by far my favorite and I'll definitely be recreating that for you. It would be perfect with some quinoa!
That night I went out to dinner, order a simple stir fry, read my book again and called it a night.This was where being by myself felt a bit strange. I didn't really know what to do, especially since I wasn't really looking to go out and party, which seemed like the thing to do in Koh Phi Phi.
I did however, find a coconut milk ice cream stand (!!) on my way back through town, and  it was absolutely delicious. They served it in a coconut shell, which they cracked open in front of you (and gave you the water to drink), and when you were done you could scoop out the coconut flesh and eat it. Pretty much my dream.
Day 3: Koh Phi Phi >> Kata Beach & Santosa Wellness Center
My ferry left early again in the morning, so I woke up, found a place that was serving smoothies and hit the road. Thankfully, I was traveling light, so lugging my suitcase around wasn't too bad.
I was shuttled to my next, and final stop, on the trip: Santosa Wellness Center.
As soon as I arrived, I knew this was a special place. They welcomed me with a big hug, sat me down and explained the program (I signed up for the Yoga and Spa package), showed me to my room and let me join one of the afternoon activities which was a ride up to the Big Buddha of Phuket. It was so cool! You get to walk inside this giant buddha and are greeted with the incredible, harmonious sound of monks chanting. They're dressed in robes, sitting on meditation pillows, chanting into microphones, and the sound reverberates around the room and almost seeps into your bones. Your entire body hums with the music.
My only regret from the trip is that this was actually the only Buddhist attraction I visited. This part of the country (Phuket) just doesn't have the temples and spiritual centers like Bangkok and the northern part of Thailand does, so I really wasn't able to experience that part of the culture. I guess it just means I"ll just have to go back!
Day 4 – Day 9: Santosa Wellness Center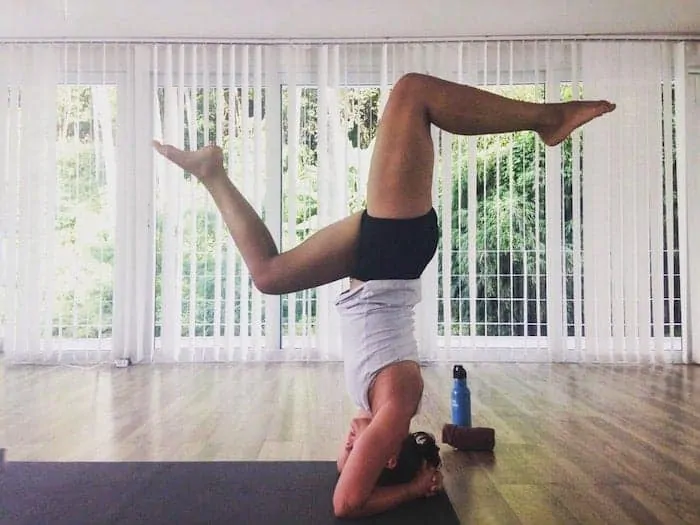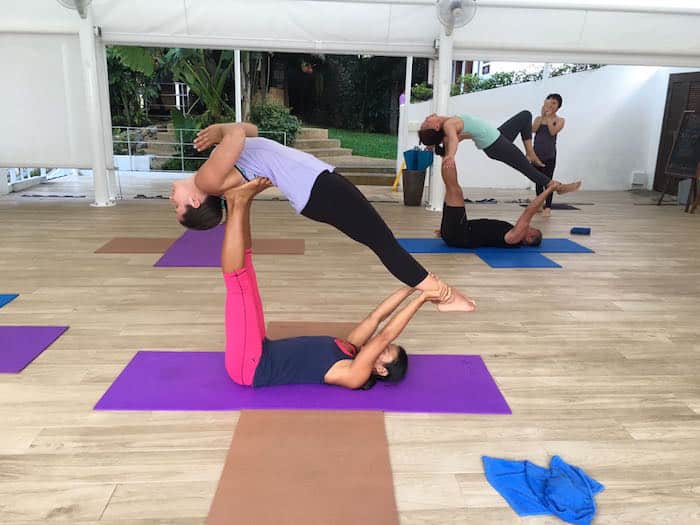 The rest of my time was spent at Santosa which I have to say was exactly what I needed. I was able to slow down, spend time journaling and meditating, going to yoga, getting massages and eating amazing food.
Santosa offers a few different programs you can do, but I chose the Yoga & Spa program. Each program includes all your meals (breakfast, lunch, dinner, fresh juice & coconut water), as well as your lodging, access to all the fitness classes and a daily massage. It was pretty much my ideal getaway.
Vegan food, lots of yoga, massage and a gorgeous setting. I wanted to give you all a sense of what this time was like for me, so I decided to create a What I Eat in a Day video and shoot it kind of vlog-style. You basically just get to hang out with me all day and see what I ate ????
My final days in Thailand were pretty much the same. While I loved every minute of the experience, one thing I will say is that I didn't experience the culture like I might have hoped. I think next time I visit (and yes, there will be a next time), I'm going to focus more on getting in some of the spiritual aspects of the country. I also want to go visit the Elephant Nature Park which is an elephant sanctuary just outside of Chiang Mai.
My Takeaways
Like I mentioned, this was certainly a soul-searching journey for me. I didn't come away with any huge takeaways aside from the fact that I need to listen to my heart more. And what I mean by that, is that I'm the type of person who often asks for advice, listens to peoples' thoughts and lets those thoughts cloud how I truly feel. So instead of just living my life in the "shoulds", Thailand really helped me see that I need to be living life in the "cans", "dos" and "wills".
Life isn't about what we should be doing, feeling or saying. It's about how we are. How we live. How we tackle each day. How we stay present. How we stay true to who we are. And how we find joy in the moment instead of seeking joy in the future or reveling in the past.
And being two weeks out from my trip, I can tell you that I'm still living this way. I'm staying present. I'm practicing yoga. I'm doing the things I want to do, instead of doing the things I should be doing. Like I mentioned in my post from a few months ago, this is my year for self-love and my trip to Thailand has been just one of those steps to get me there.
Thanks so much for reading, my friend! If you end up traveling or taking a trip to Thailand, definitely check out Santosa (especially if you're vegan) — you'll love it!
xo Alyssa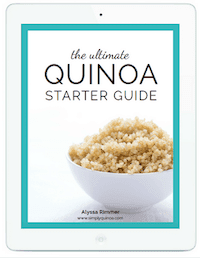 New to cooking quinoa? Grab your FREE Quinoa Starter Guide!
Become part of the Simply Quinoa community and receive weekly emails with exclusive content that I only share in email, as well as my in-depth guide to starting your quinoa journey.