How to create a healthy meal plan in just 8 simple steps! We will teach how to save time, money at the grocery store and still eat healthy meals all week!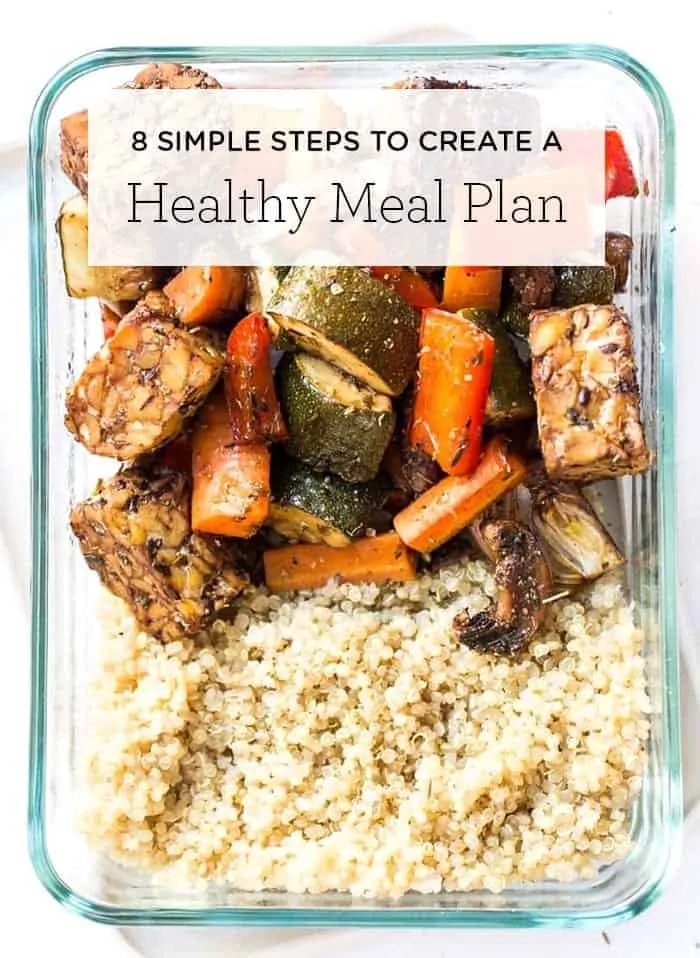 Today marks the first day of Meal Prep Week and I'm so excited! All week long we'll be sharing helpful meal-prep friendly content designed to help YOU save time, eat better and reduce your stress around healthy eating.
We're starting things off by keeping it simple. We're talking about how to create a healthy meal plan!
I know for a lot of you, the planning aspect is where you feel a little overwhelmed. You don't know what recipes to make, you don't know how to combine them all to save yourself time, and you're unsure if the meal plans you're creating are actually healthy. Well, this article is going to help you!
I'm sharing 8 simple steps that I personally follow when I'm building my weekly meal plans! And I'm confident that by following these steps on your own, you'll also be able to create a healthy, delicious and time-saving meal plan each and every week.
How to Create a Healthy Meal Plan
1. Check Your Weekly Schedule
First thing I like to do is check my schedule for the week. Are there any nights you're going to be out? Any meetings that run through lunch? Any mornings I need to be out the door super early? This helps me figure out what meals I need to plan ahead for and what days I have extra time to plan ahead.
2. Assess Your Fridge & Pantry
Once I have my schedule set for the week, it's time to look at what I have leftover from the week before. Often times I'll have a few spare pieces of veggies leftover from the week before, or I'll have some pantry items I want to use up. Getting a sense of what you have on hand will help you build out our grocery list, make sure you're not buying duplicates, and also reduce your food waste!

3. What are You Craving?
Next up is to think about what YOU want to eat. I like to not only think about what season it is, but also just what I'm craving that week. Sometimes it's not seasonal and that's okay! But most times, it revolves around the season. Summertime I'm craving more salads. Fall and winter, it's more cozy things like soups and stews. But getting an idea of what you want before you start searching will help you narrow down more quickly and save a bit of time.
4. Search & Find Your Recipes
Now that you have part of your list done and you know what you're craving, it's time to start your recipe search! There are a bunch of different options – you can search on Google, you can use Pinterest, you can use cookbooks or you can use a website like this one to find and filter your recipes. What I love about the search on my site is that it's filterable – you can filter by meal type, my diet type (i.e. gluten-free, dairy-free, vegan, etc.), and then ingredient type.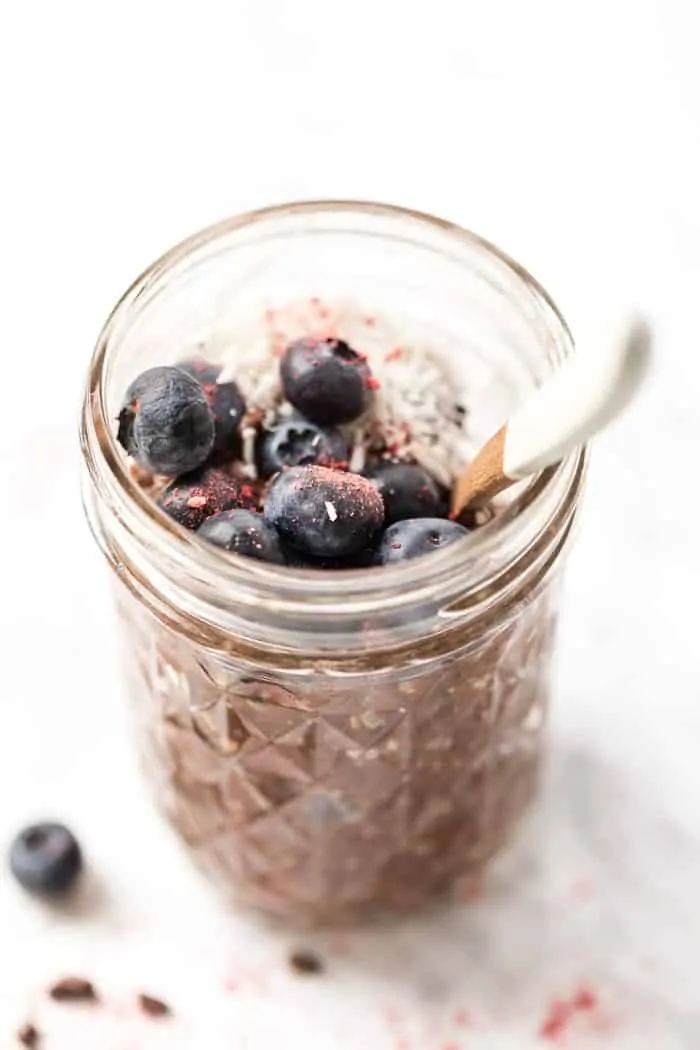 5. Choose Your Recipes
You've got a big list of things you want to make now, don't you? Since we're only planning one week at a time, you're going to have to narrow down that list ????I recommend you choose about 4 – 5 recipes if you're planning all three meals every day. If you're just planning for lunch and dinner, 2 – 3 recipes should be able to get you through the week.
When you're narrowing down your list, here are some things to keep in mind:
Can it be prepped ahead?
Total cooking time
Difficulty
From there you should have a solid list so you can then write out your shopping list and plan.
6. Create Your Shopping List & Meal Plan
Once you've got your recipe list narrowed down, it's time to put your shopping list and meal plan together. You can use this free download, or just write it down on a scrap piece of paper. I like to put two columns on my shopping list: one is what I have, one is what I need. That makes shopping a lot easier and again, ensures you're not buying duplicates, and you can buy exactly what you need for the week.

7. Head to the Store
Take your list, grab your reusable bags and hit the store! If you're on a strict budget, make sure that you just pick up just what you need and try to not add the extras. Trust in the meal plan that you made and know that you've got yourself covered for the entire week.
8. Get Cooking!
We're saving the best for last, right? The cooking! It's my favorite part and I'm sure it is for most of you too. If you've got a super busy week ahead of you, set aside 3 – 4 hours to prep as much as you can. A lot of times, even if you can't cook the entire recipe, you can cook parts of it. Maybe it's the grains, the protein, or even just pre-chopping to make the cooking time easier. But spending a few hours before your week starts can help save SO much stress and overwhelm when you get into the thick of it!
Need more help with Meal Prep?
We're launching our meal prep program in just a few days and we'd love to give you a special offer! If you sign up using the link below, you can not only get a free printable meal planning chart and shopping list, but we will also give you a special discount code for our new meal prep program, Simply Prepped!
Click to download your FREE meal plan chart