Learn how to make pickled onions, quickly and easily! This super simple recipe takes about 5 minutes and is ready in 10. Use your pickled onions on everything from tacos, salads, bowls, and more!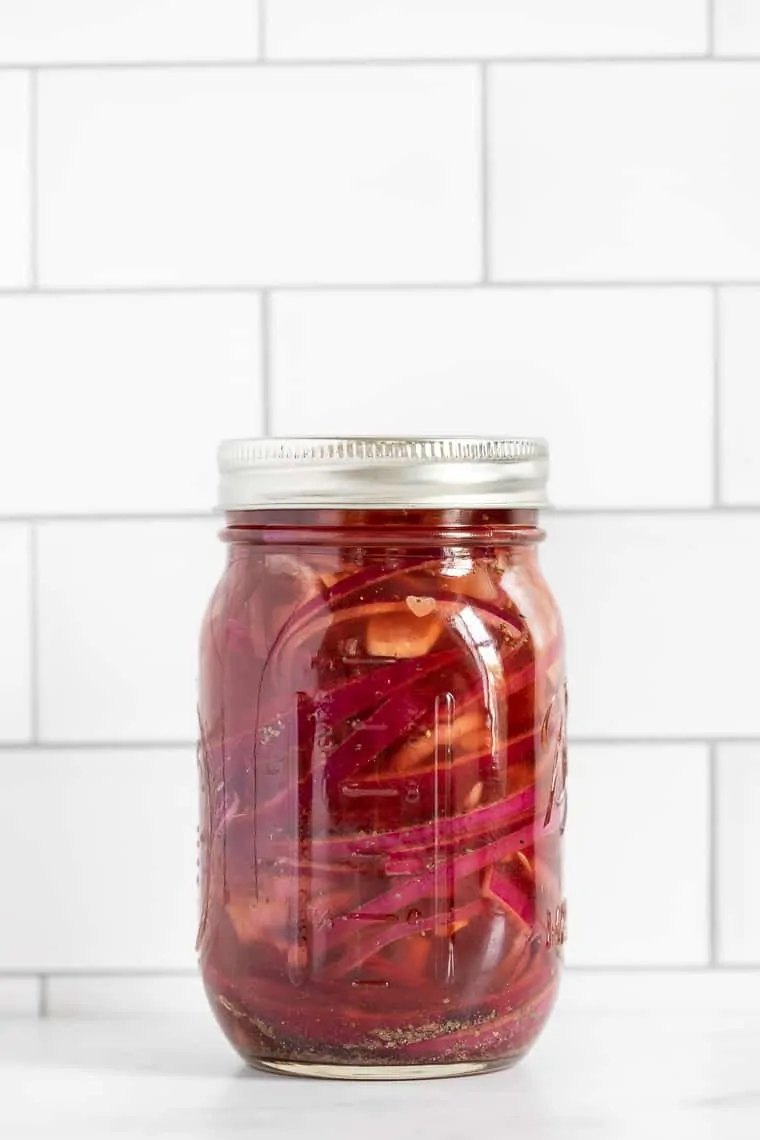 Have you ever tried pickling at home? It can seem a little intimidating when you start to google "canning" or "jarring" because it's quite a process. But there are one or two types of pickled vegetables you can make super simply.
My favorite being…pickled onions!
They are simple to make, quick, easy, and delicious. They're also really versatile and can be used in a ton of different ways. Today I'm going to show you how to make pickled onions at home and talk all about how to master them in your own kitchen!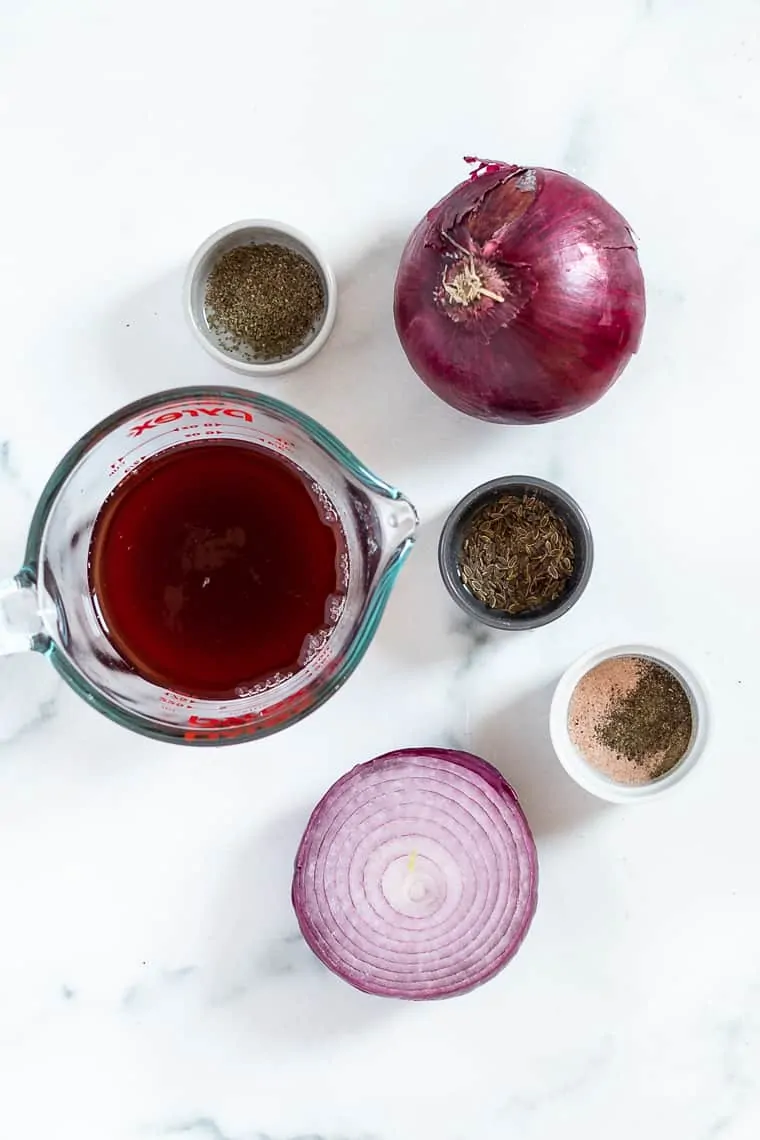 Best Types of Vinegar for Pickling
When it comes to pickling vegetables at home, you can really use whatever type of vinegar you want, but there are a few that I think taste better.
White Vinegar: this is the plain and simple one. If you want just like standard flavors, this is the perfect vinegar for you
White Wine Vinegar: this has a slightly mellower taste, a hint of sweetness, and is great for sweeter things (beets maybe!)
Red Wine Vinegar: red wine is what we're using to make our pickled onions and it's my personal favorite! It's sweet, a teeny bit tangy and works really well with red veggies (like beets, cabbage, onion, etc.)
Apple Cider Vinegar: another option if you want something that has some probiotics in it – although I do find that ACV can be a bit overpowering in flavor
So my best advice: think about what veggie your pickling, what flavors might pair well with it, and you can always change it up as much as you'd like.
Do you Need to Boil Vinegar for Pickling?
You might notice that some recipes for making pickled vegetables include boiling the liquid ingredients first. I've done both methods and honestly don't notice a difference. The boiling will kill any bacteria, but vinegar is also antibacterial and I've never had pickles go bad.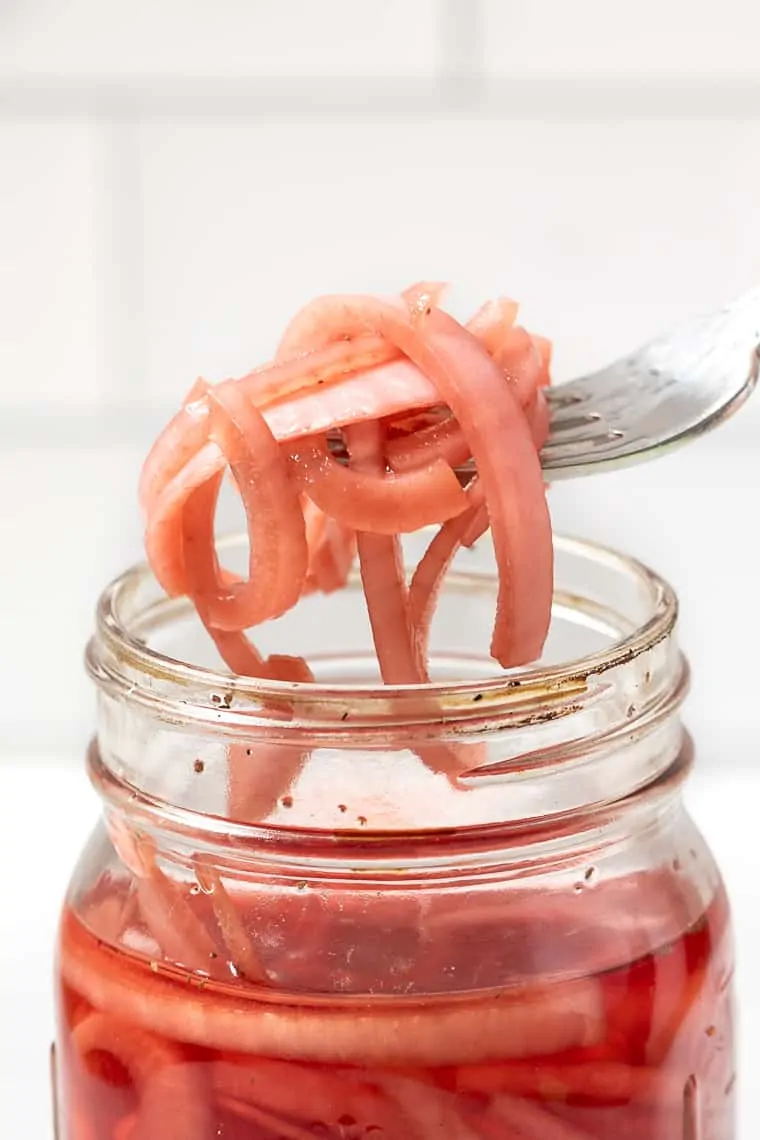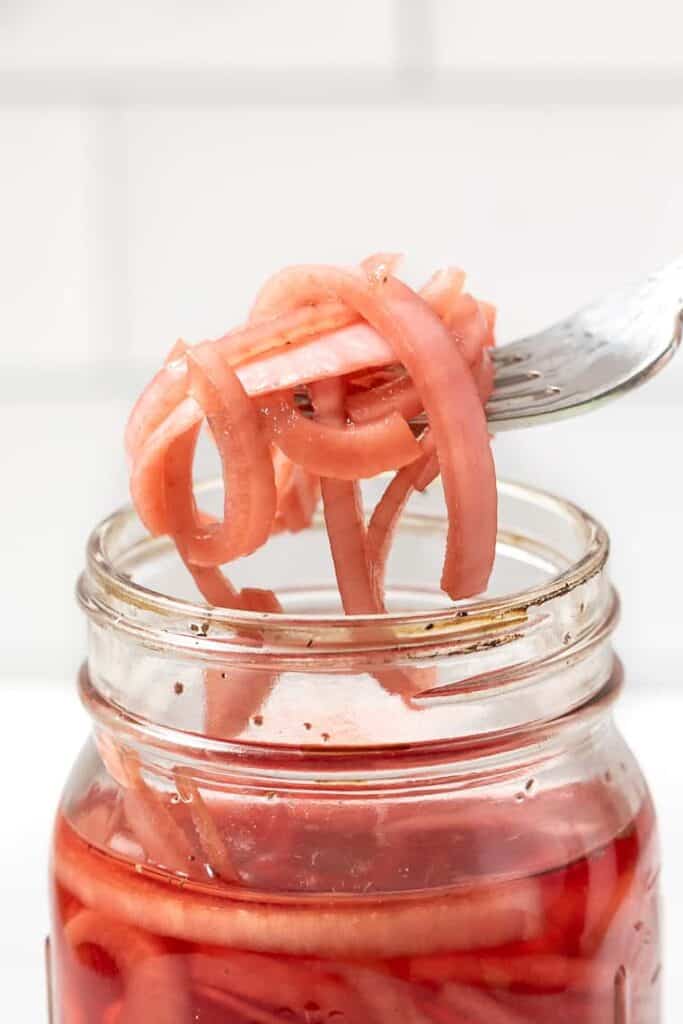 Types of Onions for Pickling
Next on our journey of learning how to make pickled onions is the type of onion! The beauty of this recipe is you can use any type of onion you'd like. But for me, the best onions are red onions (or shallots). I think they have a zingier flavor, they're a bit brighter, I love the color and they pair so well with pretty much everything!
How to make Picked Onions
The beauty of pickling onions is that it's quick. Like really, really quick! And so easy.
STEP ONE: The Onions
First, you need to pick out and slice your onions. As I said, we're using red onions here, but you can use whatever you like. Once you've got your onion selected, it's time to slice them up. Just cut the onion in half and then slice them in half again!
STEP TWO: The Jar
Next, we'll select the jar. I like to use pint-sized mason jars, but you can go bigger or smaller. If you love pickled onions, go as big as a quart! The recipe down below will show you how to scale.
STEP THREE: Put it All Together
The last step is to put everything together. I like to put the onions in the jar first, then I fill the jar with half vinegar, half water, and add some spices. Seal it up, give it a shake. Let them sit for about 10 minutes at least, but then you'll be ready to use them!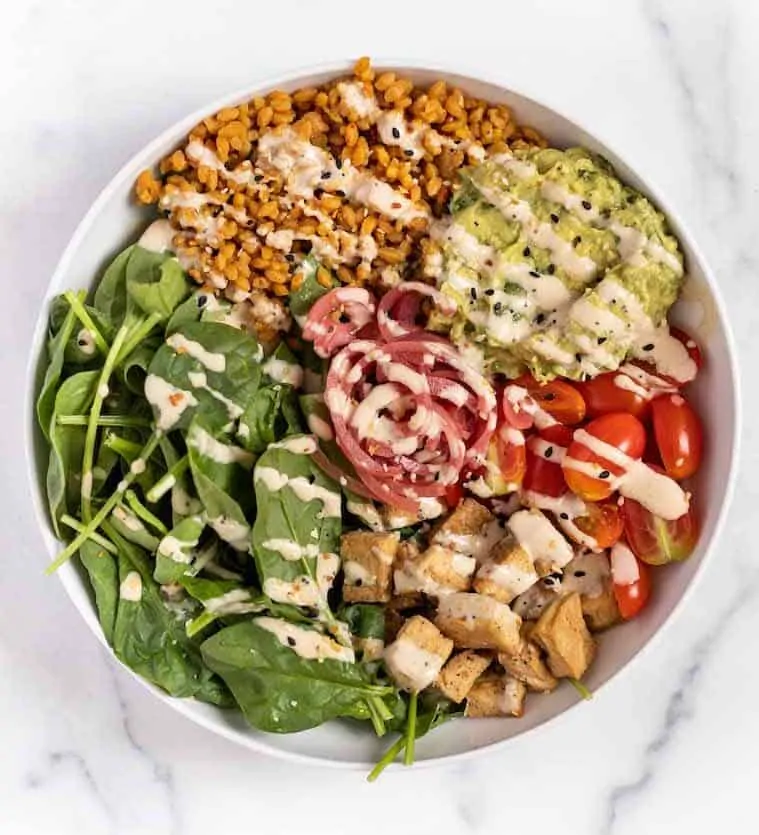 How to use Pickled Onions
Okay now that you know exactly how to make pickled onions, let's talk about using them! I think you really can't go wrong with using them, BUT here are some of my favorite ways:
Tacos: this is by far my favorite way to enjoy them – on top of a taco with some veggies and beans. They add zing, tang, and a nice burst of added flavor.
Sandwich: they're great, great, GREAT on all types of sandwiches! From hummus and veggie sandwiches to pulled pork, you can't go wrong.
Salad: need a little extra something something to spice up your salad? Pickled red onions are the ultimate salad topper!
Buddha Bowls: see above 😉 they're so great on top of buddha bowls!
Avocado Toast: and my final way, and certainly not the last/least, is on top of avocado toast. Simple, easy and SO good!
And Matt just said, "straight out of the jar!" So really, there's no shortage of ways to enjoy your pickled onions. Hope you love them!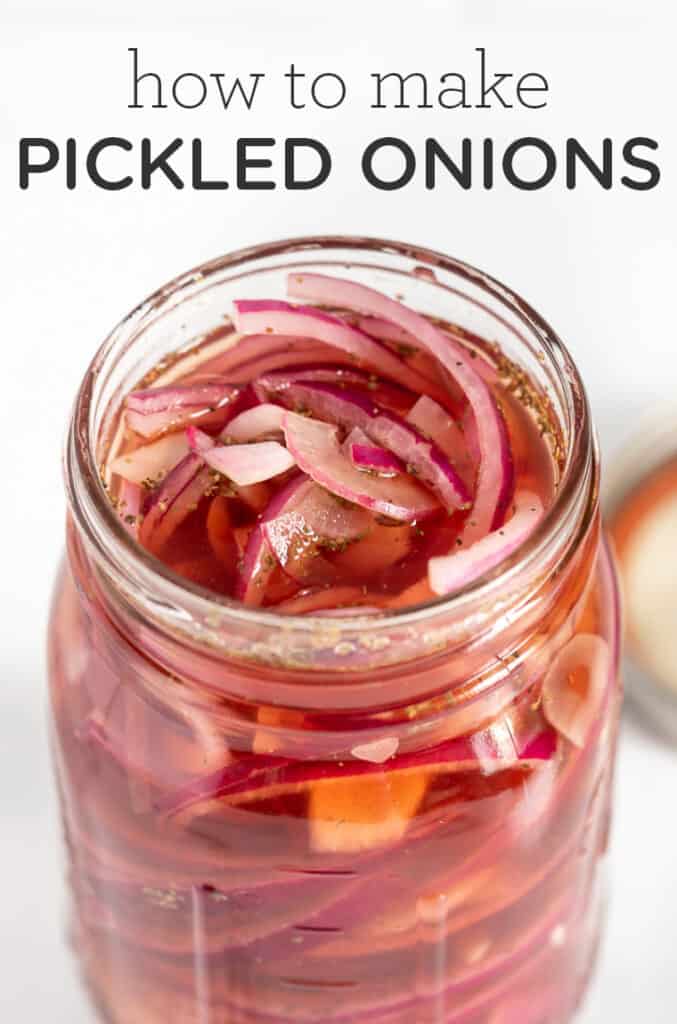 How to Make Pickled Onions
Learn how to make pickled onions, quickly and easily! This super simple recipe takes about 5 minutes and is ready in 10. Use your pickled onions on everything from tacos, salads, bowls, and more!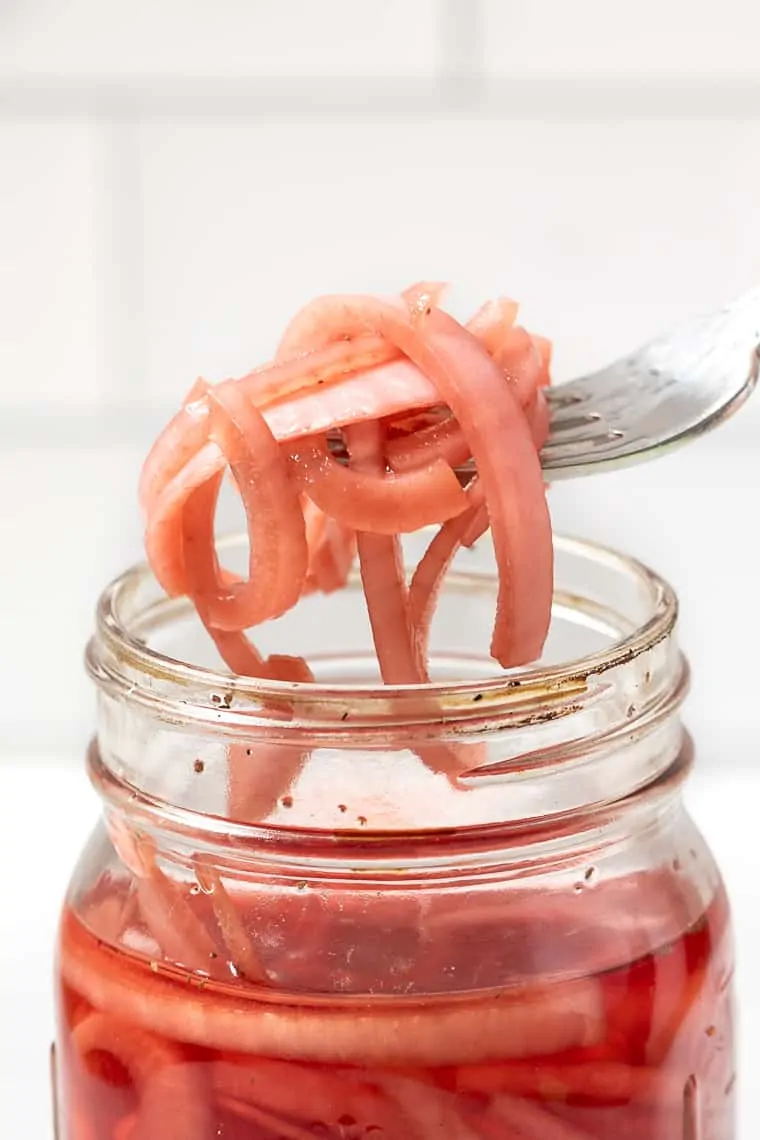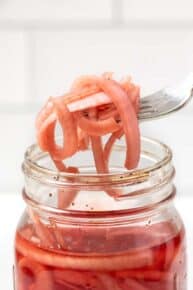 Instructions
Thinly slice the red onion. I like to cut it in half first and then into slices.

Place the red onions into a jar.

Pour the red wine over the onions until the jar is half full. Top with water and fil the jar to almost the top.

Add the spices and put on the lid. Give it a good shake and let the onions sit for at least 10 minutes.

Enjoy any which way you like!
Nutrition
Serving:
1
pint
|
Calories:
95
kcal
|
Carbohydrates:
13
g
|
Protein:
2
g
|
Fat:
1
g
|
Saturated Fat:
1
g
|
Sodium:
1196
mg
|
Potassium:
231
mg
|
Fiber:
3
g
|
Sugar:
5
g
|
Vitamin C:
9
mg
|
Calcium:
95
mg
|
Iron:
2
mg
Filed Under:
More Ideas for Pickling Vegetables at Home
Loving the idea of making pickled veggies at home? We've actually shared a few other ways to pickle veggies as well!
Check out this post about how to make pickled summer vegetables, including: