Not a morning person? You need to create a healthy morning routine! Learn how to create your own routine and see what 6 things you should do every day!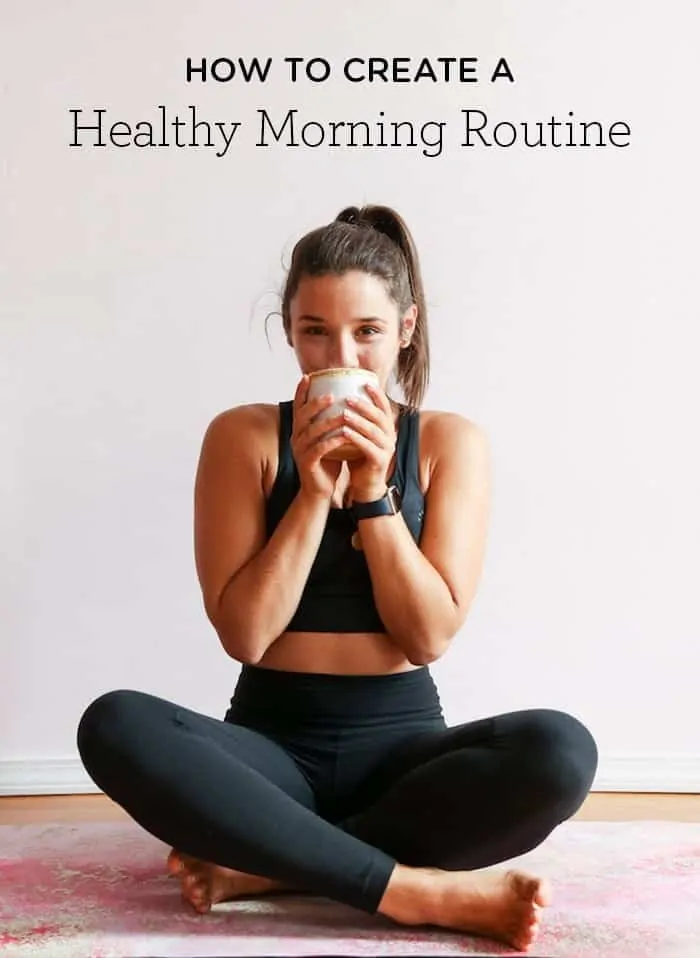 I'm a firm believer that how you start your day sets the tone for how that day is going to unfold for you. If your day begins with stress, stress will likely seep into everything else you're doing. When your day starts mindfully, the same is true – mindfulness and calm energy will carry you throughout the rest of your day.
For the last 3 – 4 years, I've been following the same morning routine pretty much without fail. I think ever since I got Trevi, this routine has helped me enter my day with a more peaceful mind and ultimately leads me to be more productive and happy.
So today I'm my own healthy morning routine with you! I want you If you don't currently have a morning routine and feel like you end up getting lost in the shuffle of the day, I hope this post helps you think about creating a little more structure into your morning.
My Healthy Morning Routine
6:00 AM
I wake up at 6am every weekday morning and only look at my phone to turn off the alarm. From there I head into the kitchen, pour myself some water, give Trevi her breakfast and give myself about 10 minutes to go to the bathroom and get dressed.
6:15 AM
I head outside with little miss and we go for our morning walk. We live right next to Riverside Park and I love being able to spend some time in nature – it wakes me up, it clears my mind and I love watching Trevi run around having fun. I also don't bring my phone with me in the morning, so I'm not stressed by what the day might bring.
6:45 AM
It's time to move! Most mornings I do some sort of workout at home. Sometimes it's just a little light yoga, other times it's a more intense workout like HIIT or strength training workout. My workout schedule also depends on what class I'm headed to that day. Sometimes I have a mid-morning yoga class and I'll wait to workout until then. Other days I do an evening SoulCycle class and those days that's when I'll do some yoga or a strength workout.
7:30 AM
Time to get ready for the day! I hop into the bathroom, shower, do my morning skincare routine, and get dressed for work. Even though I work from home, getting ready for the day really gets me in the mindset to work. I don't always get dressed up – sometimes the outfit is yoga pants and a flannel – but I realized when I started working for myself, that I couldn't be in PJs all day. I needed to take myself seriously which helps me take work more seriously.
8:00 AM
MATCHA and breakfast ❤️this is my second favorite part of my routine after walking Trevi. You guys know how to make my matcha already, so I'm not going to detail it here, but breakfast does vary based on the season. Most days I have some form of smoothie/smoothie bowl, but in the wintertime, I'm craving warmer breakfasts like toast and pancakes. I've actually found that heavily grain-based breakfasts don't work super well for me, so if not a smoothie I usually toast up a few slices of my Almond Flour Pumpkin Bread and top it with some peanut butter and sliced apple. It's quick, simple and so yum!
8:05 AM
I head over to my desk and get to work! Some days I'm at my desk writing, editing, answering emails, and stuff, but other days I'm in the kitchen! Whatever my day brings, I do still try to stay mindful and calm. I take breaks, I go outside with Trevi and I try my best to stay on task and not get too distracted by social media.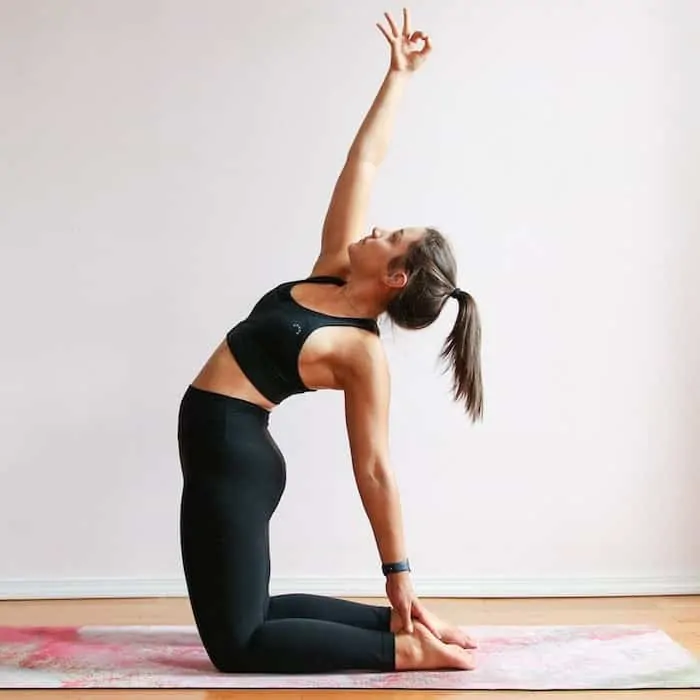 6 Things I Do Every Single Day
While setting up a morning routine is great, every person is different, so what I think is most helpful in creating your own routine, is coming up with your non-negotiables. What are the things you want/need to do every single day? From that list, you can figure out the best schedule.
Here are the 6 things I do every single day without fail:
Make my bed. Having a clean, organized room makes me feel really good. When I walk in there in the evening, I instantly feel calm and ready for bed. It's something I highly recommend everyone does!
Drink water. I've shared about this before, but starting your day with water is SUPER important. Our bodies are dehydrated when we wake up, so before anything else, you must rehydrate.
Give myself time to go to the bathroom. Again, this is something I've mentioned before, but I also think it's important to give your digestive system time to warm up. Even if you don't typically poop first thing in the morning, try to get your system on that schedule. Once you do, you will feel amazing!
Spend time outside. Nature has some pretty amazing and powerful effects on our health. For me, it not only helps clear my mind but it's also really energizing!
Exercise. Get that body moving in the morning, even if it's just 15 minutes! I love using videos from Fitness Blender – they're free and they have all different kinds to follow. Getting your blood pumping will give you tons of energy, you'll feel great and you'll be able to stay more focused throughout the day.
Nourishing meal. Breakfast is my favorite meal because it sets the tone for how I eat for the rest of the day. When I start my day with something healthy and nutrient dense, I feel it all day. I crave healthier food, I don't have crazy energy swings and I'm way more focused at work.
Now…I'd love to hear from you!
Do you have a morning routine? If so, share what you prioritize with us down below!