How to Make a Matcha Latte in just six simple steps! This is the recipe I use to make my matcha every single day and it's delicious!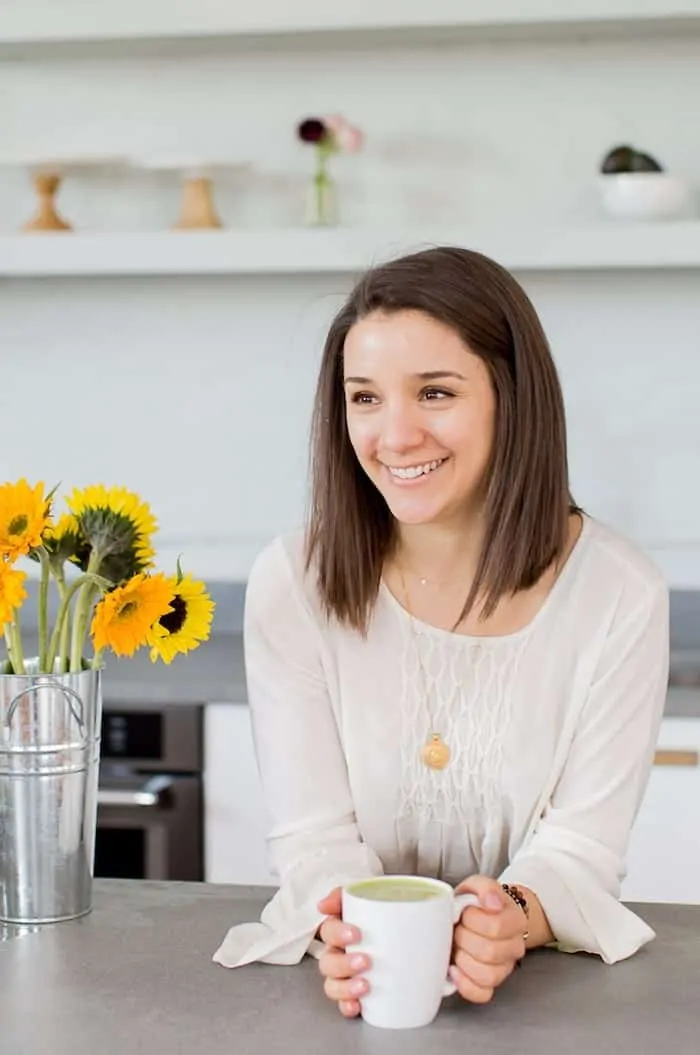 By now I'm sure you know, I'm pretty much obsessed with matcha!
I start almost every single day with a steaming matcha latte, I use it in my energy balls, I stir it into oatmeal and I sometimes add it to my favorite pineapple green smoothie for an added energy boost.
I often share photos on social or in my What I Eat in a Day videos, but there isn't always an "exact" recipe to follow. So today I thought I'd give you a step-by-step look at how I make my everyday matcha latte.
But first…let's talk about matcha and why it's so great!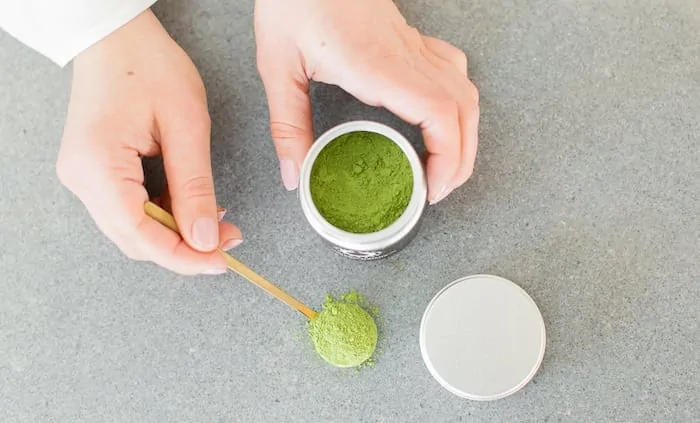 quick facts about matcha
▻ matcha is a type of green tea that is grown in Japan
▻ matcha is technically a "loose-leaf" tea, but it's different than other standard teas because the tea leaves that have been ground into a powder
▻ because the entire tea leaf is consumed, you get more nutritional benefits than regular steeped tea (like vitamins, minerals & antioxidants)
▻ matcha has less caffeine than coffee and the effect is said to be gentler and more gradual on the body
▻ when making matcha, make sure you select a high quality, ceremonial grade matcha that is shade grown from Japan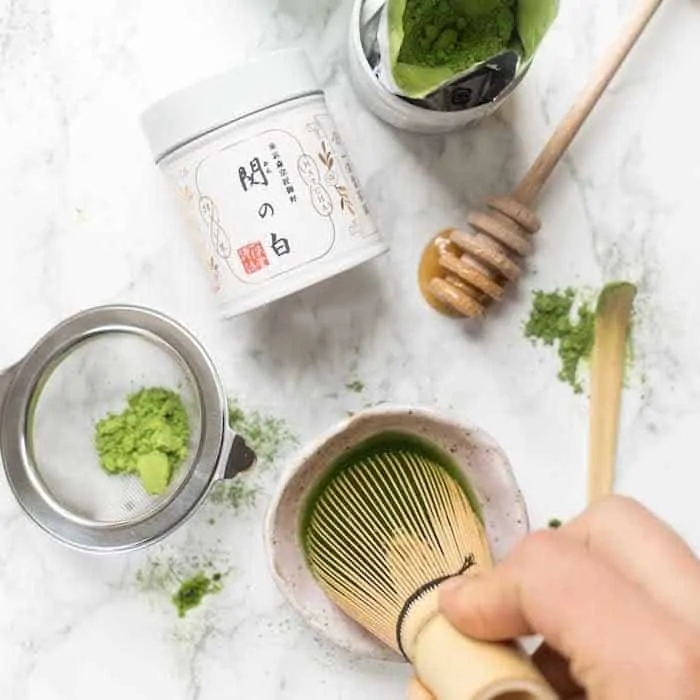 the traditional way to make matcha
I'll be the first to admit that I definitely don't make matcha the traditional way. Matcha is typically enjoyed plain with a little hot water. You begin by taking a small amount (about 1/2 – 1 teaspoon), and adding it to a small bowl or dish. From there add a splash of hot water to the dish and whisk the powder together with a special bamboo matcha whisk.
Whisk until it becomes frothy and then add in the rest of your water. Sip & enjoy!
It's actually a very simple process! But like I said…not quite how I make it ????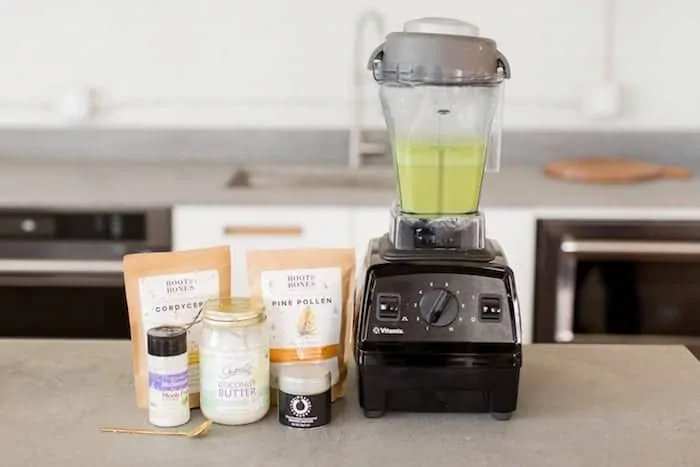 how to make my everyday matcha latte
If you've seen any of my videos where I make my matcha, you know that I pretty much make it the same way every single time. It takes me about 5 minutes and it tastes amazing! So creamy, so frothy, slightly sweet and also how I sneak in some of my adaptogen powders.
If the taste of matcha throws you off – maybe it's a bit too grassy or bitter – I think you're going to love this recipe!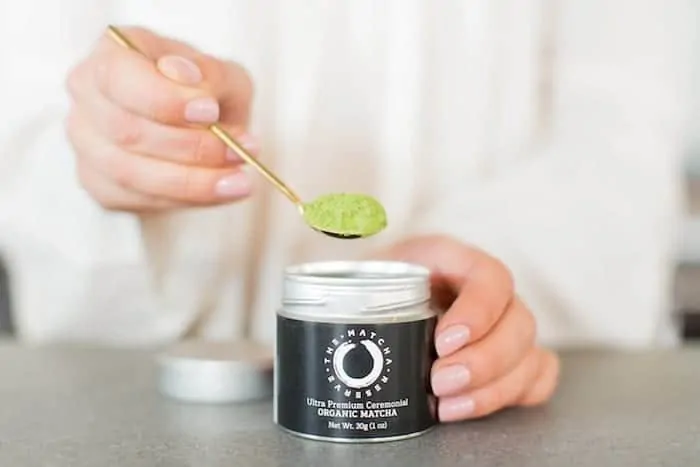 step 1 >> the matcha
I use about 1 teaspoon of matcha in my latte, but if you're just starting out or sensitive to caffeine, I'd recommend only 1/2 teaspoon to start.
The type of matcha you use is also very important. You want to make sure that you're buying a ceremonial grade matcha from Japan. Ceremonial is a bit more expensive but so worth it in terms of flavor and taste. I have a few brands I personally like and rotate through:
Matcha Reserve (use code "simplyquinoa" for 15% off your order)
You can't go wrong with any of those!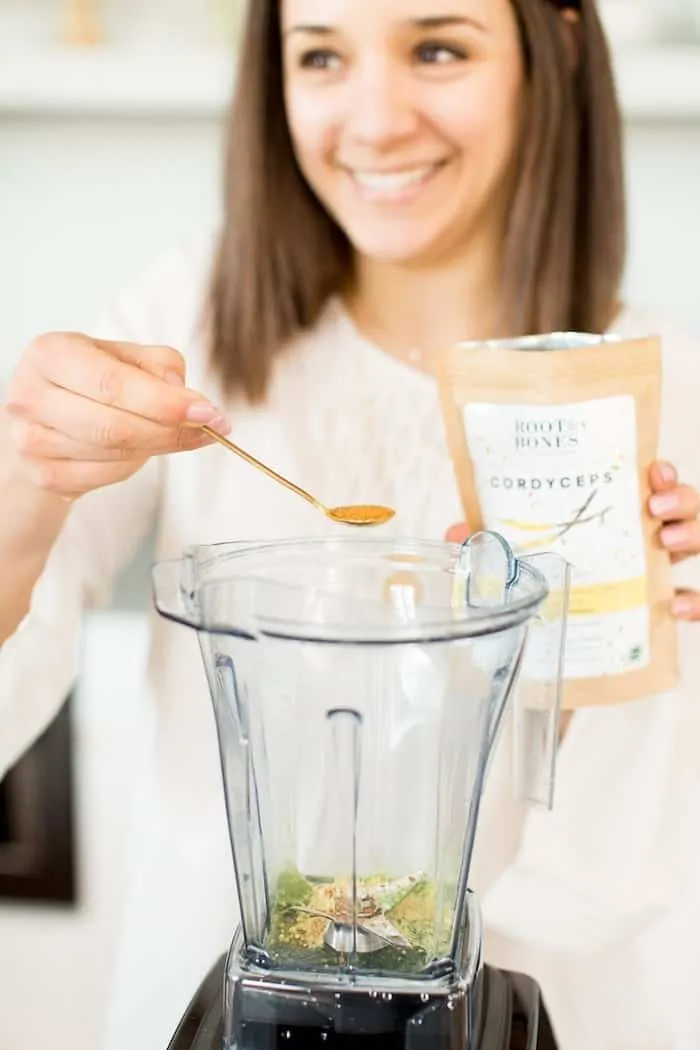 step 2 >> adaptogen powders
This part is totally optional and is more of a way to optimize your latte. It shouldn't affect the flavor too much and instead will really add to the nutritional benefits.
I personally like using cordyceps (which are medicinal mushrooms) and pine pollen (which is slightly sweet and great for immune health). If you're curious about adaptogen powders, check out my adaptogens 101 post!
And if you want to try my favorite brand, Root & Bones, make sure to use my coupon code "simplyquinoa" for 15% off your order (hooray!) ♡
step 3 >> flavor
I add pumpkin pie spice to my matcha every single day. I know that's not for everyone, but it adds such an awesome flavor. If you're not into pumpkin pie spice, you could also do vanilla, turmeric or just plain cinnamon. But again, like the powders this step is optional!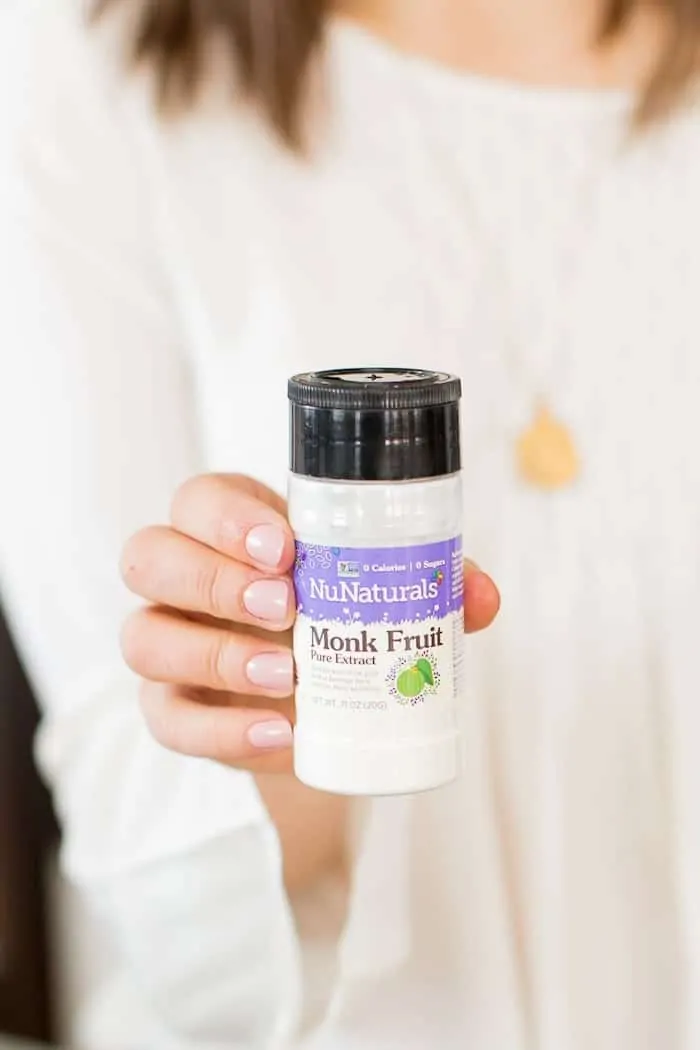 step 4 >> sweetener
I have a sweet tooth and always sweeten my matcha. My sweetener of choice is monk fruit extract, which is an alternative to stevia. What I like about monk fruit extract is that it doesn't have that weird aftertaste that stevia sometimes does and the one I use is 100% pure (no additives or preservatives).
If you'd rather go with something like maple syrup or honey, those are both lovely. OR if you're feeling happy with the flavor as is, you could just leave it out completely!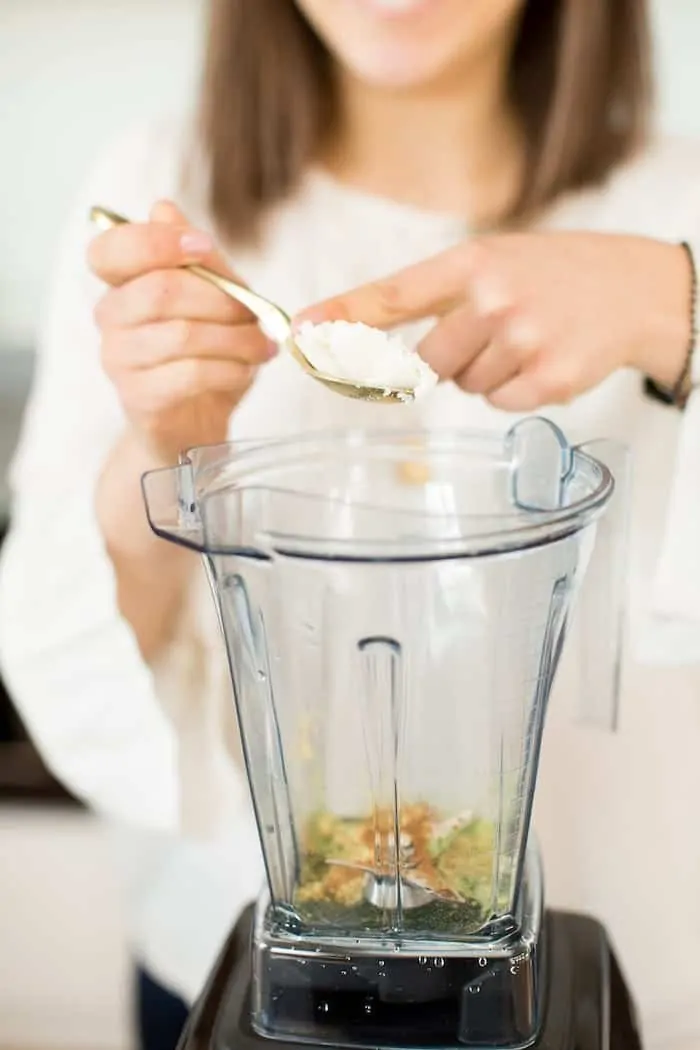 step 5 >> healthy fats
One of the keys to making a super creamy matcha is to add some sort of healthy fat. But luckily, it also has a few other purposes!
By adding a healthy fat (in my case coconut butter), you're slowing down the absorption of caffeine into your system meaning you'll have more sustained energy throughout the morning. Healthy fats also help to stabilize blood sugar levels, so if you are adding a sweetener like maple syrup/honey, this will help your body from spiking with energy and then crashing mid-morning.
And lastly, healthy fats are amazing for your gut. They help support digestion and help keep you regular!
There are a few options when it comes to which fat to choose, so here are my suggestions:

step 6 >> hot water
The last thing you're going to need for your matcha latte is some hot water!
I use a blender to make my matcha because I find that it yields the best texture and consistency. No clumps of the powders and the coconut butter melts and it gets so creamy!
And that's it! Simple and delicious! Now…let's jump into the recipe ????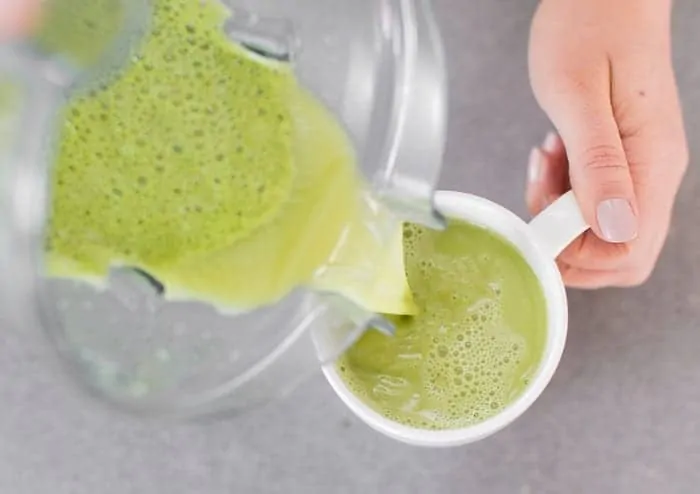 More Ways to Use Matcha Powder
Everyday Matcha Latte
This delicious matcha latte is an awesome alternative to coffee. It's high in antioxidants, packed with superfoods and has the creamiest texture!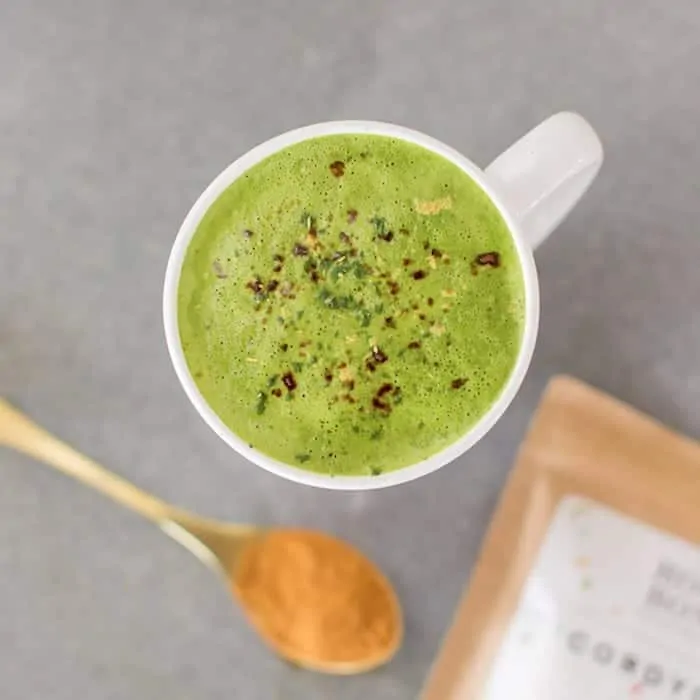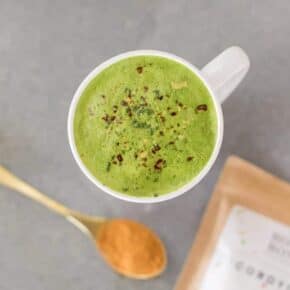 Instructions
Add all ingredients into a blender and blend on high until smooth and creamy.

Serve immediately. Sip slowly and enjoy!
Notes
* replace these powders with any of your favorite adaptogen powders!
** if you want to make a smaller matcha, just half all the ingredients!
Nutrition
Calories:
105
kcal
|
Carbohydrates:
1
g
|
Fat:
12
g
|
Saturated Fat:
7
g
|
Cholesterol:
31
mg
|
Sodium:
21
mg
Filed Under: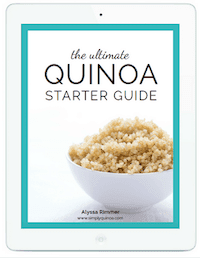 New to cooking quinoa? Grab your FREE Quinoa Starter Guide!
Become part of the Simply Quinoa community and receive weekly emails with exclusive content that I only share in email, as well as my in-depth guide to starting your quinoa journey.