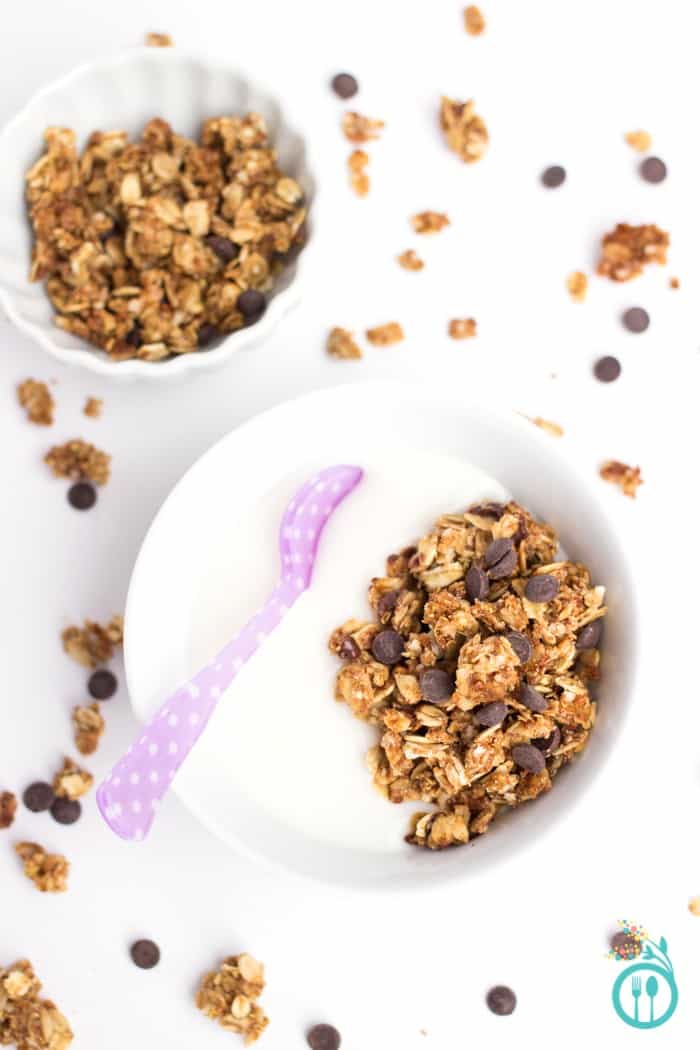 I put chocolate in your breakfast…again.
And it's only because I love you and I know you agree that breakfast is always a little bit sweeter when chocolate is involved.
BUT this time instead of drowning the whole meal in ooey-gooey chocolate-y goodness, we've got just a sprinkling. And it's coming at ya in the form of mini chocolate chips.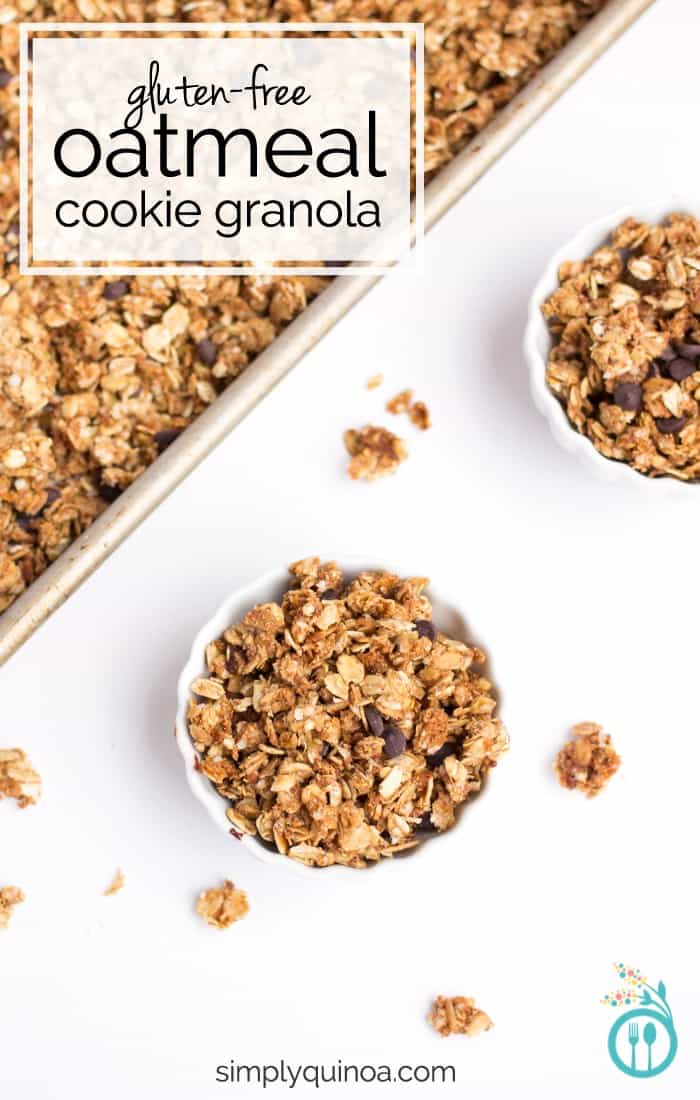 No, we're not going down the classic chocolate chip pancakes path – although those do sound pretty tasty right now. Nope, instead we're breakfasting on crunchy clusters of sweet granola that just so happens to have chocolate chips and totally tastes like oatmeal cookies.
Are you on board yet?
Good, me too.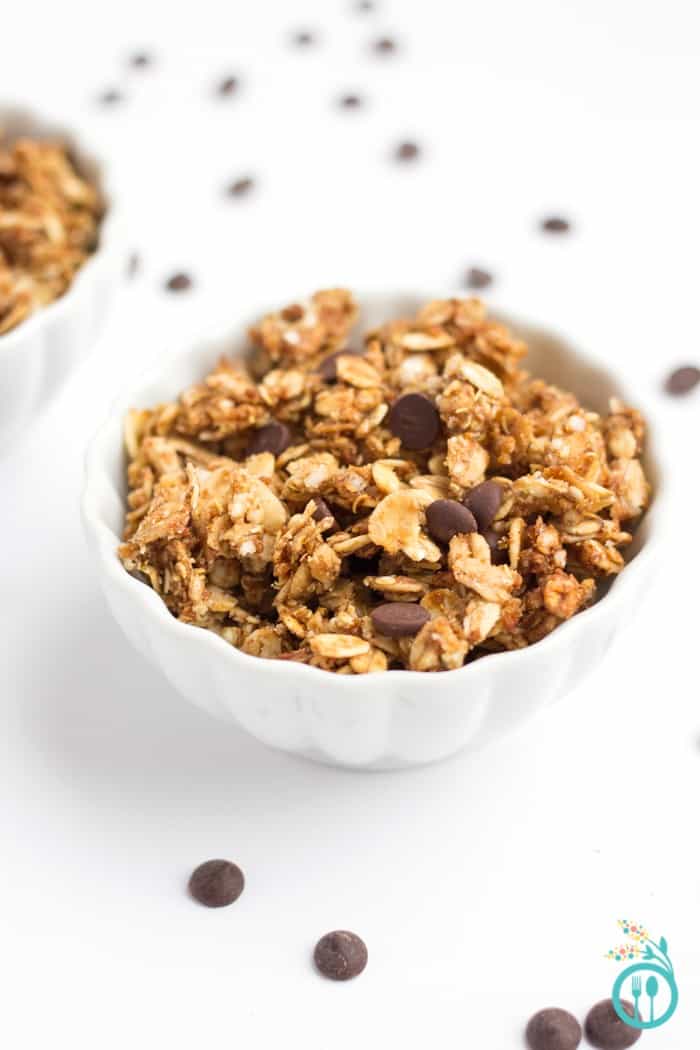 Admittedly, I've confessed my unwavering love of cookies here on the blog before. I've also shared my fair share of quinoa cookie recipes too – my fave being the dark chocolate ones, of course – but lately it seems as though I've had this draw to turn other foods into cookie flavored things.
It might be weird, but I'm digging it.
First we had the chocolate chip cookie dough breakfast parfait which reminded me of chocolate chip cookie dough ice cream but in parfait form. You know layers of cookie dough, then layers of vanilla, then another layer of cookie dough…but I digress.
Let's get back to cookies.
After the parfait came those tasty turtle cookie energy bites, which ended up being more like little bites of heaven with chocolate, pecans, caramel-y dates and crunchy quinoa crisps. Yeah those lasted about a day.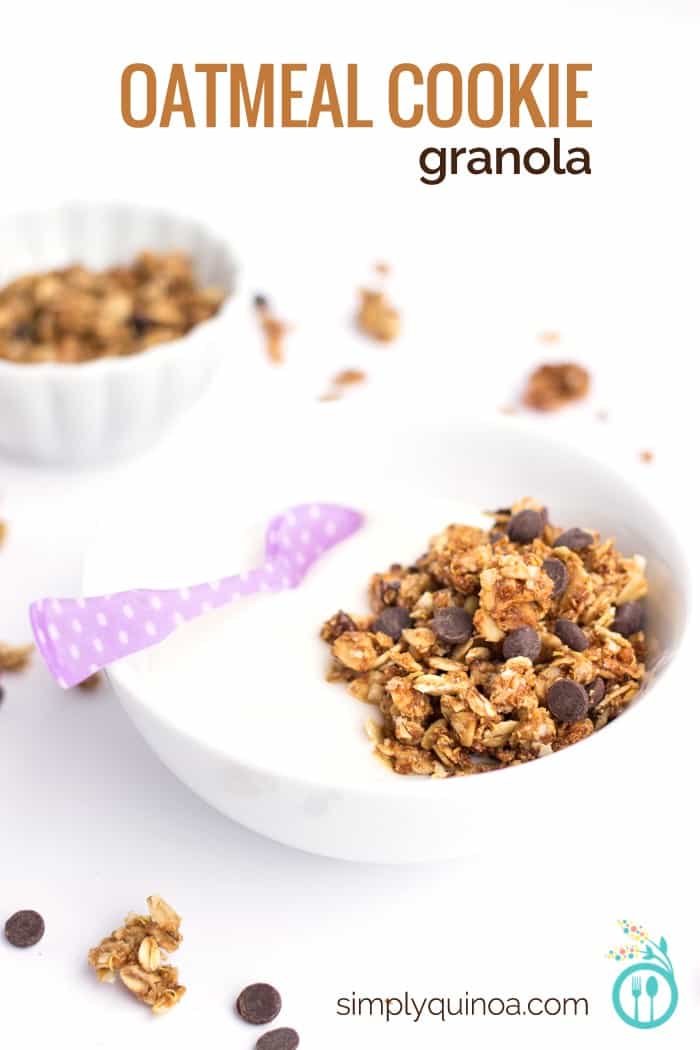 And we obviously needed more cookie-flavored snacks in the house, but we also needed breakfast, and so our oatmeal cookie quinoa granola!
Guys it's totally a thing. Or it's going to be. We'll make it a thing, right? Cookie granola should happen all day, every day.
The granola starts with our simple base: a blend of gluten-free oats and quinoa flakes. I love adding quinoa flakes to my granola because they are a bit lighter than regular oats and I actually find that they help to form larger clusters (or bites) of granola. For the sweetener, it's just a blend of coconut sugar and maple syrup – both natural, both unrefined, but both are sensationally sweet and delicious. The fat, to help the granola crisp up, is coconut oil – oh how I love my coconut oil! And finally the cookie flavors are just vanilla, a pinch of cinnamon, some salt and of course chocolate chips.
Really, this granola is so easy, it's healthy and it tastes amazing. So grab your bowl and dig in.
And you're totally on the cookies for breakfast train with me, right?!
Share this recipe!
Oatmeal Cookie Quinoa Granola
I put chocolate in your breakfast...again.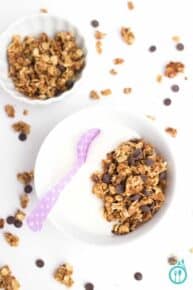 Instructions
Preheat the oven to 325 degrees F.

In a large bowl, stir together the dry ingredients (minus chocolate chips).

Melt the liquid ingredients together and pour over dry. Stir until evenly coated.

Transfer mixture to a baking sheet and bake for 35 - 45 minutes, stirring every 10 - 15 so granola doesn't burn.

When golden brown, remove from oven and let cool completely. Stir in chocolate chips and store in an airtight container for 2 - 3 weeks.
Notes
If you can't find vanilla powder (I have a link there and I definitely suggest you pick some up - it's so worth it!), you can substitute 2 teaspoon vanilla extract.
Nutrition
Serving:
1
g
|
Calories:
201
kcal
|
Carbohydrates:
28
g
|
Protein:
3
g
|
Fat:
8
g
|
Saturated Fat:
4
g
|
Sodium:
88
mg
|
Potassium:
90
mg
|
Fiber:
2
g
|
Sugar:
11
g
|
Vitamin A:
15
IU
|
Calcium:
35
mg
|
Iron:
1.2
mg
Filed Under: