The Best Greek Chickpea Salad
This Greek chickpea salad is honestly the best chickpea salad ever! It's flavorful, simple to make, and has all the texture. Full of cucumbers, herbs, bell pepper, tomatoes, olives, and creamy avocado, it's absolutely delicious!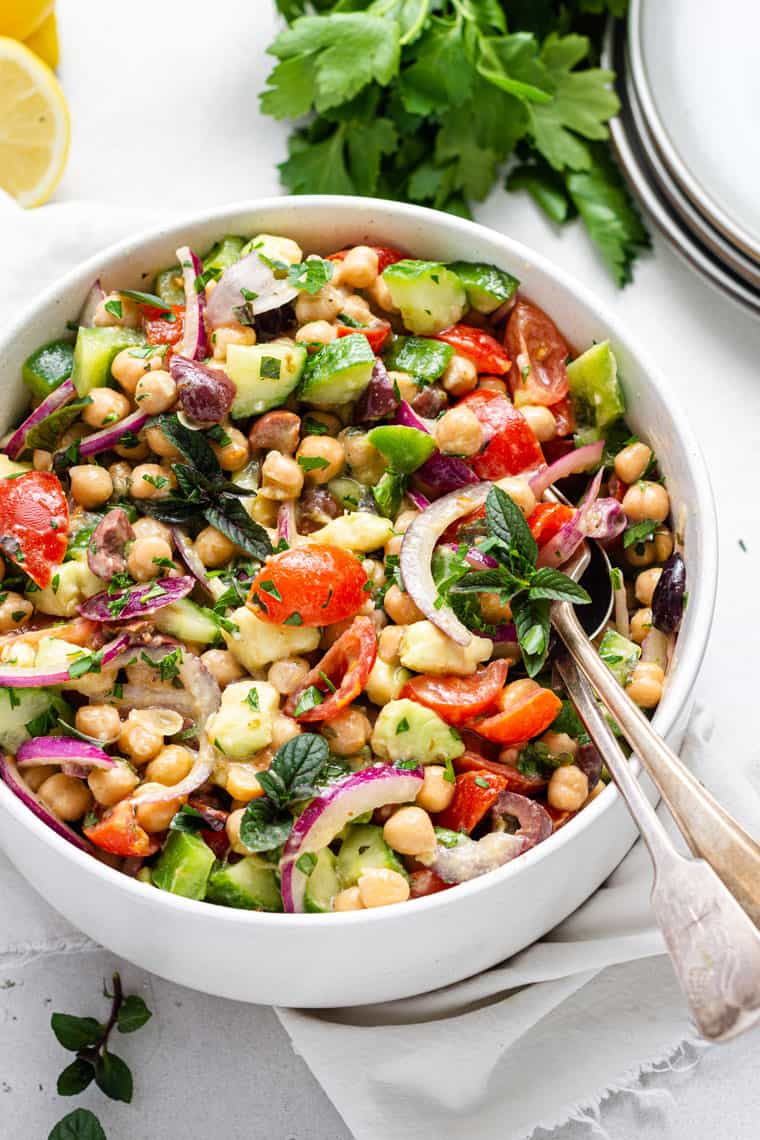 I've been wanting to share a recipe for chickpea salad for a while, but I couldn't decide which type to make first. After doing some testing, I settled on this Greek style chickpea salad because it's just so darn easy to make.
You basically just chop up a bunch of veggies, make a super simple vinaigrette and toss it all together. It's got that perfect balance of brightness, tang, brine, and herbiness, that you can truly eat it any time!
Best of all, you're going to love it as a meal prep option!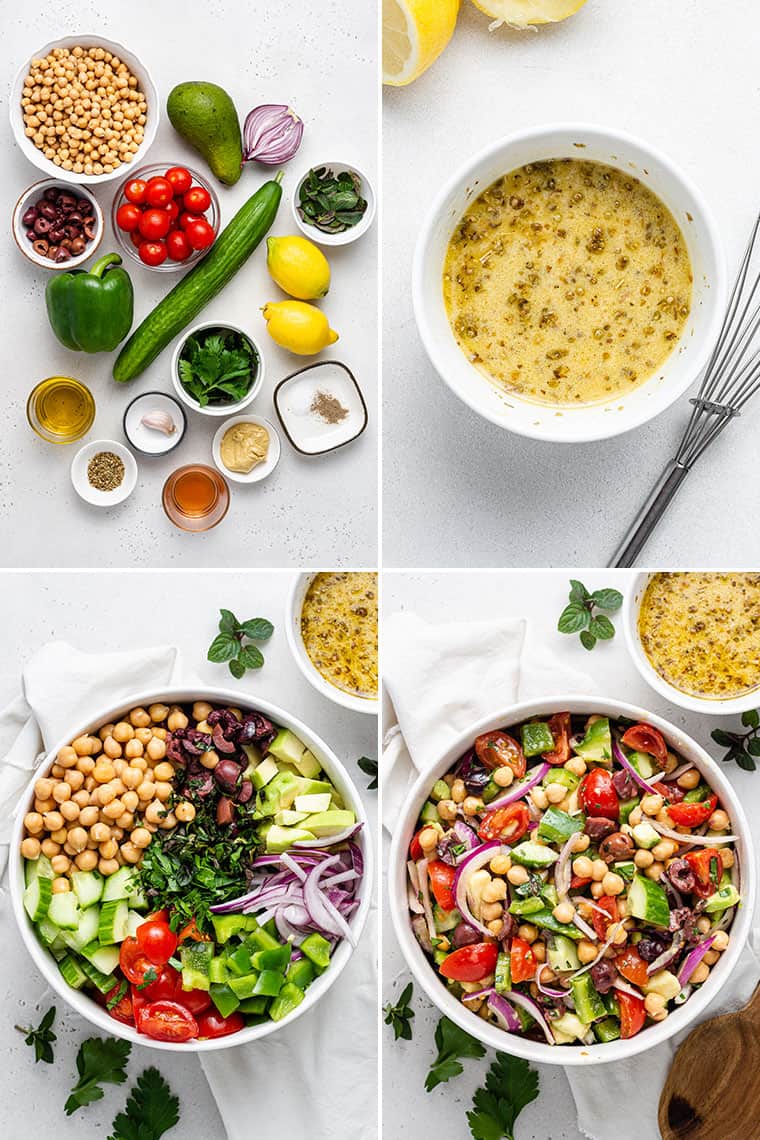 How to Make Greek Chickpea Salad
This is actually a green-less salad, but it still packs in the veggies. As long as your veggies are chopped up into mostly bite-sized pieces, you're good to go. Essentially just add everything into the bowl, add your dressing and toss it to combine!
Chickpea Salad Ingredient Notes
Chickpeas: I love using canned chickpeas just for the ease, but if you have time to make chickpeas at home, they definitely taste better. The easiest method is to cook your beans in the InstantPot!
Cucumber: I recommend the English cucumbers just because they have a thinner skin, but any type of cucumber you can find/you like will work!
Tomatoes: any type of tomato will also work – I love cherry because they aren't quite as juicy/watery, but they're a bit more pricey, so feel free to just chop up a regular tomato as well.
Bell pepper: not necessarily standard in a Greek chickpea salad, but so great! I like to add green bell pepper because it's got some bite to it. I know that green peppers turn some people off though, so feel free to use red or yellow instead.
Red onion: thinly sliced raw red onion adds just the right amount of zing to this dish! Don't go overboard though because you'll probably need a breath mint afterward 😉
Olives: secretly my favorite part of the salad! They're salty, so flavorful and just delicious. I always go for pitted kalamata olives, but any type of olive will work!
Avocado: another non-traditional ingredient that adds so much to the dish! Creaminess, a little bit of extra fat and it just mellows out the spiciness from the onion. Definitely don't skip it!
Fresh herbs: I'm a big believer in adding fresh herbs to salads and you don't want to miss this combo – parsley and mint – they're the ultimate combo!
And then we're finishing the whole salad off with our simple lemon vinaigrette, but more on that in a moment!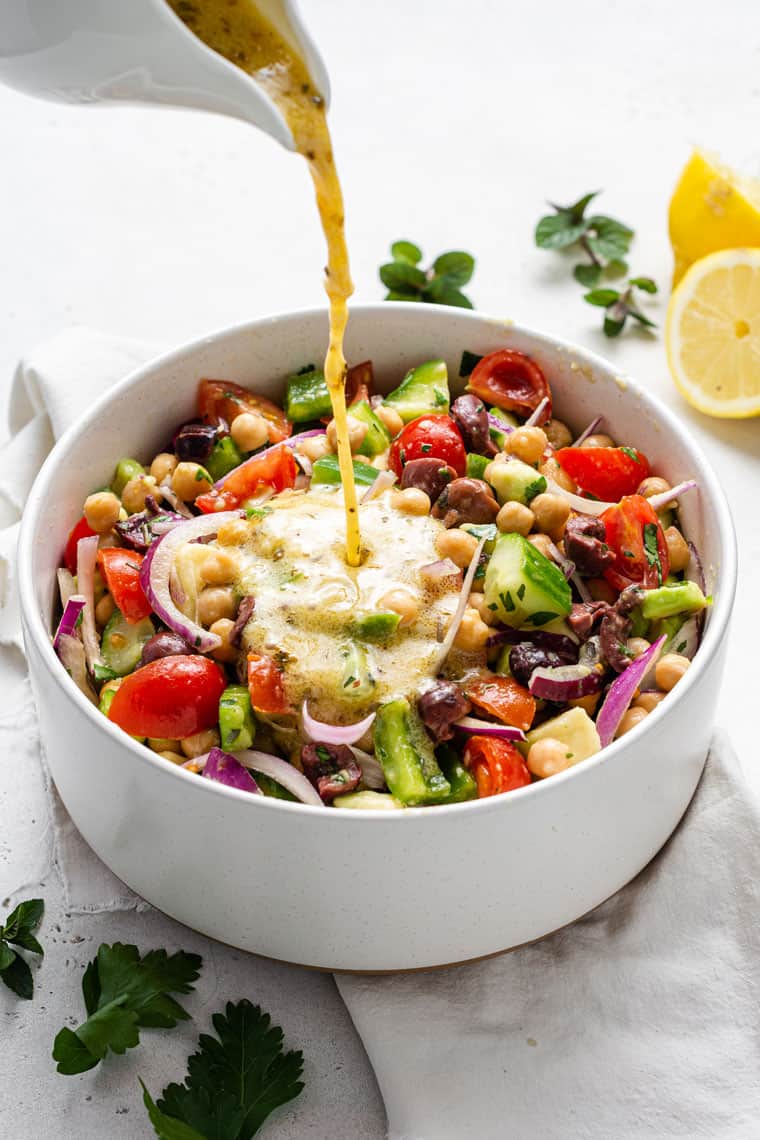 Ingredient Swaps
If you want to change things up in this chickpea salad, by all means, go for it! I love providing some ideas so you can get some inspo, but if you have specific swap questions, let us know in the comments!
Here are some ideas for changing up our Greek chickpea salad:
Veggies: feel free to swap in any type you'd like! Peppers are interchangeable with other colors, cucumber could be swapped with zucchini, olives can be skipped, etc. Even the chickpeas can be changed with another bean!
Grains: if you want to bulk this up a bit, try adding in a cooked grain like quinoa, millet, or farro!
Cheese: feta is so classic with this salad, but since I'm dairy-free and vegan feta can be tough to come by, I left it out. If you can do feta – or can find vegan feta – ADD IT! You won't be disappointed!
Greens: another way to jazz up this salad even more is to toss in some greens. I would recommend arugula because I think it would pair best with the flavors, but chopped romaine, spinach, and kale would all be great options.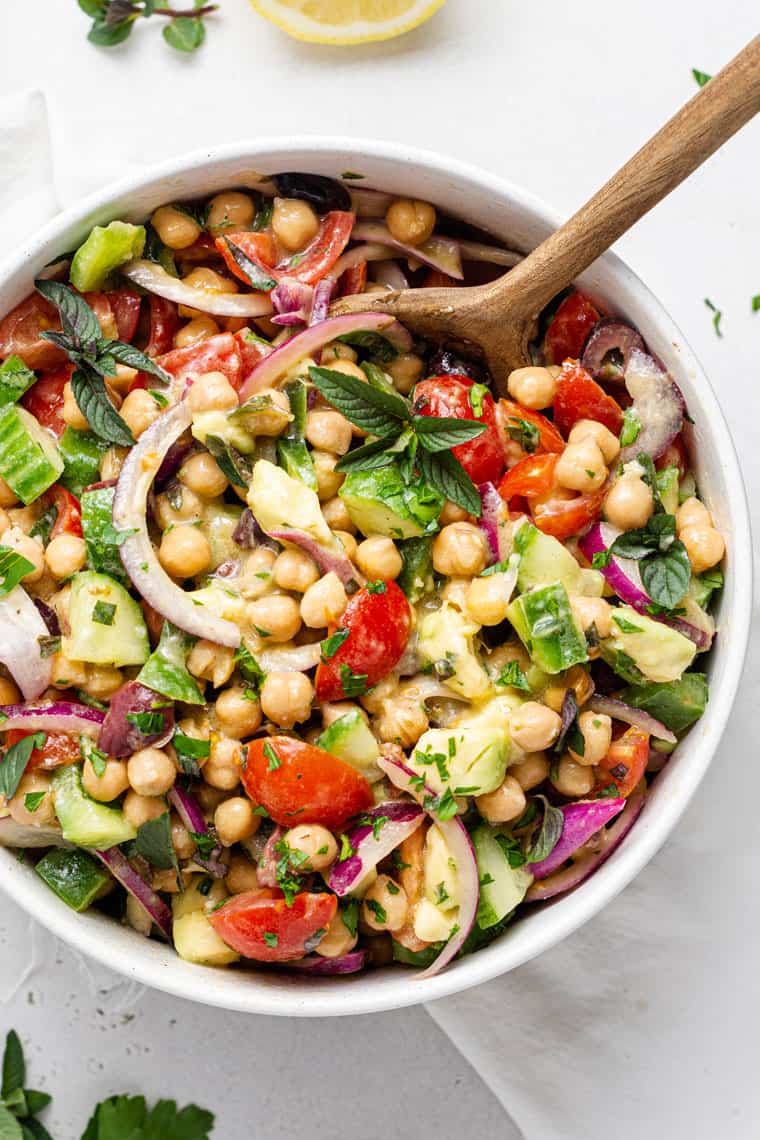 How to Make a Simple Vinaigrette
Since the salad itself boats a fair amount of flavor, I wanted the dressing to be simple. All you need is olive oil, lemon, red wine vinegar, mustard, oregano and garlic. Just whisk it all together and you've got the best vinaigrette!
I definitely recommend making extras because this vinaigrette would also go well with:
And so many more! It's a staple in our house and is something we make at least weekly.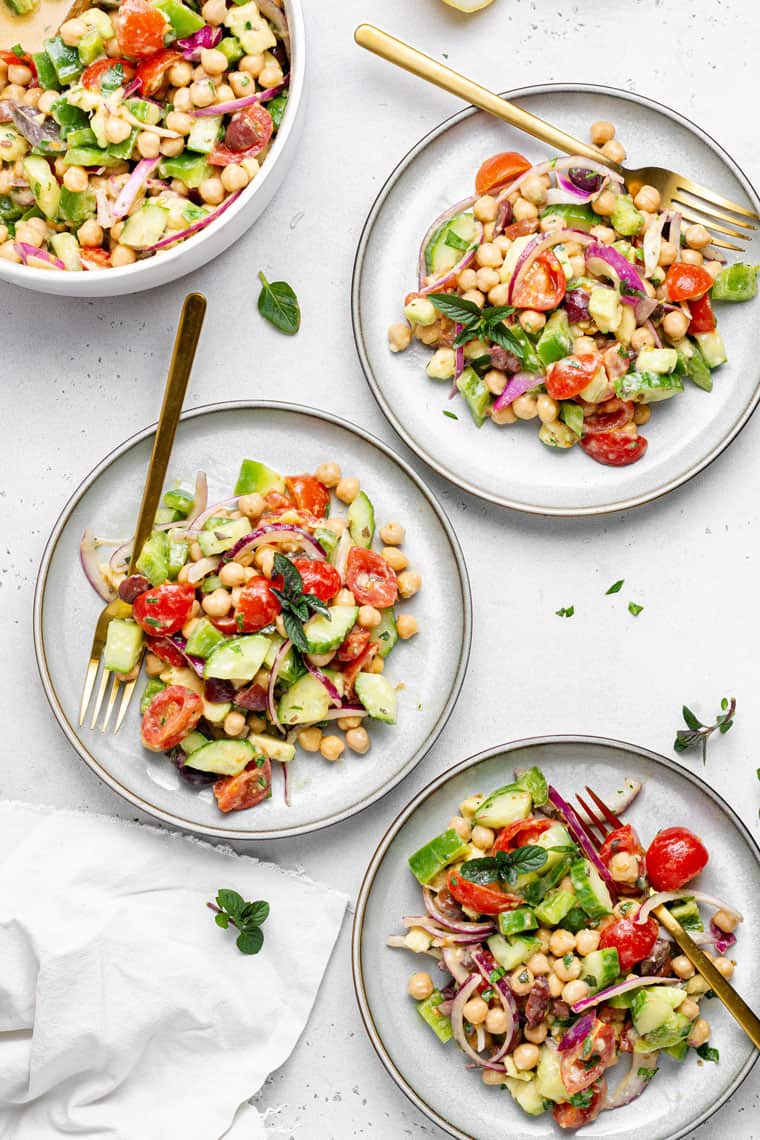 Storage Suggestions
You can easily prep this salad ahead of time and use it for meal prep lunches or dinners all week long. It is also a great summer side dish as well!
Since we don't have greens, you don't have to worry about wilt. But if you do make it ahead, just leave out the avocado until the day of serving because avocado does tend to brown rather quickly.
For storage, we recommend keeping it in a sealed container in the fridge for 3 – 4 days. If you need some help picking out a container, we reviewed the best meal prep containers and have some great options for this salad in that post!
More Chickpea Recipes
Want even more delicious ways to enjoy your chickpeas? Here are some of our favorite chickpea recipes:
Best Chickpea Salad
This Greek chickpea salad is honestly the best chickpea salad ever! It's flavorful, simple to make, and has all the texture. Full of cucumbers, herbs, bell pepper, tomatoes, olives, and creamy avocado, it's absolutely delicious!
Servings 6 servings
Calories 310kcal
Ingredients
for the salad:
2 (15 oz) cans organic chickpeas, drained & rinsed
1 medium cucumber , quartered & chopped
1 green pepper , seeded & chopped
1/2 red onion , thinly sliced
1 pint cherry tomatoes , quartered
1/2 cup kalamata olives pitted & diced
1 avocado , diced
1/2 cup flat-leaf parsley , finely chopped
1/4 cup fresh mint , finely chopped
Instructions
Add all the salad ingredients to the bowl.

Whisk together the dressing ingredients and pour over the salad. Toss gently and garnish with a few more leaves of mint/parsley.

Dig in and enjoy!
Nutrition
Serving: 1cup | Calories: 310kcal | Carbohydrates: 30g | Protein: 9g | Fat: 19g | Saturated Fat: 3g | Sodium: 615mg | Potassium: 714mg | Fiber: 11g | Sugar: 4g | Vitamin A: 1124IU | Vitamin C: 47mg | Calcium: 104mg | Iron: 3mg
share what you make
Tag #simplyquinoa on Instagram with your creations! We love sharing what you make with the community. We can't wait to see!

follow on instagram