These healthy double chocolate chip quinoa cookies are a decadent and delicious treat that the whole family will love! Naturally gluten-free & dairy-free!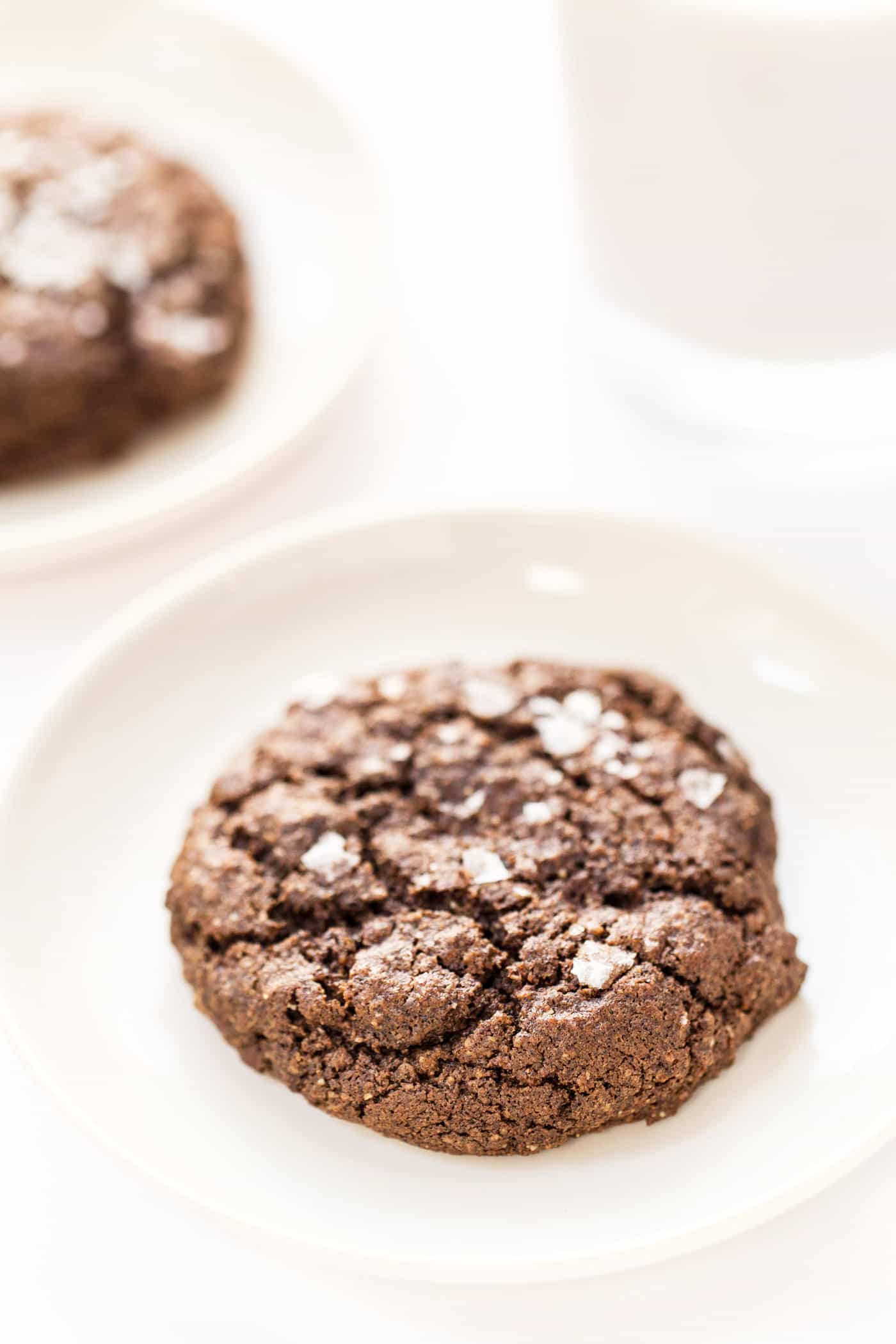 I'm pulling another recipe from the archives today, giving it a little update with new pictures as well as a reformulated recipe. Updating these older recipes has been a really fun process; not only to see how far I've come with my photography skills, but also because there are a lot of gems way back in the archives that have just been forgotten.
The recipe we're revamping today is for my Double Chocolate Chip Quinoa Cookies which was originally shared back in 2012. It was one of the first cookie recipes on the site and it's still absolutely delicious!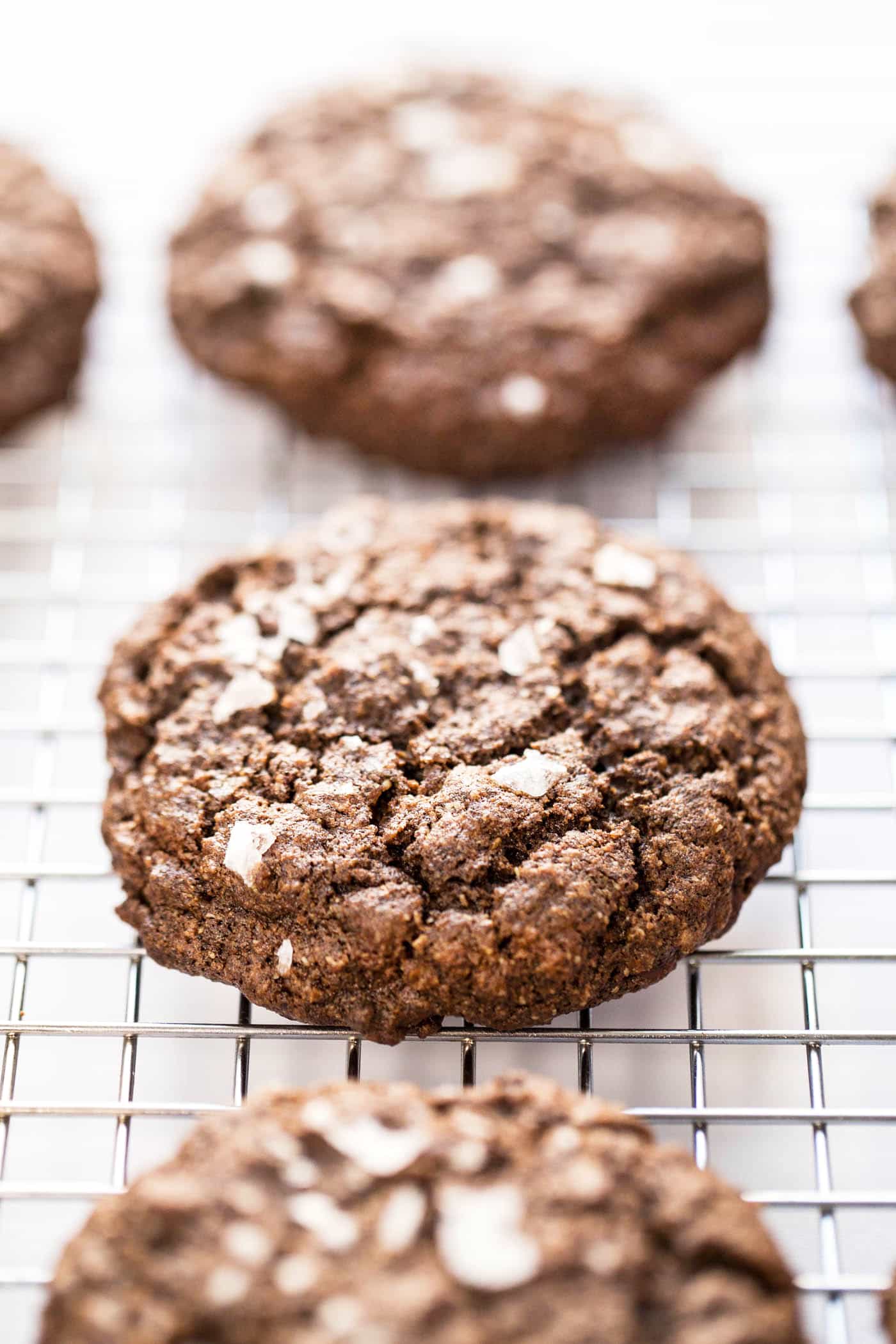 It seems that back in the day, when I first went gluten-free, I was pretty into buckwheat flour (I also recently updated my Buckwheat Quinoa Pancakes recipe!). That's the base of these cookies and I notice it as a little theme throughout the early half of 2012. I kind of forgot about buckwheat flour as my focus for the site really zeroed in on quinoa, but I have to say, it's a pretty special ingredient.
Buckwheat flour, which contrary to what the name suggests actually is gluten-free, contains a wealth of nutrients that help make baked goods extra healthy. Not only is it high in fiber, but buckwheat also contains a bunch of trace minerals like magnesium, phosphorus, manganese, and copper. Similar to quinoa, but totally different in flavor.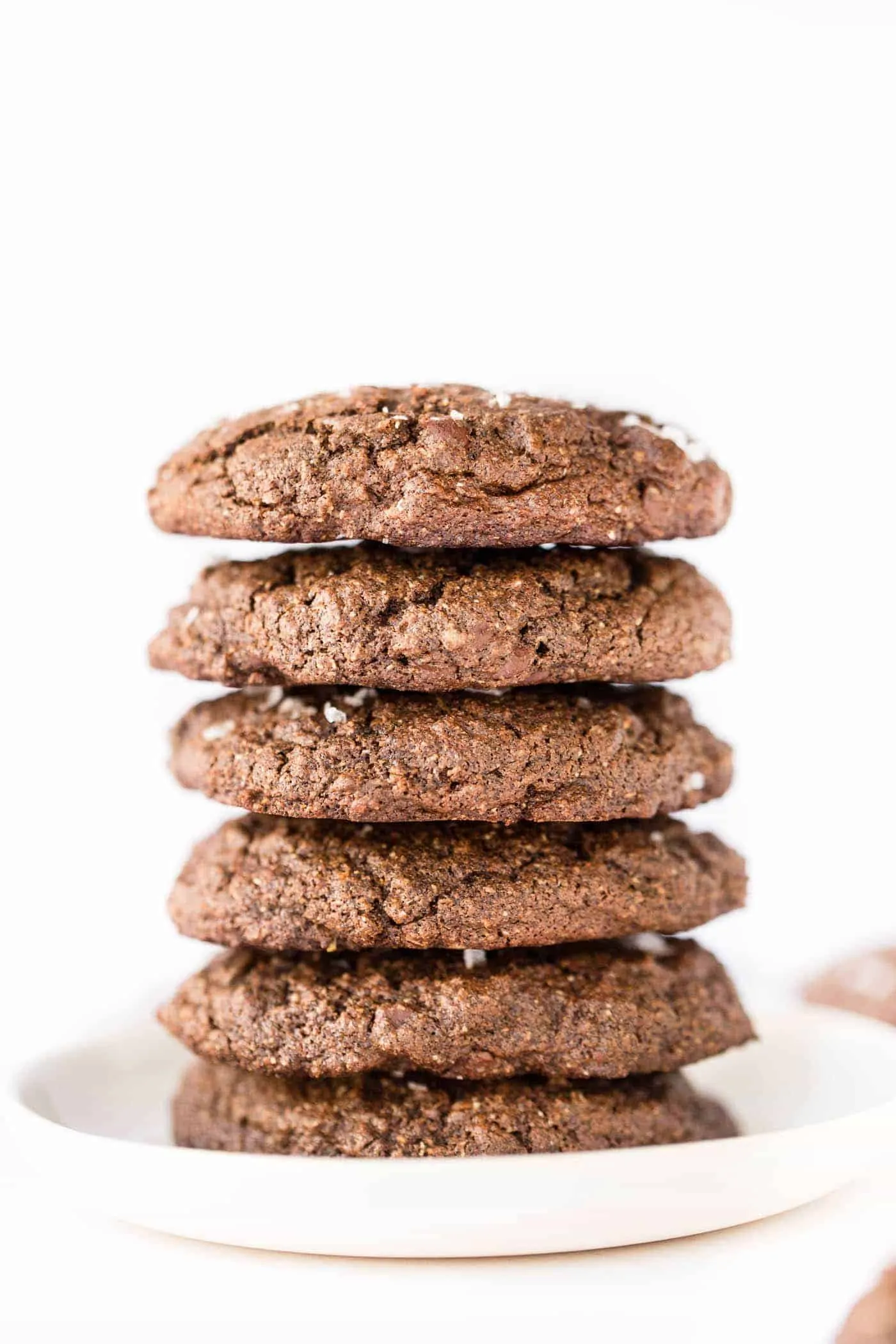 Buckwheat has quite a strong flavor. It's rich and earthy, which makes it a perfect match for chocolate.
These cookies start with a base of buckwheat flour, which is then mixed with quinoa flakes and tapioca starch to help give them a little lightness, as well as raw cacao powder and sea salt. For sweeteners, we're Chocolate is just one of those things that
For sweeteners, we're using a blend of coconut sugar and maple syrup, which I find to add just the right amount of sweet without making them too over the top. Of course, they are double chocolate cookies, after all, so we're throwing in some chocolate chips to sweeten the deal even more!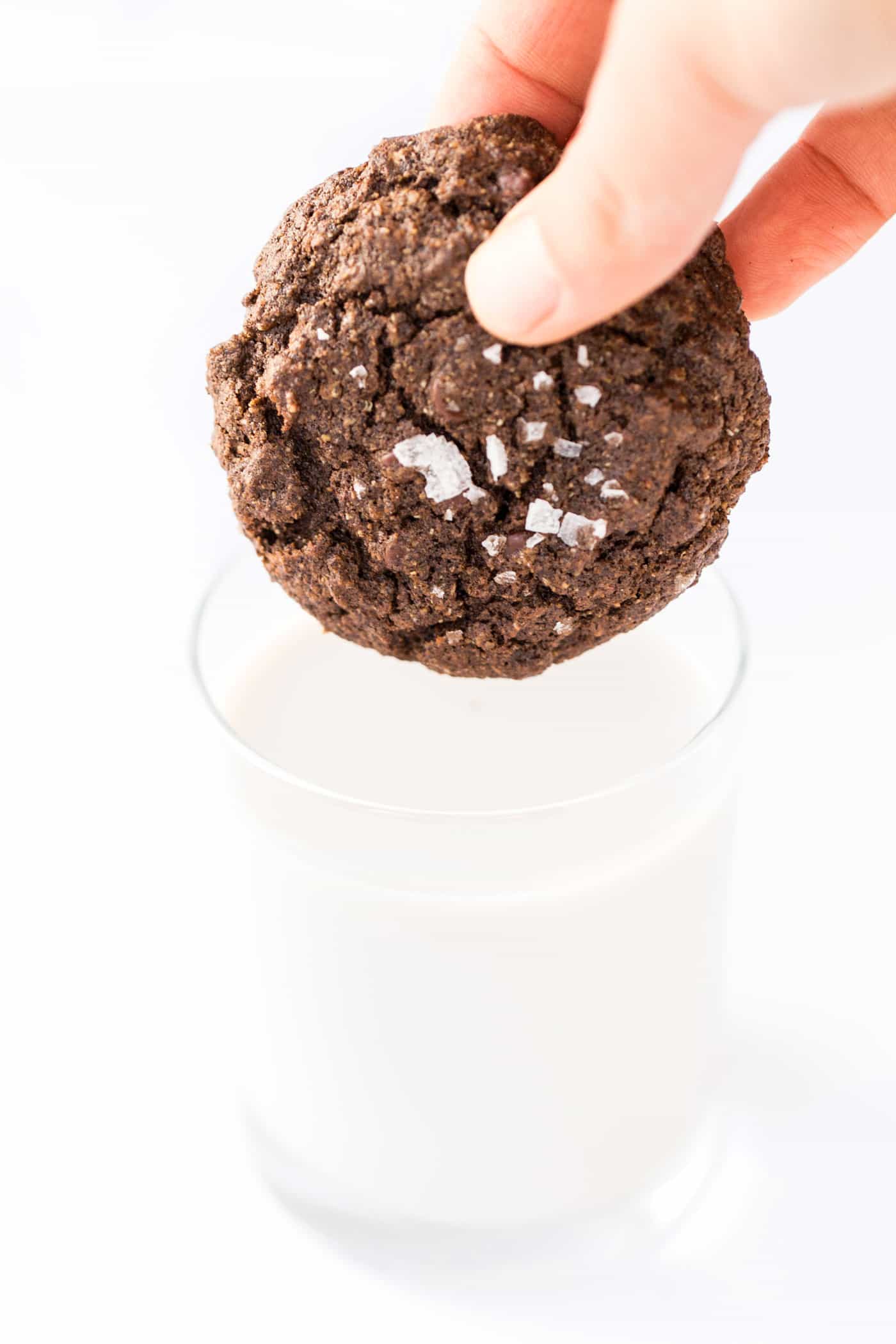 It didn't take me long to come up with this recipe. Usually, my recipes start from a craving, or from inspiration from Pinterest (oftentimes both), and I'll go from there. This time, I knew I wanted a deeply chocolatey, light, flavorful cookie, but more importantly, I wanted it to be healthy. Well, as healthy as a cookie can be.
When making a healthier cookie, I like to start with the flour and go from there. I try to incorporate the richer, more nutritious flours into my baked goods for added nutrients. That's why I chose buckwheat for this chocolate quinoa cookie recipe. With its unique flavor, the buckwheat brings a rich and earthy quality to these cookies, while also adding in all the nutritional benefits.
Healthy cookies? I am so in.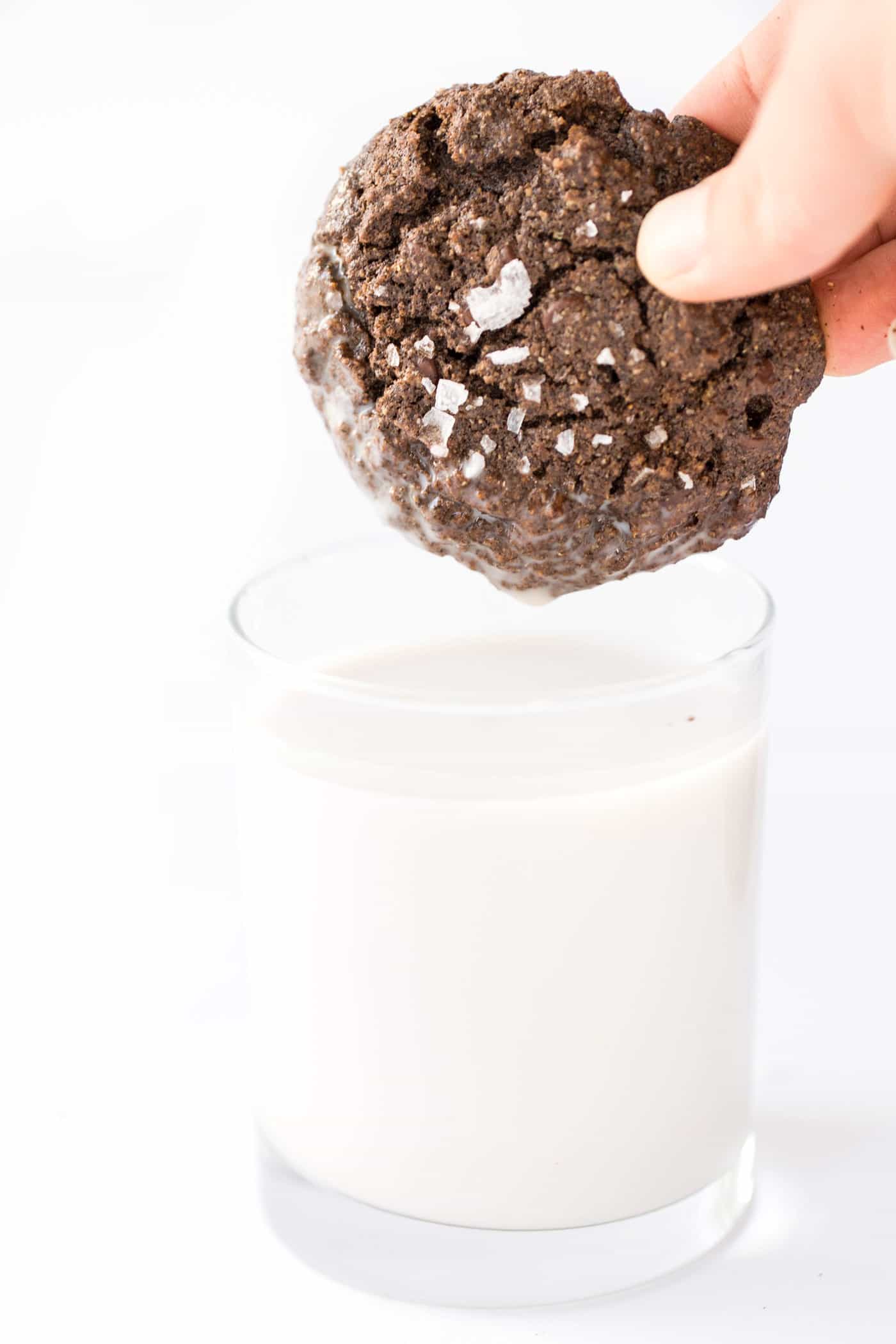 I have yet to test these cookies out with a vegan option, but since they only use one egg, I'm thinking a flax egg would totally work. If you end up trying that, definitely come back and let me know how it works out for you!
Otherwise, we've got a pretty straightforward cookie recipe on our hands here. Naturally gluten-free, relatively low in fat and packed with deep chocolate flavor. They've quickly become a go-to in my house and I can't wait for you to try them too!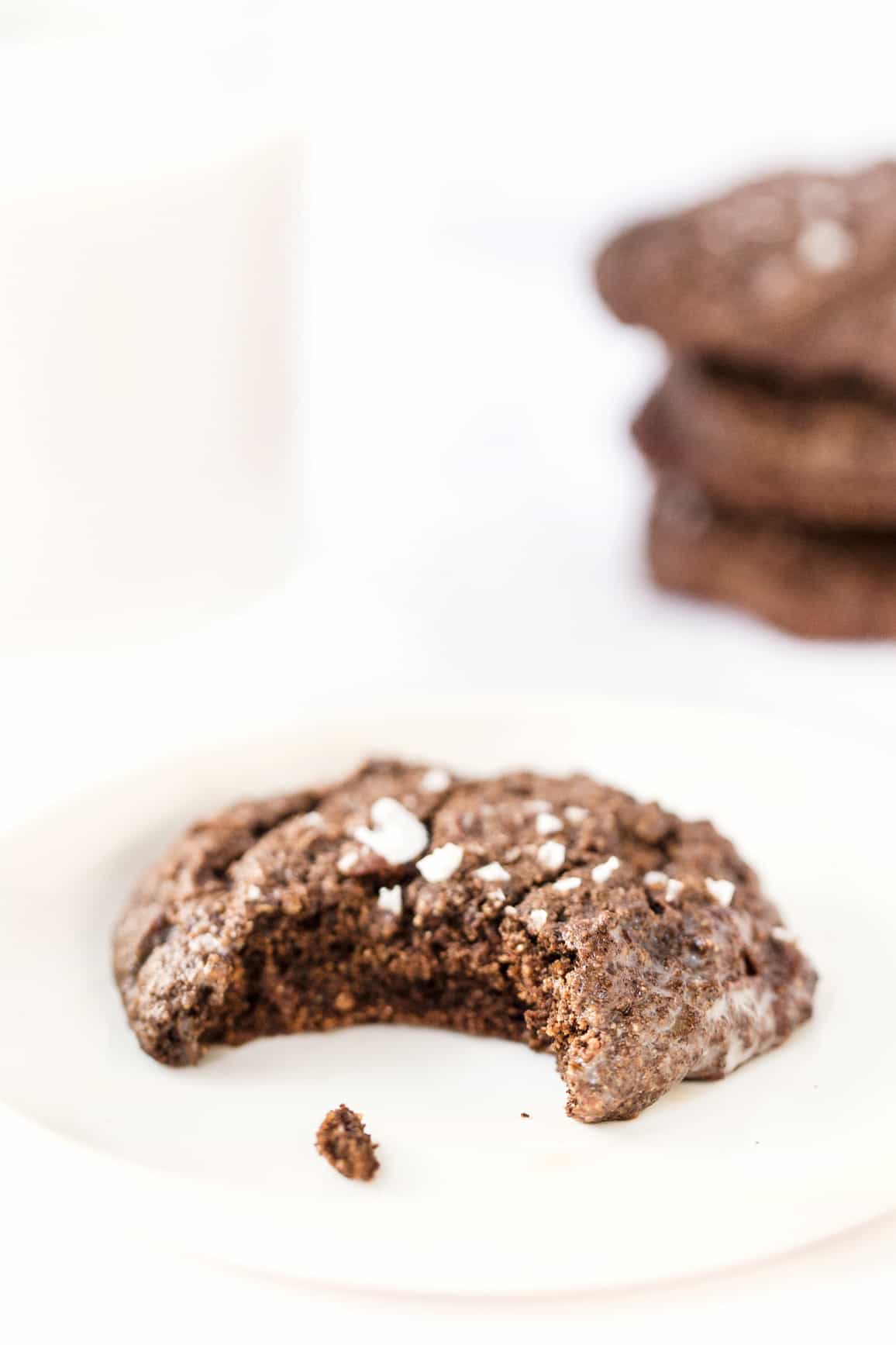 If you end up making this recipe, I'd love for you to use #simplyquinoa on Instagram so I can find your picture and give it some love! 
More Way to Use Buckwheat:
Double Chocolate Chip Quinoa Cookies
Naturally gluten-free, relatively low in fat and packed with deep chocolate flavor. They've quickly become a go-to in my house and I can't wait for you to try them too!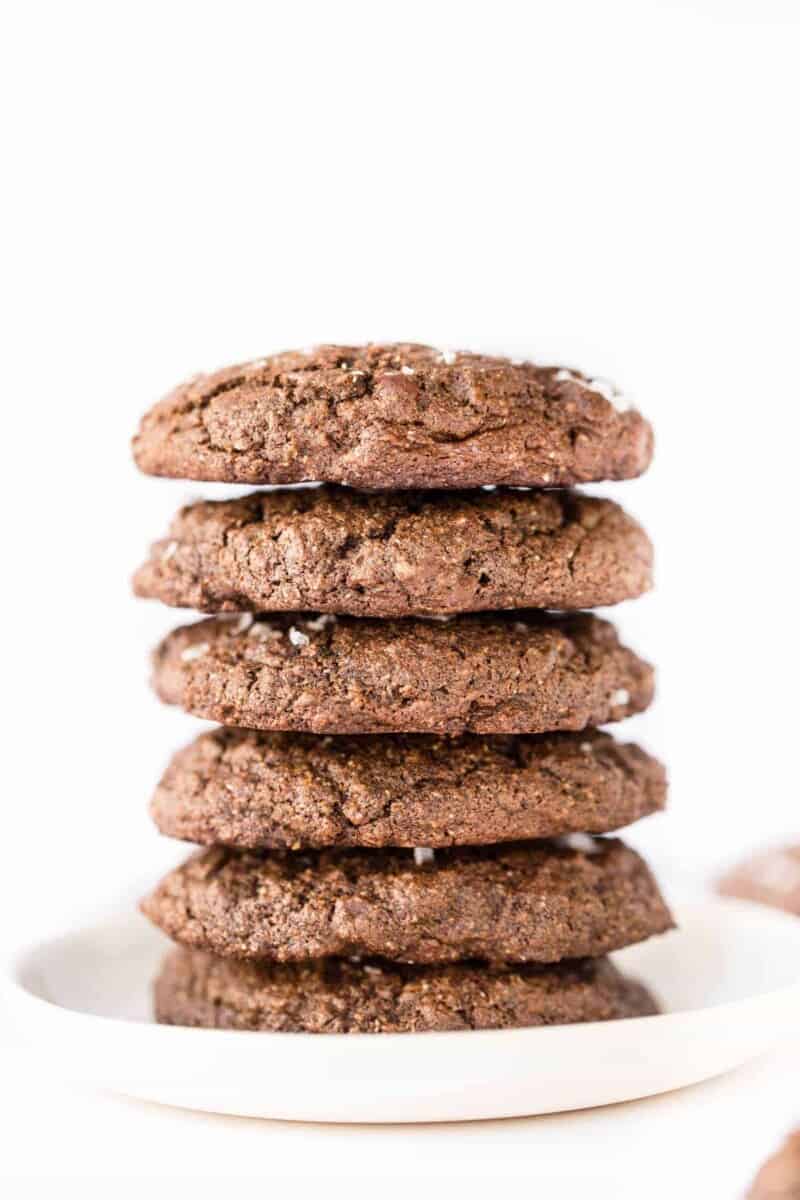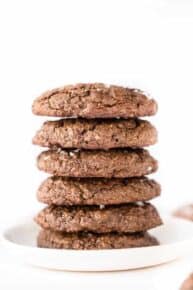 Instructions
Preheat oven to 350ºF and line a baking sheet with parchment paper.

Whisk together the flours, cocoa powder, quinoa flakes and other dry ingredients (minus the sugar) in medium mixing bowl and set aside.

Beat together the coconut oil and sugar until fluffy. Beat in remaining wet ingredients then add to the dry ingredients and stir with a large wooden spoon until you have a thick, cookie-like dough. Fold in the chocolate chips.

Spoon the dough on the parchment lined baking sheet. Smooth over with the back of a wet metal spoon and slightly flatten (this is optional, but make the cookies more uniform in shape). Sprinkle with maldon sea salt if desired.

Bake in the center of a warm oven for 12 - 14 minutes, until the edges are lightly browned and the top of the cookies is still slightly tender to the touch.

Cool on a wire rack for 5 - 10 minutes and enjoy!

Dunk these babies in a glass of almond milk (or regular milk if you so choose) and relish in the chocolatey goodness that you just created.
Nutrition
Calories:
161
kcal
|
Carbohydrates:
20
g
|
Protein:
2
g
|
Fat:
8
g
|
Saturated Fat:
6
g
|
Cholesterol:
11
mg
|
Sodium:
146
mg
|
Potassium:
129
mg
|
Fiber:
1
g
|
Sugar:
9
g
|
Vitamin A:
15
IU
|
Calcium:
41
mg
|
Iron:
0.7
mg
Filed Under: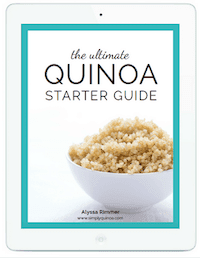 New to cooking quinoa? Grab your FREE Quinoa Starter Guide!
Become part of the Simply Quinoa community and receive weekly emails with exclusive content that I only share in email, as well as my in-depth guide to starting your quinoa journey.