These pumpkin pie spiced pumpkin seeds are a perfect fall treat. A healthy version of pumpkin pie, these pumpkin seeds are nutritious, gluten-free & vegan.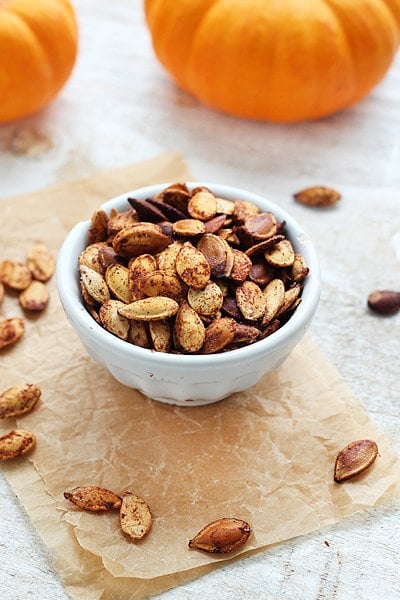 Although this may not be a traditional dish to bring to your Thanksgiving celebration, I figured there's plenty of inspiration out there on the blogosphere right now, I would rather give you something unique and special. Like these pumpkin pie spiced pumpkin seeds.
If you're a canned pumpkin type of person, that's okay, but when you're whipping up your pumpkin pie this year I highly recommend switching gears and going with fresh pumpkin instead. Why? Not only does fresh pumpkin elevate the flavor and texture of your pumpkin pie, it's full of fabulously healthy and delicious seeds.
I know they throw some people off, but those guts inside your pumpkin might just be the best part. They feel totally disgusting, but pumpkin seeds are actually super easy to clean, and once roasted, they taste simply divine. Plus, pumpkin seeds are crazy healthy – low-calorie, high in fiber, and full of protein – so they're a perfect snack. Especially for Thanksgiving.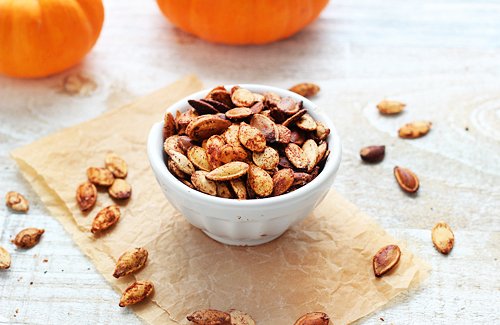 This recipe celebrates my love for pumpkin pie, but in a healthy and nutritious way. I could snack on these Pumpkin Pie Spiced Pumpkin Seeds all year round, but they are a perfect pre- or post-Thanksgiving dinner treat. In two days time, we're going to be stuffing ourselves to the brim, with delicious, but decadent food. So why not sprinkle in some nutrients, and bring these Pumpkin Pie Spiced Pumpkin Seeds with you? They'll be gobbled up in no time.
Pumpkin Pie Spiced Pumpkin Seeds
Don't let you pumpkin seeds go to waste! Whip up these homemade pumpkin pie spiced pumpkin seeds for a healthy fall treat!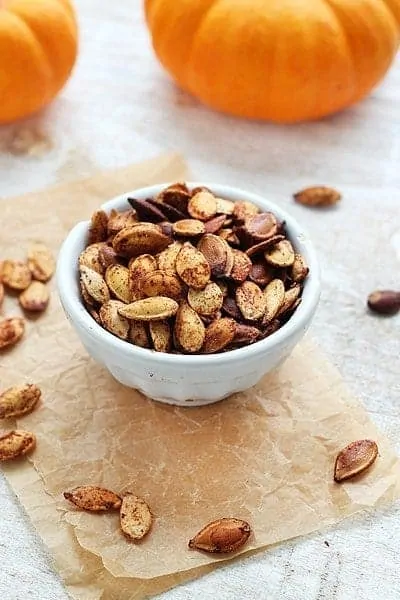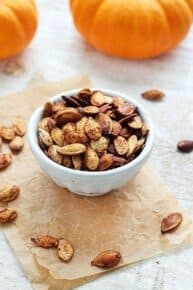 Instructions
Preheat the oven to 350 degrees F.

In a small mixing bowl, toss the pumpkin seeds in the spices and oil. Transfer them to a baking sheet and roast in the center of the oven for 15 – 20 minutes, flipping halfway through.

Cool on the baking sheet, transfer to a serving bowl and enjoy!
Nutrition
Calories:
101
kcal
|
Carbohydrates:
2
g
|
Protein:
4
g
|
Fat:
8
g
|
Saturated Fat:
1
g
|
Sodium:
1
mg
|
Potassium:
129
mg
|
Fiber:
1
g
|
Vitamin C:
0.3
mg
|
Calcium:
12
mg
|
Iron:
1.4
mg
Filed Under: