These chili roasted pumpkin seeds are spicy, salty, and easy to make. It's a vegan snack that's bursting with flavor, and perfect for any time of day.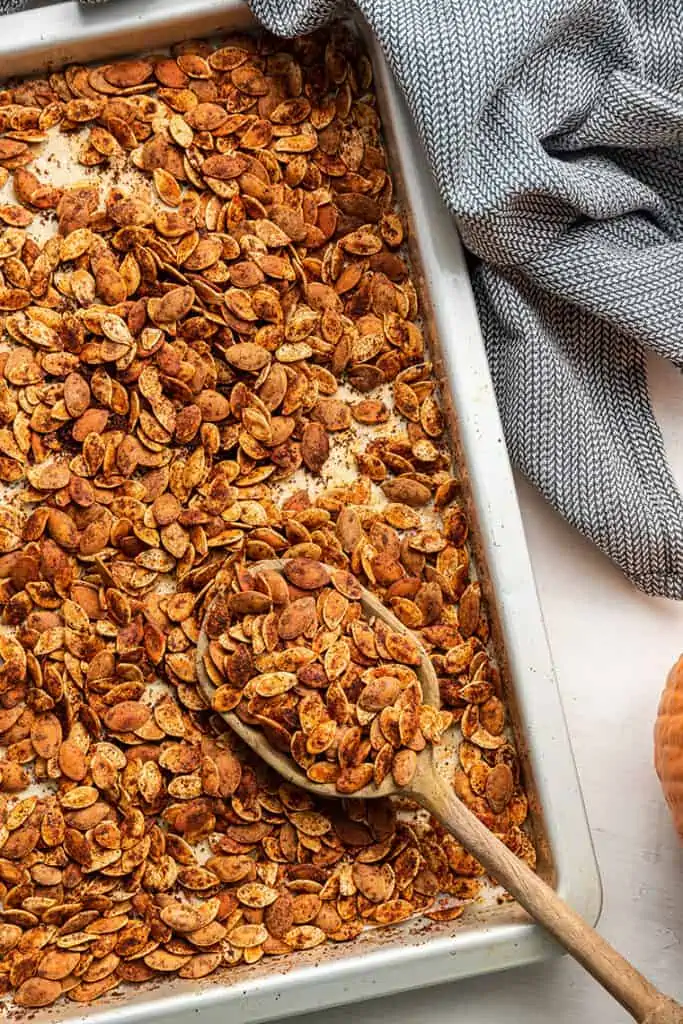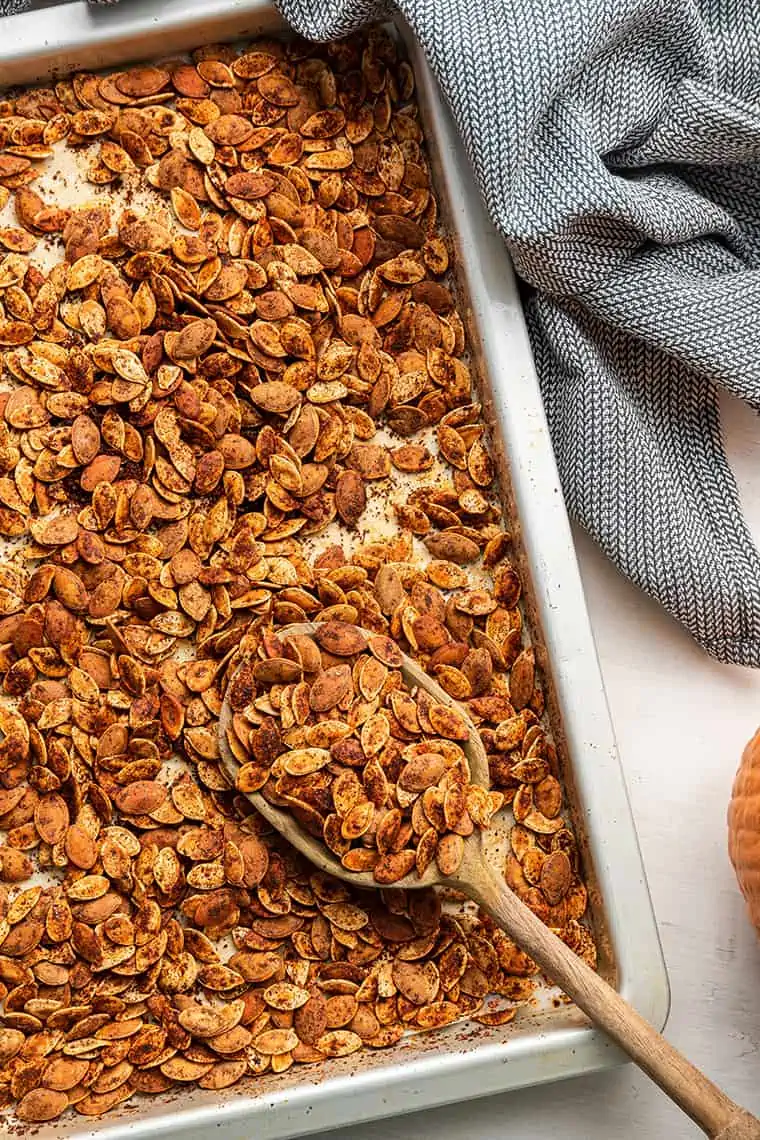 Chili roasted pumpkin seeds are the ultimate snack. They're crunchy, salty, and spicy. And best of all, they're vegan, easy to make, and healthy! What more could you ask for in a snack?
These pumpkin seeds are delicious partly because they're so simple. With only salt and chili powder for seasoning, the natural flavor of roasted pumpkin seeds really shines through. You'll find yourself snacking on them all through the day! My favorite way to eat them is at happy hour with a nice drink, such as my lemon maple bourbon cocktail.
Making chili roasted pumpkin seeds is a great way to use the entire squash when you buy a pumpkin. Using a whole ingredient is a terrific way to have a more sustainable kitchen, and these mouth-watering, crispy pumpkin seeds do exactly that.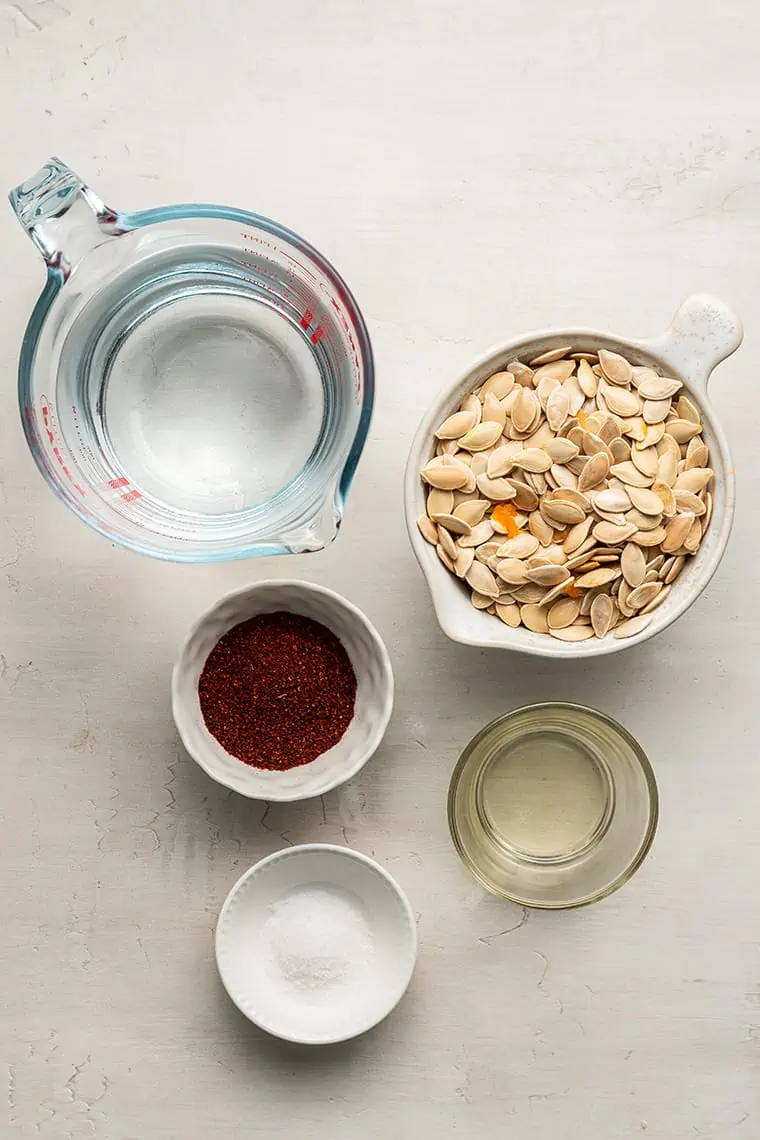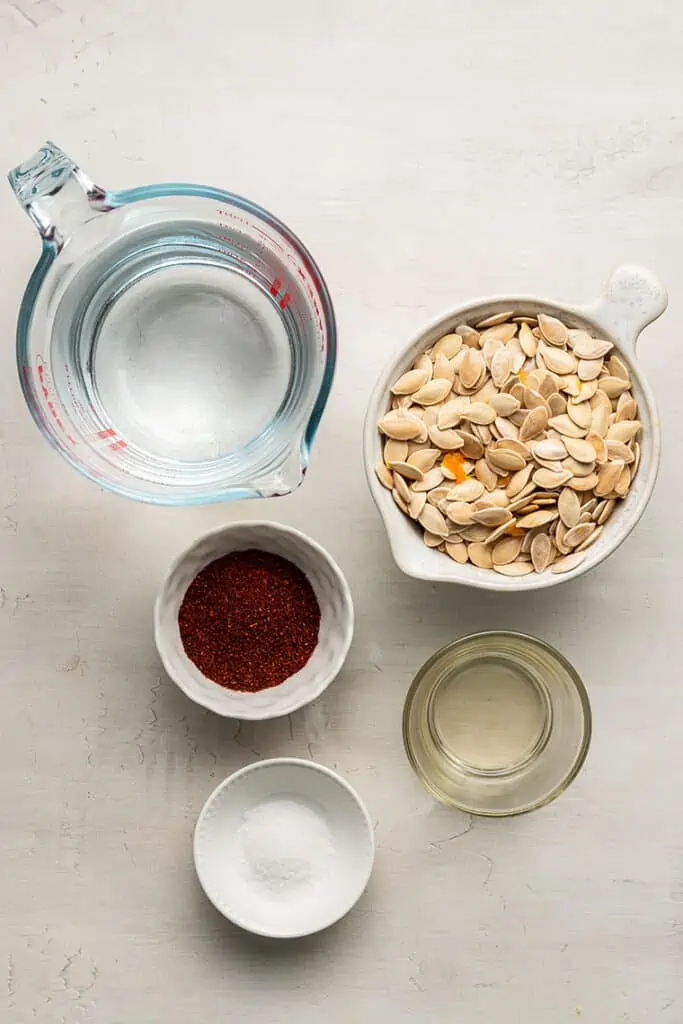 What You'll Need
This recipe only has a few ingredients. Make sure to scroll to the recipe card at the bottom of the page to find the exact quantities.
Pumpkin seeds
Water
Oil – You can use whatever oil you prefer
Chili Powder
Salt
How to Get the Seeds Out of a Pumpkin
Getting the seeds out of a pumpkin is very easy. Simply cut off the top of the squash, and pull all of the seeds out with either a spoon or your hands. They'll have pumpkin fibers on them, but that's okay … you'll wash it off later!
After you've removed the seeds, you can make other tasty treats with the pumpkin. Check out my favorite healthy pumpkin recipes to find something yummy to make!
How to Make Chili Roasted Pumpkin Seeds
These crispy, spicy treats are incredibly easy to make, and are done in well under an hour!
Prep. Preheat the oven to 375F.
Clean the seeds. Pull off the big chunks of pumpkin fibers, then place the pumpkin seeds in a strainer. Wash them in cold water until they're completely clean.
Cook the seeds. Place the pumpkin seeds in a small pot and add water. Bring to a boil, then lower to a simmer for 10 minutes. Strain the pumpkin seeds after they're done, and put them in a bowl.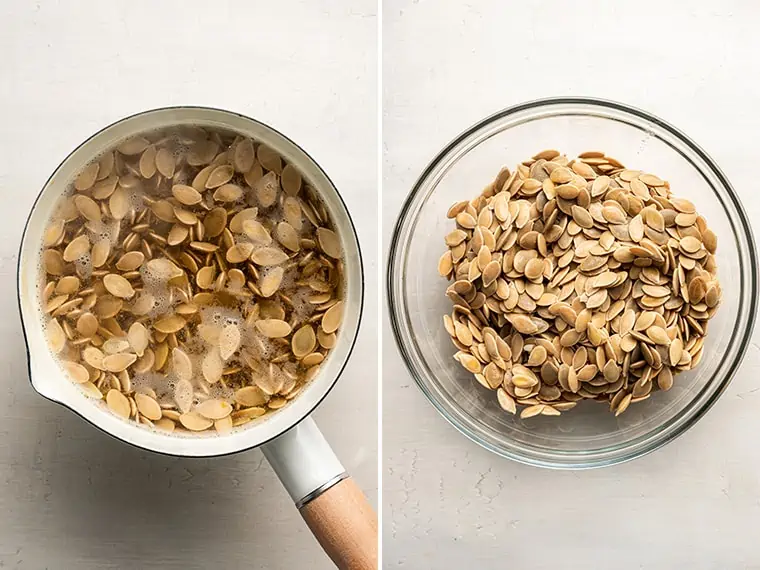 Season. Add oil, salt, and chili powder to the pumpkin seeds. Toss them until they're coated.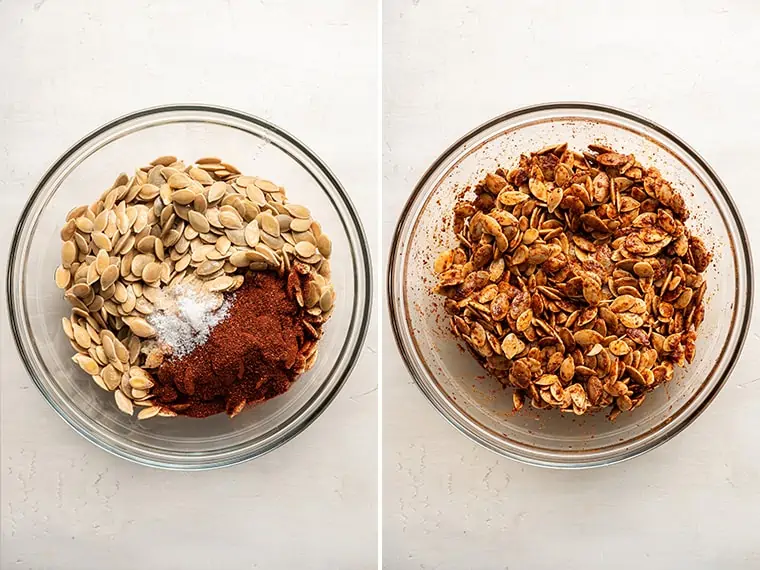 Roast. Put the pumpkin seeds on a baking sheet and place it in the oven. Roast the seeds for 20-30 minutes, stirring occasionally. When they're lightly browned and crispy, then they're done.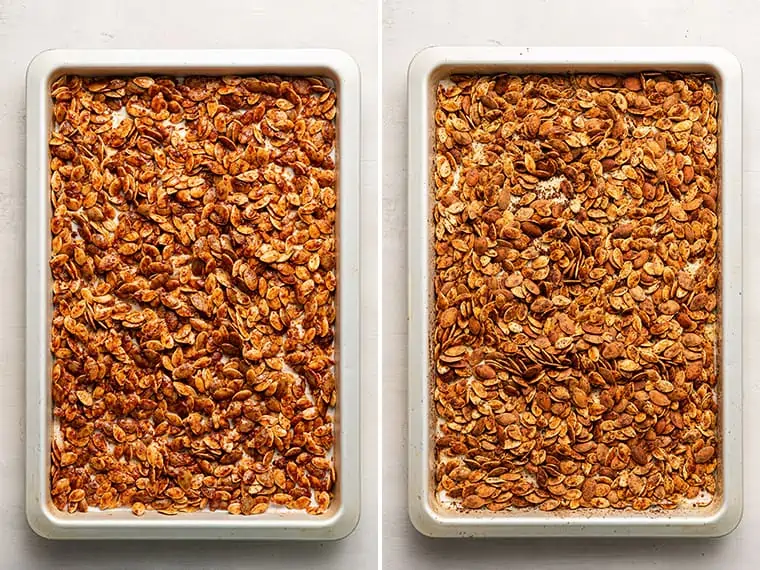 Cool. Remove the pumpkin seeds from the oven and cool them on the baking sheet.
Tips for Success
Here are a few ways to make sure that these spicy chili roasted pumpkin seeds come out perfectly every time.
Dry the seeds. After you boil the pumpkin seeds, let them dry before adding them to the bowl. This will help the oil and seasonings adhere to the seeds.
Stir frequently. Make sure you stir the pumpkin seeds a few times while they're in the oven. This will ensure even roasting on all the seeds.
Let them cool. It can be tempting to eat the roast pumpkin seeds fresh out of the oven, since they smell so good! But let them cool before you eat them. Cooling the pumpkin seeds will make them crisp up.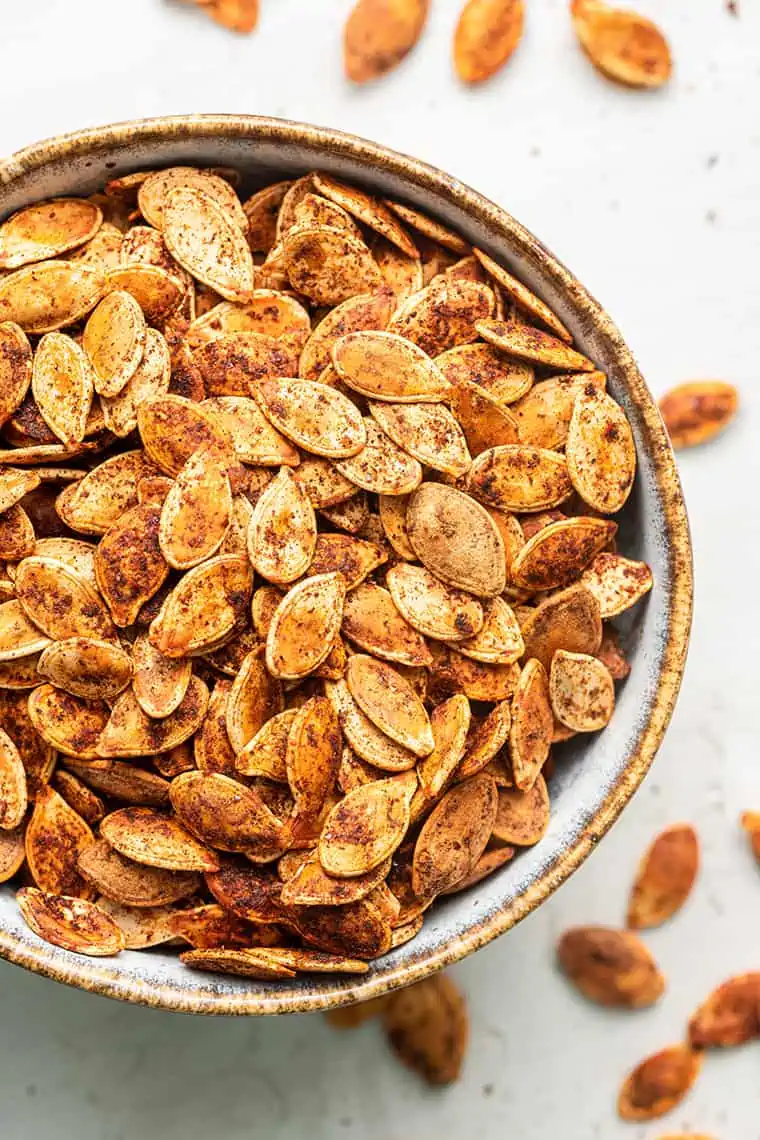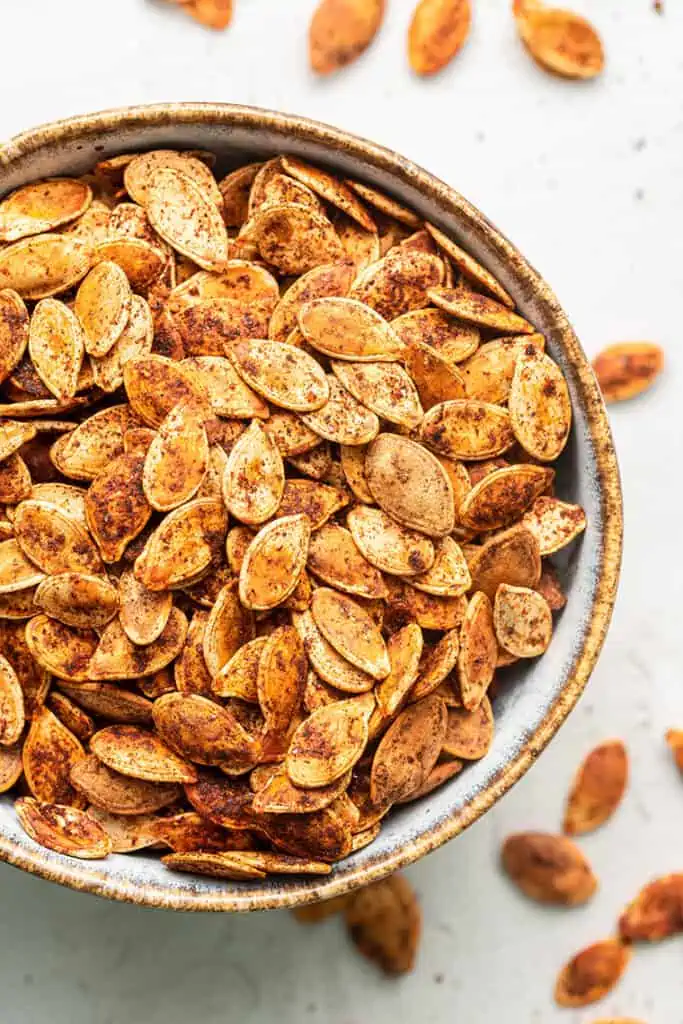 How to Store Chili Roasted Pumpkin Seeds
These vegan roasted pumpkin seeds will last at room temperature for 3-4 days. Just store them in an airtight container, and you can snack on them whenever!
You can also store the pumpkin seeds in an airtight container in the fridge for up to 2 weeks. If you want to warm them, you can reheat them in the microwave or in the oven.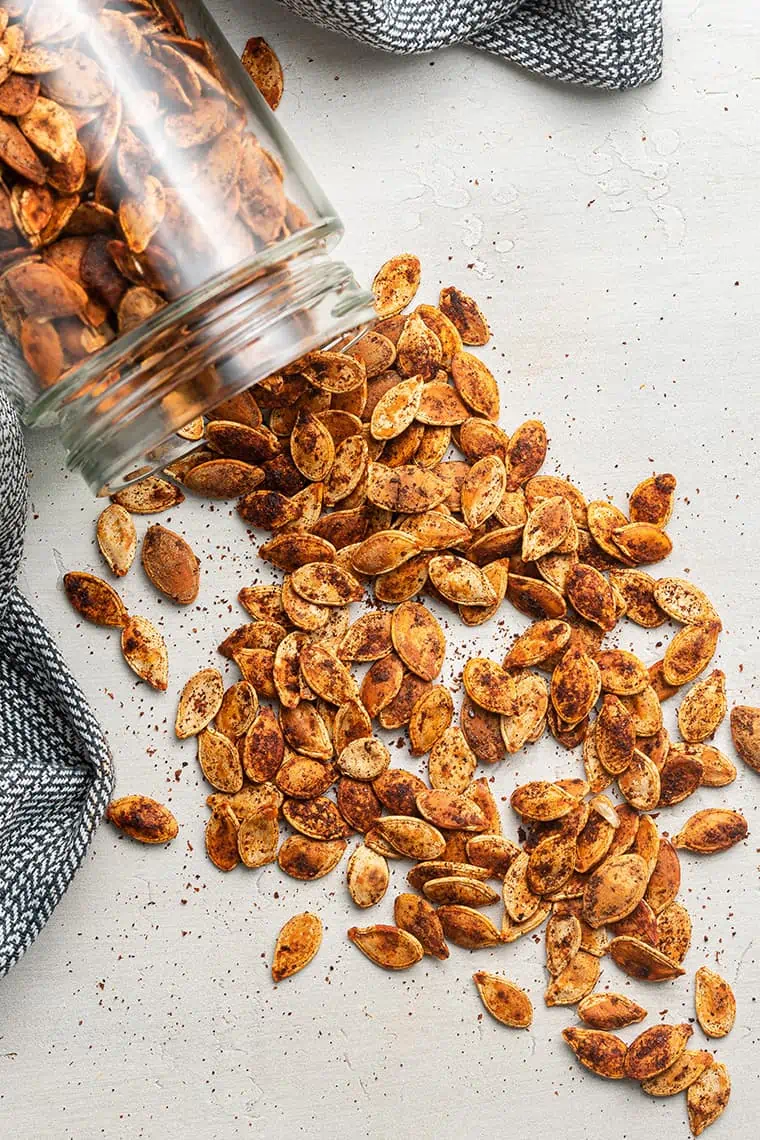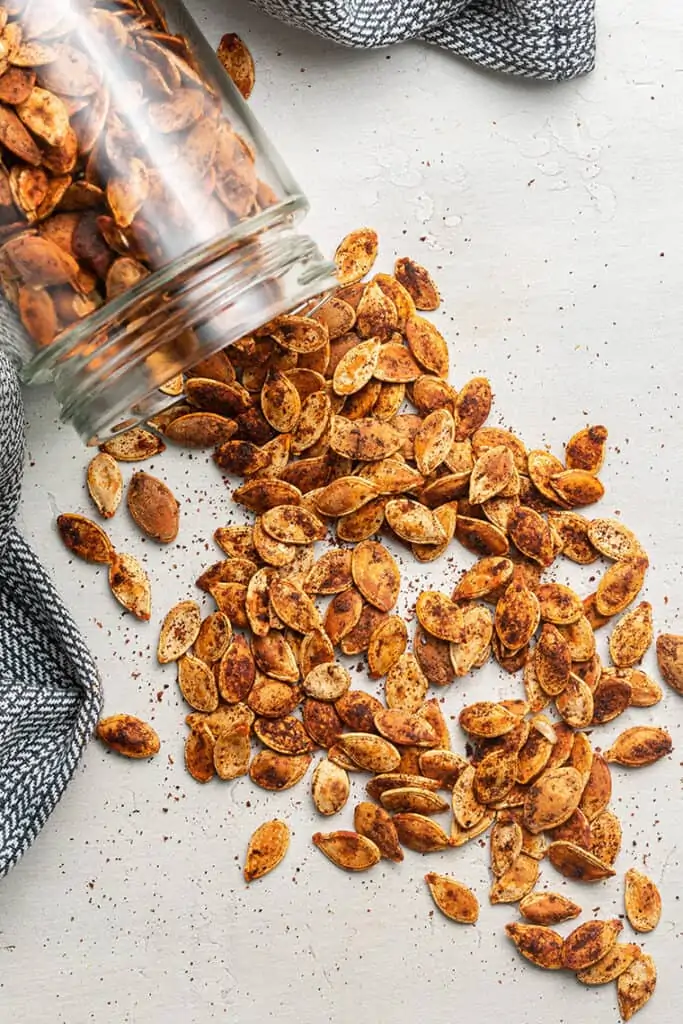 Can This Recipe Be Frozen?
Yes! You can store the chili roasted pumpkin seeds in an airtight bag in the freezer for up to 6 months. Reheat them directly from the freezer in the microwave or the oven.
Chili Roasted Pumpkin Seeds
A quick, easy and delicious fall snack.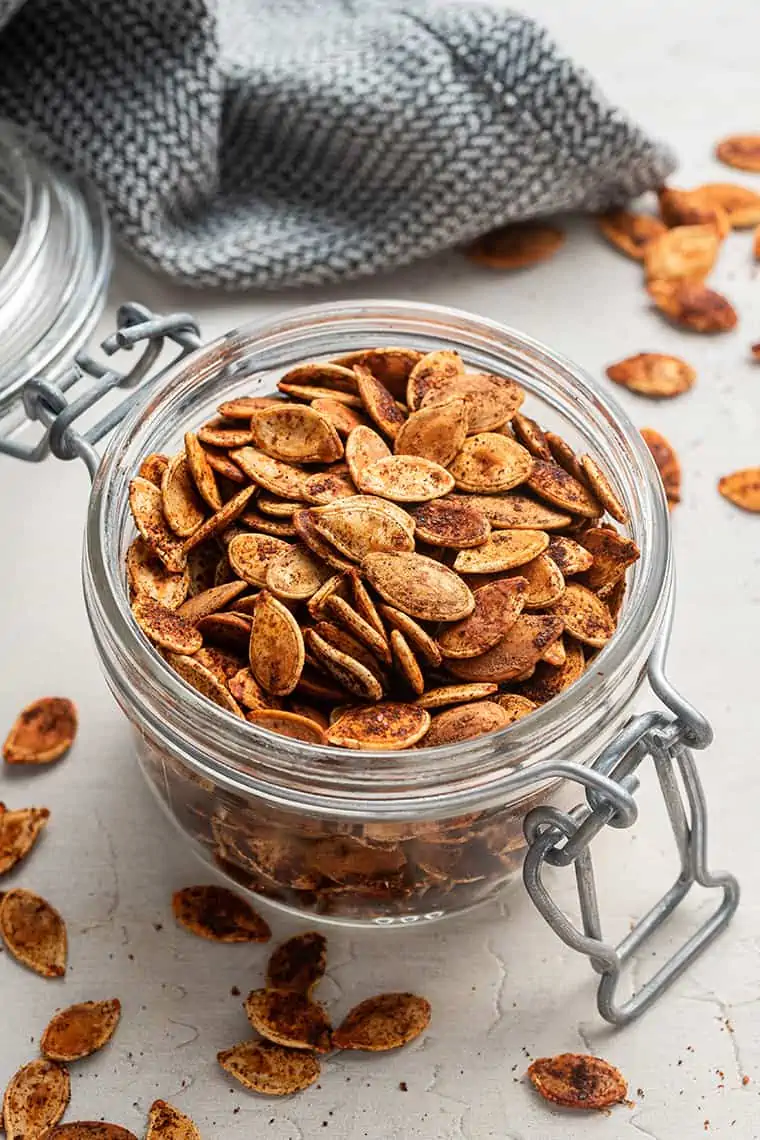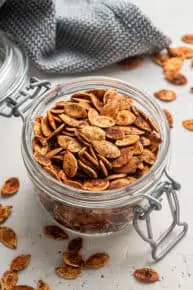 Ingredients
Seeds from one medium pumpkin

about 1 cup

2

cups

water

1

tablespoon

oil

2

tablespoons

chili powder

more or less depending on your taste preferences
Instructions
Preheat the oven to 375 degrees F.

Clean the pumpkin seeds (don't be afraid to get dirty here) and wash them in a pasta strainer. Transfer them to a small pot and add two cups water. Bring the water to a boil and reduce to simmer for 10 minutes. Strain the pumpkin seeds and transfer them to a mixing bowl.

Add oil, chili power and salt, and toss to coat. Transfer the seeds to a baking sheet and roast for 20 – 30 minutes, until slightly browned and crispy. Make sure to stir the seeds around as you go so they don't burn.

Let cool on the baking sheet. Transfer to an air tight container.

Snack and enjoy!
Notes
gluten-free | dairy-free | sugar-free | vegan
Nutrition
Calories:
526
kcal
|
Carbohydrates:
14
g
|
Protein:
21
g
|
Fat:
47
g
|
Saturated Fat:
6
g
|
Sodium:
582
mg
|
Potassium:
829
mg
|
Fiber:
9
g
|
Sugar:
2
g
|
Vitamin A:
4745
IU
|
Vitamin C:
1.2
mg
|
Calcium:
97
mg
|
Iron:
8.4
mg
Filed Under: