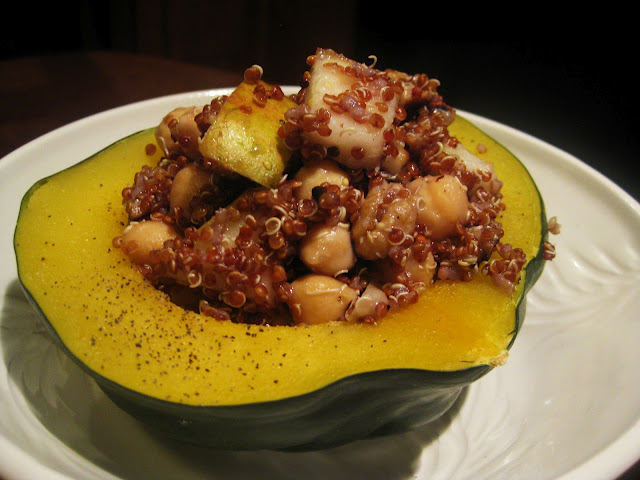 Yet again I have sought comfort in my beloved friend,
Quinoa
. Over the past year and a half
Quinoa
has treated me well. She was my savior when I decided to go gluten-free. She brought me back from the depths of despair, when I was downtrodden and longing for the familiar, gluten-filled foods. She lifted me up with her unique flavor and fluffy texture. Quinoa is easy-going and unassuming, but powerful and confident. She adapts to her surroundings and lovingly takes in flavors as if they belonged to her. I will forever be an admirer of this fabulous grain.
A queen, especially a
Queen of Quinoa
, must nobly take this grain to new heights. Mixing flavors and ingredients with no fear or trepidation, knowing that quinoa is strong, bold and proud. She will not bend or break when life throws her curve balls. And so, dear reader, I took quinoa to new heights tonight and the results were glorious.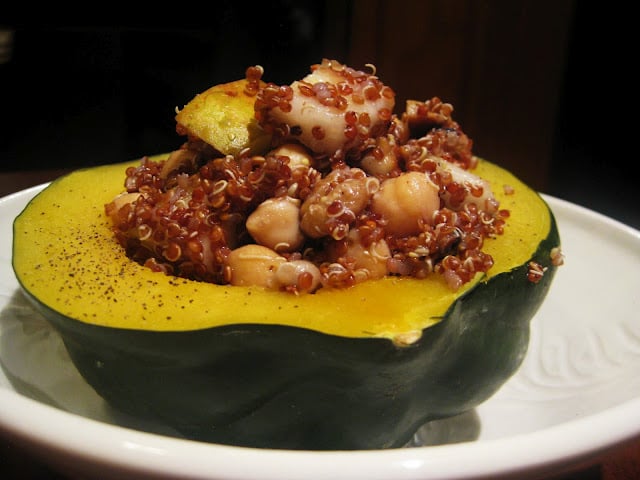 As you all know, I love summer. However, I love Fall almost as much, especially here in Vermont. Each Saturday I go to the Burlington Farmer's Market with Matt and we wander down the aisles, picking out the freshest ingredients we can. This week's star: Acorn Squash.
Quinoa & Pear Stuffed Acorn Squash
This Quinoa and Pear Stuffed Acorn Squash is an amazing fall entree. Flavored with a Lemon Apple Vinaigrette, it's clean, simple, healthy and delicious!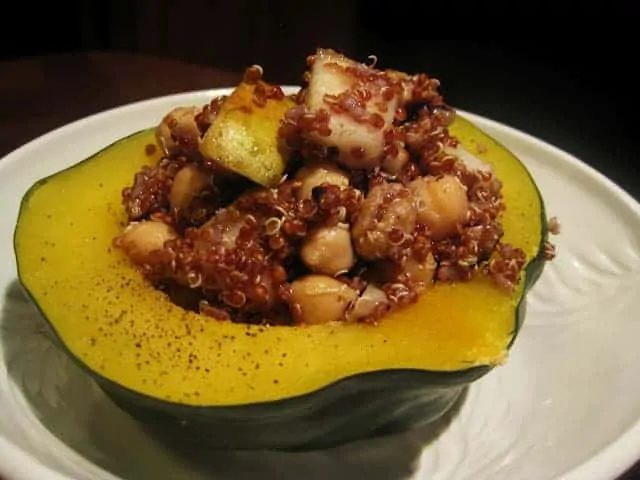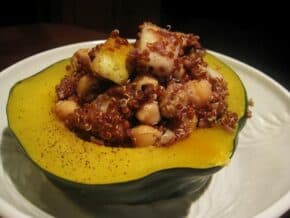 Instructions
Preheat your oven to 400 degrees F.

Halve your squash and scoop out all the seeds. Place face down (skin side up) in a baking dish with 1/4 inch of water. Bake the squash for 30 - 40 minutes or until a knife easily penetrates the skin and slides easily into the flesh.

While your squash is in the oven, start your quinoa by putting 1 1/3 cups of water on to boil. When boiling, add your quinoa and let simmer for 8 - 10 minutes. Remove from heat when the water has been absorbed.

In a small saute pan, toast the chopped walnuts until they're golden brown and fragrant. Set aside.

Now prepare your vinaigrette by whisking together the mustard, lemon juice and apple cider vinegar. Set aside.

Transfer your cooled quinoa to a bowl. Add the vinaigrette and toss to coat. Add your chickpeas and walnuts and fold all the ingredients together. Once combined, add your pears and lightly fluff your quinoa mixture to retain the fruit's integrity. Careful, ripe pears are delicate!

Sprinkle your squash with salt and pepper and spoon the quinoa and pears into the center of each half. Use the squash almost as a bowl. Fill them to the brim and serve the remainder of quinoa on the side.

Serve warm and fall in love with the flavors of autumn.
Nutrition
Calories:
521
kcal
|
Carbohydrates:
106
g
|
Protein:
24
g
|
Fat:
21
g
|
Saturated Fat:
2
g
|
Sodium:
591
mg
|
Potassium:
1582
mg
|
Fiber:
21
g
|
Sugar:
9
g
|
Vitamin A:
825
IU
|
Vitamin C:
30.4
mg
|
Calcium:
204
mg
|
Iron:
7.7
mg
Filed Under: