For most, I know the holidays can be busy, overwhelming, and stressful. Layer on top of that cooking for a large crowd, having to accommodate multiple food allergies, and worrying about not indulging too much, and the task feels even more monumental.
That's why I created "A Quinoa Thanksgiving", an ebook dedicated to helping you have a more relaxing, enjoyable and stress-free holiday!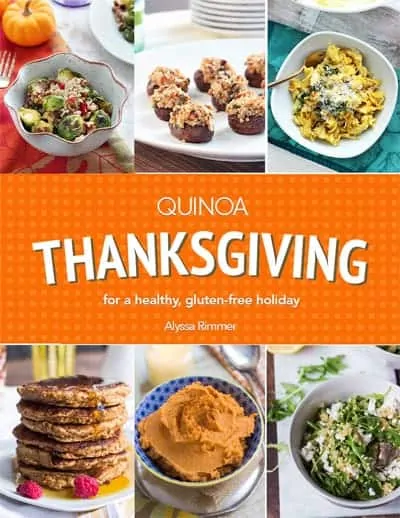 The book is jam packed with fabulous quinoa Thanksgiving recipes (30 to be exact and 75 pages!) – and has everything from what you can serve for breakfast Thanksgiving morning, all the way down to what to do with all that leftover turkey, and of course, everything in between. And every recipe is gluten-free and healthy, many of which are also dairy-free, egg-free and more.
Some of my personal favorites include the Spicy Mashed Sweet Potatoes, my Easy Gluten-Free Pie Crust recipe, and of course, the Apple Crumb Pie as well as the Dairy-Free Pumpkin Pie. There's something for everyone in this book!
Take a peek at what's inside!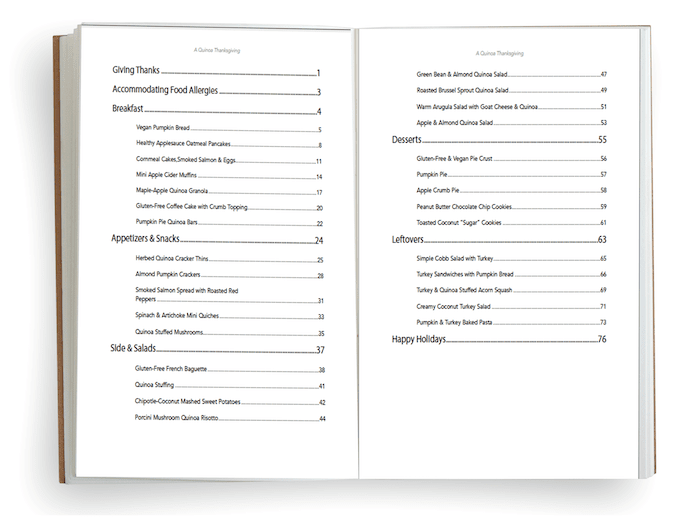 This ebook comes as an immediate PDF download and is formatted for easy printing. I want you to be able to plan your meal and have everything you need on hand – if I can even make your holiday even a tiny bit easier with this ebook, then I will be grateful.


I am thankful for you and I appreciate all that you do to support me and this website. Without you, I'd never be here today – so, THANK YOU!
And Happy Thanksgiving!
xo Alyssa
Grab a Bundle + Save!
Pick up a copy of A Quinoa Thanksgiving and my best-selling ebook Baking with Quinoa together and save!