These Sweet Potato Black Bean Burgers are loaded with fiber, protein, and spice thanks to oats, quinoa, and a savory spice blend. The ultimate high-protein, gluten-free and vegan dinner or lunch!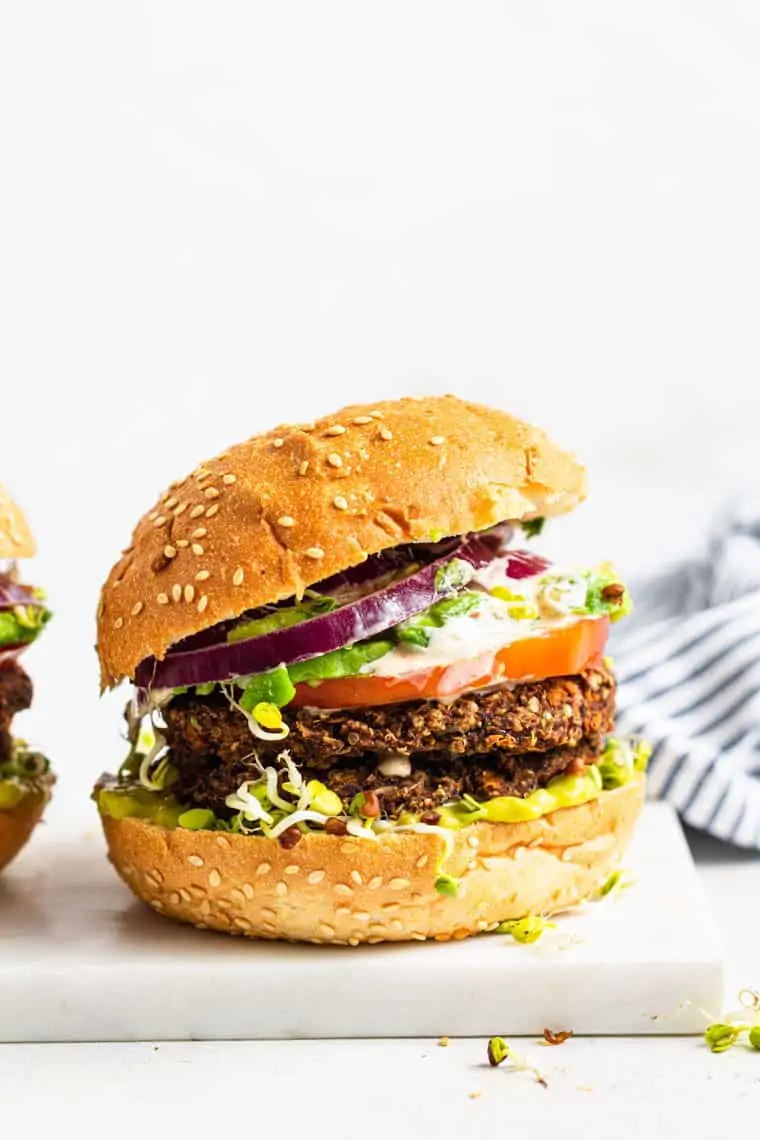 Burger night is always a special occasion around here!
Whether it's Cheezy Broccoli Quinoa Burgers or juicy Herbed Turkey Burgers with Zucchini Buns, I love piling flavorful burger patties high with toppings and savory sauces.
These sweet potato black bean burgers are what I always reach for when I want a vegan dinner that has the heft of something made with meat. They're loaded with good-for-you ingredients like rolled oats, quinoa and beans to pack in plenty of fiber, protein and flavor.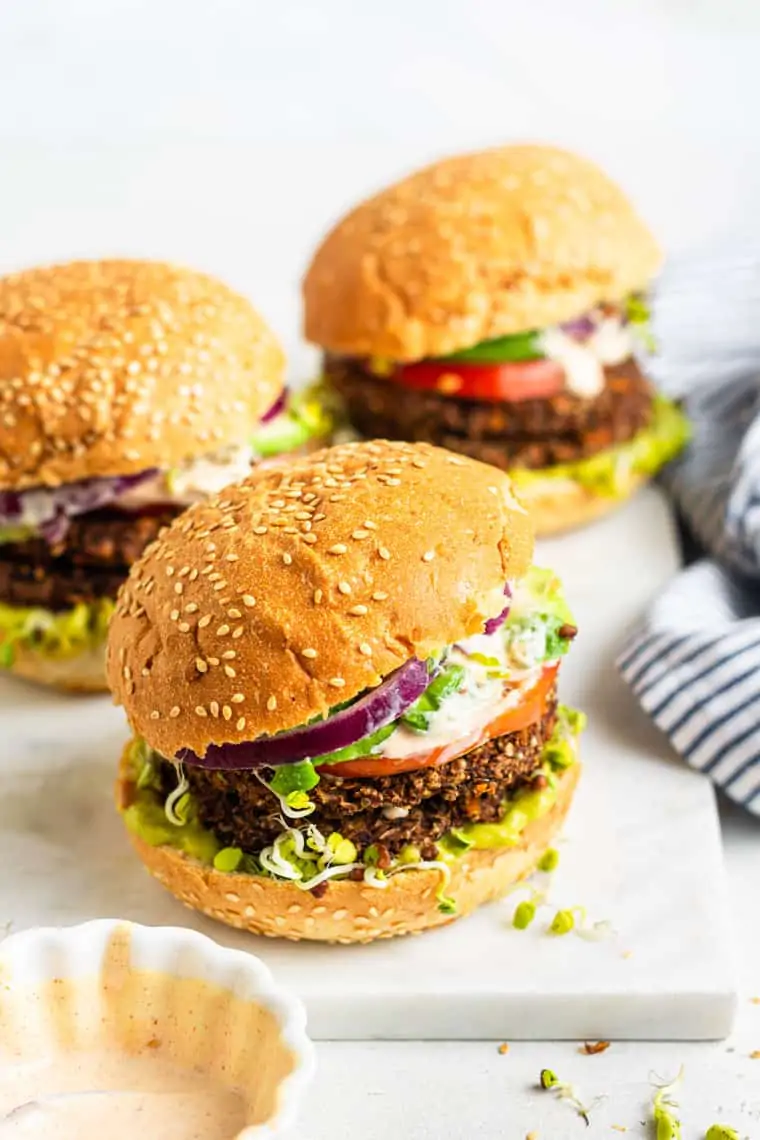 How to Make Vegan Black Bean Burgers
You'll need a food processor to make the dough for your burgers.
Once you have the dough combined, we'll bake them in the oven for a hands-off cooking process. If you want to sear them you totally can, but I like the mess-free version of baking.
While the burgers are baking, can blend up your favorite sauce (definitely try our chili lime tahini sauce!) and prepare your toppings.

Ingredients
Here's what you need to make these sweet potato black bean burgers:
Sweet potato. Shred your sweet potato in a food processor or on a box grater.
Black beans. You could also sub red beans in a pinch.
Oats. Use gluten-free rolled oats if necessary.
Quinoa. See how to cook quinoa perfectly here.
Onion
Garlic
Lime. You can also use lemon.
Flaxseed meal. This is an important binder since there are no eggs in this vegan recipe.
Chili powder, cumin, coriander, and cayenne. Feel free to use more or less spice, depending on your preference for heat.
You'll notice that this ingredient list is clean and straightforward. I like to stay away from added fillers and starches in my burgers, so the flavors shine through and they're as healthy as possible.
Plus, grating the potatoes help reduce the amount of the dry ingredients you need, so we only ended up using ½ cup of oats and ½ cup of quinoa.
Directions
Follow these steps to make and bake your burgers: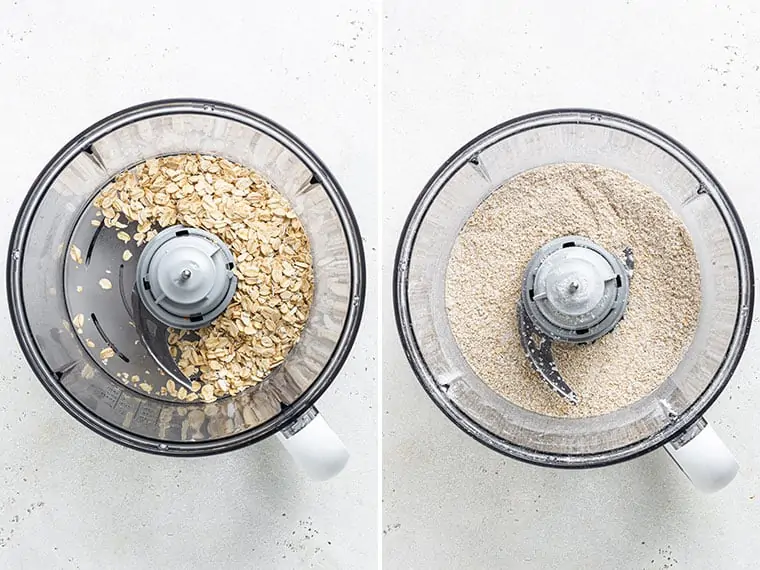 In a food processor, blend the oats on high to make a coarse oat flour. Remove the oats from the food processor to a mixing bowl.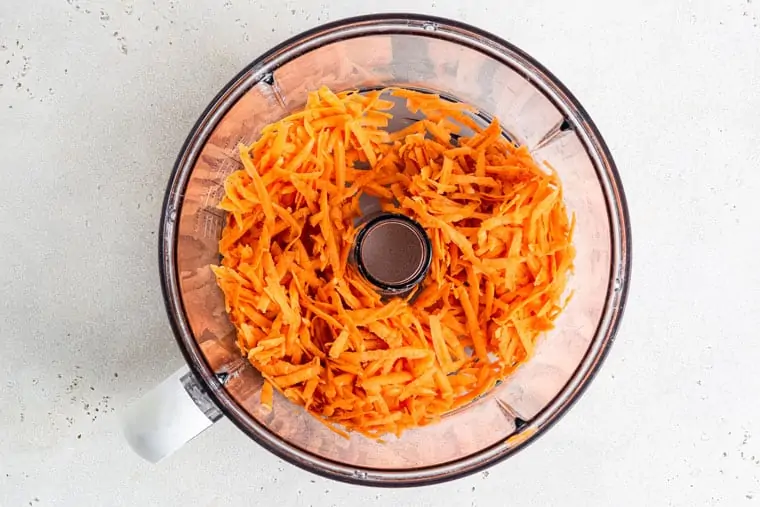 Next, peel and roughly chop the sweet potato. Grate it with the shredding disc of your food processor. Then remove the potato to the mixing bowl with the oats. You'll need two cups of shredded sweet potato.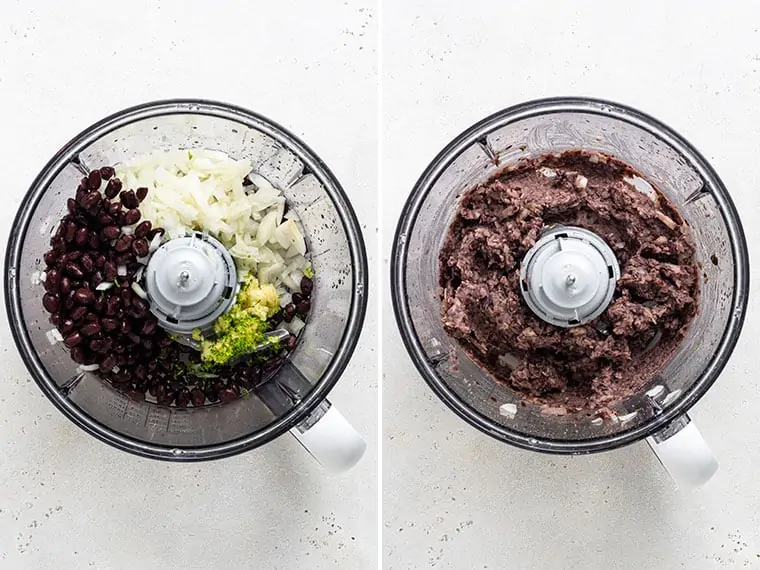 Make a flax egg by combining the flaxseed meal and water. Set this aside to gel. Add the beans, onion, garlic, and lime juice and zest to the empty food processor. Pulse until the ingredients come together in a dough.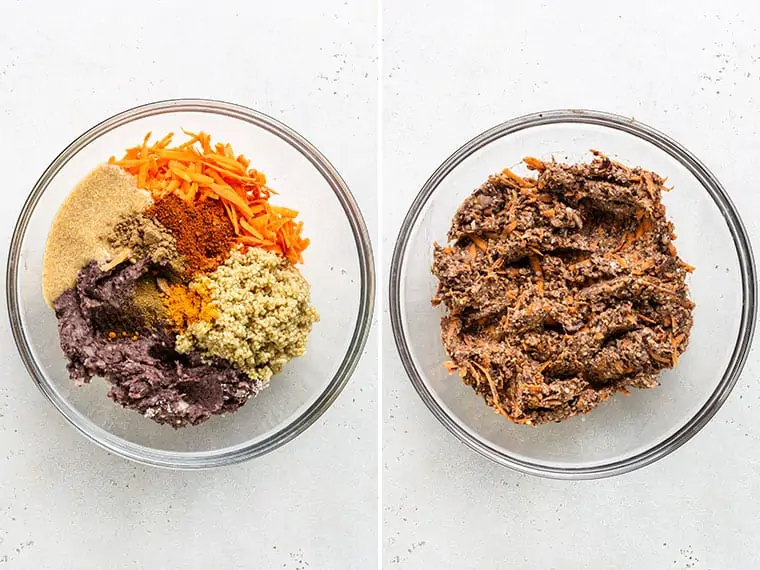 Transfer this mixture to the bowl, along with the cooked quinoa and flaxseed egg. Stir everything to make a uniform consistency.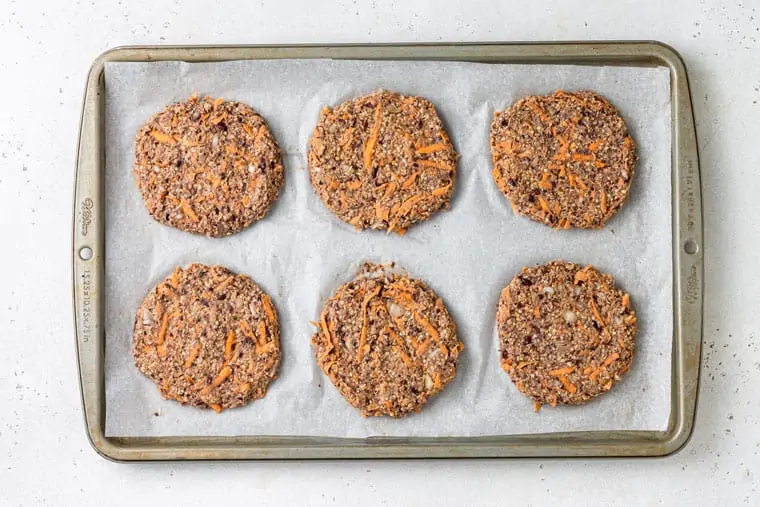 Shape the burgers into 6 equal patties and arrange them on a parchment-lined baking sheet. Chill the burgers for half an hour while you preheat the oven.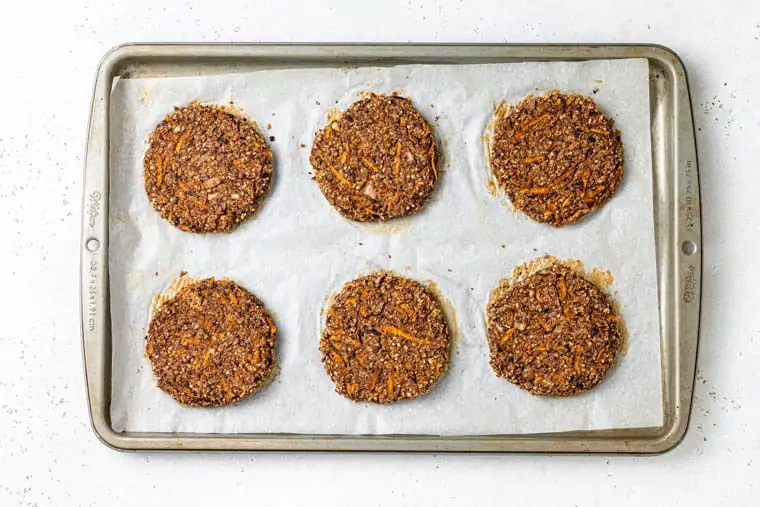 Bake the black bean burgers for 20 minutes, then flip and cook them for another 15 to 20 minutes, until they're crispy on all sides. Cool the burger for 5 to 10 minutes out of the oven before serving them on buns with your favorite toppings.

Topping Ideas for Sweet Potato Black Bean Burgers
You can add anything you like to these burgers, which are plenty flavorful on their own. Here are some of my favorites: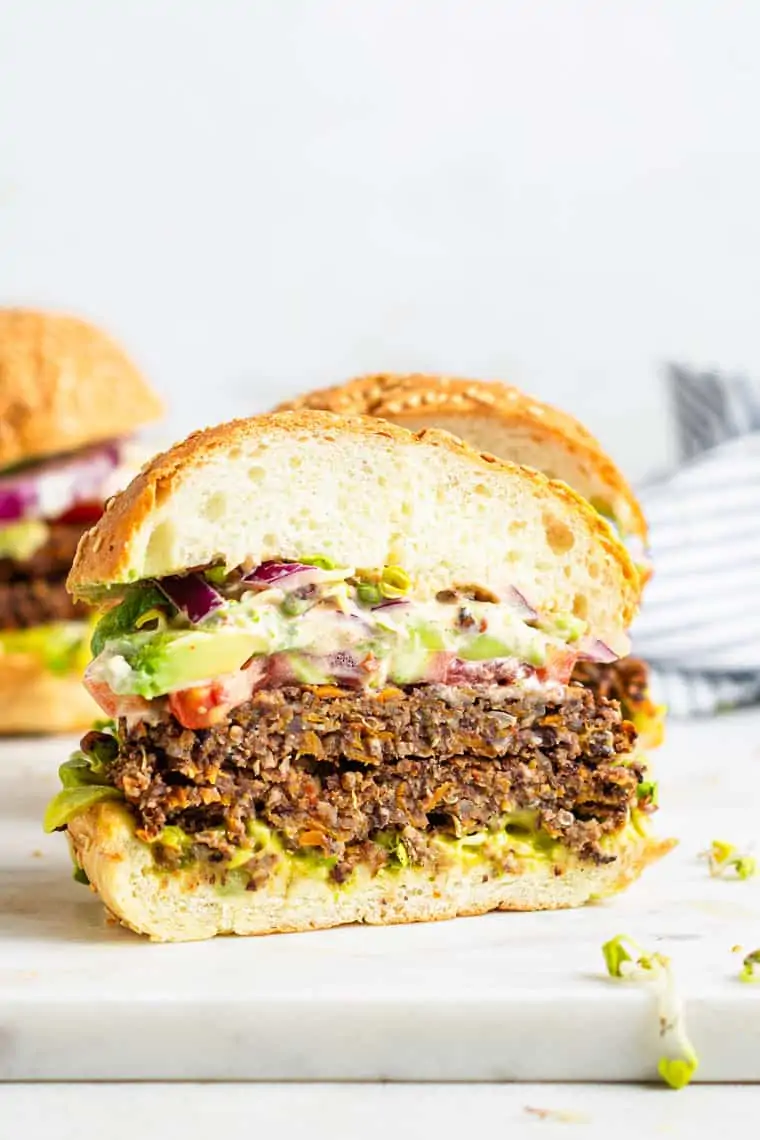 More Vegan Burger Recipes to try:
If you love these Sweet Potato Black Bean Burgers, be sure to let me know what you think with a comment below!
Sweet Potato Black Bean Burgers
These Sweet Potato Black Bean Burgers are the ultimate veggie burger loaded with colorful vegetables, qiunoa, oats and spices.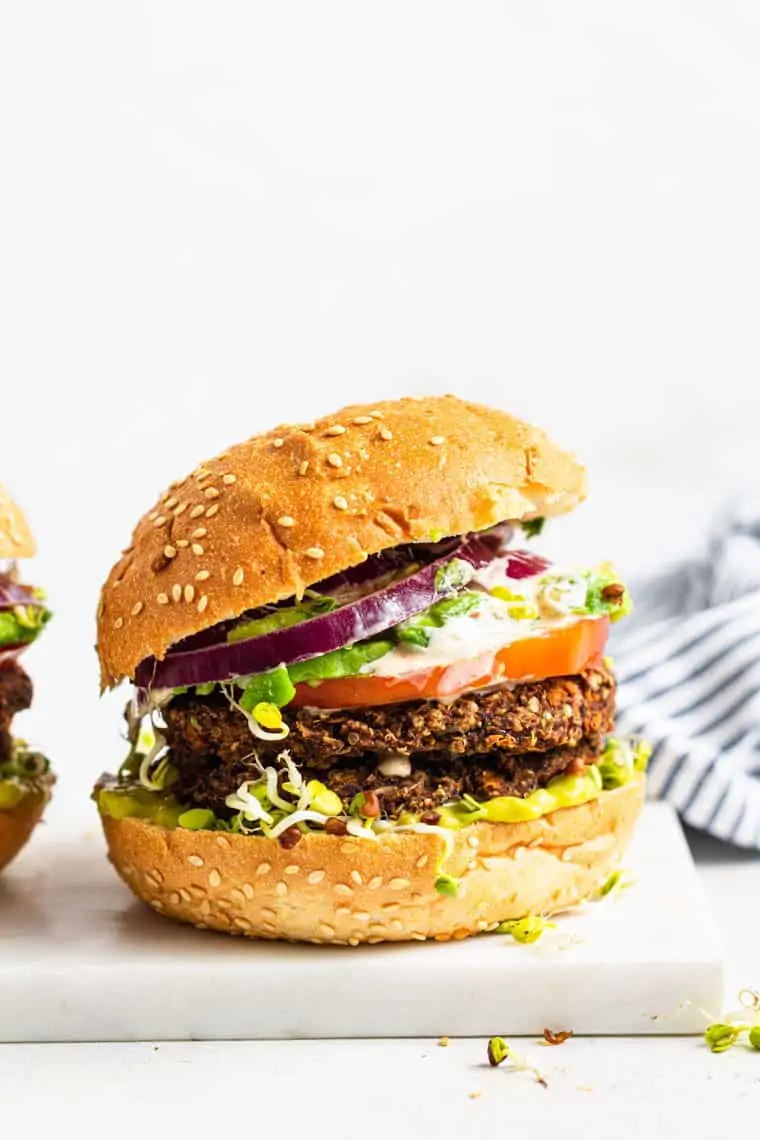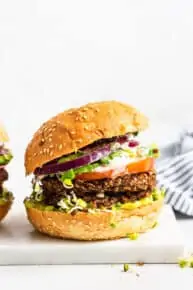 Instructions
Add oats to the bowl of a food processor. Process on high until the oats are ground into a coarse flour consistency, about 30-60 seconds. Transfer the oats to a mixing bowl and wipe out the bowl of the Food Processor, returning it to the base.

Peel the small sweet potato and slice it into quarters lengthwise. Using the shredding disk, feed the pieces of sweet potato through the opening in the lid, pushing them down using the food pusher.

Measure 2 cups of the shredded sweet potatoes and add them to the bowl with the oats. Wipe out the Food Processor bowl again and place it back on the base.

Whisk together the flaxseed meal and water and set this aside to thicken.

Add black beans, onion, garlic, and the lime zest and juice to the Food Processor. Pulse until the mixture comes together, with a few larger chunks still remaining and transfer it to the mixing bowl. To the mixing bowl, add quinoa and the flaxseed gel and stir to combine.

Season this mixture with salt, pepper, chili powder, cumin, coriander and cayenne pepper.

Shape the mixture into equal-sized burgers and place them on a parchment paper-lined baking sheet. Chill the burgers in the fridge for at least 30 minutes prior to baking.

For cooking, preheat the oven to 375 degrees F. Bake the burgers on the middle rack for 20 minutes. Remove and flip them overcooking for another 15-20 minutes more.

Remove from the oven and let cool for 5-10 minutes to let the burgers set.

Serve with guacamole, tomatoes, sprouts and buns!
Nutrition
Serving:
1
patty
|
Calories:
151
kcal
|
Carbohydrates:
28
g
|
Protein:
7
g
|
Fat:
2
g
|
Saturated Fat:
1
g
|
Sodium:
28
mg
|
Potassium:
388
mg
|
Fiber:
8
g
|
Sugar:
2
g
|
Vitamin A:
4182
IU
|
Vitamin C:
5
mg
|
Calcium:
43
mg
|
Iron:
2
mg
Filed Under: