Hi you! Since many of us are just starting out on our quinoa journey together, I thought it would be helpful if I created a resources page that you come to for all your quinoa needs. I'll keep adding to this page as I find new things to share, so I recommend you keep this one bookmarked!
My Top 3
If you don't pay attention to anything else on this page, these are the three products that I use all the time, over and over again. I continue to find myself recommending them to other readers and know that you'll love them also.
Organic White Quinoa: I cook with white quinoa at least four times per week and it's always in my cupboard. Why? Because white quinoa is versatile; you can use it for salads, soups, stir fries, pancakes, cookies and so much more. It's a great intro product and more often than not you will find that it is organic. I suggest buying in bulk or ordering online for the best prices. Click here to pick up your own bag.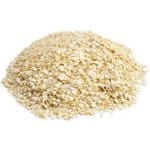 Quinoa Flakes: If you're a breakfast lover, then quinoa flakes are a must-have in your pantry. They're an alternative to oats, but are so much better. They're higher in protein, have more fiber and are easier on the digestive system. Quinoa flakes on their own make perfect warm cereals and porridges, but you can also use them in baked goods and granola. Buying online is definitely cheaper; I suggest looking either here or here.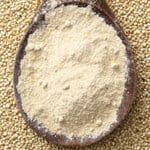 Quinoa Flour: As one of the higher-protein, gluten-free flours, quinoa flour is a great choice in your baking. I love using quinoa flour to make bread, pizza dough and other savory recipes, but it also goes well with chocolate desserts and other sweet goodies. It can be relatively expensive in the store, so either purchase online or buy in bulk at a natural foods store.
---
Finding Ingredients
Amazon.com: I'm obsessed with Amazon. You can pretty buy everything you might need on Amazon, and often times you'll find it for a lower price. Plus, if you have a prime account, the products will ship to your house in two days for cheaper than you find in retail stores, and if you have a Prime account, it ships in 2 days for FREE. Click here to browse the gluten-free shop.
Nuts.com: What I like about Nuts.com is that you can buy in bulk. If you don't have access to a natural food store that has a bulk section, this is a great option for you. You can choose from flours, grains, beans, nut, seeds, sugars, you name it and they probably have it. You do have to pay for shipping, but the fact that you can order a 25lb bag of flour makes it worth it (especially if you don't have an Amazon Prime account).
NavitasNaturals.com: As I've been learning more about superfoods (which quinoa is one of), I have realized how amazingly nutritious ancient plants and seeds truly are. If you're looking for hard to source superfoods like goji berries, lucuma powder, maca powder, raw cocoa powder, etc., your best bet is Navitas Naturals. They carry it all and for great prices. Click here to get a special discount site wide!
Edison Grainery: This small company based out of California, is one of my favorites. They're really nice people, always incredibly helpful AND it's where I buy my quinoa crispies. They sell large bags of them (I like to get the 5lb bag) and they last me for quite a while. You can also purchase quinoa, quinoa flour, other gluten-free grains, nuts, seeds, etc. I love supporting small companies and am actually really happy that I can only find quinoa crispies from them. Click here to check out their quinoa crispies.
---
Gluten-Free Flours
Here's a quick guide to all the flours that I like to keep on hand, with a brief explanation of each.
My staples
Quinoa Flour: It's my number one go-to flour. I love how much nutritious it is, but also appreciate it's nutty flavor (especially when toasted) and soft texture.
Millet Flour: Another one of my favorite whole-grain, gluten-free flours, millet flour is even softer in texture than quinoa flour and has an incredibly mild flavor. It reminds me of corn, but sweeter.
Sorghum Flour: Sorghum flour is almost always in my flour blend when I'm baking. It reminds me of a milder version of whole wheat flour, but better.
Brown Rice Flour: A standard in most gluten-free baking, I also always keep brown rice flour on hand. It's inexpensive, works well in blends and is very versatile. More recently I haven't been baking with it too much, but use it to flour surfaces and in smaller amounts like for a roux.
Almond Flour: I've just started getting into blanched almond flour and I absolutely LOVE it! I'm a big almond fan to begin with, but I have to say the texture and moistness that almond flour brings to baked goods is just incredible. It's a bit more finicky than other flours, so you'll need to experiment with your ratios.
Tapioca Starch: Most of the time I use starch in my flour blends. It adds lightness, structure and a tiny bit of binding qualities to baked goods and has practically no flavor. It's more there to help the texture over anything else. While you don't necessarily need it in your baking, using a starch like tapioca starch will give you a baked good that more closely resembles the gluten-full kind than one that has no starch.
Other flours I love
Chickpea / Garbanzo Bean Flour: This is another high-protein flour that I really only use in savory applications, like my High-Protein Quinoa Bread. It can be very overpowering, so I like to blend it with other flavors to mellow out the taste.
Coconut Flour: While coconut flour is tough to work with, I absolutely adore it. It's packed with fiber, absorbs liquid like nothing I have ever seen and tastes amazing (especially if you're a coconut lover like me). One thing to note is that coconut flour is very reliant on eggs. If you're vegan, you might have to play around with this to make it work for you and I can't say for sure if it will work at all. But it also makes great warm breakfast cereals, which are egg free!
Teff Flour: Teff is an ancient grain and commonly found in Ethiopian cuisine. The flour has a rich, deep flavor that goes really well with chocolate, coffee and other stronger flavors.
Buckwheat Flour: Buckwheat flour is actually one of the flours that I like to make at home. You can simply grind up raw groats (click here to purchase), sift out the larger particles and you have this really soft, semi-sweet flour that works well in every application (especially pancakes!).
Potato Starch: An alternative to tapioca starch, potato starch (not to be confused with potato flour), is something that I often add to my flour blends to give my baked goods a lighter, more airy texture. Potato starch and tapioca starch are interchangeable, but I find that potato starch really works well in bread, and other recipes that rely on rising, since it seems to have a stronger structure than tapioca.
---
Products I Can't Live Without
Blendtec: I use my blender every single day. From smoothies, to sauces, to dressing, to my own flours, even to ice cream, I can't imagine life without a Blendtec. Lots of folks go the Vitamix route, but I liked that the Blendtec costs less, will fit under my cabinets and blends EVERYTHING. I can't say enough good things about the Blendtec and if there's one kitchen appliance that's worth spending the money on, it's this.
Breville Juicer: I also user my Breville juicer on a daily basis. I'm a big fan of green juices in the morning and have found that it helps me stay alert, energized and feeling my best throughout the day.
KitchenAid Stand Mixer: When I'm baking, my KitchenAid Stand Mixer is my go-to appliance. It's particularly useful when I'm making bread and pizza dough as though recipes need more time to mix.
Cuisinart Food Processor: I never thought I'd be so reliant on a food processor, but I use mine all the time. Whether I'm making dips, raw snack bites, banana ice cream, veggie meatballs and burgers, etc., I can trust my food processor to get the job done. I simply love it!
Waffle Iron: I grew up having waffles every Sunday and as soon as I moved out on my own, I knew I had to get one. I like electric waffle irons and we still have waffles at least once a week. Next I'm going to start experimenting with savory waffles 🙂
Global Chef's Knife: Having a high-quality chef's knife completely changed the game for me. I really love Global knives because I feel like they're made specifically for women's hands. They're light, easy to use and comfortable as you're slicing, dicing and chopping. I have control over the movements and never feel like the knife is going to slip. And I swear, it's the sharpest thing I've ever used in my life!
---
Helpful How To Videos
How to Make Your Own Quinoa Flour