These Ethiopian lentils are a classic recipe that's flavorful, filling and easy to make. Also called misir wat, these spicy red lentils are ready in about 40 minutes, vegan, high protein and full of spice.
My first time trying Ethiopian food was in middle school when I took a trip to Washington DC. I wasn't sure what to expect from the giant platter set before me, but as soon as I started tasting each dish I was blown away. Not just by how flavorful it was, but how unique and delicious it was!
I've been a fan ever since, but haven't ever made any Ethiopian recipes at home. I guess I always just assumed it was going to be super time-intensive to challenging.
But I finally decided to try it and kicked things off with my favorite: Misir Wat (or Ethiopian lentils). They're red lentils that are slow-cooked in berbere, simmered to a soft, thick texture, and pop with spice. They're insanely good and to my surprise, insanely simple to make as well!
How to Make Ethiopian Lentils
Since we're essentially making an Ethiopian lentil stew, this is a really simple dish to make. And doesn't require fancy ingredients either. All you need is:
Oil: I used olive because that's what I had on hand, but Ethiopian lentils are traditionally made with clarified butter
Onion: I like using a sweet white onion in my recipes since red tends to be a bit sharper in its flavor.
Garlic: we'll use 3 minced garlic cloves to help build flavor
Tomato + tomato paste: this helps build the color and sweetness of the dish. I used a fresh chopped tomato and organic tomato paste.
Berbere: the traditional Ethiopian spice blend
Red lentils: they're quick to cook and have a really nice thick texture when they cook down
Broth + water: to keep it vegetarian/vegan, use vegetable broth. If you are okay with chicken, you can use that instead. We'll also use a bit of water to thin it out.
And in terms of making it, we basically just start by sweating out our onions. Then add the garlic and tomatoes and let them cook until fragrant. Then we add our spices, lentils, broth, and water (and a pinch of salt of course!), and cook it until the lentils are soft and the stew is nice and thick!
What is Berbere?
Berbere is an Ethiopian spice blend that is made from a bunch of spices and is traditionally found in many Ethiopian dishes. Berbere is made from primarily chiles, onion, garlic, fenugreek, and warm spices like cinnamon, ginger, and nutmeg.
It's a very complex flavor, which can either be made at home or purchased. I bought mine from Amazon and found it to be quite flavorful (although homemade berbere would definitely be better!).
What to Serve with Ethiopian Red Lentils
Ethiopian lentils would traditionally be served with injera. Injera is a fermented flatbread made from teff flour. Ethiopian food is traditionally eaten with your hands, using the injera to "scoop" up your food.
While you can certainly make injera at home, it's quite a time investment, so I usually keep things easy with my favorite savory chickpea pancakes. You'll still get the classic feel, but with less time.
In addition to some sort of flatbread, you'll also find that Ethiopian meals are made of up many dishes at once. Usually some veggies, other types of curries/stews, and meat dishes as well (if you want).
I kept my dish fairly simple and served my spicy red lentils with:
Sauteed spinach with garlic and olive oil
Pickled red cabbage
And sometimes I'll also add a hard-boiled egg on the side as well! If you like these kinds of recipes or have a personal favorite from Ethiopian cuisine, let me know in the comments. I'd love to try more dishes!
More Vegan Lentil Recipes
Vegan Ethiopian Red Lentils (Misir Wat)
These Ethiopian lentils are flavorful, filling and easy to make. Also called misir wat, these spicy red lentils are vegan and high protein!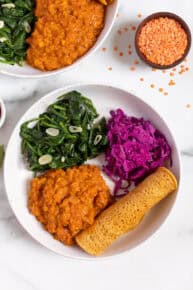 Instructions
Heat 2 tablespoons of oil in a large pot over medium heat. Add the onions and cook for 5 - 6 minutes until softened. Add the garlic, tomatoes, tomato paste, and 1 tablespoon of berebe. Mix together and cook another minute or so.

Add the red lentils, vegetable broth, 1/4 cup of water, and a pinch of salt. Bring to a boil and reduce to simmer. Cook for 35 - 40 minutes until the lentils are soft and tender.

Remove the lentils from the heat and stir in the remaining 1 tablespoon of oil, berebe, and if it's too thick a bit more water. Taste and add more salt if needed.

Serve immediately with your choice of flatbread.**
Notes
* traditionally this is made with clarified butter, so if you can eat dairy, feel free to use ghee.
** traditionally serve this with injera, but if you can't find injera (or have the time to make it), you can try my gluten-free naan or quinoa flatbreads.
Nutrition
Serving:
0.74
cup
|
Calories:
284
kcal
|
Carbohydrates:
35
g
|
Protein:
13
g
|
Fat:
11
g
|
Saturated Fat:
2
g
|
Sodium:
541
mg
|
Potassium:
633
mg
|
Fiber:
15
g
|
Sugar:
5
g
|
Vitamin A:
647
IU
|
Vitamin C:
11
mg
|
Calcium:
43
mg
|
Iron:
4
mg