These healthy peanut butter breakfast cookies are made with a blend of oats and quinoa flakes so they're high in protein and fiber! And finished with a sprinkle of sea salt flakes for added flavor!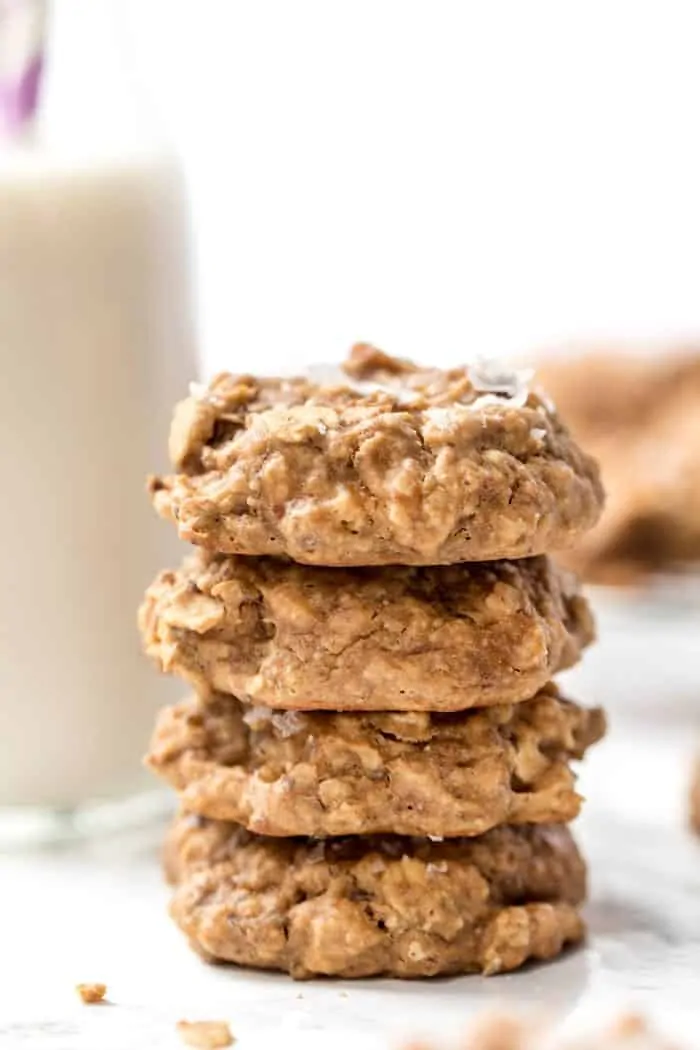 The breakfast cookies are BACK!
If you're like, huh? Back? Let me explain:
About two years ago, I created my first quinoa breakfast cookie. You guys loved it, so I started creating a few more. Then my Zucchini Bread Quinoa Breakfast Cookies took off and I knew we were onto something.
So in 2015, I decided to create a new quinoa breakfast cookie flavor every. single. MONTH. Yes, at this point we have around 15  flavors on the site (my faves are the Pumpkin Pie Quinoa Breakfast Cookies and the Chunky Monkey Quinoa Breakfast Cookies)!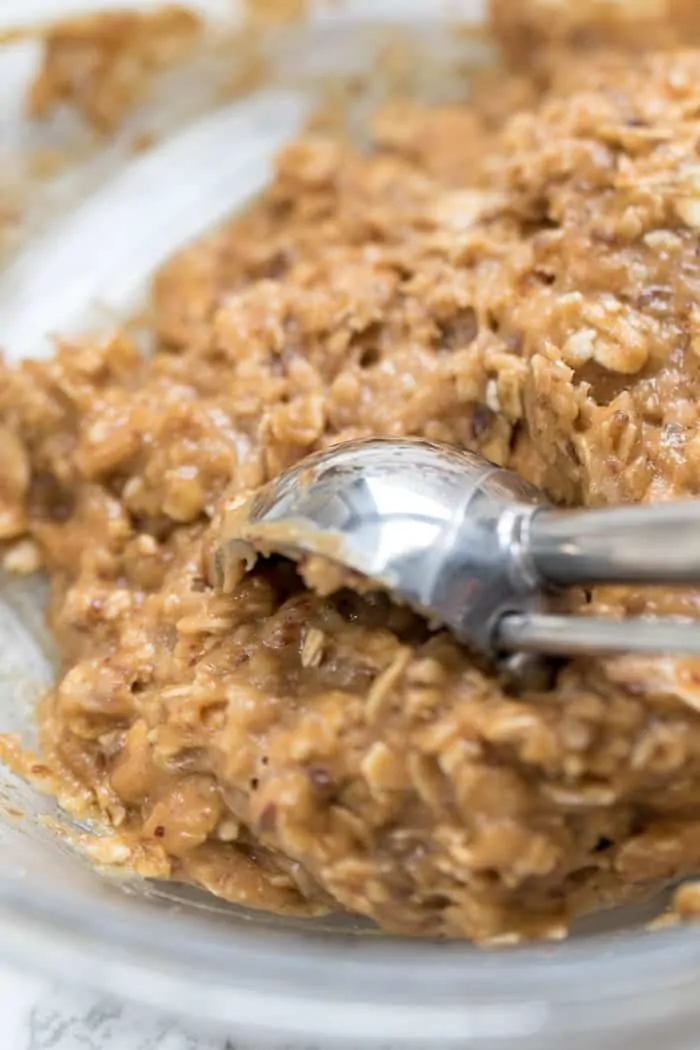 As I bet you can imagine, me and breakfast cookies needed a little break. We'd been spending way too much time together and were coming a little bit too co-dependent. So I broke it off.
But I've been missing those sweet little treats in my life! I've missed having cookies around the house. And I've missed baking them.
So they're back! Not as frequently, but still they're back and the flavor I've got for you today is epic.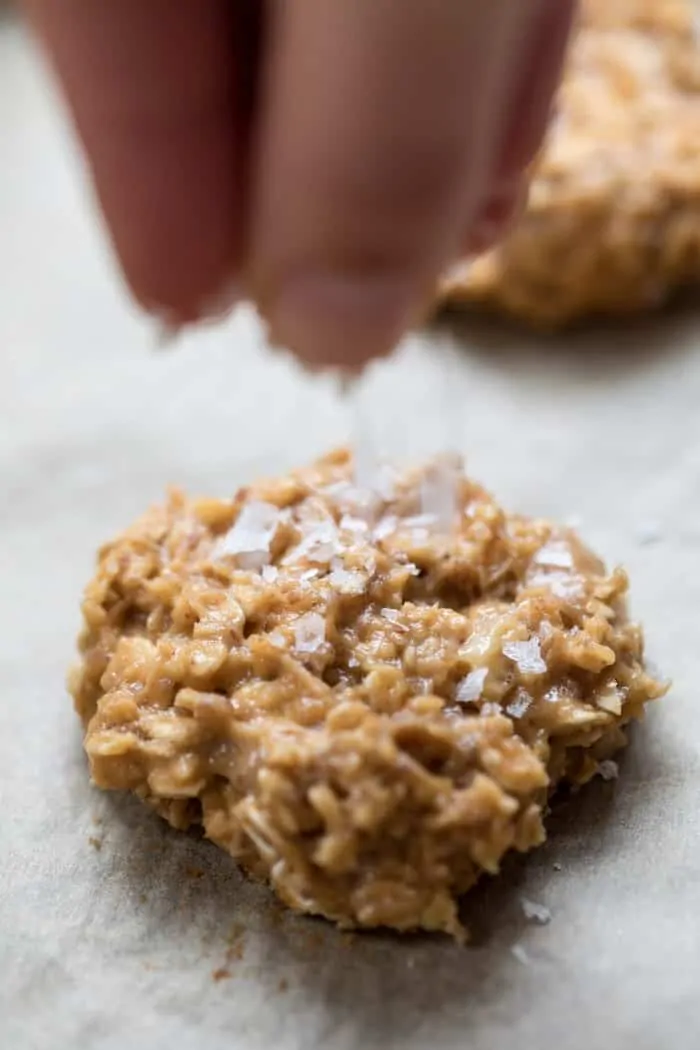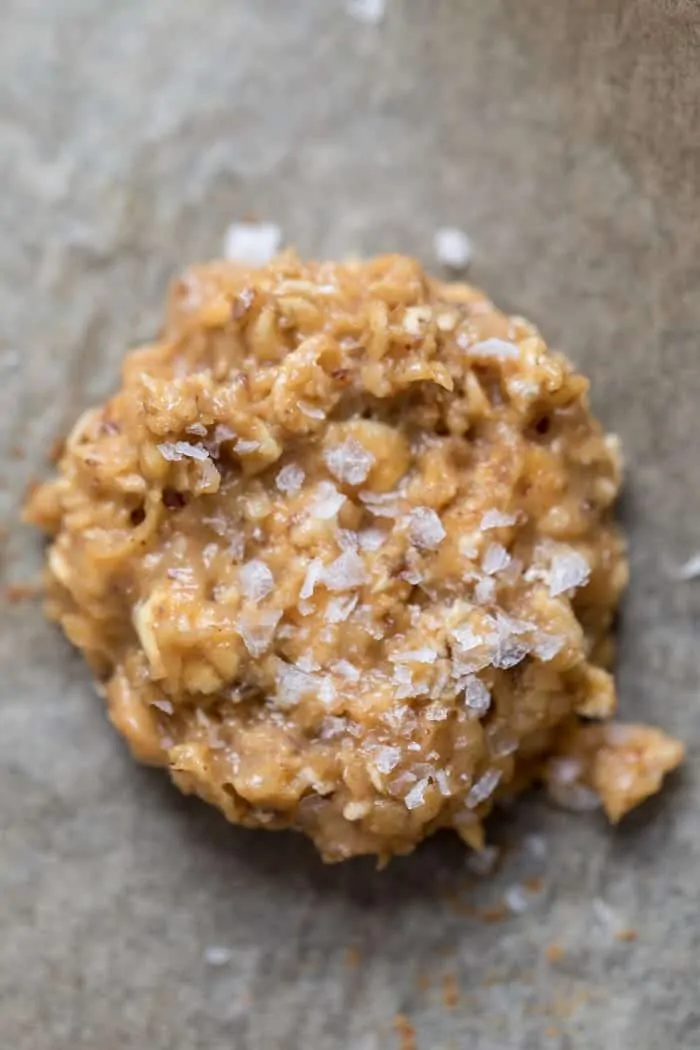 Salted Peanut Butter Breakfast Cookies!
If you're a fan of the sweet and salty combo, or the peanut butter banana combo, or just plain old peanut butter, you're going to adore these cookies!
As always, they're a cinch to make, use very basic ingredients, and yes, they're actually good for you.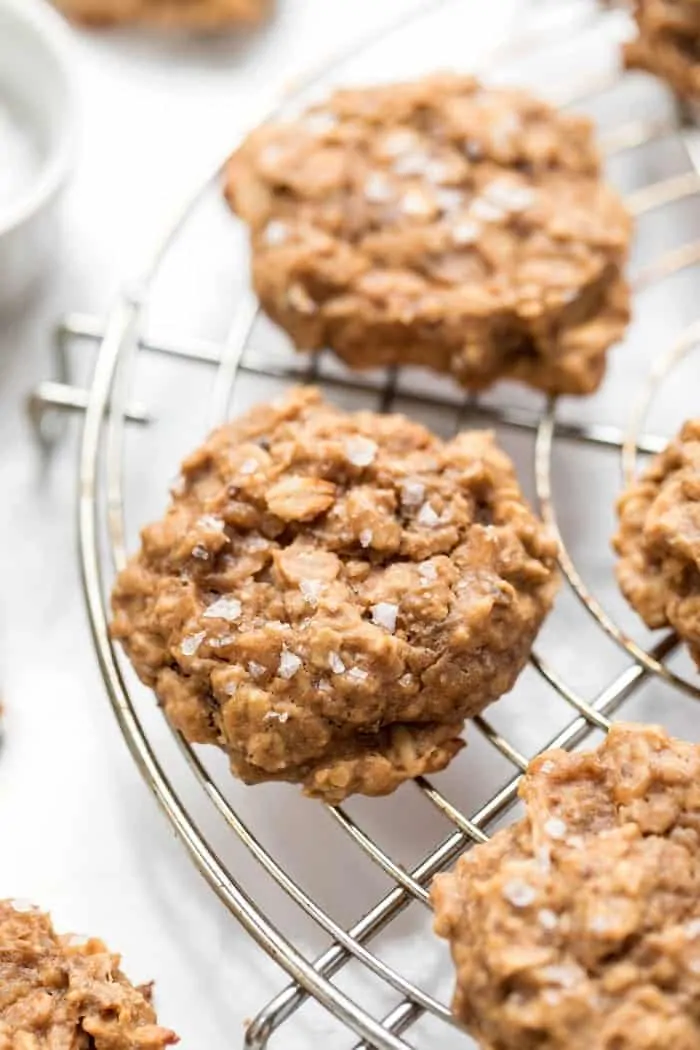 The base of my breakfast cookies is always a nut butter. Today for obvious reasons that is peanut butter. Next, we have a fruit puree, which in most cases is banana. Then we have sweetener and a flax egg, along with some vanilla if it makes sense. Then oats, quinoa flakes, baking powder and that's pretty much it (aside from spices and/or mix-ins).
That's why we have so many flavors! It's somewhat of a formula that can be tweaked and changed based on the flavors that you're craving or want to whip up!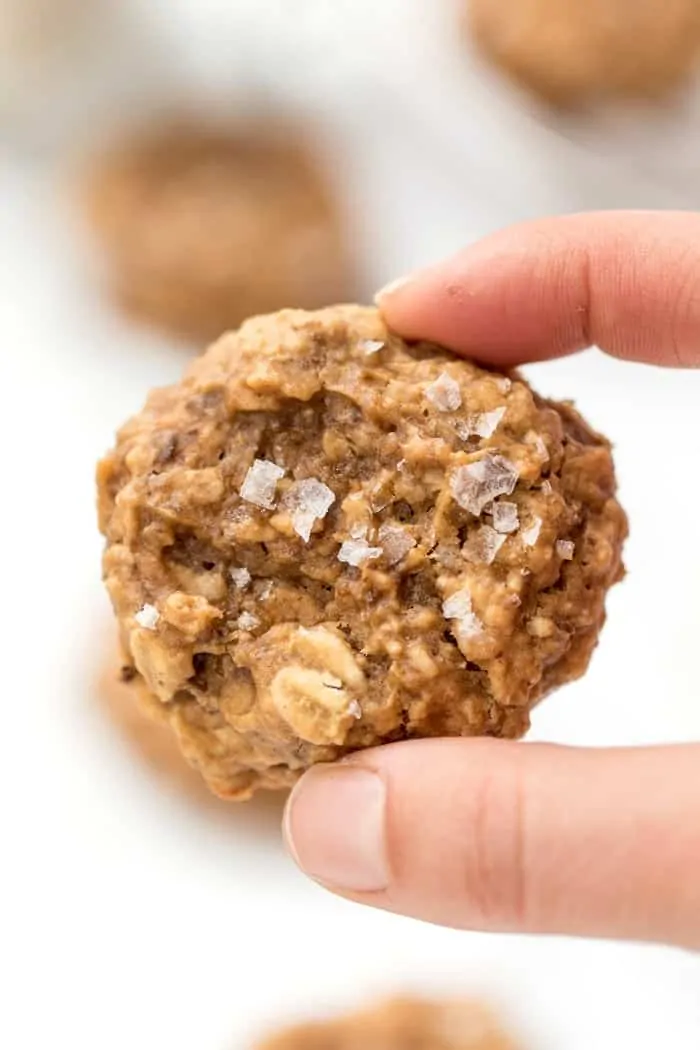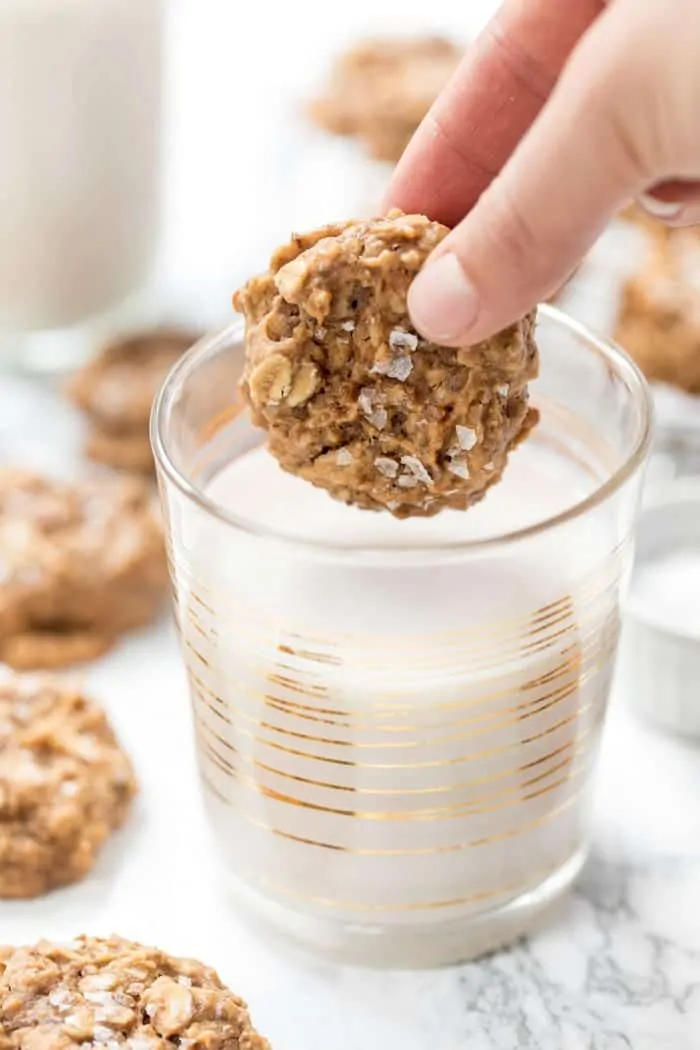 These peanut butter breakfast cookies are probably one of my favorites. I'm obsessed with all things peanut butter anyway, but I also really like that they're not overly sweet, they're super high in protein, they've got lots of fiber from the oats and quinoa and they're quite filling!
They're the perfect thing to grab on your way out the door in the morning. I especially love them before a workout!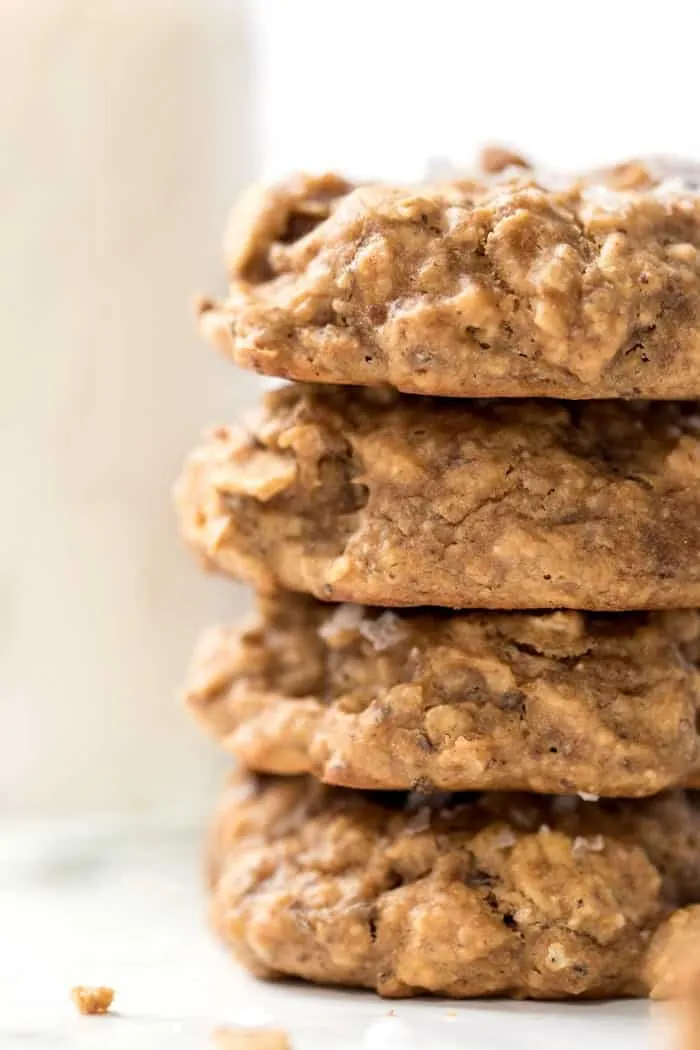 I would say that if you're planning to have these as a complete breakfast, you'd want to have at least three cookies. Which hey, is kind of like having a big bowl of oatmeal!
My ideal way to eat these cookies? Alongside a nice big green smoothie! You're getting all the nutrients you need and the cookies are a great way to make the entire meal not feel quite as monotonous 😉
So if you have yet to enjoy cookies for breakfast, now is the time! You'll love the flavor of these cookies and I think you'll get hooked on the fact that dessert now equals breakfast!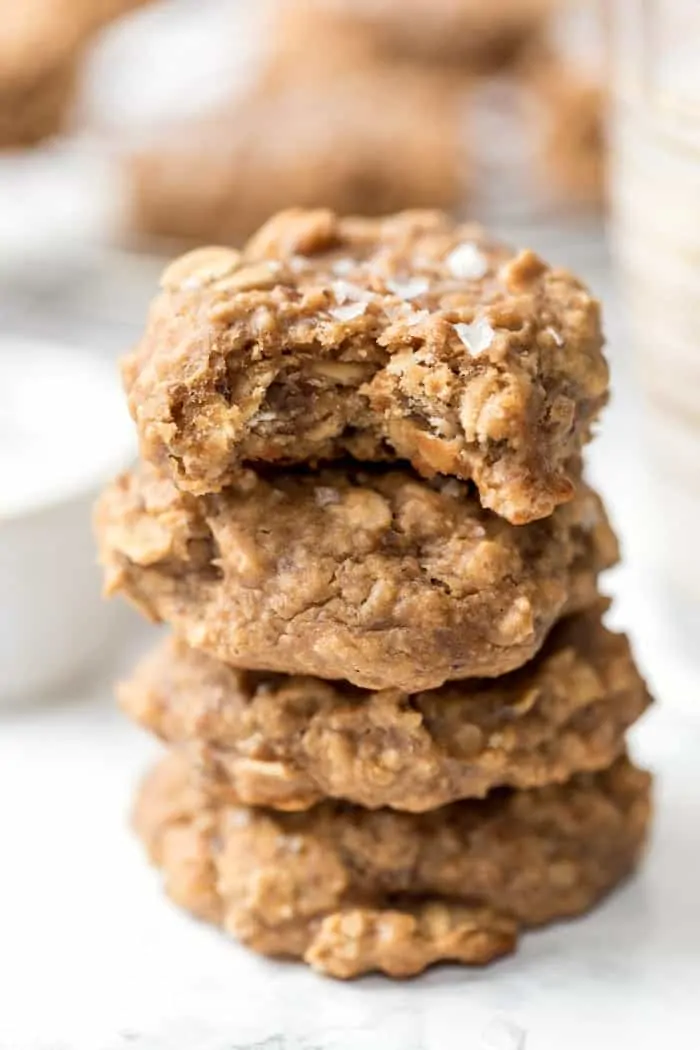 p.s. rather not search through the archives for all the breakfast cookie options? check out my Breakfast Cookie Ebook! It's only $4.99 and will give you all the flavors in a beautifully designed PDF ebook!
Salted Peanut Butter Breakfast Cookies
Start your day with a batch of these healthy peanut butter breakfast cookies! They're made with a blend of oats and quinoa flakes to keep you full and satisified!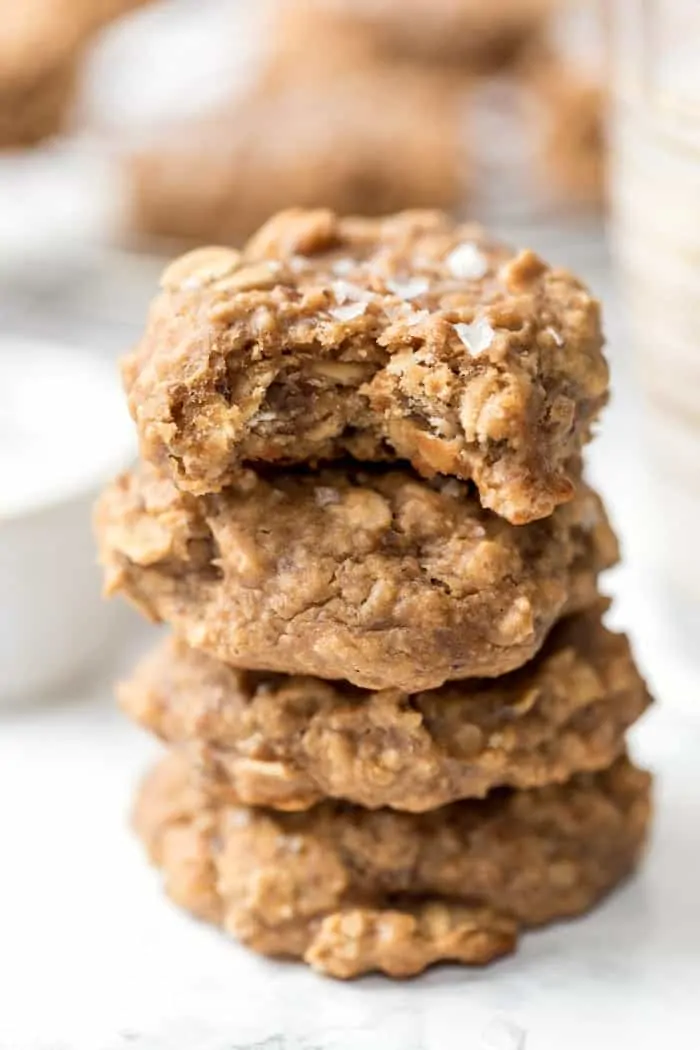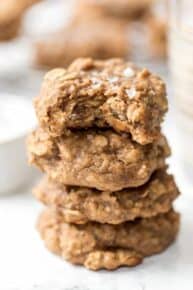 Instructions
Preheat the oven to 350ºF. Line a baking sheet with parchment paper and set aside.

In a large mixing bowl, beat together the wet ingredients. Once smooth and creamy, add in the dry ingredients and fold together to form a thick dough.

Scoop the dough onto the baking sheet and gently flatten with your hands. Sprinkle with sea salt flakes.

Bake on the middle rack for 12 minutes. Remove from the oven, let sit on the pan for 3 - 5 minutes, then transfer the cookies to a wire rack to finish cooling.

Enjoy these cookies as you head out the door in the morning or dipped in a cold glass of almond milk!
Notes
Nutrition
Calories:
108
kcal
|
Carbohydrates:
13
g
|
Protein:
4
g
|
Fat:
5
g
|
Saturated Fat:
1
g
|
Cholesterol:
11
mg
|
Sodium:
62
mg
|
Fiber:
1
g
|
Sugar:
5
g
Filed Under: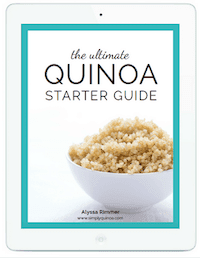 New to cooking quinoa? Grab your FREE Quinoa Starter Guide!
Become part of the Simply Quinoa community and receive weekly emails with exclusive content that I only share in email, as well as my in-depth guide to starting your quinoa journey.