These vegan breakfast cookies taste like dessert, but are healthy enough for breakfast! Flavored with banana, peanut butter, oats, quinoa & chocolate!
We're big fans of breakfast cookies around here, aren't we? There have been a lot of different flavors so far including Zucchini Bread Quinoa Breakfast Cookies, Carrot Cake Quinoa Breakfast Cookies and even Pumpkin Pie Quinoa Breakfast Cookies – and honestly, I think these new ones might be my favorite.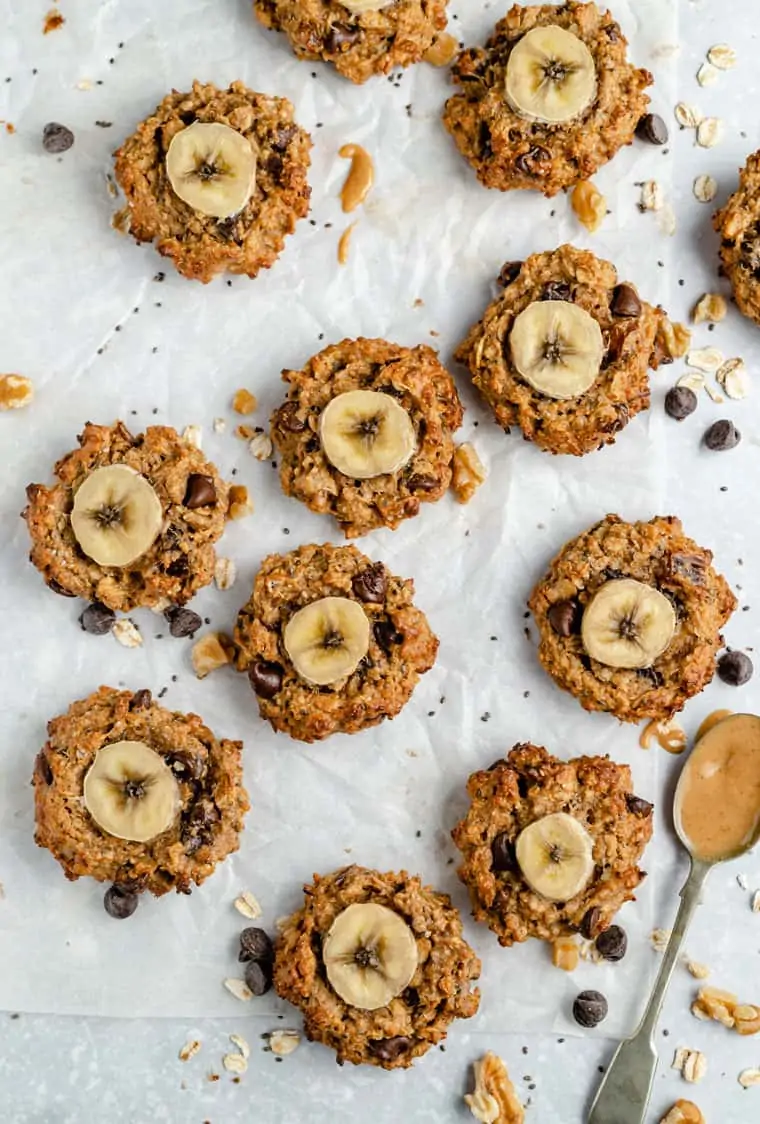 If you haven't tried quinoa breakfast cookies before, you might wonder, "are these actually suitable for breakfast?"
Yes, my friend, they are.
These cookies are gluten-free, vegan (which means no dairy, eggs, or honey), oil-free, and naturally sweetened. The base is banana, flaxseed meal, peanut butter, and a little bit of maple syrup. Then we mix in oats, quinoa flakes, chia seeds, some spices, and then our add-ins.
So basically…it's like we're eating a bowl of oatmeal but in cookie form.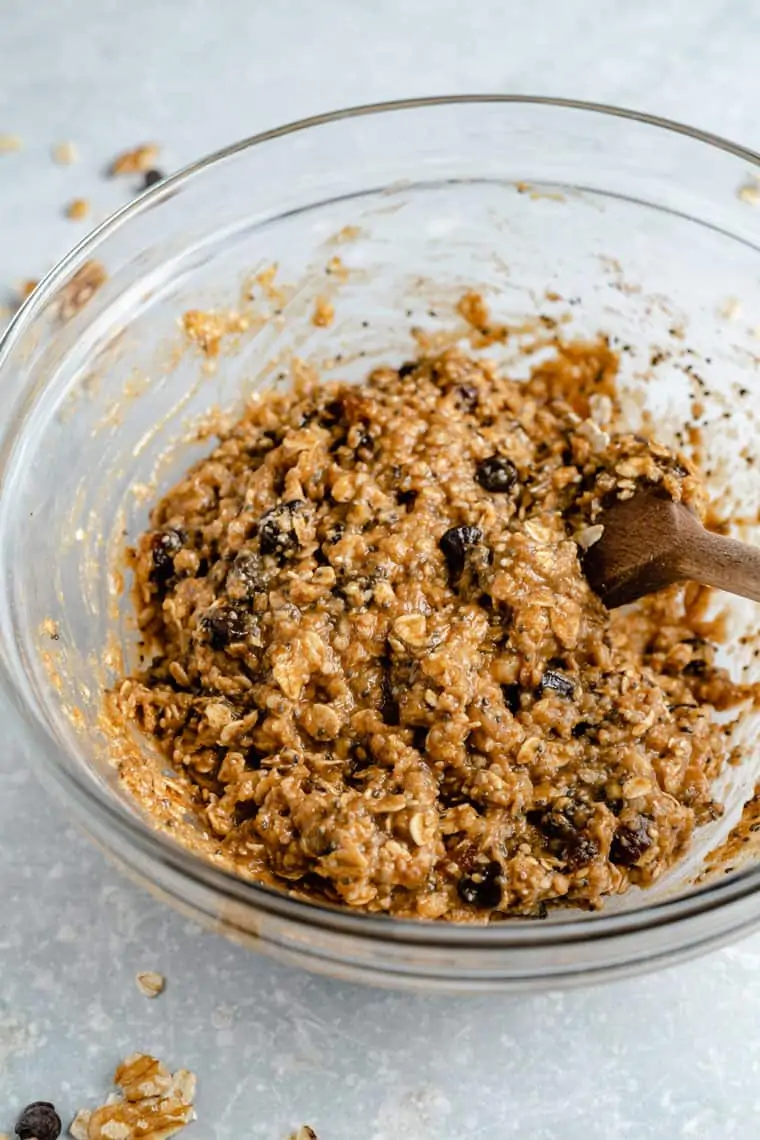 How to Make Vegan Breakfast Cookies
Similar to other cookies, you basically just mix them all together, pop them onto your baking sheet, and baking them up. They're soft and gooey, but the star of the show with these cookies is the ingredient list.
The goodies inside these gluten free breakfast cookies are just too hard to resist!
Chocolate. I mean let's be honest…chocolate just makes everything better. And when you have an excuse to eat chocolate for breakfast, you know it's going to be a good day!
Peanut butter + banana which if you know me, is pretty much my absolute favorite combo ever! These peanut butter banana cookies are pure deliciousness.
Chopped dates which again…obsessed. These add a really nice caramel flavor and are part of the reason why I called them chunky monkey cookies!
Oats + quinoa flakes. Unlike using just oats, the quinoa flakes add more protein which makes each cookie just a teeny bit more filling.
And fifth, well….they're cookies. for breakfast. I just can't even.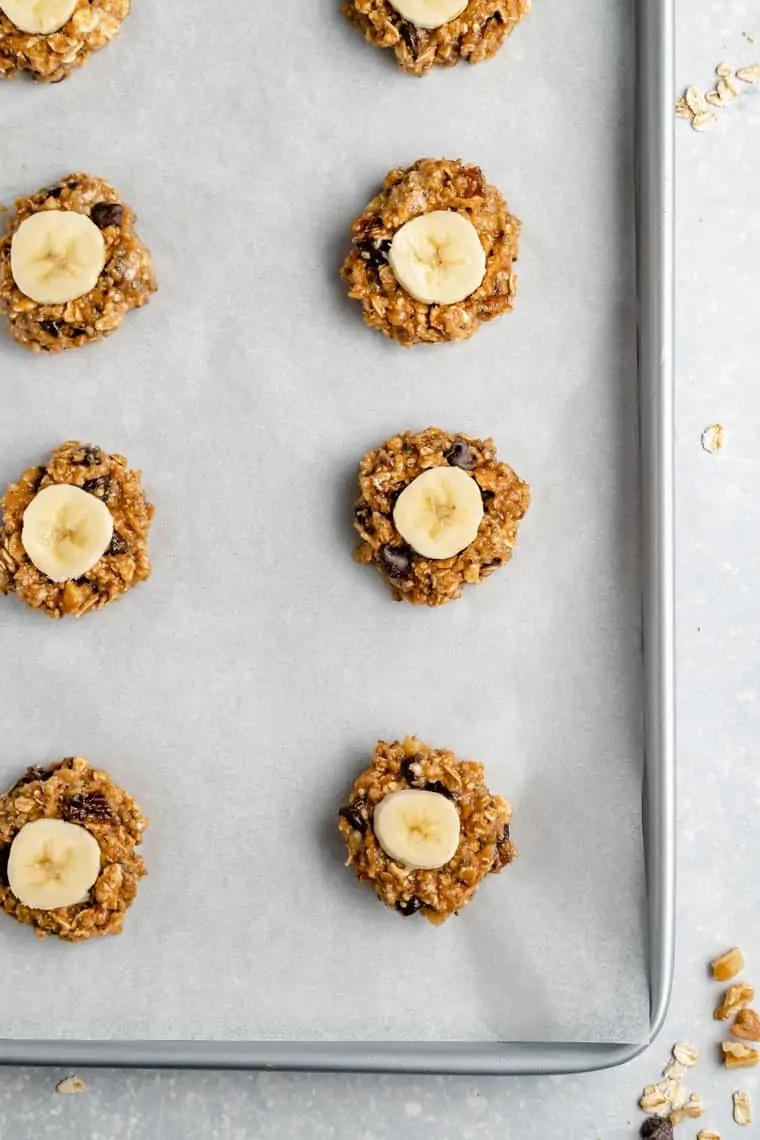 Flax Eggs for Vegan Baking
In order to make these quinoa breakfast cookies vegan, one of the key components is the flax egg. If you're not sure what a flax egg is, we have a post that shows you how to make a flax egg at home. It's super easy!
Flax eggs are basically just a vegan egg replacer. They act similarly to eggs in that they help bind the ingredients together and keep them from falling apart.
If you're not vegan, or don't really care about making these breakfast cookies vegan, you can simply swap the flax egg with a regular egg!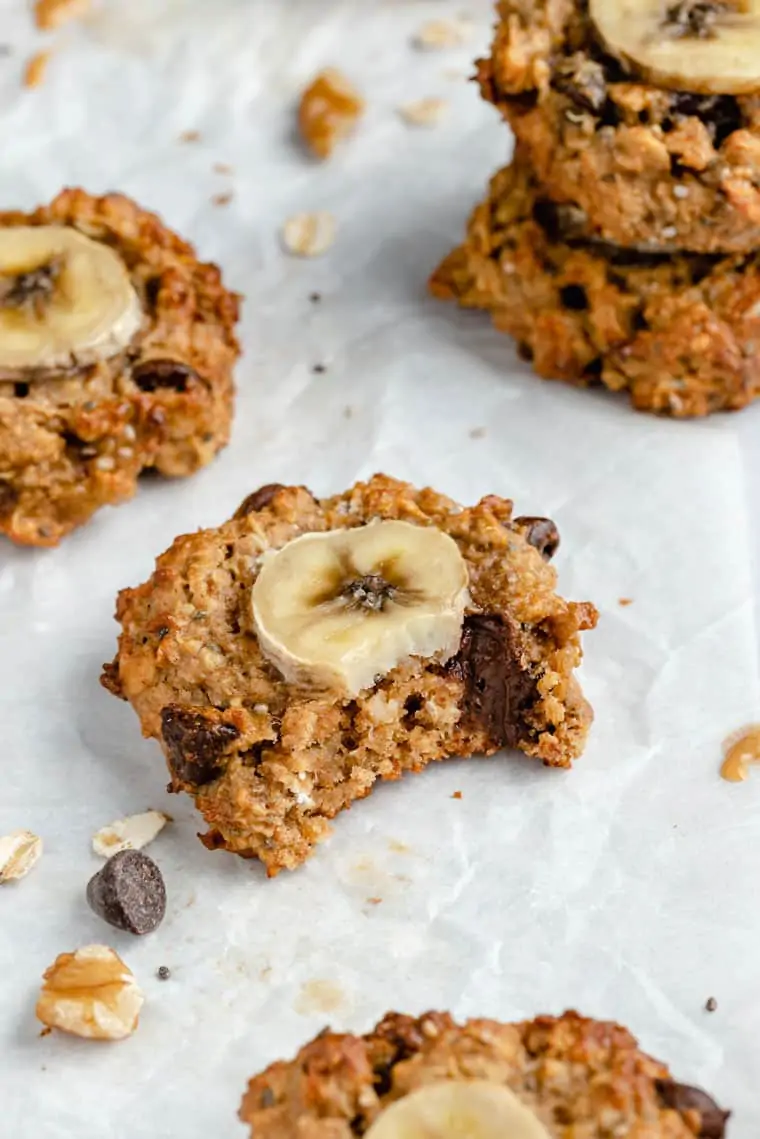 Storage Suggestions
Since you're probably going to want to keep these for a few days, let's quickly talk about the best ways to store them:
Counter: you can keep these at room temperature for 2 – 3 days in a sealed container
Refrigerator: store these in the fridge for up to one week and reheat them in the microwave to make them gooey again
Freezer: if you want to make a double batch/eat them more slowly, you can freeze them for 3 – 6 months. Again, pop them in the microwave to thaw them and get them nice and warm!
But I have a feeling these soft, gooey, chocolatey, sweet, healthy AND vegan breakfast cookies aren't going to be around that long!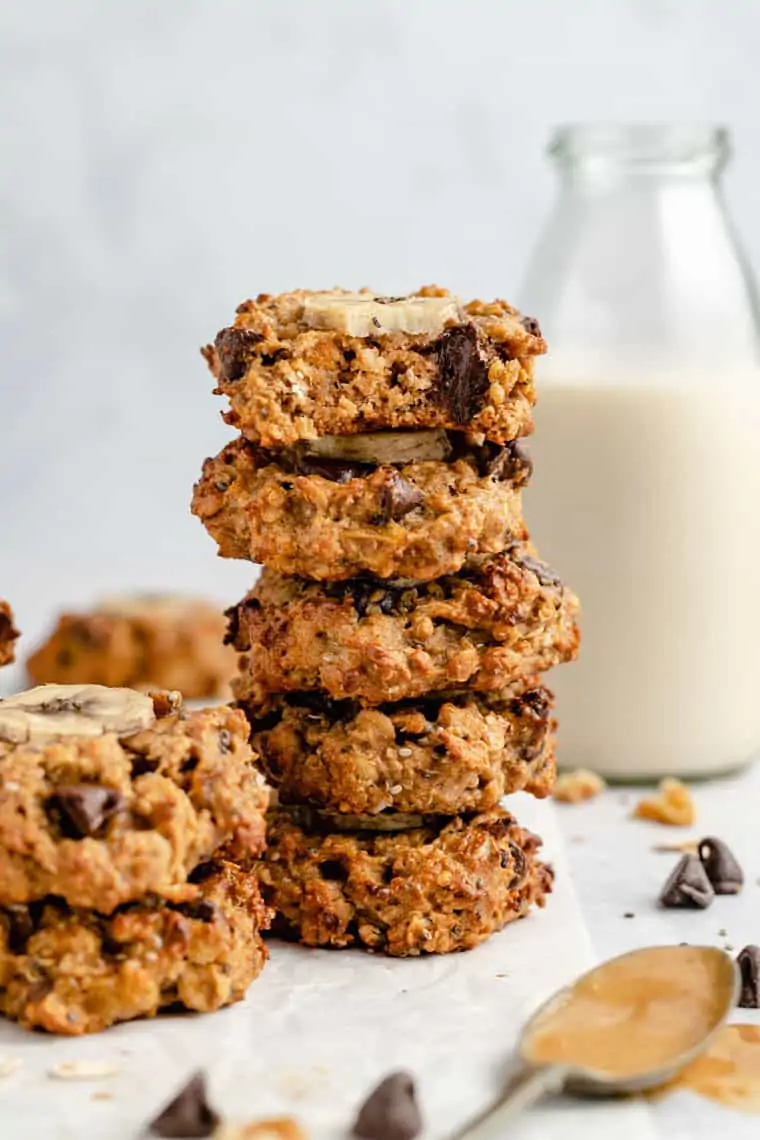 More Vegan Breakfast Cookie Recipes
Chunky Monkey Vegan Breakfast Cookies
These vegan breakfast cookies taste like dessert, but are healthy enough for breakfast! Flavored with banana, peanut butter, oats, quinoa & chocolate!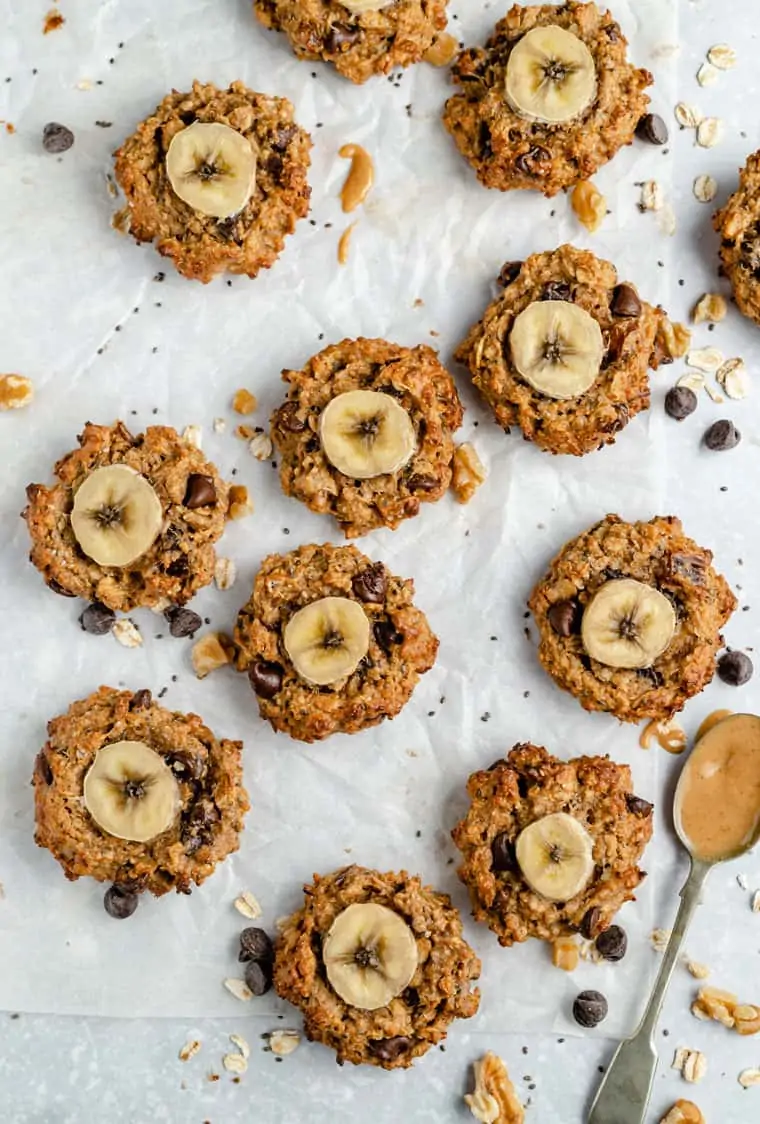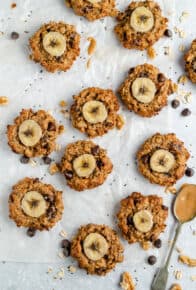 Instructions
Preheat oven to 350 degrees F. Line a baking sheet with parchment paper and set aside.

Whisk together the flaxseed meal and water, and set aside.

Beat together peanut butter, syrup, banana and vanilla in a large bowl. Add flax egg and mix to combine.

Pour in oats, quinoa flakes, baking powder, spices and salt to the bowl and stir together. Fold in chocolate chips, walnuts, dates and chia seeds.

Drop 2 tablespoons of dough onto the baking sheet and repeat until no dough remains.

Bake cookies on center rack for 15 - 18 minutes until edges are golden brown. Remove and let cool on the pan for 5 minutes then transfer to a wire rack and cool completely.

Enjoy at room temp or slightly reheated in a microwave.
Nutrition
Serving:
2
g
|
Calories:
126
kcal
|
Carbohydrates:
13
g
|
Protein:
3
g
|
Fat:
6
g
|
Saturated Fat:
1
g
|
Sodium:
77
mg
|
Potassium:
152
mg
|
Fiber:
1
g
|
Sugar:
7
g
|
Vitamin A:
5
IU
|
Calcium:
41
mg
|
Iron:
0.6
mg
Filed Under: