Did you know that I think I've only had Sloppy Joes three times in my whole life?
Well no, why would you? It's not like we've spent a lot of time talking about them before. In fact, Sloppy Joes have had very little impact on my life, I've never really thought about them before, and yet here we are. About to talk about the outrageously delicious dinner we had the other night.
And yes, it 100% involved Sloppy Joes.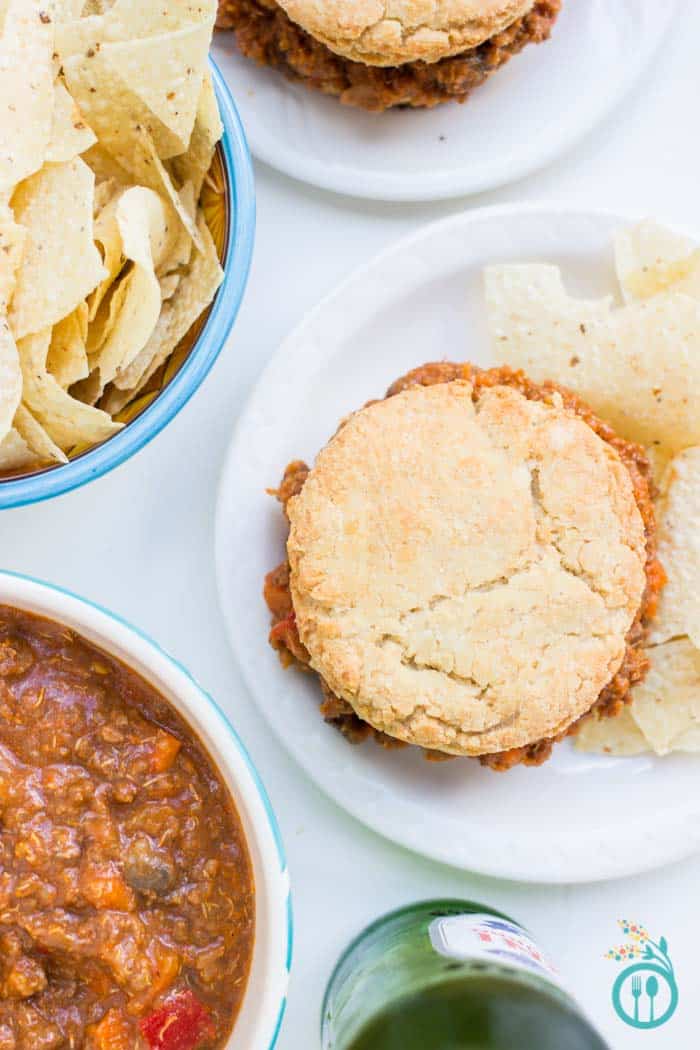 I'm not sure what spurred my desire for Sloppy Joes, but one night a few weeks ago, as I was falling asleep (or trying at least), this vision a juicy Sloppy Joe sandwich danced across my mind. Strange thing to think about as you're trying to go to sleep, but I couldn't shake the image the next day, so I knew it was something I had to experiment with.
And then I realized you can make them in your crockpot…game over.
Any excuse I have to bust out the crockpot before there's snow on the ground is quite alright with me
What little I did know about Sloppy Joes prior to whipping up this recipe, was that the filling somewhat resembles a chili. And they typically served atop a fluffy sandwich bun.
Chili? I can handle that.
I've made quinoa chili before, so I figured why not give these Sloppy Joes a little something extra by throwing in some quinoa? I knew the quinoa would not only give these a little boost of protein, but it would work well in the texture, helping the filling to be ultra rich, yet still healthy.
Plus, quinoa Sloppy Joes just sound sensational, right?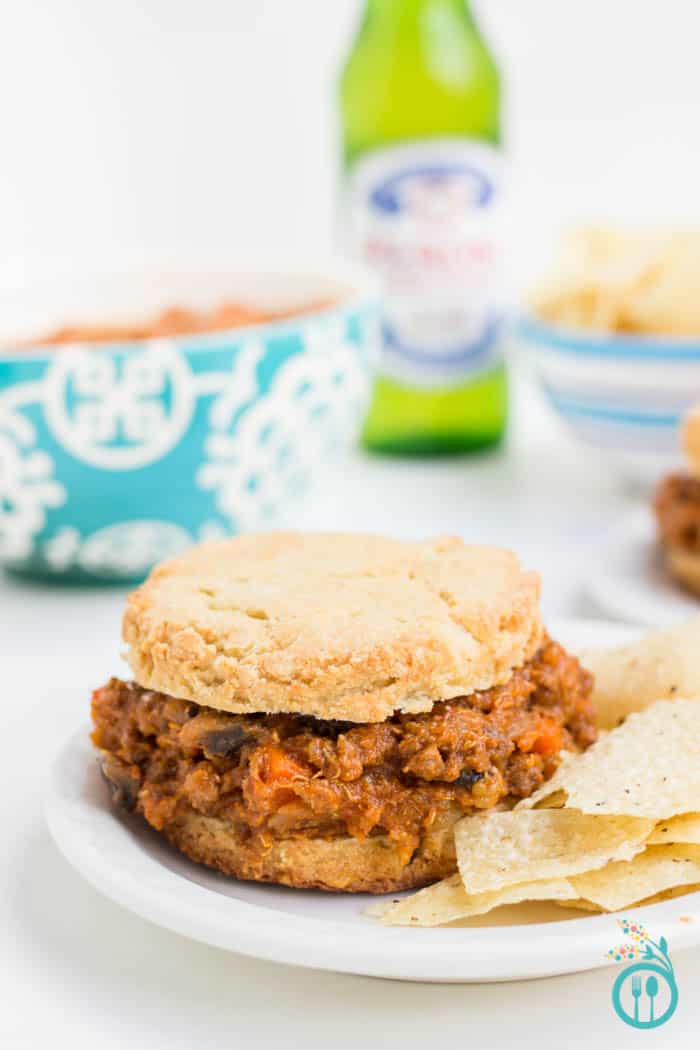 And for the rolls? Totally got you covered.
Remember those cheddar biscuits I shared last Thursday? Yeah, well they make the most spectacular Sloppy Joe sandwich holder (does that even make sense?) EVER.
Talk about a perfect combo: a saucy beef filling sandwiched between two halves of a tender, flakey, cheese-filled biscuit? My stomach is growling just thinking about it.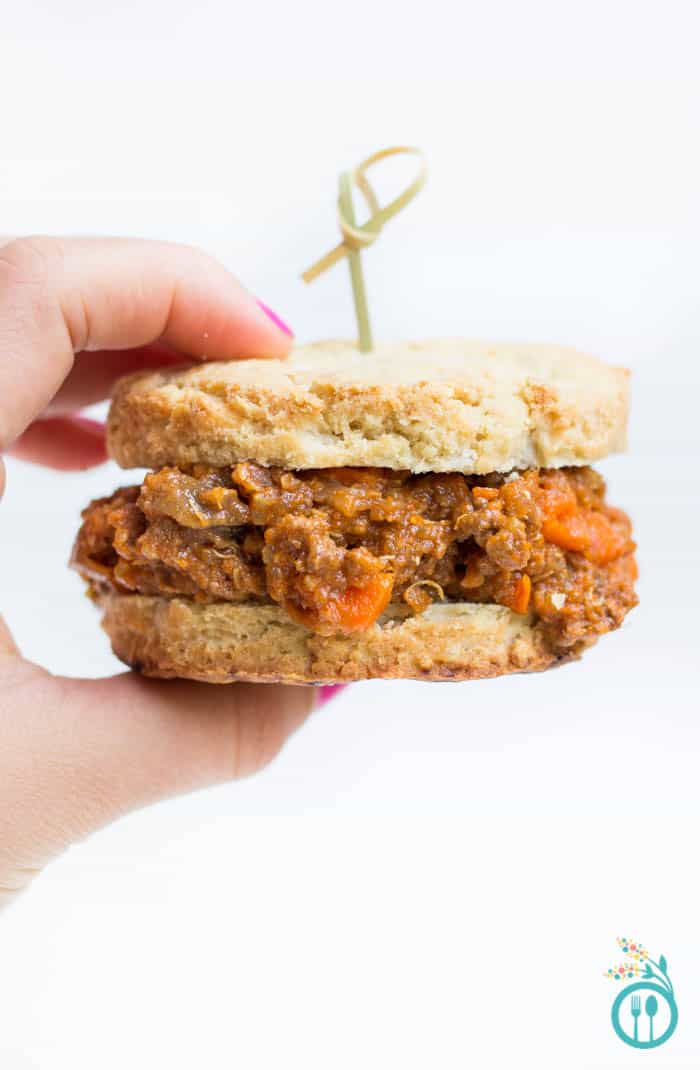 To my surprise, Sloppy Joes are really a cinch to make.
All you need to do is just brown some ground meat (we used grass-fed, 90% lean beef, but you could also use chicken or turkey), sauté some veggies, whisk up a quick sauce, throw it all into the crockpot with some quinoa and leave it be for 6 hours.
When you come back, your house will be filled with the smells of barbecue mixed with chili. And inside that slow cooker of yours will be a sweet, tangy mixture of pure goodness.
Fill your belly goodness. Warm, comforting goodness. Goodness that makes those freezing winter nights that lie ahead of us just a little more bearable.
The goodness that reminds you how freaking awesome crockpots are.
Slow Cooker Quinoa Sloppy Joes
Talk about a perfect combo: a saucy beef filling sandwiched between two halves of a tender, flakey, cheese-filled biscuit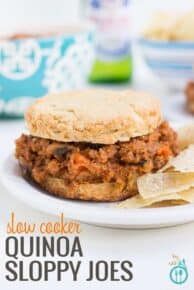 Ingredients
1 1/2

lbs

of ground beef

2

medium carrots

chopped

1

cup

mushrooms

chopped

1

medium onion

peeled and diced

2

garlic cloves

minced

1/2

cup

quinoa

1/2

cup

ketchup

1/4

cup

honey

2

tablespoons

hot sauce

optional

2

tablespoons

dijon mustard

1

tablespoon

chili powder

1

teaspoon

smoked paprika

1/2

teaspoon

cayenne pepper

2

cups

water

Salt & pepper to taste
Instructions
Heat a non-stick skillet over medium high heat. Add beef and cook until browned. Transfer to a crockpot and return skillet to the stove.

Add carrots, mushrooms, onions and garlic to the pan and saute until starting to soften. Transfer to the crockpot. Add quinoa.

In a small mixing bowl, mix together remaining ingredients, minus water, salt and pepper. Pour this sauce over the ingredients inside the crockpot. Add water and stir together.

Turn crockpot on high and cook for 4 hours. Turn down to low and let simmer for another 2 - 3 hours.
Nutrition
Serving:
1
cup
|
Calories:
444
kcal
|
Carbohydrates:
33
g
|
Protein:
23
g
|
Fat:
24
g
|
Saturated Fat:
8
g
|
Cholesterol:
80
mg
|
Sodium:
718
mg
|
Potassium:
770
mg
|
Fiber:
3
g
|
Sugar:
19
g
|
Vitamin A:
4290
IU
|
Vitamin C:
9.9
mg
|
Calcium:
58
mg
|
Iron:
3.9
mg
Filed Under: