An easy and fun Tuscany road trip guide! We're driving from Rome to Florence. Discover the best Tuscan towns, see a complete driving route and enjoy Italy!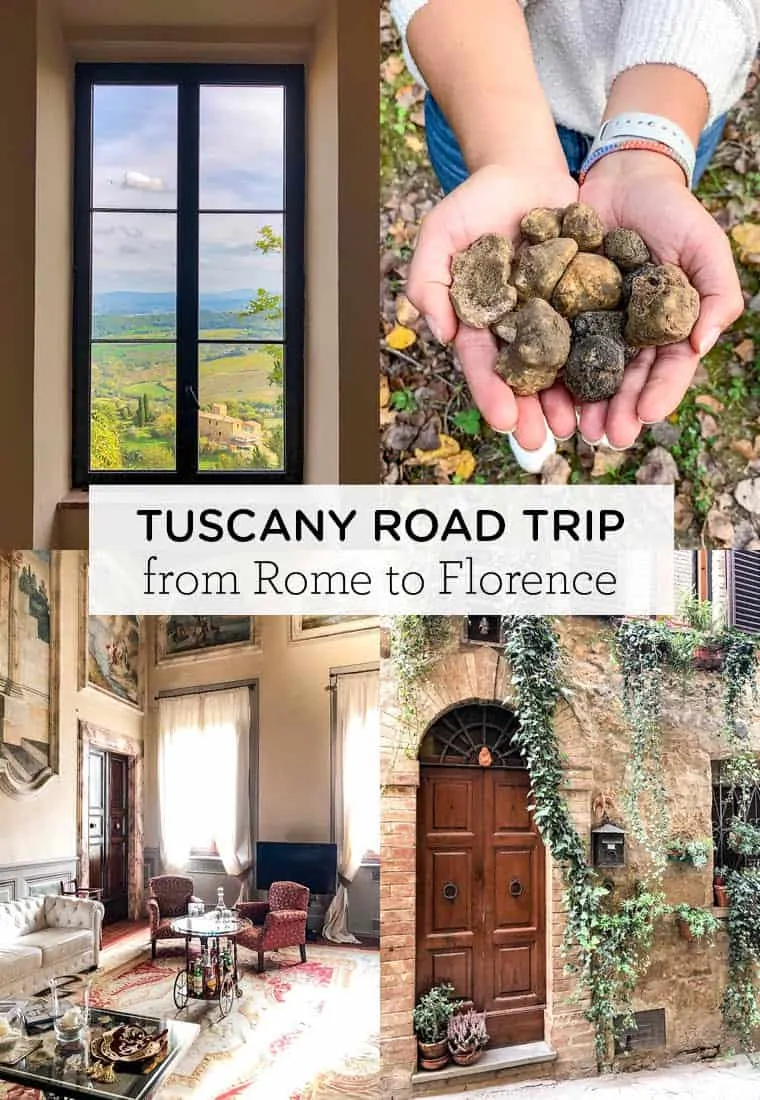 For the past three weeks, I've had the amazing opportunity to explore Italy. We started in Milan, then headed down to Rome, then decided to meander our way through Tuscany. Tuscany is probably one of the most famous areas in Italy and for good reason – it's absolutely stunning!
Nestled between two of the major cities in Italy (Rome and Florence), Tuscany is a travelers dream. It's accessible, there are tons of things to do, there is amazing food and wine and pretty much every town you visit is breathtaking.
But it can also feel a little overwhelming. Where should you go? What should you do? What towns are the best to visit? What route should you take? I get it, planning a trip can be stressful, which is why I wanted to put this guide together!
When is the Best Time to Visit Italy?
I personally think the best time of year to visit Italy is Fall. The temperatures are moderate, the crowds are almost gone and it just makes it easier to navigate. It's also beautiful as the leaves start to turn.
I've been in September, early October and late October and they've all been great. I've also been in April which is another great time of year to visit. I would just avoid the summer if possible!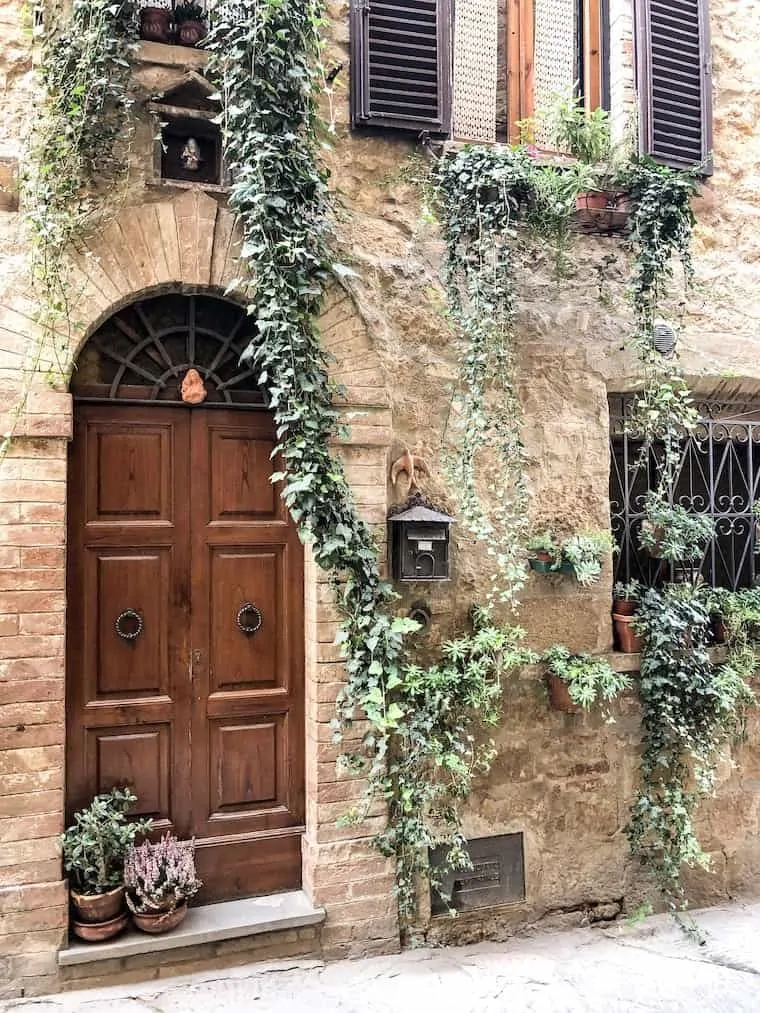 Tuscany Road Trip Travel Guide
The most effective way to get through Tuscany is by driving. The Italian roads are notorious for being scary to drive on, but they're really not. Especially if you're going to the more popular towns. If you're off the beaten path it might get a little hairy, but this route that I've given you is easy.
This guide is focused on driving from Rome to Florence. I would suggest that if you can, book your flight to land in Rome and then leave from Florence. If not, go in and out of Rome and just take the train back from Florence when you need to leave.
Start by taking a few days in Rome. Then hit the road start to explore Tuscany!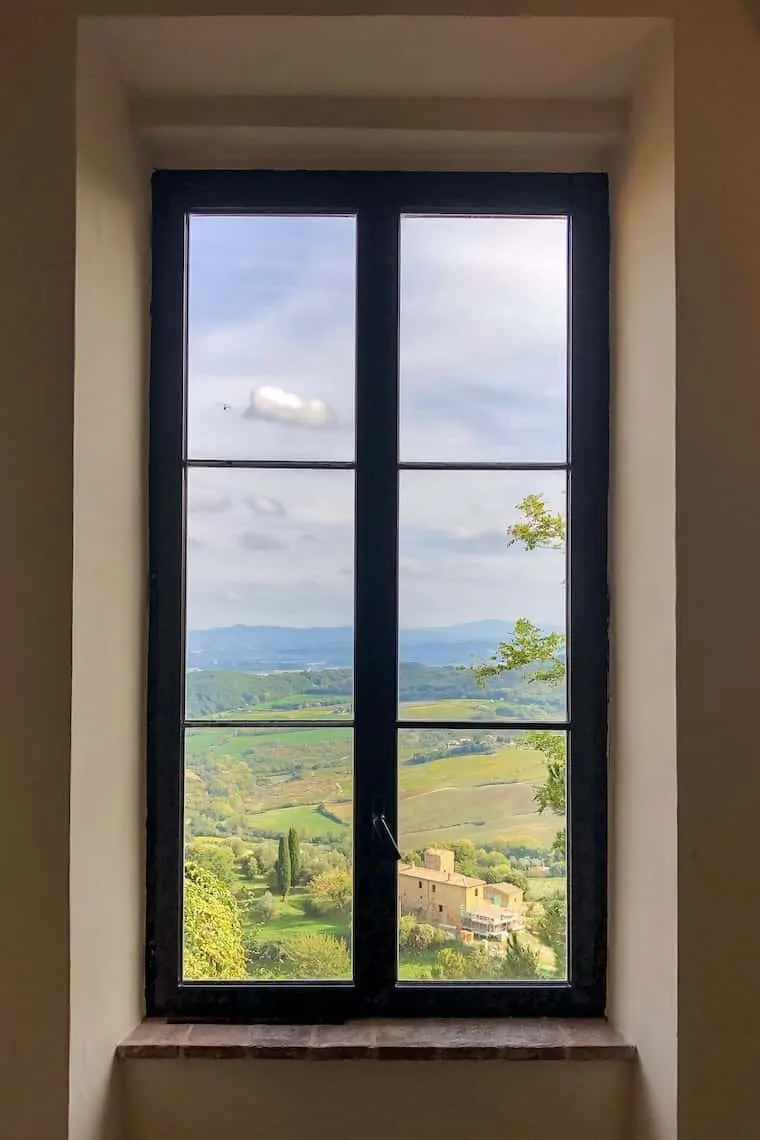 Day 1 ⇢ Orvieto & Montepulciano
For the first night on our Tuscany road trip, stay in Montepulciano. It's a beautiful little town, famous for its wine and views. We stayed at the Palazzo Carletti which is in the center of the town and just beautiful. It's super comfortable, not too expensive and a great place to stay to just explore the town for a day.
But since we're driving from Rome to Florence, before you get to Montepulciano, take a quick stop in Orvieto. Orvieto is a larger town that's close to Rome and really cute. It's a great quick stop to stretch your legs, grab a bite and explore another town.
Best Restaurants in Montepulciano:
Gattavecchi Winery (great views, GF gnocchi & good wine)
Trattoria di Cagnano (they have GF pizza!)
Osteria Acquacheta
La Vineria di Montepulciano
Ristorante la Grotta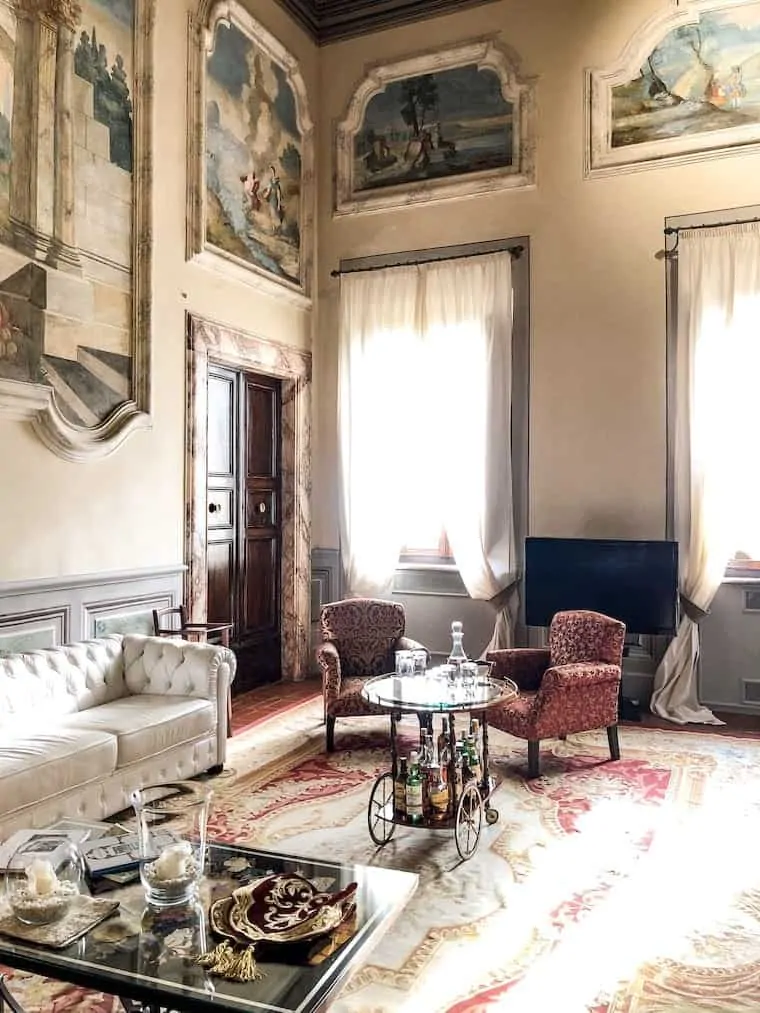 Day 2 ⇢ Pienza & Siena
The next stop on our Tuscany road trip is Siena. You'll stay one night in Siena, but on your way up, stop in Pienza. Pienza is a teeny little town that is famous for Pecorino cheese. You won't need too much time there, but if you are able to eat cheese, definitely do a cheese tasting and also get the pecorino gelato at the corner shop by the church. Matt said it was the best gelato he's ever tasted.
From Pienza it's time to head to Siena! We actually didn't stop in Siena this trip as I've been twice before, but it's a great little town. Quite touristy, but still cute and lots of good stuff to eat. Spend the night here (somewhere inside the city so you can walk around). It's especially pretty at night once most of the tourists are gone!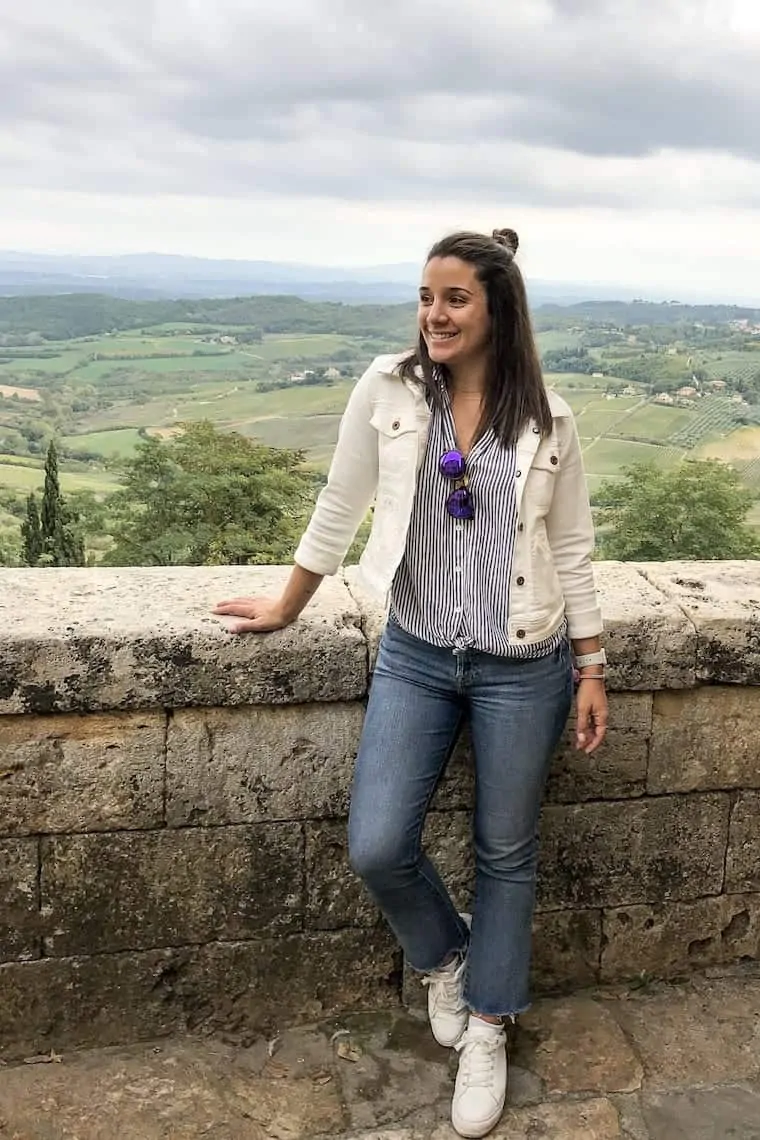 Day 3 ⇢ San Gimignano & Volterra
After Siena, it's time to head to the San Gimignano area. Make sure to get up early so you can maximize the day! We're hitting two towns today, so there's a lot to see.
We stayed at a spa hotel outside the city, but I'd actually recommend staying at Agrivilla i Pini instead. Book two nights and thank me later ????it's an amazing sustainable hotel/villa with a fabulous restaurant, vineyard, garden, pool, olive trees, etc. It's also close to town and great for exploring!
Drop your stuff at the hotel as early as you can, then get back in the car and head to Volterra. It's only about 40 minutes away and is absolutely stunning! It's set on top of a hill with incredible views. The town itself is also really cute. Lots of little shops, there are ancient Roman ruins to see, some museums, a church or two and there's even an organic, plant-based restaurant. Check out Life Bistrot and definitely get the chickpea cheese plate. OMG it was amazing!
Once you've spent a few hours in Volterra, hop back in the car and drive back to San Gimignano. Spend the rest of the day here just exploring. Again, lots of shops, some cool museums, some churches, and great gelato in the center square. Either decide to have dinner in town or, if you're staying at Agrivilla i Pini, have dinner there. So good!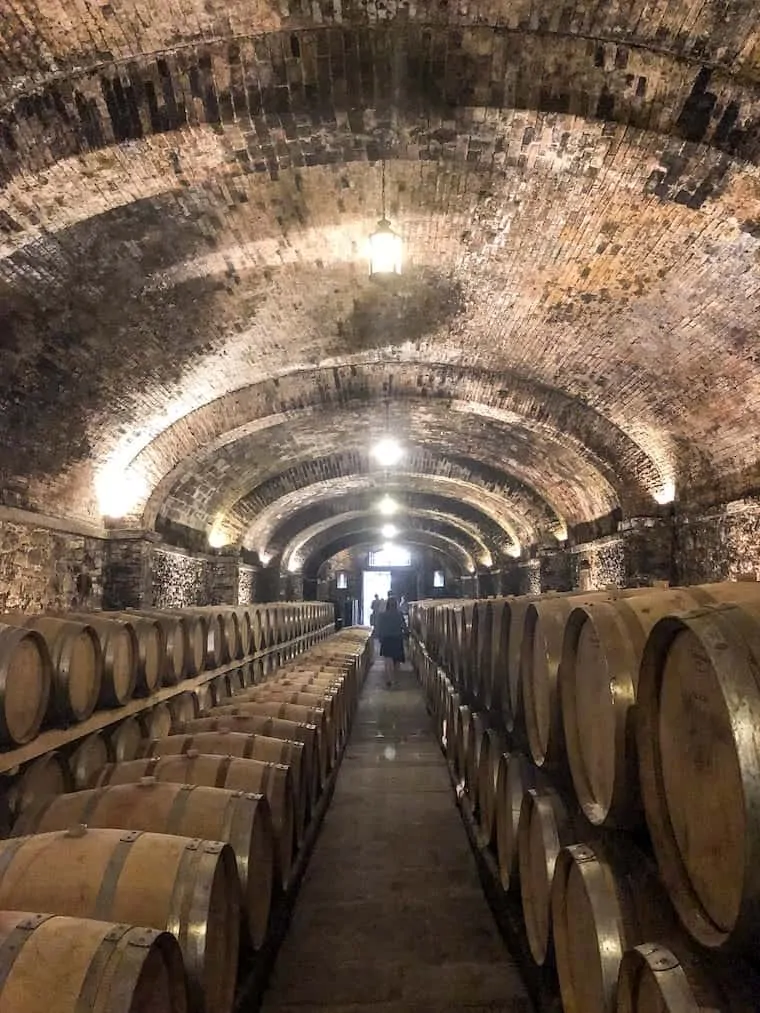 Day 4 ⇢ Lucca
Day 4 of our Tuscany road trip is bringing us to Lucca. Lucca is a town in the northern part of Siena and it's so cute. You can easily spend a whole day here! Take a walk along the top of the wall that surrounds the city, pop into the shops, explore the different eateries. And just have fun!
If you're feeling like you're ready to go on the earlier side, you can take a quick stop in Pisa to see the tower! Or just head back to San Gimignano and book yourself a vineyard tour or hang by your hotel's pool.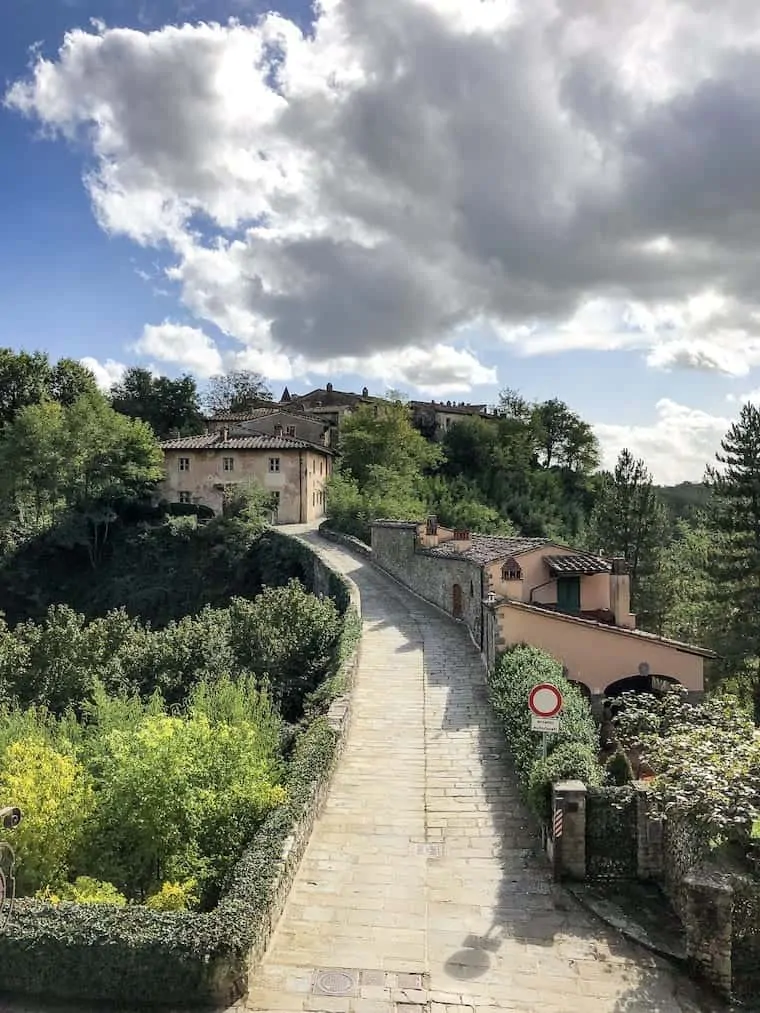 Day 5 ⇢ Il Borro
If you're up for a splurge, definitely spend one night at Il Borro! It was one of the most amazing places I've ever stayed in. It's hard to even describe, it's basically it's a compound that has been fully restored and the rooms are built into this small (private) medieval town.
They have a gym, a spa, pools, their own organic vegetable garden, an organic vineyard with their own fantastic wine, and two really great restaurants. It's not cheap, but it's well worth it. There are also a ton of trails around the property and places you can explore.
They also do activities and if you have the time, do the truffle hunting one. It was SOOO fun! We learned all about truffles, got to play with some dogs, then had an amazing truffle spread in this teeny town with great wine. The tour guide was hilarious and it was just such an authentic and cool experience. Highly HIGHLY recommend!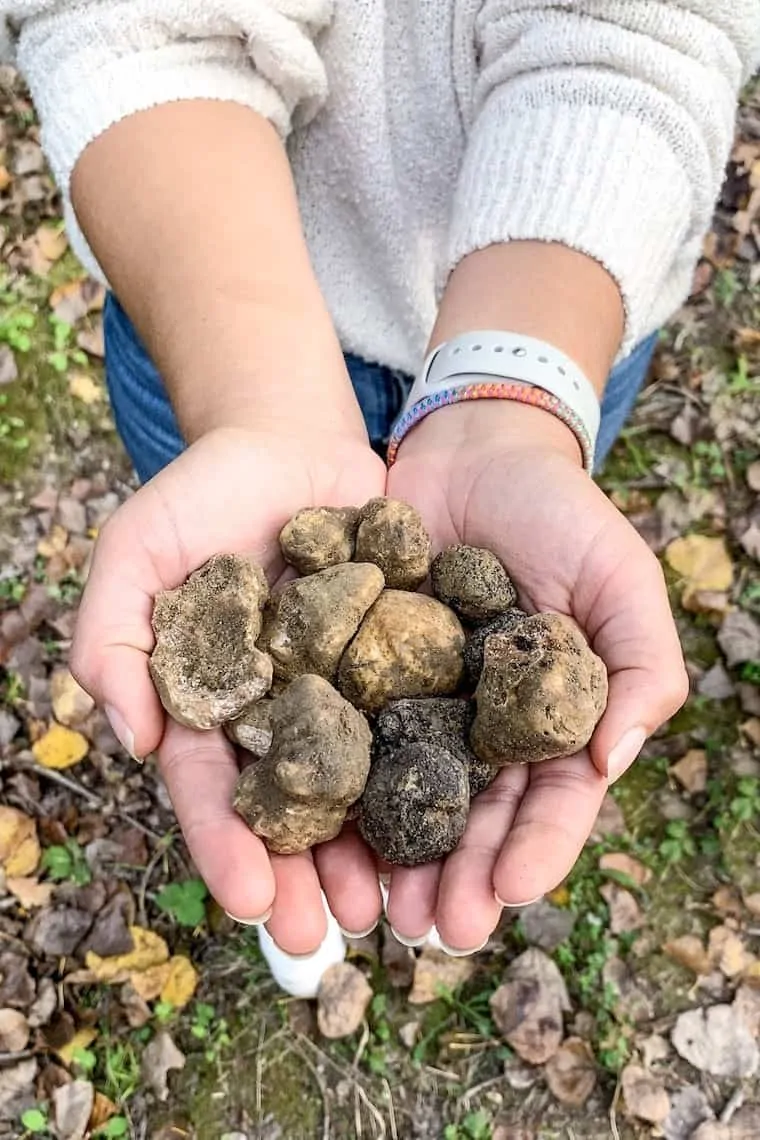 Day 6 & 7 ⇢ Florence
Now for our final stop on our Tuscany road trip: Firenze! Florence is a pretty special city. It's the heart of the art and culture of Italy and has some pretty spectacular sights. The bridges (Ponte Vecchio), the Uffizi, the statue of David and so many others. I would recommend doing a morning walking tour so you can get to know the city and its immense history. Then spend the afternoon exploring and shopping.
The next day, I'd recommend booking a tour for the Uffizi. If you're short on time, I'd do a guided one of the highlights. Since it's so large, we were able to see the big-name pieces, learn about some other cool tidbits, but still be out in under 2 hours. From there, continue exploring and eating good food. If you go to one place in Florence, go to La Giostra. You'll need a reservation, but the vibe is amazing, the service is top-notch and they're very accommodating for food allergies!
Tuscany Road Trip Map
Click here for the printable version!
Have you been to Tuscany?
I'd love to know some of your favorite spots in Tuscany! Let me know in the comments ????and if you do end up following our Tuscany Road Trip, come back and let me know what you think! xo