What is self-care? Learn why self-care is important and get 101 simple self-care ideas to incorporate into your life.
Happy Sunday!
I am SO excited to be sharing a brand new series that I'm launching on the blog called, Self-Care Sundays. This is a series dedicated to all things self-care – from mindfulness, routines, exercise, stress, natural beauty, at home/DIY, and more!
I've been wanting to add more lifestyle type content onto the blog as I personally believe that how we live has as much of an impact on our health as how we eat. Don't get me wrong, the nutrition side of things is super important, but when we are also focusing on other areas of our life (mental, physical, emotional, etc.), we can optimize things that much more.
I struggled to find a place to fit this content because for the last 7 years my website has been pretty much solely focused on the food aspect of things, so this piece never quite felt like it fit. But last weekend as I was coming up with new things I want to try (and achieve) in 2018, this series just came to me.
Self-Care Sundays.
I don't know about you, but I'm pumped! This is going to be a really fun series to write and put together and I think it's going to really help you!
Here's how it works: each Sunday we'll be talking about some form of self-care. It could be a recipe for a bath salt, it could be how to start a meditation practice, it could be about creating a morning routine. Really, the options here are endless, the only thing it won't be about? Food.
This is going to be a lifestyle-focused series that I know you are going to learn a TON from! And as always, I'm totally open to your feedback, so let me know how you're feeling as we go and if you have any topics you want to address/dive deeper on, I'm all years.
Now, for our first topic: SELF-CARE!
What is self-care?
If you're totally new to the concept of self-care, I thought it might be helpful to "define" it for you. I put the word "define" in quotes because there are many ways of looking at self-care. After a quick Google search, here are a few definitions I found…
"care for oneself" – Merriam-Webster
"any necessary human regulatory function which is under individual control, deliberate and self-initiated." – Wikipedia
"any activity that we do deliberately in order to take care of our mental, emotional, and physical health." – Psych Central
Essentially I like to think of self-care as something you are doing for YOU and your own health and wellbeing.
Why Self-Care is Important
With so much going on in today's society, it's easy to get lost in the swing of things. Work, social and family obligations keep our schedules packed, our stress levels maxed and leave little room for us.
When we don't take the time to properly care for ourselves, it can have a big impact on our health. Self-care helps us maintain a healthy relationship with ourself and others, it helps to boost self-esteem, self-confidence and positive feelings. And who doesn't need more positive vibes in their life? #goodvibesonly
Self-care is also one of the best ways to manage stress. We're going to talk all about stress in a future SCS (Self-Care Sunday), but the amount of stress that most of us are under these days isn't good for us. It compromises our immune system, our digestive systems, our hormones, our mental and emotional health, and more. Practicing a little self-care can do HUGE things for your stress levels and will help you feel amazing.
How do we practice self-care? There's really no one-size-fits-all approach. It can look different for every single person and can even differ for you day to day. To help you get started on the self-care train, I've put together a list of 101 self-care ideas to inspire you!
101 Self-Care Ideas
go to your favorite workout class
do 5 minutes of deep breathing
snuggle your dog/cat
give someone a hug
take a bath
make a cup of herbal tea
read a book
give yourself a manicure/pedicure
get a message
get a facial
give yourself a facial massage
do a face mask
take a walk
turn your phone off
call your best friend
light some candles & gentle music
do an at-home yoga video
meditate
trade a foot rub with your partner (or roommate/kiddo)
buy yourself a fancy candle
leaving work early for a yoga class
take a 10-minute work break & get outside
do some light stretching at your desk
eat your lunch/dinner away from screens
Pay that extra $ for a kombucha or almond milk latte
Curl up with a blanket and Netflix
buy yourself a bouquet of flowers
ask your kids (or partner!) to give you a back massage
watch inspirational videos/following inspirational people online
chop veggies/make dinner to music you love
journal
pour yourself some hot coffee & read the newspaper in silence
choose healthy foods that will energize you
buy yourself a pass to a fun fitness class
do something creative you love
make yourself a green smoothie (or juice)
cook a new recipe
bake a batch of cookies (or brownies, or cupcakes, or whatever you love)
say "no" to something (or someone)
unfollow people who make you feel bad about yourself
follow 5 new inspiring accounts on Instagram
repeat a mantra
take yourself on a solo date
splurge on a natural skincare product
enjoy something sweet without regret
make a gratitude list
make a dreams list
dry brush your skin
find a new podcast to listen to
have a girls night IN
make yourself a kombucha "cocktail"
try a new exercise class
chew your food slowly and enjoy every single bite
try a new restaurant
make a superfood hot chocolate
go to bed 30 minutes early
sleep in (don't set your alarm)
stay IN on a Friday night
take a whole day to do nothing
buy a new plant
make a Pinterest board of inspiring quotes
hang some new pictures
find something that makes you laugh (like a deep belly laugh)
buy yourself some flowers (or pick them!)
dance in your living room
watch the sunset (or sunrise)
take a nap
explore a new hobby
sunbathe
book a weekend getaway
go to a new museum
find something free to do in your city or town
meet a friend for coffee/tea
try acupuncture
do a closet purge (and donate what doesn't bring you joy anymore)
smile at a stranger on the street
go on a picnic
learn a new language
drink more water
volunteer for a cause you care about
stay in your PJs all morning
do a puzzle
go for a hike
make a playlist of songs that motivate (and uplift) you
take a sick day
eat some dark chocolate
have a glass of your favorite wine
declutter a space in your home
try a type of cuisine you've never tasted
add something new to your grocery list
give someone else a compliment
diffuse essential oils
make your favorite comfort food and enjoy every bite
sweat it out in a sauna/hot yoga/hot pilates/etc.
sit outside for 15 minutes and do nothing
listen to a few chapters of an audiobook
find a local class to try (cooking, art, meditation, etc.)
get a Reiki healing session
talk to a therapist
reach out to an old friend
say 5 things OUT LOAD that you love about yourself
How do you practice self-care?
Share your favorite thing that you do for YOU in the comments below! The bigger we can get this list, the better ❤️ and I truly hope that you find some inspiration in this post but also all the other ones we have coming up! And if you have any other topics you'd like to see covered, let me know below!
XO
-A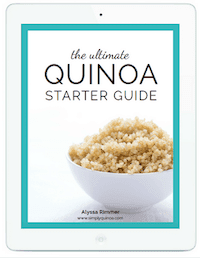 New to cooking quinoa? Grab your FREE Quinoa Starter Guide!
Become part of the Simply Quinoa community and receive weekly emails with exclusive content that I only share in email, as well as my in-depth guide to starting your quinoa journey.