A quick and easy weeknight meal, these pesto zucchini noodles take only five minutes to make and are packed with flavor and healthy ingredients.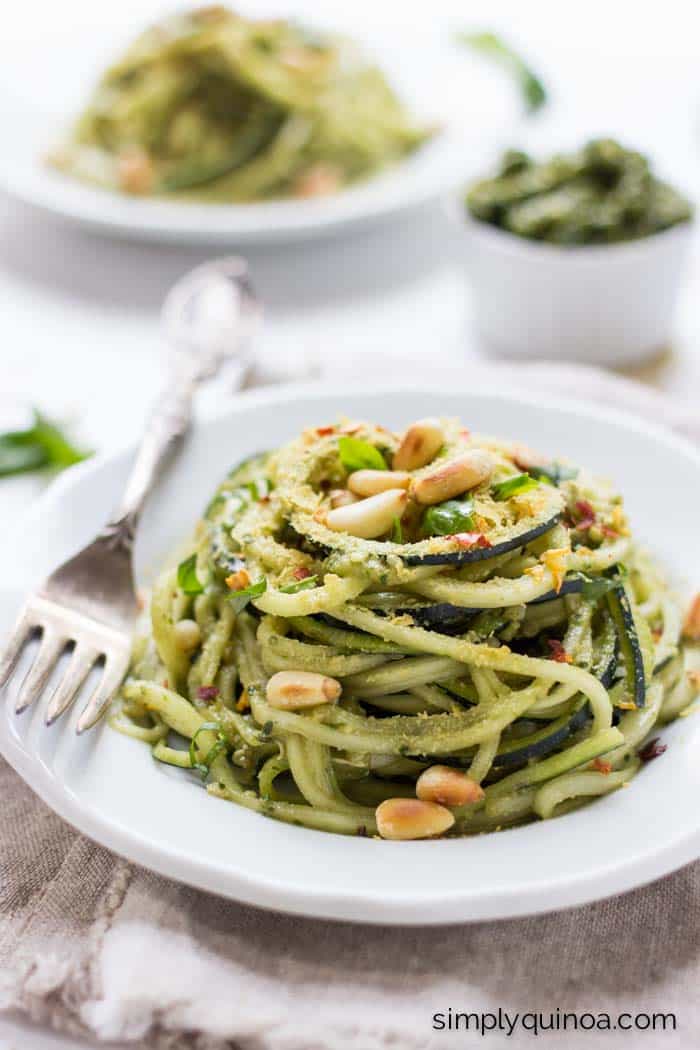 ZOOOODLES! (read zucchini + noodles = zoodles) smothered in a dreamy vegan pesto sauce. On the menu tonight and ready in 5 minutes.
Dinner in 5 minutes? I'll take it. Any day of the week.
BUT especially after coming back from a two-week vacation with little to no motivation to cook, while also carrying around a few extra pounds (who doesn't after vacay, right?) and craving/needing something super healthy. And yes…while it would have been easy to order takeout, in the amount of time it would have taken me to place my order, I whipped up a delicious, veggie-filled summer meal.
Now THAT I can handle.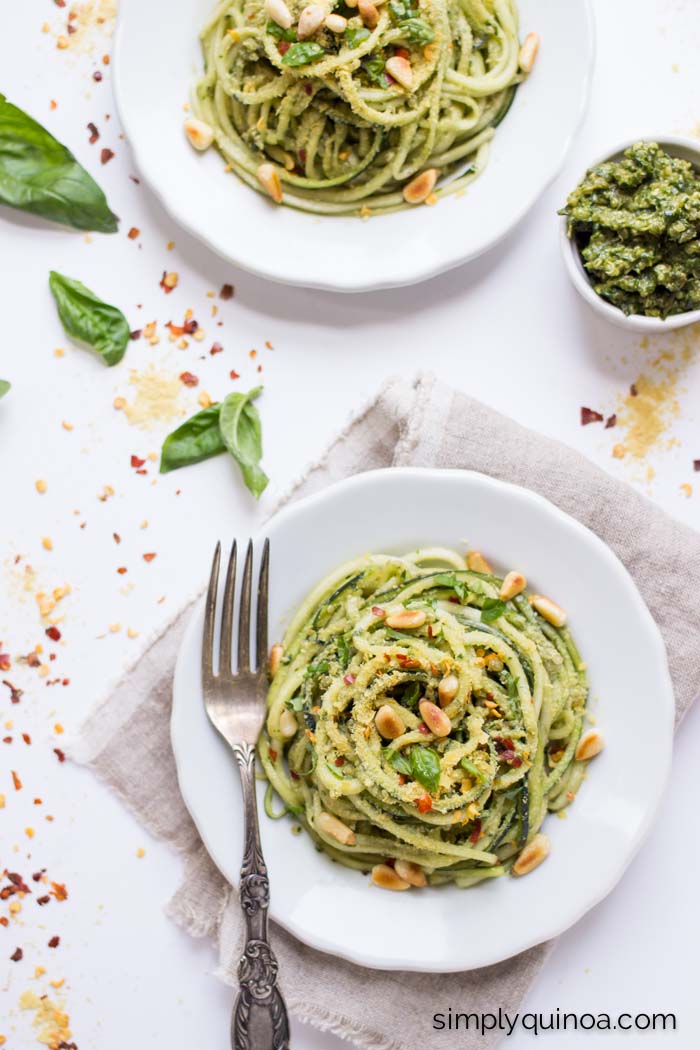 If you haven't become a zucchini noodle groupie yet, now is your chance.
All you need to turn that gorgeous green veggie into noodles is a spiralizer or julienne peeler. In moments you'll have a giant bowl of healthy noodles ready to be devoured.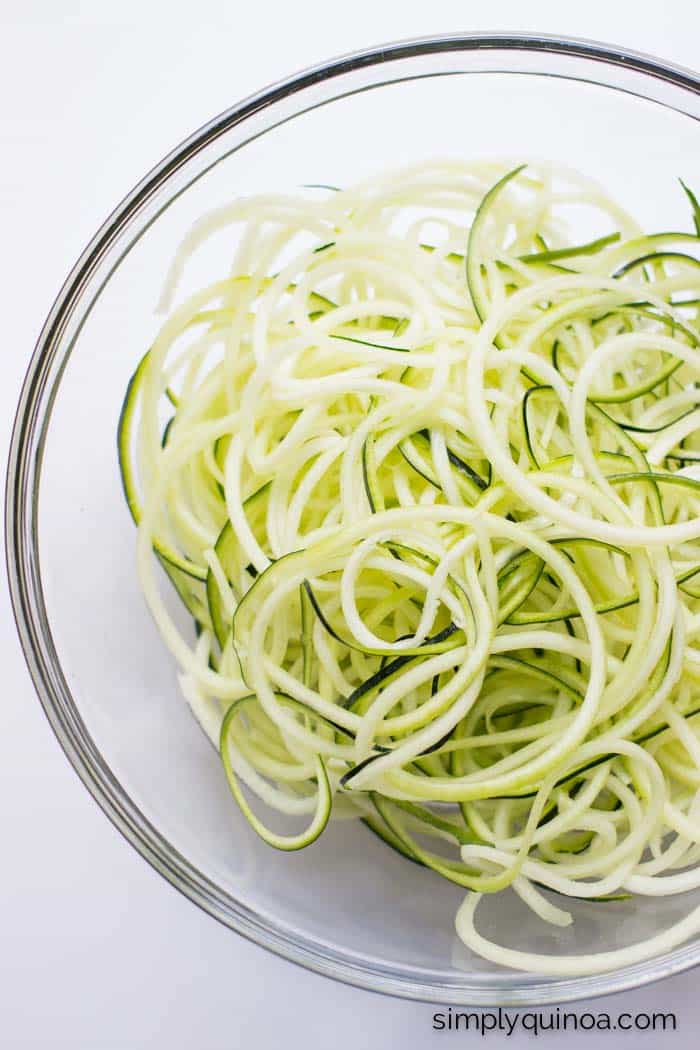 And while zucchini noodles might be the star of today's dish, the quinoa pesto sauce surely can't be ignored.
Because inside that little jar of green goodness is where all the magic happens. We're talkin' bursts of flavor from the basil, lemon, and garlic, with a hint of salty cheese (but without the actual cheese) and mild heat from red pepper flakes.
Then to give the whole thing a little extra boost, I stirred in quinoa.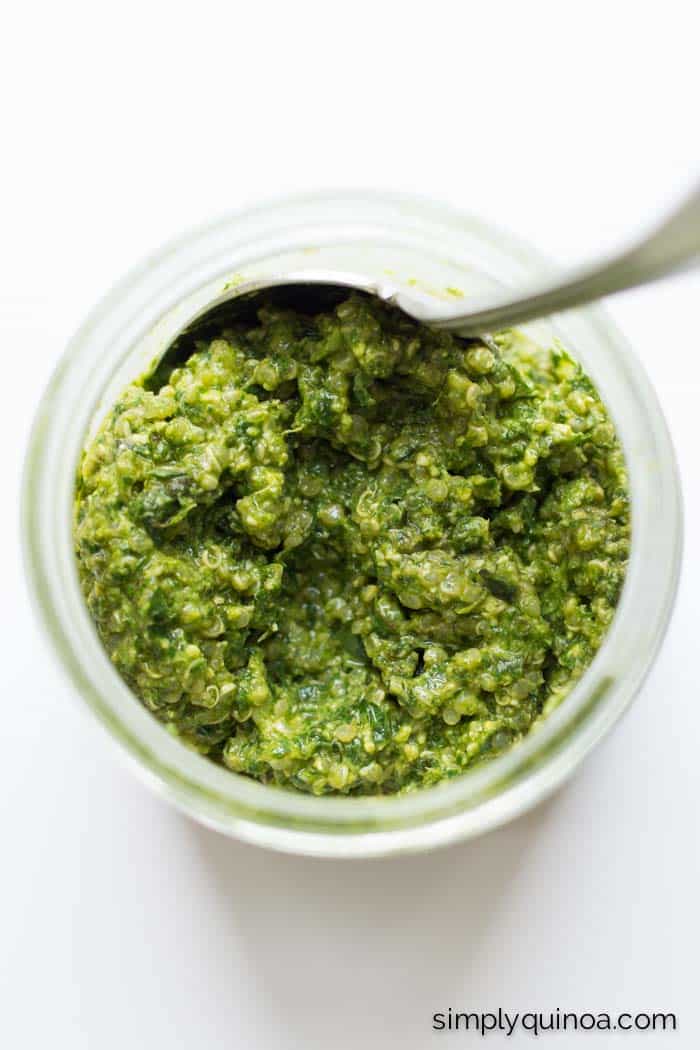 Adding quinoa to your pesto might sound little crazy but 1) by now you should I like to add quinoa to everything and 2) it helps give the dish more umph. Meaning with the added protein of the quinoa, you don't have to worry about getting hungry later and needing to make something else.
(because remember, I promised you only 5 minutes for dinner tonight!)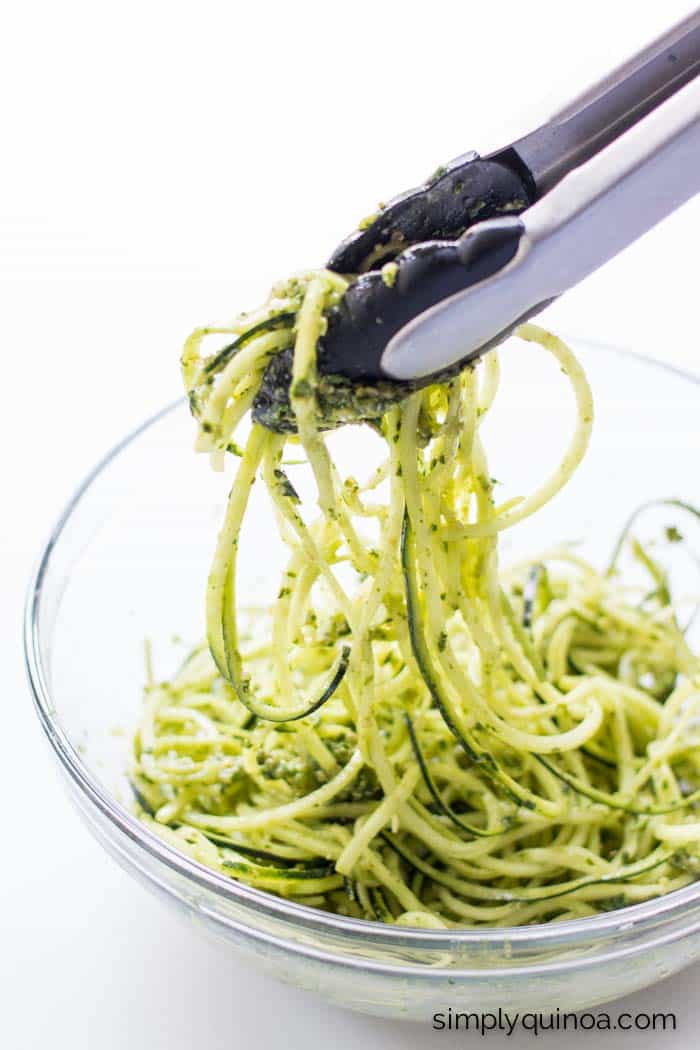 Pesto pasta has always been a guilty pleasure of mine. And I say guilty because the greenness can be quite deceiving.
Traditionally this dish would be packed with cheese, drenched in oil and trashed up with some glutinous pasta. So while it might seem like you're ordering one of the "healthy" meals on the menu, you'd probably do better with a bowl of pasta marinara.
But for a pesto lover like me, marinara just won't cut it. So these pesto zucchini noodles are my solution: they're quick and easy, I use nutritional yeast instead of cheese, I went light on the oil and there's no gluten in sight. Rather it's a big bowl of veggies smothered in a protein-rich sauce.
And it tastes better than the "real" thing.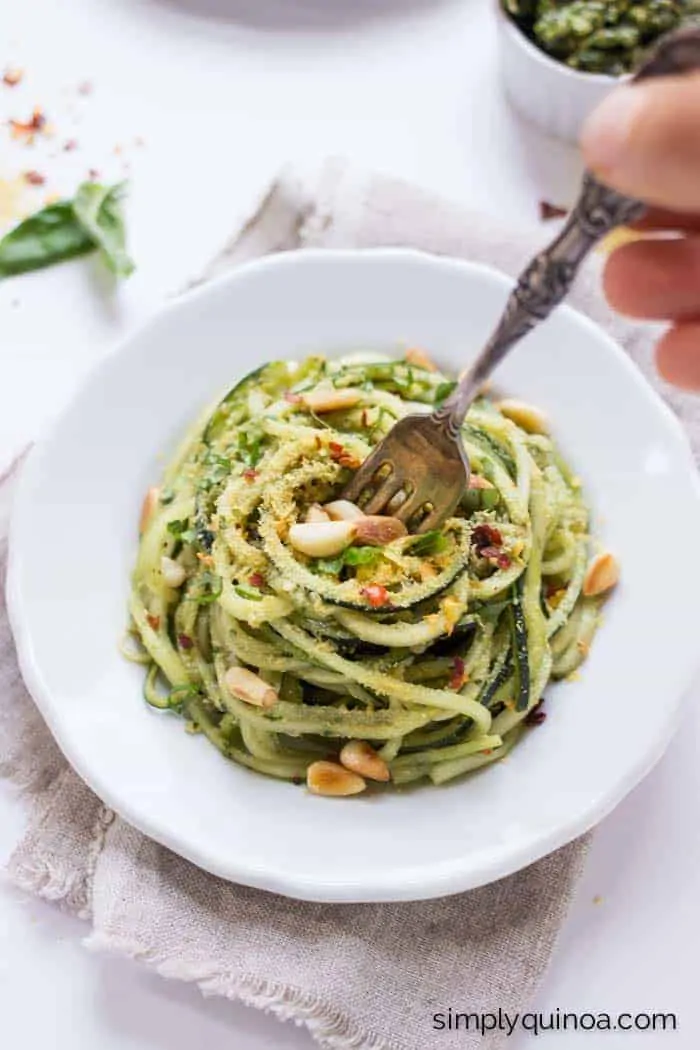 Share this recipe!
More Delicious Zucchini Noodle Recipes To Try!
5-Minute Quinoa Pesto Zucchini Noodles
ZOOOODLES! (read zucchini + noodles = zoodles) smothered in a dreamy vegan pesto sauce. On the menu tonight and ready in 5 minutes.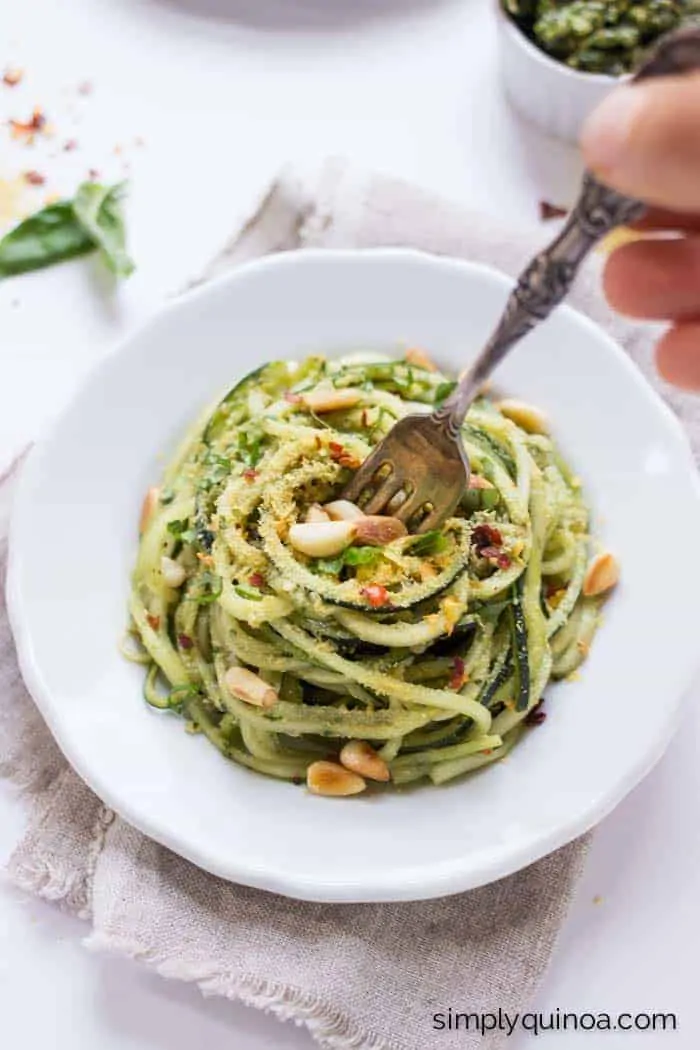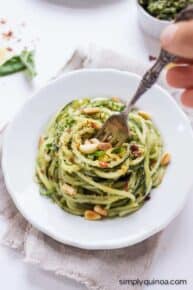 Instructions
Slice the ends off both zucchinis and run them through the spiralizer on the "spaghetti" blade. Trim the noodles into smaller pieces and transfer to a large bowl.

Add basil, pine nuts, nutritional yeast, garlic, lemon juice and spices into the bowl of a food processor. Pulse two or three times until the ingredients start to break down. With the food processor running, drizzle in the olive oil. Scrape down the sides as necessary until you have an almost smooth pesto. Pulse in quinoa.

Pour pesto over zucchini noodles and toss to coat.

Garnish with additional pine nuts, nutritional and/or torn basil leaves. Serve immediately.
Nutrition
Calories:
481
kcal
|
Carbohydrates:
23
g
|
Protein:
11
g
|
Fat:
40
g
|
Saturated Fat:
4
g
|
Sodium:
611
mg
|
Potassium:
948
mg
|
Fiber:
6
g
|
Sugar:
6
g
|
Vitamin A:
2440
IU
|
Vitamin C:
42.5
mg
|
Calcium:
103
mg
|
Iron:
4.1
mg
Filed Under:

If you make this recipe, make sure to snap a pic and share it on Instagram using #SIMPLYQUINOA – I want to see your own quinoa creations!